Blue Dolphin Villas on North Ambergris Caye: A Gorgeous Property and More…
Here are three things that I really enjoy in this life:  1. Stories and history of Belize and in particular, Ambergris Caye  2. Good dentistry when you know something is wrong and 2.  reality television.
Remarkably, all three of these things bring me to Blue Dolphin Villa on North Ambergris Caye, Belize.  A large home on an absolutely gorgeous property where my dentist lives part-time – three miles north of the bridge…
Let me tell you how these things tie together.
In 1999, Dr. Mark and Joan from Minnesota and a gaggle of teenaged kids bought a house in Belize.  Mark is a dentist who brought his skills to Ambergris Caye at a time when there were little to no dentistry in town.  He worked over the years to help set up the dental clinic at the San Pedro Polyclinic AND the amazing Smile Clinic – that brings volunteer dentists from around the world to care for many of the kids on the island.
They also have a crazy modern dental practice on their property — and Dr Mark is my dentist on the island.
Their house, named Blue Dolphin Villa, is 3 miles north of the bridge on Ambergris Caye – and at that time, it was WAY out there.  In the bush.  There was no bridge from town – only a pull ferry.  And going north almost always meant taking a boat.
Now for the quite modern history – they all bought the home when one of the original reality shows, Temptation Island was being filmed.  A show that spawned hundreds of other shows where skimpily clad couples were plied with alcohol, put in weird and stressful situations under bright lights and continuously filmed for our television viewing pleasure.
It was filmed on Ambergris Caye before the development boom – and the staff, crew and "talent" stayed at the few resorts that were here – Mata Chica, Journey's End and Captain Morgans.  All around Blue Dolphin.  There is even a scene filmed here!  Right in the pool…
Man…I wish I had been scooping.
ANYWAY…I could go on for days and days but instead, let me show you pictures of the home and the property and the BEAUTIFUL gardens.  Show you what 20+ years of gardening can grow!  (Note:  I took some pictures the day that I was there for my tooth – and then returned for nicer weather.
If you would like to read a bit about the filming of "Temptation Island" here on Ambergris, check out these articles:  "Calgarians Land in The Middle of Temptation Island, Belize" by the Calgary Herald and this story from a crew member that was stuck on the island when Hurricane Keith hit at the end of filming (cholera outbreak?).
It's a big property with the caretakers' home, the dental clinic with an apartment above (aka The Little Dolphin) and the main house.
Oh!  And a heli-pad 🙂 One that I will be using in JUNE!?!??!!!!
The drive way.
The Little Dolphin as I go in expecting terrible news…like extraction or root canal…
I've NEVER seen blackberries growing on the island.  They have a beautiful bush…almost tree.
5 bedrooms, 5 bathrooms and just tons and tons of decks and porches.  That's my favorite part.  Great to travel with a big group but also great to have your own space.
The roof deck.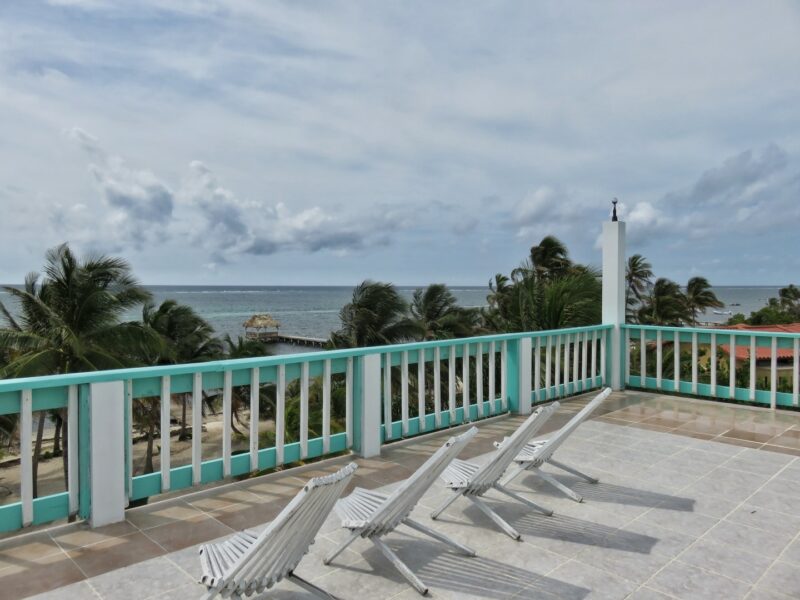 And the view back over the lagoon.  Where I'm sure you can see a beautiful sunset – and the size of the property.
And then down to the beach and to the pool.
It's a huge stretch of beachfront.
There you go.  Dentistry – I just needed a proper cleaning – no minor surgery! – and reality television AND some fun history of Ambergris Caye.
For more information on Blue Dolphin Villa, check their website.
AND the property is for sale.  Here is the information that they sent me – another note!  I am just a blogger not a real estate sales person:
Facts:
3 miles north of San Pedro
1.7 acres, 146′ of beach front, 550′ deep
Private resort size pier
3 separate houses on property:
-Main 5 bedroom, 5 bath beach house 3,000 sq ft interior space, 532 sq ft 30,000 gallon fresh water pool, 3,800 sq ft verandas space.
-Adjacent "Lil" Dolphin, 2 bedroom 1 bath up, dental clinic below easily converted to 1 or 2 bedroom, 1 bath, 2,260 sq ft interior, 1,250 verandas space.
– 2 bedroom, 1 bath Caretaker House.
Last years rental income US$186k + U.S.$30k tour commissions
Asking U.S.$2.6, will pay 6% commission, open listing