LoveFM Holiday Parade Finally Makes My Heart Burst With Pure Christmas Cuteness
Yesterday, as the sun set on a grey CHILLY day, the LoveFM 8th Annual Christmas Parade lined up at Boca Del Rio Park just north of San Pedro town.
Kids in satin soldier outfits twirling candy canes, tiny girls in glittered tutus and feathered wings and this girl.  The STAR of the Town Council's live nativity scene.  I think she did it.  As I'd say in Kriol, mi heart dun bust.
So much Christmas spirit, so many excited kids and parents…watching pretend-bad-ass teens scramble for candy thrown by Santa.  It was just too much.  The parade this year was bigger and better than ever before.  Here are some of the photos I took…and if you want to see the first 7 parades, check my posts below.
HURRAY SAN PEDRO!  NOW I'm totally ready for Christmas.
Well…after I make 20 dozen cookies today and tomorrow.  But after that…I'm ready!
And then three princesses showed up in a golf cart.  I asked if they were with a group…nope.  Just princesses.  The kids went nuts!
I LOVED the Town Council's manger scene.  Kids kept arriving for it.  Donkeys and angels and wise men, oh my.
The line up was starting to come together – the flatbed truck of Lighted Christmas Queen was a bit late.  But worth it!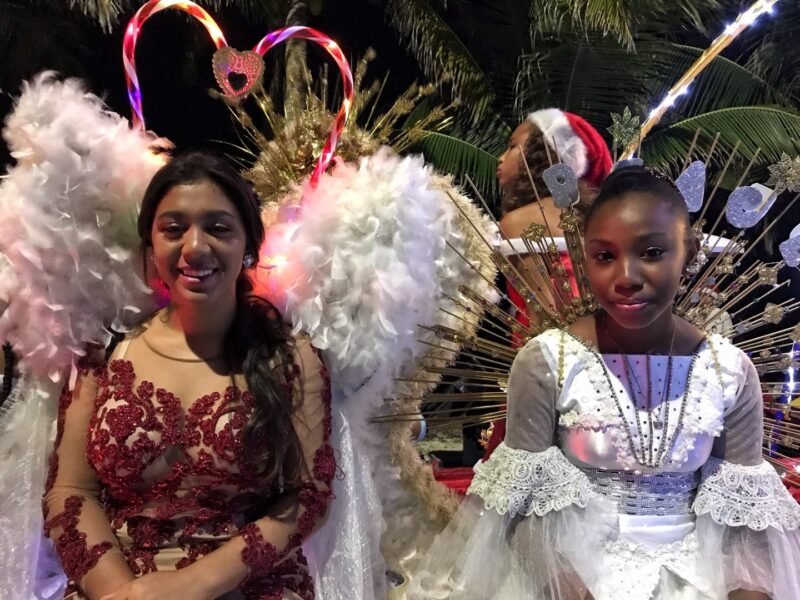 I've known Blanca – on the left – since I first visited Belize in 2006.  ALL GROWN UP!
One of my very favorites – Captain Conch and his BTIA Clean Up San Pedro crew.
Okay…back to my manger.
The parade was moving!  The crowd was lining the streets.
And the San Pedro Credit Union was giving out toys.  Dolls and…oh man.  Kids were LOSING IT!
And then it becomes more like a blur for me…a super cute blur.
I headed home super happy…with a quick stop at the Truck Stop for a picture.
Simply awesome.