Bacalar Chico & A Trip All the Way Around Magical Ambergris Caye
Ambergris Caye is a shockingly huge, diverse island.  It's over 25 miles long, the largest island in Belize…it's 5 miles wide in some parts.   On the south end is San Pedro town and most of the population.  And in the north?  Jungle, forest, lagoon, manatees…big cats, deer, parrots and a surprisingly large number of Maya sites.
In fact, hundreds of years ago, it is thought that there were many more people on the island than there are now.  And many of them lived on the north end – taking part in the salt trade.  Drying and collecting salt in large sea water lagoons and then taking it to the mainland, to Mexico and Guatemala.
A photo I took up at the Bacalar Chico ranger camp of all the Maya sites we have on the island.  You can see #13 is San Pedro town.  And #16 is the camp!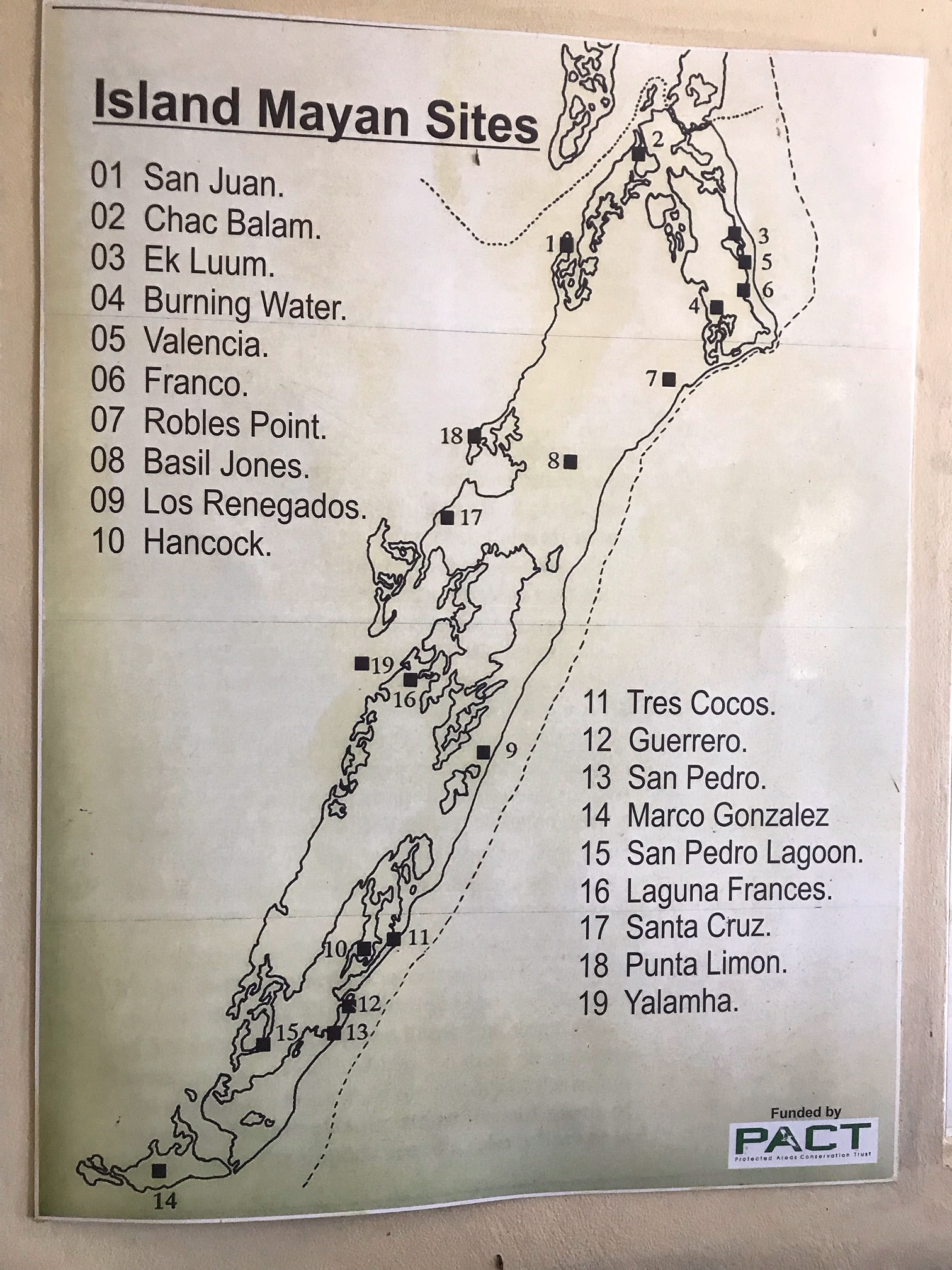 The dotted line is the barrier reef – you can see where it meets the land.  We will be there in a bit.
Here is the trip that we took almost all the way around the island.  20 miles up…and 20 miles back.  And there is NO better way to get a sense of AMAZING Ambergris Caye.  So much in one day.  Here is our day – starting with meeting Panny at 9am at his dock in town.
Panny Arceo is an amazing guide.  AMAZING.  His boat is small and comfortable – perfect for a group of 4.  He was born and raised on these water and has 10,001 stories about fishing them as a child – he knows every single nook and cranny of this deceptively huge island.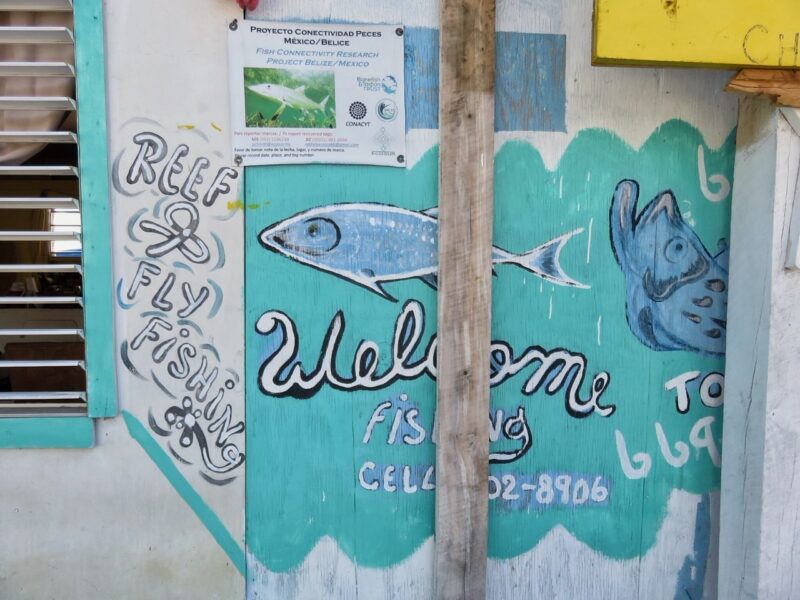 Panny's super cute dog.  His dock is on the lagoon just behind San Pedro town.  We headed up the back side (the west side) of the island.  Crystal clear blue waters and a sprinkling of mangrove islands.
A stop for some bait fish.
Since we are relatively familiar with the west side of the island, we headed up to the Bacalar Chico Ranger station – which is also the Maya site of San Juan.  (#1 on the map)
It is the station for fisheries and forestry – to oversee the entire northern tip of the island – the Bacalar Chico Marine Reserve and National Park.
There are some ranger houses, a small museum and some bunk rooms.  I absolutely want to head up there to spend some time – I will report back on that venture!
There is also a lookout tower.  Jeff was up there watching a school of permit move through the flats.
You can look right across the way to Mexico.  This reserve is CATCH AND RELEASE ONLY.
Fresh eggs…
This relatively tiny boat that was abandoned during an OCEAN CROSSING ATTEMPT!  Washed up at Rocky Point on Ambergris Caye and now rests here.
We headed north…to the channel that splits Belize and Mexico.  Some think it was dug by the Maya hundreds of years ago…others are not so sure.
But first…Jeff wanted to see if he could locate those permit.  Panny poled the boat into position – serenading.
Bonefish and permit but nobody eating.
There are a few submerged caves on the way up – Panny knows where they all are.  One sits right at the base of this gorgeous sandbar.
We headed back to #2 on the map and the Maya site of Chac Balam – I visited it a few years ago and took some pictures.
Since then, the dock has suffered some damage and you can't go in safely.
And then we headed through the channel.  You want to do this with an EXPERIENCED guide – there are all sorts of twists and turns.  One of the reasons that some question if they Maya dug this channel.    Why not dig a straight line?
DENSE red mangroves.
Here are the entrance to the HUGE inland lagoon – Laguna Cantena.  One way in, one way out.
Another map of the area.
We slowed considerably in the marked manatee zones.  And….TWO MANATEES FEEDING.  Spotted first by Panny – clouds in the water as they mowed down the sea grass.
So crazy unbelievable – such strange and beautiful creatures.
As she came up for a breath.  YES!!!!!!!!!!!!!!!!!!!!!!!
We headed through to the east side – the reef side of the island.  And back down inside the reef.
STOP!  Another amazing sight – two "flying" eagle rays.  We followed them for a bit very slowly.
There is just dense forest up here…and lines of massive coconut trees from the days that Ambergris Caye was basically a giant coconut plantation.
A tiny resort – OPEN for business way up here!  It's called North Beach.
We stopped for a picnic lunch just north of Rocky Point – where the reef meets the land.  A beautiful beach and coral and shells and fossils scattered all over.
Here is my idea of heaven.
Jeff headed out fishing…I did some beach combing.
Though we just chose to hang out, the snorkeling up here is incredible.
You can see why they call it Rocky Point.
Thoroughly sunned, salted and happy, we loaded back up and headed back towards town.
Thinking of how this whole area might have been clear cut and covered by settlements 600 years ago.  Fires burning.  People fishing.  Large ocean going canoes filled with salt…
I can't recommend this trip enough – Panny is awesome.  Beyond awesome.   For island history, finding the best fishing spots, swimming spots, snorkeling spots, secret spots…
His boat is yours – and you can do whatever you want.  LOVE IT.
Here is Panny's phone #602-8906 – he's not hard to find.  Everyone in town knows Panny.
You can also email him at [email protected].