Finding Favorites On Caye Caulker: Hang-Out Spot, Fry Jacks, Ceviche and More
I've spent a good deal of time finding lots of favorites on my home island of Ambergris Caye.  Almost 13 years now on the island and I have a favorite coffee spot, I have my favorite rice and beans, my favorite fry jacks, my favorite breakfast taco spot and more…lots more.  I list them and tell you why I love them in my book.  50 Big Experiences on Ambergris Caye, Belize.
BUT…since that book has been such an unexpected success, I guess I'm getting cocky.  (Who would have thought I'd sell even close to 1500 copies?!?!)  And I'm starting another one.  Big Experiences on Caye Caulker.  50?  I'm not sure yet.
But I've been doing research and I have LOTS more to do.  I have some favorites*.  Asteriks to indicate:  SO FAR.  Here are a bunch of pictures that I took on my last trip over just a few weeks back AND a few new favorites I've found.
PLEASE let me know if you have anything you need me to test – I'm willing and able.
The weather was gorgeous but WINDY.
The snow route properly signals.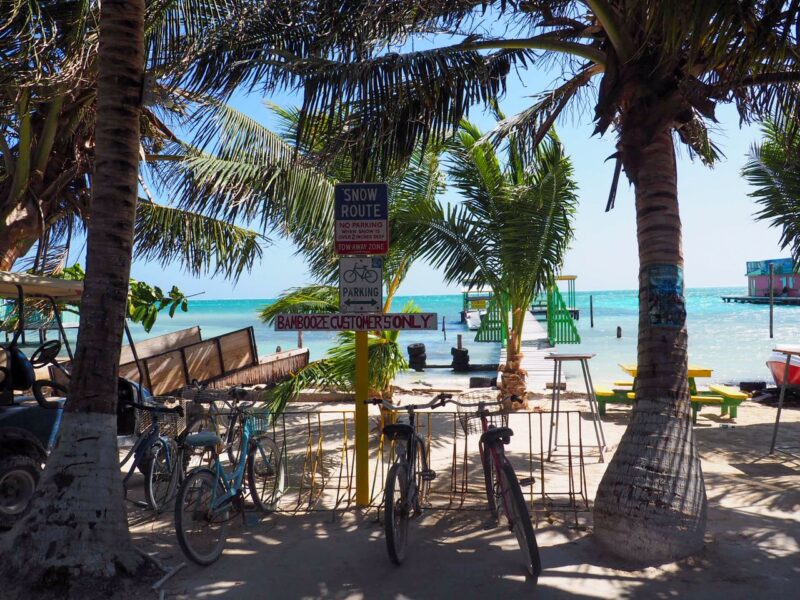 Favorite Hang-Out Spot:  Namaste Cafe
They have an AMAZING breakfast, baked goods and fun nooks and crannies for lounging.  I'm a big, big fan.
My Favorite Fry-Jacks:  Happy Lobster
My Favorite Ceviche:  Pelican Sunset Bar
SO so good – and my last lobster of the Lobster Season in Belize.  (Closed February 15)
And a beautiful view – I bet it's even more beautiful at sunset.
And best rice and beans (that I haven't tried yet!)
I've asked around extensively about best rice and beans and have been told each and every time, Maggie's Sunset.  I keep getting there late!  But what I love love love is their love love love of Elvis.  I'll be back very soon.
And some more pictures…
heading to the south side of Caye Caulker.
Lobster traps in for the season.

All the way south of the airstrip to the more residential neighborhood and this intriguing conch shell wall…