Chetumal, Mexico: Is it Worth Visiting?
Visiting Chetumal, Mexico:  Things To Do
If you are traveling from Mexico into Belize – on your way from Cancun or Merida, or Tulum, Holbox, or Playa Del Carmen, you are going to pass thru (or over) Chetumal Mexico.  Also true if you are going in the other direction.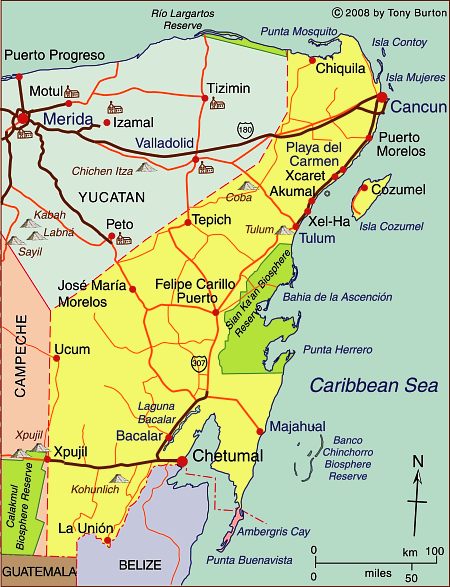 Chetumal is the largest city on the Belize/Mexico border.
It's a small city (by world standards – though it's at least 3x Belize's largest city) that I had never heard of when I lived in the US.  And it's not really on the radar for those who are looking to travel to Mexico.  But…it is the capital of one of Mexico's 31 states (32 in total when you include Mexico City, its own entity)…the capital of the state of Quintana Roo.  A state with some of the most well-known and most visited hot spots in all of Mexico but with a capital that sees very little tourism.
Besides being right on the border, Chetumal has strong historical ties with Belize – and in particular Northern Belize.  Together they are the home of the Mestizos – and this was all one land during Maya times.   You can read some more of the history – Maya to more recent times in Wikipedia.  It's interesting!
Chetumal, though large, is most frequented by foreigners as a stop-over.  A place to catch the bus or to at least stop at the station.  On the way to Lake Bacalar (which has exploded in tourism – especially backpackers over the last few years) – or as a pass-thru from Cancun, Playa Del Carmen, and Tulum to Belize.
My camping trip to Laguana Bacalar in 2012.  Gorgeous.
Chetumal bills itself as the Front Door from Central America to Mexico but…
Is it worth Stopping for a few days to explore Chetumal the city?
Sometimes…here's what I think.
For Belizeans, in particular, Chetumal (pop. around 175,000) has many things that Belize does not.  There is shopping – there are large malls – there are large movie theaters/multiplexes (with some movies subtitled in English) – there's fast food, like McDonald's, KFC and Burger King.  There is a Walmart and a Sam's Club, a Chedraui and   There are musical instrument shops and bowling alleys and nightclubs – including gay nightclubs.
My last trip to the large inside mall in Chetumal.
There are also doctors and medical clinics and hospitals.  And these are great…I mean, what I wouldn't do to spend an hour or two, maybe once a year, at Sam's Club. And be able to return to Belize without paying duty!
Chetumal also has much cheaper prices than Belize.  And a much wider selection of things like beer and foods, veggies and fruits.
Note:  Don't scoff at these things!  They are very very easy to take for granted…that a Walmart or just a click on your phone will get anything and everything delivered to you within 2 days or less.  THAT is not always the case in Belize.  And McDonalds?  It starts to sound better and better the longer you've been away from one.
There is also the "Free Zone" – a very strange in-between spot that is in Belize but just at the border.  A duty-free area for Mexicans to buy duty-free items in Belize?  I honestly don't know what it's for.  My last (and ONLY) trip there revealed lots and lots and lots of what I would call junk.
Also, though I have never used it, there is an international airport in Chetumal!  There are daily flights to Cancun and Mexico City and flights to Guadalajara and…to Miami (though those, according to American's website) don't start until July.  The flights to Mexico City by three Mexican airlines – Volaris, Aero Mexico, and Viva Aerobus can be CHEAP.  Like you can fly this week to Mexico City International for as low as $45US one way.
Note:  I find that some people – taxi drivers, restaurant workers, hotel employees – speak a few English words, it is sparse.  About as sparse as my terrible Spanish skills. (I need to get back to my Duo Lingo lessons)  You are going to want to know some of the basics, or write things down to share, or have easy access to Google translate.
Now…let's tackle the next question.  Yeah but…
But…is it worth it to visit Chetumal for tourism reasons? 
Mmmm…I don't think so.  Not really.  I am basing my answer on my handful of visits over the last 15 years and my visit just a few days ago – just one overnight.  My time was good for a few hours…walking down the main boulevard – the Avenida de Los Heroes, visiting the museum, eating a really great sandwich…I didn't feel like I needed much more time.
Here is a travel blog from 2018 titled:  There Are Fun things to Do in Chetumal Mexico and they have some beautiful pics.  But most (not all) of the fun they describe is outside the city.  Take a look.
If you have an overnight in Chetumal, there are good hotels and some good restaurants but I don't think you need to extend your stay too long.  And it makes more sense to spend your vacation time at your next destination.  Laguna Bacalar, just north of Chetumal, or Belize or where ever you are in transit to.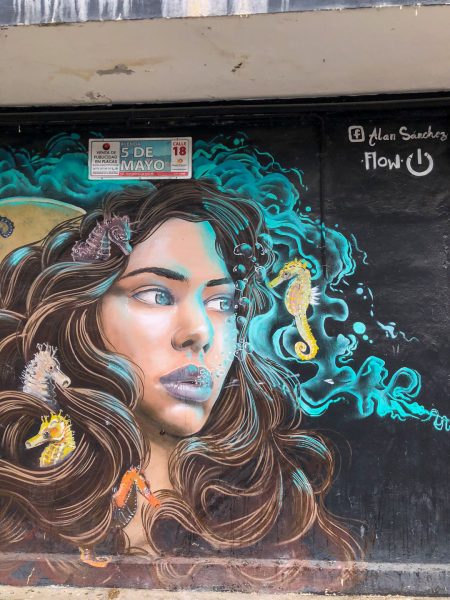 But let me tell you what I did in Chetumal.  Just to show you that you can happily spend an afternoon or morning or both.
Here's Where I Stayed
I was arriving at about 730pm on the 5th of May (in both Merida and Chetumal – it was just a normal day!) and leaving the next day at about 11 am.  So there was no reason to get too fancy or pricy, I just wanted a clean, COOL spot with a central location.  I found Hotel Urban 101 on Booking.com and it was fine…better than fine.  For about $30US a night, it was very good.
It had a strange spartan feel.  I would call the design maybe…Soviet Bloc Industrial chic.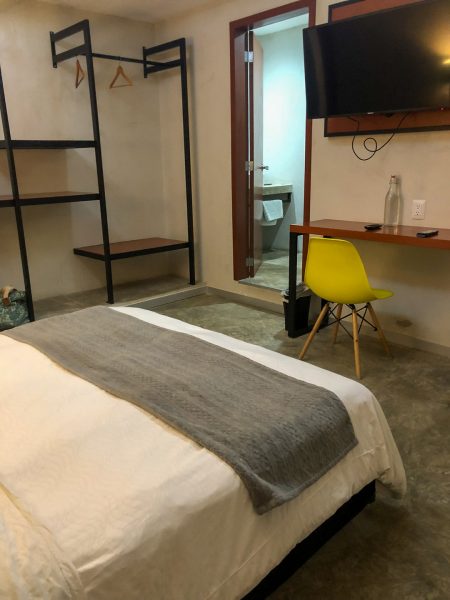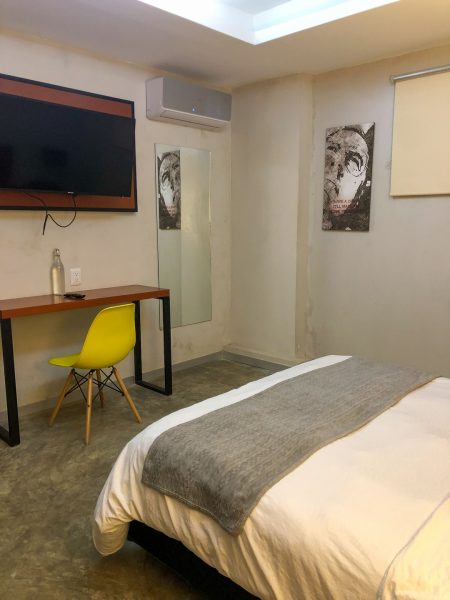 I got buzzed in thru the HUGE steel door sandwiched between a clothing shop and a pharmacy.
Note:  There are no fancy Ritz Carlton or Four Seasons in Chetumal.  The priciest hotel that I saw was the Fiesta Inn and it is more of a business hotel.  The price when I was looking was around $80 US dollars a night.
There are PLENTY of fancy hotels to the north…like at Lake Bacalar (how nice does this look!) and Tulum.
Here's What I Ate
I found an amazing breakfast spot right around the corner from my hotel that was PACKED with families and business people…there had to be 100 people when I arrived.  It's called Cafe Del Puerto – and was set back off the street with a large garden that wasn't being used (the temperature was already about 90 degrees at 9am) – and a huge dining room.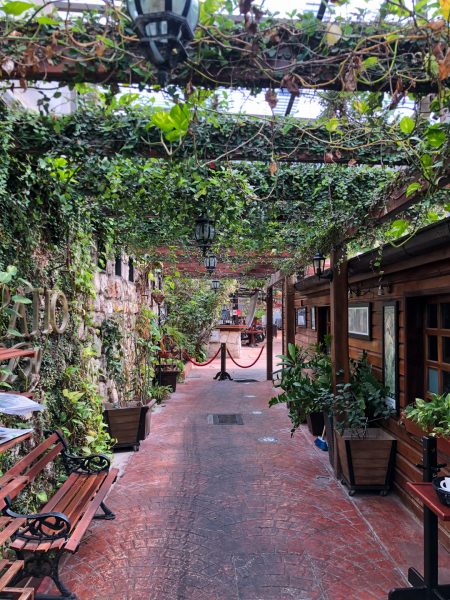 The menu is EXTENSIVE but I ordered classic Mexican – Chilaquiles con Huevos.  With half green salad and half red.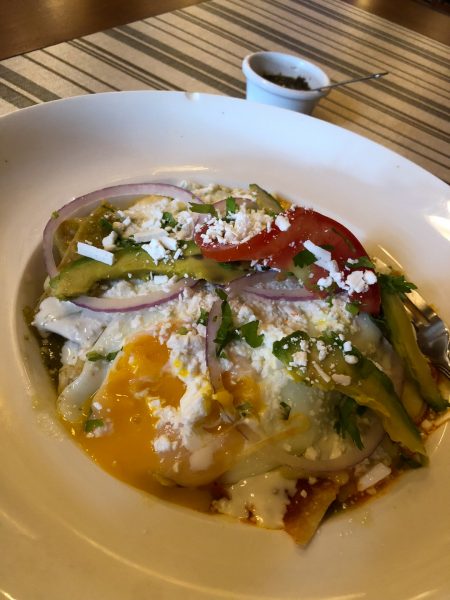 The piquant green – I think with tomatillo – is the way to go.  This dish is both HUMUNGOUS and delicious.  Good grief it's tasty.
The one emptier corner of the vast indoor space – I find it best not to take unannounced photos of people!  It filled while I was seated.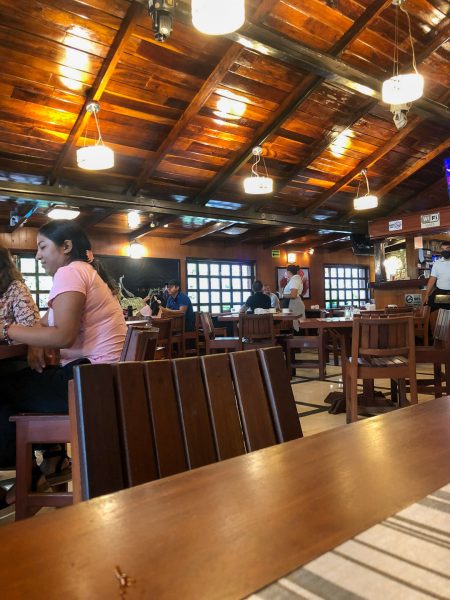 Also, the regular coffee is lightly flavored with cinnamon and orange and is…delicious.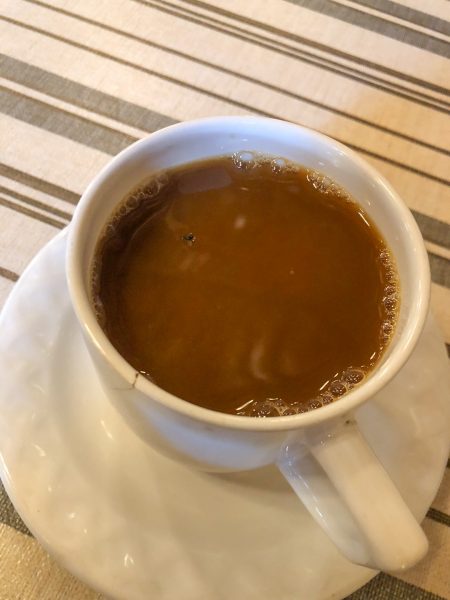 If you can, find this spot for breakfast or lunch.
After breakfast, I took a taxi to the Museo de la Cultura Maya…it was just about 5 mins and 20 pesos.  Just about $1USD.
This museum is small but beautiful.  And what it lacks in artifacts (there are some, just not a lot) – it makes up for in information and history.  It is set up in layers…from the underworld, Xibalbe…
to the top, the afterlife.  It's also dripping with plants…and the sounds of water and birds and even jaguar roars. It's pretty cool.
Outside.
My favorite is a look at how the Maya living – what they ate, how they traveled, what their cities might have looked like…
Here's a recreation of a boat traveling to an island where there was salt production.  Perhaps Ambergris Caye?
The prices – for foreigners, for adults, and for children.  Some people balk at this sort of pricing structure but, especially when it is cultural and educational, it makes sense to me that those who can, pay a bit extra – to perhaps make the museum more accessible to local adults and kids.  (1USD = about $20 pesos)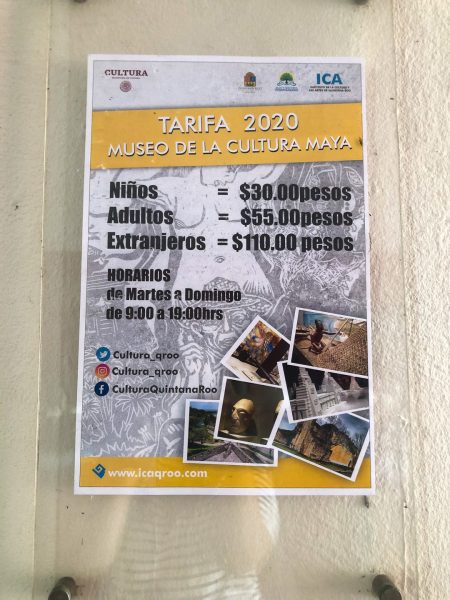 A few pictures inside.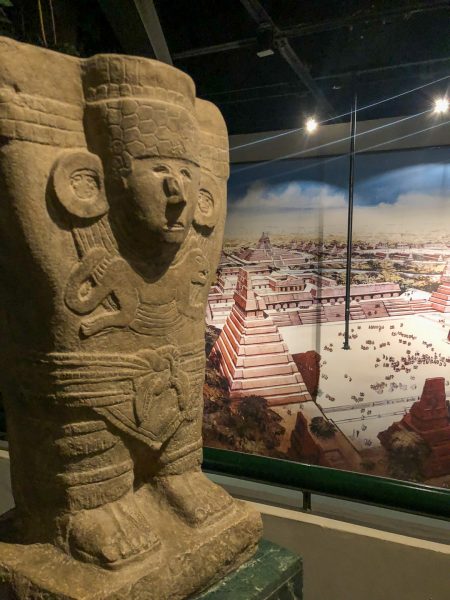 And then walking outside on the boulevard.  There are not really native crafts for sale or tons of souvenirs, but this is a working town…and you'll find more socks and shoes, cell phone cases and clothing.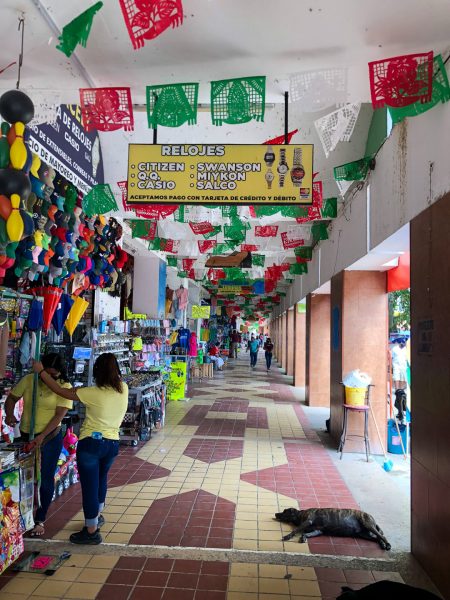 I hope that gives you a feel for the city and what visiting Chetumal, Mexico is about.  If you have been and don't agree with my assessment (I concede that as a possibility 😉 ) – please let me know!
And if you ARE in Belize – and starting to recognize signs of Island Fever 
TOTALLY head up in this direction.  You could spent a day in Chetumal on the way back…some Walmart time…or Sam's Club…and you could head to Lake Bacalar or beautiful Mahajual.  I'll write about my border crossing – how I did it, the fees and prices, and what you need – later this week.
Additional notes:  I am writing this at the beginning of May, 2022 and masking laws are still in effect in this part of Mexico.  While I only saw about 50% of people on the streets wearing masks (outside), inside it is ABSOLUTELY required.  People took mask off to eat and then right back on.
Also, Chetumal/Yucatan time is currently 1 hour ahead of Belize Time.  Belize does not recognize Daylight Savings.  Something to keep an eye on when traveling.