Navigating from Cancun to Belize (& Back Again) + Crossing the Mexico- Belize Border
Is it Worth It to Travel from Cancun Airport to Belize? The Time, The Cost/Savings, the Details & Tips For the Journey and Crossing the Mexico-Belize Border
There are many reasons to travel from Cancun, Mexico to Belize – and there are so many travelers that do it each year. Two gorgeous countries with so much to do. But information about this Mexico-Belize trip is spotty and often not up to date.
See: My First Timer's Guide: Why Visit Belize?
Luckily…I just made the long but far-from-impossible journey!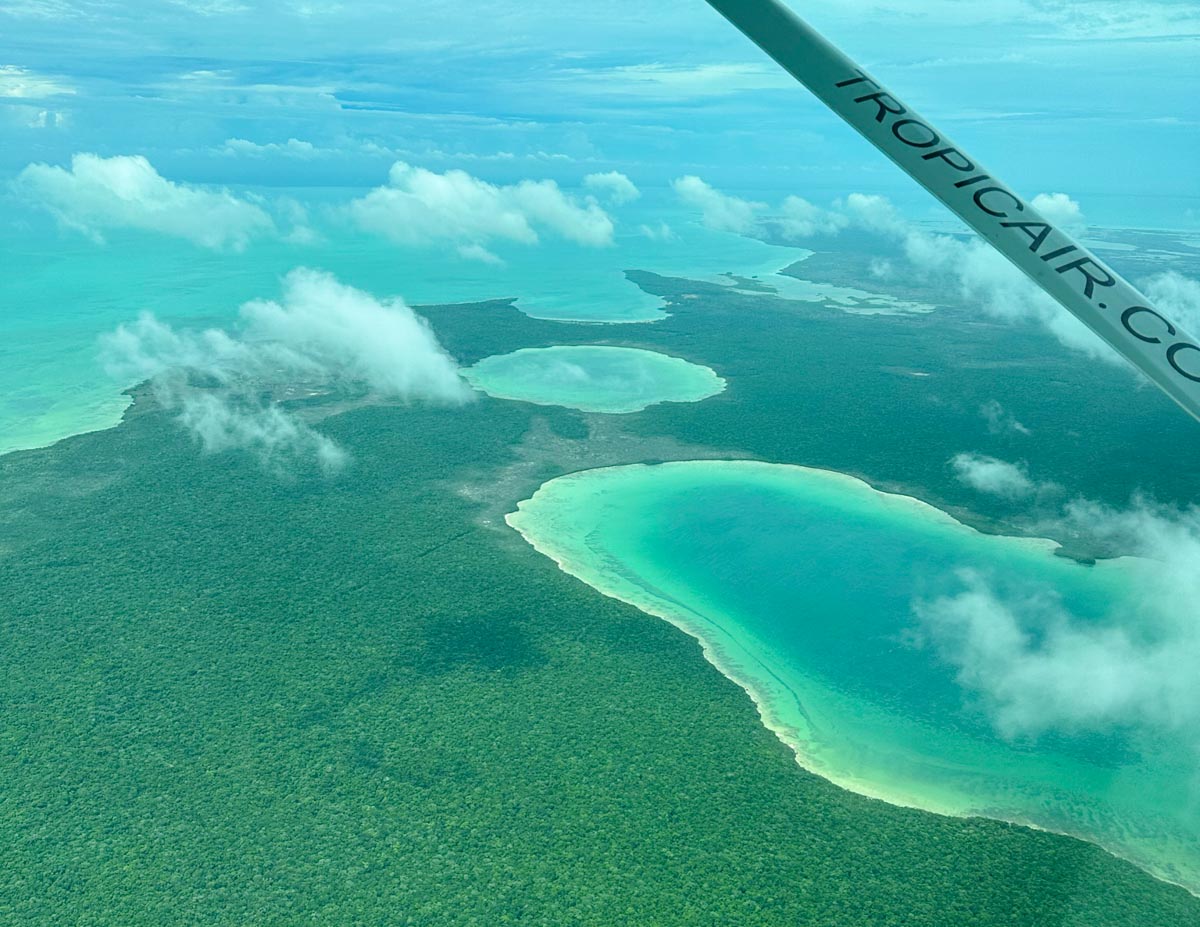 So let me dive right into the details – why make this journey at all, how I did it, the alternative routes, the costs, the paperwork, the savings vs. flying directly into Belize City (BZE), the transportation and the…well…the uglier part. Because, after traveling both ways – from Ambergris Caye up to Cancun Airport (to fly to the US) and back again…I've learned a lot. So here you go.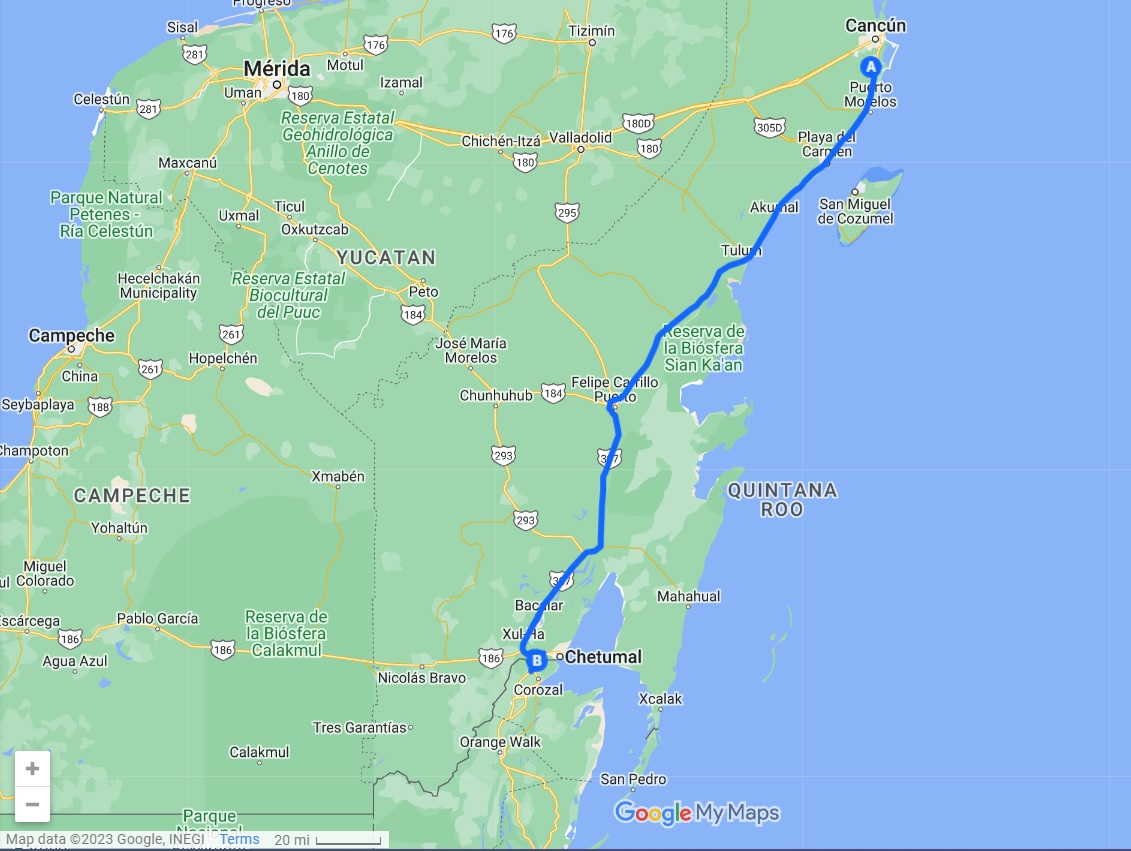 Why Fly Into Cancun Airport (CUN) Instead of Belize City International (BZE)?
Cancun is one of the most popular vacation destinations on earth – and last year, the Cancun International Airport handled almost 30 million arrivals. 30 MILLION! On an average day, CUN sees 500 flights landing a day.
Tons of direct flights from the US and Canada, more than a dozen direct flights from Europe and places as far away as Istanbul and Buenos Aires.
Belize's PGIA (Philip Goldson International Airport) is a much smaller airport in a much less populated country (Belize's total population is estimated at 425,000, and Cancun alone is about 900,000) and handles a much smaller number of visitors per year. This Belize Tourism Board chart shows under 400,000 overnight visitors to Belize in 2022. Looking at averages, that's less than Cancun airport handles in a week.
So why fly into Cancun Airport instead of Belize City International?
You are flying from Europe, South America, or anywhere that doesn't fly easily into Belize. Many people prefer not to make a stop in another country (like the USA) with the additional immigration requirements
You are planning to visit both Mexico AND Belize. Cancun is about 250 miles north of the Belize border and there is sooo much to do in the Yucatan and along the Quintana Roo coast. Playa Del Carmen, Tulum, Isla Holbox, Laguna Bacalar, Merida, Isla Mujeres…(I've linked my trips in the past to these spots but I need to get back to all of them!)
You are traveling to Belize but you want to/need to save money by buying a cheaper ticket traveling thru Cancun airport.
BUT…how much money do you actually save in the end? With all the additional travel that it takes? That's what I'm going to try to lay out for you because…
A few days ago, I finished my round-trip trip to the USA, to visit family, and I traveled from Ambergris Caye, Belize to Cancun Airport to take advantage of a significant savings in fares. My one-week Monday to Monday (June 26 to July 3) ticket from BZE to PVD, with one stop was priced at $1249. The same dates, again, one-stop from CUN to PVD (Providence, RI) was $250. That's $999 US DOLLARS SAVINGS when you are only looking at the RT ticket prices.
I had the time (it does take time!), I traveled up to Cancun and…I took lots of notes to share with you. Here is the travel method I used and I'll give you the alternates where applicable) – so you can decide if it would be worth it to you.
Remember other people's opinions might differ from yours. Maybe you value every single vacation hour and you'd rather pay more to fly directly. Or maybe you are a backpacker or a family of 5 where this additional money could make or break your entire trip.
It just requires a little bit of planning and some extra time.
Traveling from Cancun Airport to Belize
Here's the summary of my Mexico Belize trip and then I'll break down the details and some of the alternatives:
| Leg | Transportation | Time | Cost |
| --- | --- | --- | --- |
| 1. Cancun airport to Playa Del Carmen (T) | ADO Bus | 70 mins (depends on traffic) | $240 peso/$13USD |
| 2. Taxi between PDC bus stations Tourist and Alterna | Taxi | 5-6 minutes | $150 pesos/$9USD |
| 3. Playa Del Carmen (A) to Chetumal | ADO bus | 5 hours | $504pesos/$30US |
| 4. Uber to border | Uber | 20 minutes | $120pesos/$7US |
| 5. Taxi from Mexico border to Belize Immigration | Taxi | 3 minutes | $150pesos/$9US |
| 6. Taxi from Belize border to Corozal airstrip | Belize taxi | 20 minutes | $40bzd/$20US |
| 7. Flight from Corozal to Ambergris Caye | Tropic Air | 18 minutes | $140bzd/$70US |
| | | Total Time: An additional Day | Total $158USD * |
I mentioned above that CUN – Cancun International Airport is a busy one. But be prepared for BUSY – a bit of a disorganized shit-show. The line for immigration, for me on a late Monday morning in July, was about 1 hour and 15 minutes and there was little-to no help from airport officials. My was the automated line (no human looking at your passport) and was only available for those NO traveling with children. Those traveling with children took at least 2x that waiting period.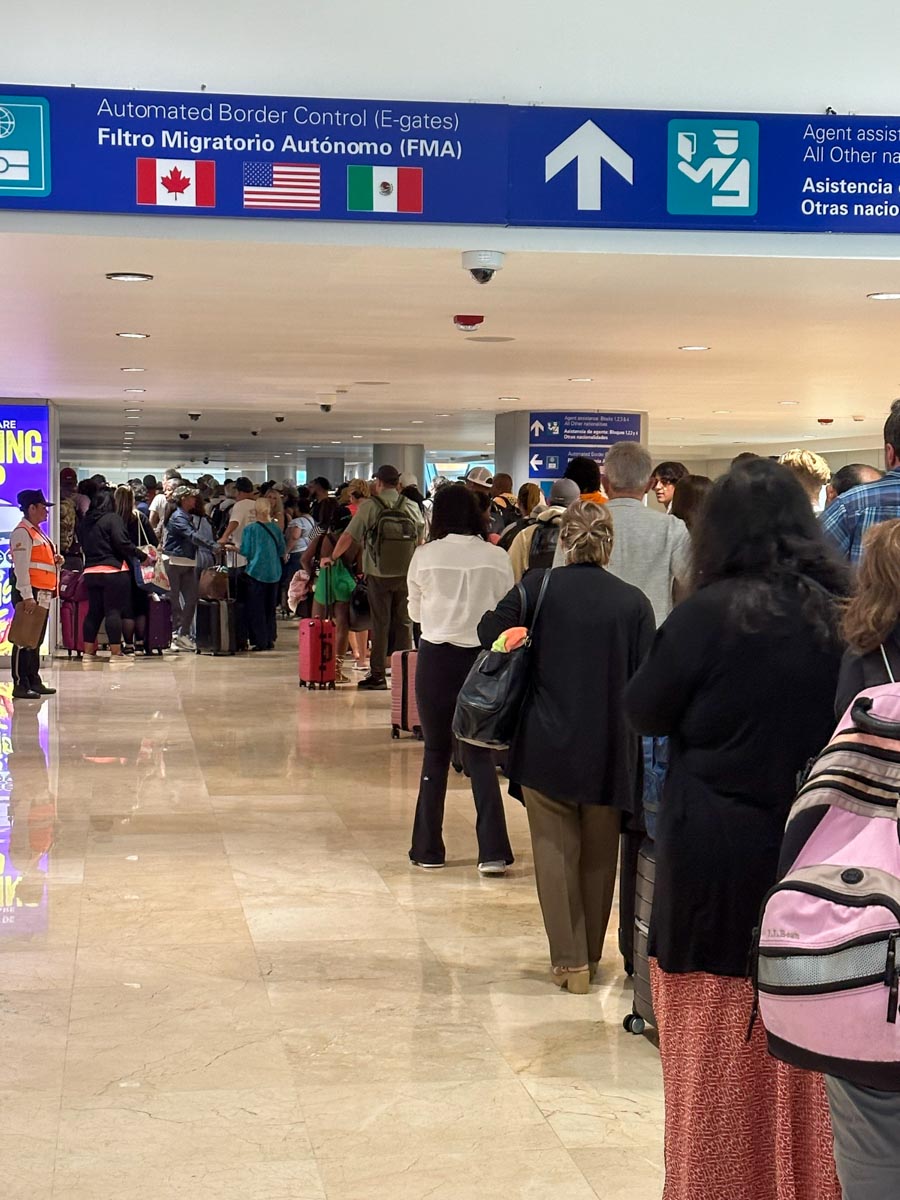 Note: Tulum International Airport is slated to open this year in December. Located about 100 miles south of Cancun (and 150 miles north of the Belize border) hopefully this will take some pressure off of the Cancun Airport and give another option for travel to Belize.
1. ADO Bus from Cancun Airport to Playa Del Carmen (Tourist Bus Station)
This bus leaves every 20 minutes from the Cancun airport. It makes pick-ups at all of the Terminals and then heads straight to downtown Playa Del Carmen. You can buy a ticket at the ADO kiosk as you exit the airport. If you are going to Chetumal, you can buy both tickets at one at the kiosk. You can also buy on-line with the ADO app (great to download beforehand)
Ticket price from CUN to PDC: $240pesos – about $13USD Time: 70 mins
2. Taxi Transfer Between 2 Bus Stations (Turista and Alterna) in Playa Del Carmen
There are two bus stations in the very busy city of Playa Del Carmen. The smaller "Turista" bus station is on the "main drag" – 5th Avenue in PDC. The Alterna Bus station is about 10 city blocks away – a 15-20 minute walk with all of your luggage. Or you can take a taxi just outside the bus station which is 3-5 minutes.
Note: These taxi guys at the bus station taxi stand are going to give you an elevated price. And I'm guessing you could start walking and get a better deal from one of the taxis that are out driving (not lined up next to the bus station) but honestly? I could not be bothered. I'm guessing the price could be as low as $50 pesos…I paid $150 pesos (or about $9USD)
3. Playa Del Carmen Alterna Bus Station to Chetumal
Playa Del Carmen Alterna bus station is quite busy. It is the hub for travelers going around the Yucatan peninsula (and even farther away in Mexico. They were announcing 16+ hour bus trips while I was there)
This bus station can be quite crowded and the line for tickets long. If you don't have your ticket (I had pre-purchased at the airport with my CUN-PDC leg), this would be a great time to use your ADO app to buy a ticket. And avoid the 30-minute line (and the stress of missing the next bus.)
The PDC to Chetumal bus trip is about 5 hours. We stopped in Tulum for about 10 mins and then quickly in Bacalar. This bus can be quite cold, especially as it gets dark – the AC is powerful. I was freezing and wearing socks and a sweatshirt. I wished I had a blanket.
If you are coming from the US or Canada, the temperature will probably feel more pleasant.
4, 5 and 6. Transfers – Taxis or Uber – to the Frontera-Santa Elena, Mexico/Belize Border and Thru to Corozal, Belize
There are quite a few ways to do this! To travel from Chetumal City to the border and then to Corozal, Belize.
I decided to take separate vehicles because I find that taxis/transport in Chetumal is far cheaper than transport in Belize.
I used Uber ($7USD for 20 mins) to the Mexican border. After I went through immigration, I took a taxi that was waiting at the Mexican immigration office. This 3-minute drive (about 1 mile) across the border to the Belize immigration office (you can no longer walk this route – as you could with the "Old Border Crossing") costs $9USD. He was the only guy available and this price is definitely inflated!
I then met a lovely Belizean taxi driver who took me to the Corozal airport strip for $40BZD or $20USD. (He also picked up a local passenger – after asking me first – and charged him $5BZD…which is fine – the guy was waiting for the bus)
My Total price for traveling from Chetumal to Corozal Airstrip: $36USD. My time: less than an hour. But it will depend on immigration/customs in both countries.
Alternatively, you can use a Belizean Transfer service. Pick-up at your location in Chetumal and drop-off at your designated local in Corozal. The transfer drive will join you thru both immigration processes and provide information that can make this easier. They often know the immigrations/customs workers and that too can ease your trip. Cost: $100-120BZD for one person. $50-60USD.
7. Fly from Corozal, Belize to San Pedro, Belize
Flying Tropic Air CZH to SPR: Home, home, home! This is my favorite part. Tropic Air flies 3x a day from Corozal to Ambergris Caye, Belize. This 18-minute, gorgeous flight is the way to do it if you can afford it. At this point, I JUST WANTED TO BE HOME! Beat up and worn out.
A 2-hour boat ride might have broken me. Cost: $75USD one way. Time: 18 minutes. View: Priceless.
Additional route. The Water Taxi from Corozal to San Pedro: If you do want to take the boat from Corozal to San Pedro and save some money. There are two ferries – one first thing in the am and one in the late afternoon. The Thunderbolt and Sea Shuttle Water Taxi. Each goes from Corozal to Sarteneja Village to San Pedro, Ambergris Caye. The cost is $50US for one-way. Time: 2 Hours.
Can You Do ALL This AND Fly to the States in One Day?
Maybe. It depends on the time of your flight out of Cancun Airport. There is a midnight bus that leaves Chetumal and gets you to the CUN airport at about 5am. You can play around with the times – ADO has a pretty heavy schedule of buses. But I decided to overnight each way – on the way from Belize up to Cancun and on the way back.
On my trip from Belize to Cancun, I overnighted in Cancun City and took the bus back to the airport at about 8am the next morning. (Leave some extra time for ticketing and immigration in Cancun, the airport was wildly busy. I waited on the JetBlue line for about 1.5 hours just to check one bag) I stayed in this spot in Cancun City – a 15-minute walk from the bus station. It was clean and cute and big (an apartment, not a hotel) and a very cute neighborhood. It was about $45USD.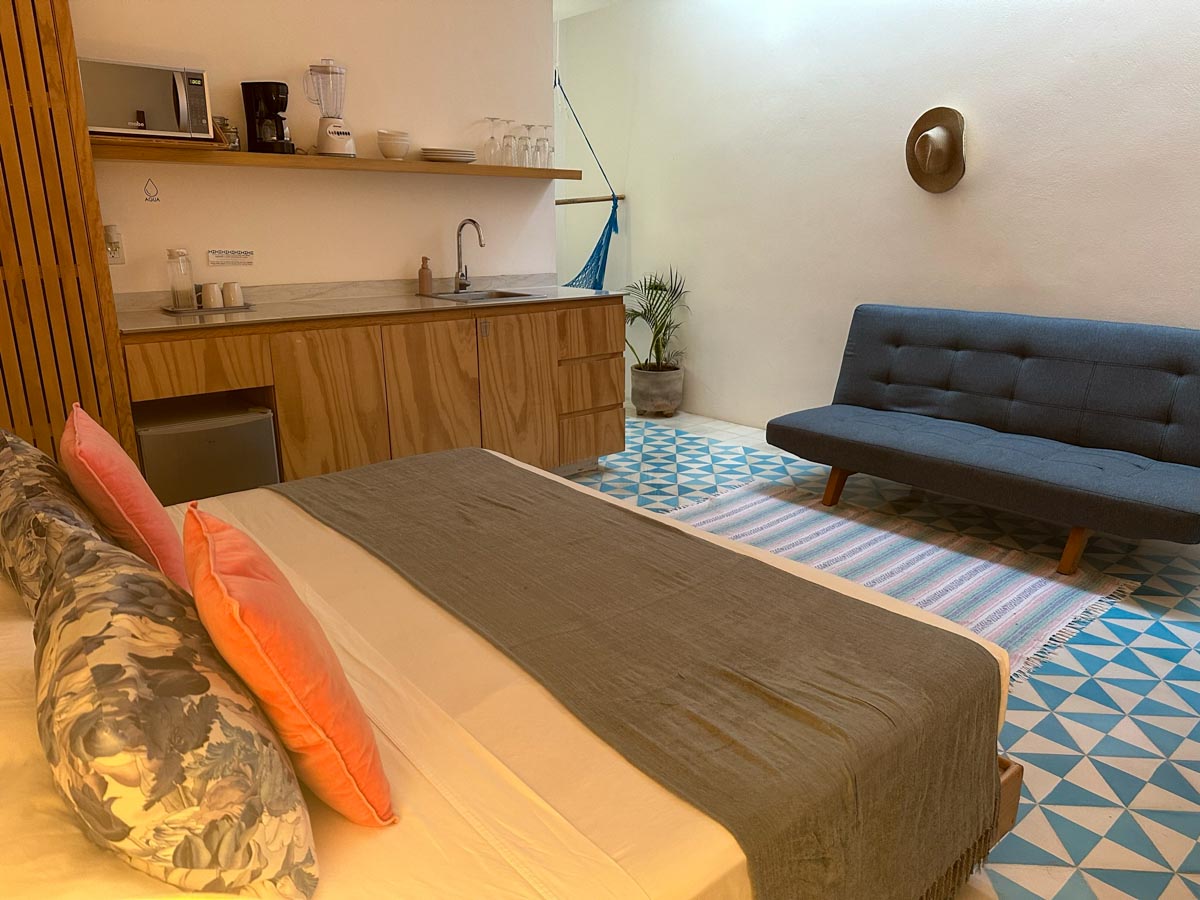 On the way back – when I flew into Cancun and traveled to Belize, I overnighted in Chetumal. I stayed at Hotel Casa Blanca. About $45USD. Clean, comfortable, basic, friendly staff.
Very retro products. A shoe shine cloth?!?! I enjoyed using it on my foam Birkenstocks.
If you stay at Hotel Casa Blanca in Chetumal, make sure to grab coffee and breakfast on the next block at Cafe 290. SO GREAT.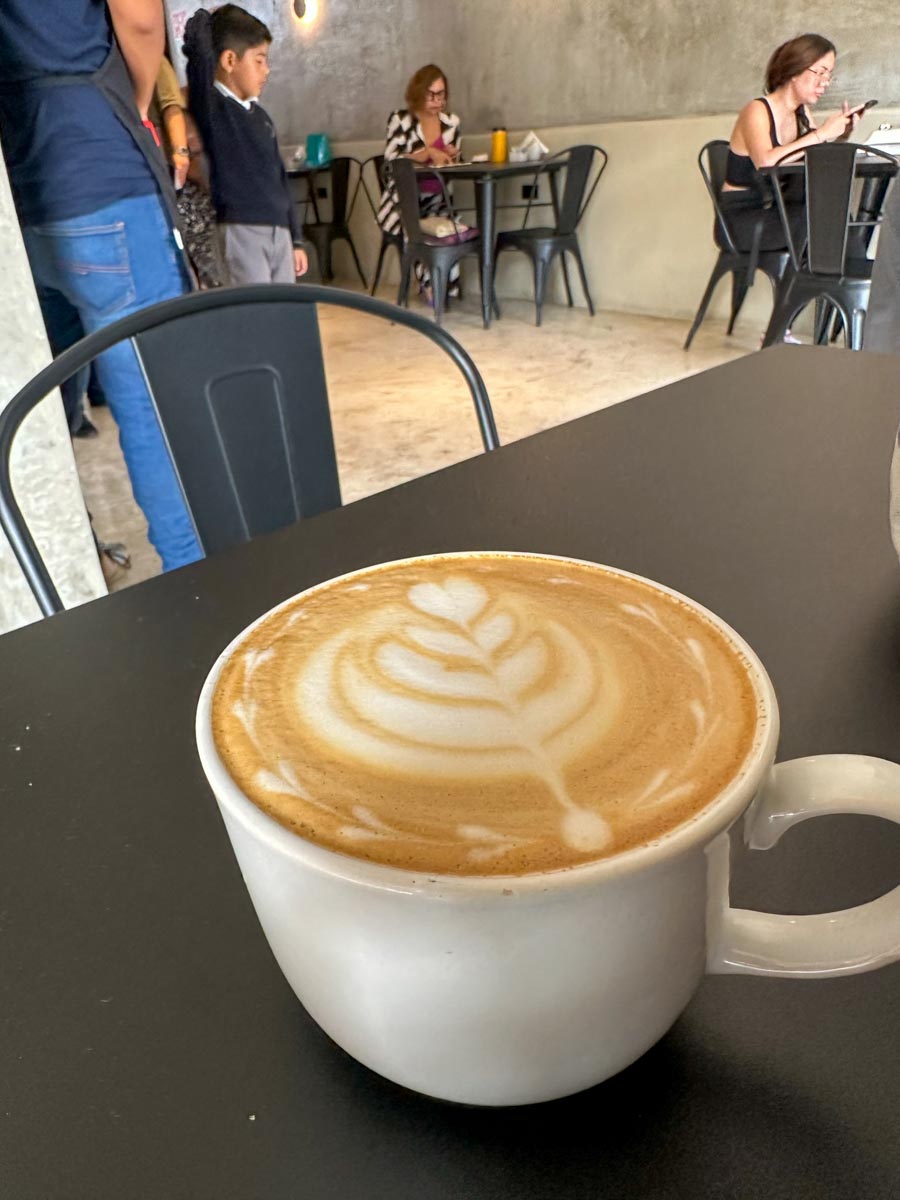 There is also this additional route from Chetumal to San Pedro:
Chetumal, Mexico to San Pedro, Belize by Boat
There is one company running the international water taxi/ferry from Chetumal to San Pedro and then Caye Caulker and back again.
Pre-COVID there were two boats running from Chetumal to San Pedro and back again. And there was service every day, 7 days a week – one company running on odds days and the other on even. As of July 2023, the San Pedro Belize Express has NOT re-started service to Chetumal, Mexico. You can check their schedule to see if that information has changed.
Water Jets International is the only company running this service from Chetumal to Ambergris Caye right now. The boat leaves every-other day and takes about 2.5 hours NOT including immigration and customs in Mexico and then in Belize. It costs $75USD.
I FAR prefer the land border crossing and then the flight. But that is up to you!
Overnight ADO Bus from Belize City to CUN Airport and CUN Airport to Belize City
There is an overnight bus from Belize City to CUN Airport (that stops in Bacalar, Mexico, Tulum, Playa Del Carmen, and then CUN airport). It is a loooong bus ride that leaves late in the evening (7pm) and you arrive at CUN airport at like 430am feeling like…you've been on a freezing cold, cramped bus for 9 hours. ie. Not great.
This bus has not yet resumed (post-COVID) and it is supposed to start again July 15, 2023. The new prices and times have not yet been announced. For more up-to-date information, click thru to this ADO Belize Bus Facebook page or WhatsApp Mohammed at 652-6565. The FB page did not respond to my messages but Mohammed did.
Extra things to pack/plan that will make this entire trip easier and more manageable:
Wipes/sanitizers. The bathroom on the buses can be pretty gross and you'll be thankful to have them. On both my long bus trips between Cancun and Chetumal, the buses smelled awful – from back to front. A mask with a dabble of perfume or essential oil would have made me very happy at about hour 4 on the bus.
Noise-reducing headphones. ADO buses are going to play movies – quite loudly during your entire trip. They are generally dubbed into Spanish and rarely have English subtitles. There is no escaping the sound but noise-reducing headphones helped me immensely to fall asleep.
Cash. If you need a taxi or snack, local cash is almost always the only thing accepted.
eSim access – if you do not have an International Data plan. An eSim allows you to easily access data/internet in a foreign country. I used Airalo in Mexico. It's invaluable for accessing Google maps and directions, Google translate, as well as buying ADO bus tickets via the internet when the physical line is LONG. It lets you use Uber in Cancun and Chetumal if you need it.
Crossing The Mexico-Belize Border
You always want to have you ducks in a row when crossing any international border but here are the things you really need to know:
Bring your passport – make sure it is valid for another 6 months past your travel date (if it expires in 4 months…you need to get a new passport before you travel!0
Bring cash – Mexico charges visitors a departure tax when you leave Mexico. If you flew into Mexico/Cancun, it should be included in your ticket price…and you'll want an itemized receipt showing that you paid this DNI or Derecho No Inmigrante (Tourist Tax) with your ticket.
Jetblue did allow me to request this Mexican digital receipt thru my ticket reservation but I missed the 30 day limit (from ticket purchase date) and decided not to pursue it.
The Tourist Tax or DNI is currently: 670 pesos or $35US. No credit cards were accepted and I did not have USD cash with me or enough pesos. They accepted $80bzd and gave no receipt.
There is no fee for entering Belize – you receive a stamp for a 30-day visa. (There is a fee when you leave Belize.)
When you travel back to Cancun, there is a Belize Exit fee at the border for non-residents of Belize. The fee is currently $40BZD.
So Wait…Did I Save Money Going Thru CUN Rather than BZE?
Yes. The base ticket difference between my round-trip tickets from BZE Belize International Airport and CUN Cancun International Airport was just about $1000US. Traveling from CUN to Ambergris Caye, I spent about $158USD on transportation (see chart above), an additional $45US on a one-night hotel stay and $35US on my Tourist Tax/DNI leaving Mexico. So a total of $238USD one-way for the total transfer/travel costs from Cancun Aiport to San Pedro, Belize.
If I was flying out of Belize International Airport, I woud fly from SPR (San Pedro airstrip) to BZE International, and the ticket price is $87USD one-way.
So in comparison, transport to BZE would be $87US and to CUN, $238USD. The difference is $151USD. The additional cost when traveling out of CUN instead of BZE – one way. About $300USD in total.
I saved $700USD making the trip up to the USA via Cancun rather than flying directly out of BZE.
$700USD could easily be a make-or-break amount of money – spending money on your trip or just going on the trip at all.
Would I do this again? I was really pretty miserable on the way home – I'd spent a week in Rhode Island with my 3 nephews, 10, 13 and 15. I was already pretty tired and man…I did NOT feel like doing this much travel. I just want to be home on Ambergris Caye. I was pretty uncomfortable on that bus…by hour 4…I was kinda melting down.
Take a look at doing this trip one way. If you live in Belize, maybe fly out of Cancun to the states on the way out…and then fly into BZE on the way home. I've done that before and it feels much more manageable.
Additional FAQs
Is there a flight from Cancun airport to Ambergris Caye?
Well…2 flights. There is a Tropic Air flight from Cancun Airport to Belize City International Airport and then you can fly from BZE to San Pedro. It's is quite expensive. Cancun to BZE is about $260USD (no-refund) and BZE to SPR: $100US (no-refund). So while it is the quickest by a long shot, it's also $360US.
Is there a Time Difference Between Cancun and Belize?
Though Cancun is directly north of Belize, there IS a time difference. Cancun is on Central Standard Time in the US and observes Daylight savings. Belize does NOT do Daylight Savings Time.
So with Daylight Saving Time – from the second Sunday in March to the first Sunday in November each year, Chetumal and Cancun is 1 hour ahead of Belize. The rest of the year, we are in the same time zone.
What's Going On with The Maya Train?
The Maya Train has been a HUGE and very controversial infrastructure project to build a train throughout the Maya Peninsula.
I do not know exactly how much is finished – or what is currently running – but my taxi driver in Chetumal pointed out where the train will be (not far from the Belize border). There is already a good amount of clearing happening?
There are always rumors that it will connect to Belize – but I can't imagine that EVER happening. But who knows? Miracles do happen.
And as I wind this lengthy post down…please please please ask me questions. So I can update what I forget or answer any/all questions that I can because this process isn't simple. There are many many steps and quite a few alternatives.
I hope you find this useful!