A Quick Look Around San Ignacio, Belize – Mr. Greedy's, The New Visitors Center and More
San Ignacio is the second largest city in the county of Belize…which really just means that its population hovers around 20,000.  Belize is a small country.  Very small.  Population about 325,000, land mass the size of the state of Massachusetts.
Look at the scale on the map!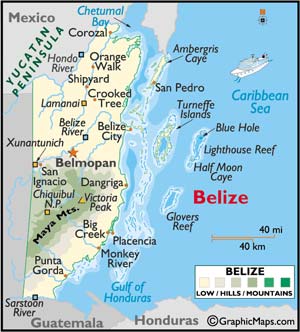 But…even though it's just a few hours from Ambergris Caye (or even less than an hour if you take Tropic Airs relatively new flight), it's very different.  Surrounded by greenery, a gorgeous river and lots to do, a stop in and around San Ignacio along with visiting the Cayes is a great way to see both the jungle and the beach when visiting Belize.  And the bonus?  It's a very cool town and a great place to spend a few days.
San Ignacio has change quite a bit since I was last there…good changes.  They have closed down a main road to all car traffic…pedestrians only.  Would LOVE to see a boulevard like that in San Pedro.  Tough though with the small size.
There is even a chicken drop (they call it chicken bingo – maybe its trademarked) at Mr. Greedy's…which seems to be the most popular spot in town.  We were there relatively early…maybe around 5pm and they were just gearing up.
Comforting that no matter where you go in Belize, the specials are pretty much the same.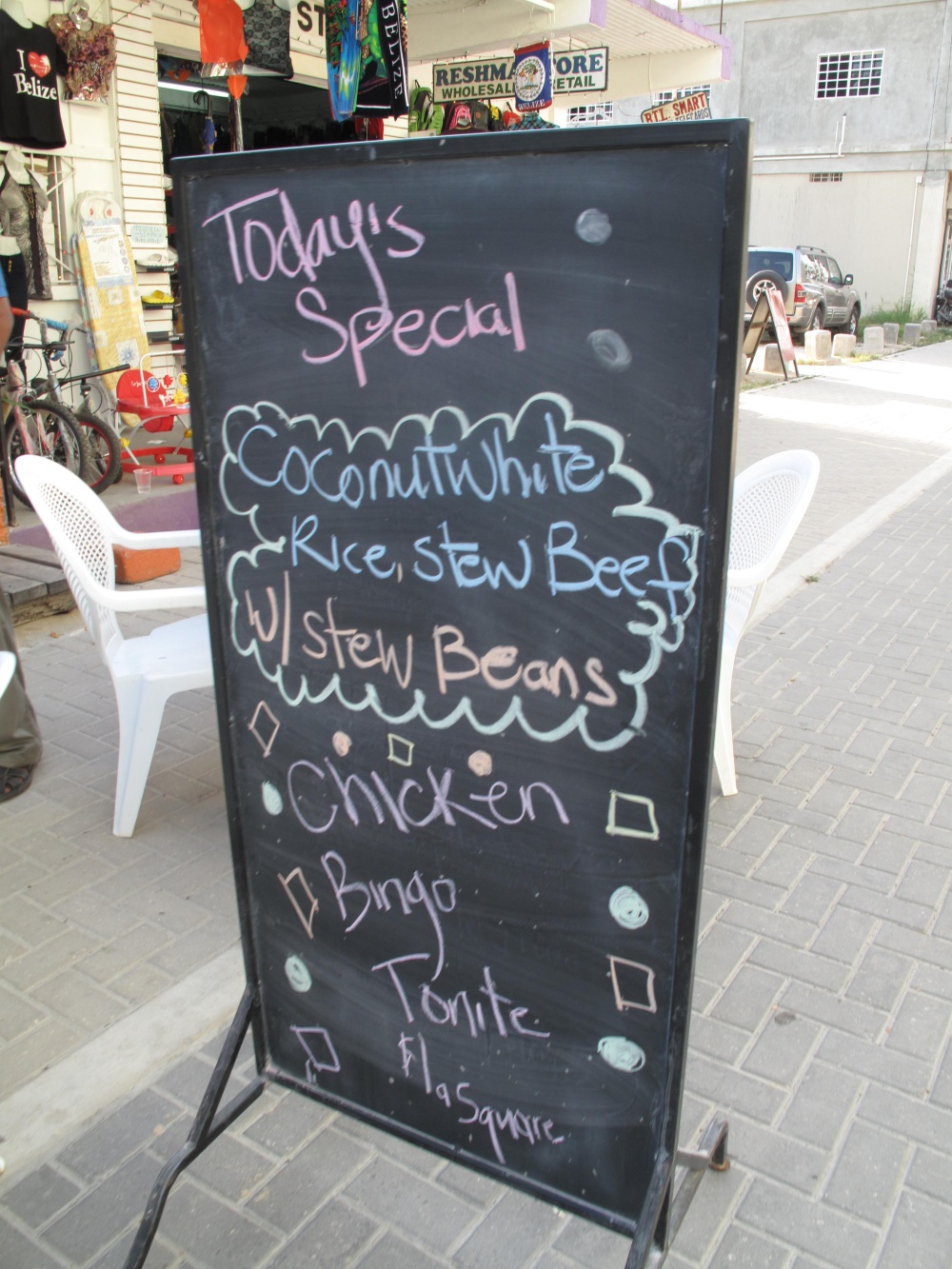 Inside Greedy's…the theme is what I'd call Jagermeister-American bar.
Just down the hill a bit closer to the river, a large new visitors center has opened along with another pedestrian promenade (love that word).  It's pretty snazzy.
Time to head back to the San Ignacio Hotel & Resort, to check out the AWESOME iguana conservation project and to eat a termite…
and then head to the border with Guatemala with some friends to see the shadier side of things.
Next morning we headed down the hill for breakfast.  It was a beautiful day in San Ignacio…really just perfect.
This take-away spot was very busy…
but we wanted to sit so we went just down the road.
Hannah is a cute place.
And I love that they are doing some of the lesser served Belizean classics as their daily specials.  Yum.  I need to come back for lunch.  $8bzd too.  (Apologies for the picture quality…)
I took a few quick pictures of one of the town bridges, the town hall and the river before we headed out of town to drive back to Belize City (just over an hour) with a quick stop in Spanish Lookout on the way.
And the other bridge on our way into town…a bit simpler but the water is gorgeous.