More of Placencia Village, a Sunset Cruise and Uber-Cute Casa Placencia
Okay…so in my previous post, I left off in Placencia sipping soda waters in the Barefoot Bar trying to cool off.  The almost noon time sun was HOT!
I headed back out.  The village was so quiet…and lovely.  A few places are closed for the season – most importantly my FAVORITE ice cream place.  Everyone's favorite ice cream spot – Tutti Frutti Gelato.
Closed until October.
Julia's Guesthouse.  I've stayed here a few times.  Cheap and on the beach.
Yummy De'Tatch Restaurant on the beach.  Great local food.  And I was recently told – by someone who made it his mission to find the best stuff fry jacks in Placencia – that THESE are the best.
For those who don't know about fry jacks – they are made by deep frying flour tortilla dough.  The result is a puffy, savory donut almost.  It can then split open and stuffed with beans, eggs, cheese…
A SERIOUSLY HEARTY meal.
Let me continue walking rather than reminiscing about meals past…
This art shop, Placencia Bazaar, is closed…but the sign on the door says Holler and the owner will come open it.
This darling restaurant was displaying its $10bzd special.  Radi's Restaurant.  It's on my list for next time.
It wasn't the only lunch special that I was tempted by.  Deep fried Lobster?  Bread pudding?  Dawn's Grill N Go does reliably tasty food too.  And a mean fried chicken.
As I often lament, so much food, so little time.
A sign for a seriously ambitious condo project further up the peninsula at Maya Beach.  Ambergris Caye has a 4 story rule (that was upped from 3 to 4 about 5 years ago) – this one looks like it has 6.  Wonder if there is a limit in Placencia.
The painting by the football field is starting to peel.  It's Dalton Eiley – goalkeeper for the Belize National Football team and Placencia native.
I did meet him at the 2013 Belize Market Expo.  That makes us friends, right?
Handsome guy.
Check out my post on the 2013 Expo (above) – because the 2014 Market Expo is coming up this weekend!  Saturday and Sunday – September 6th and 7th.  And it is GOOD TIMES.  Really really really fun.  I'll see you there?
I stopped in the Art Affair Gallery because I absolutely love the owner and all of her things.
Ernest Garcia, a local painter, does some AMAZING paintings.   Love this massive whale shark painting.  $6000bzd.  It's a show stopper.
And the one I've been wanting…$150bzd and perfect for those who fish.  I love the looping fishing line.  It's beautiful.
I'm don't even like to fish and I love these paintings…
Time to head back to Casa Placencia…the place where I'm staying.
Less than a mile up the road and I was there.  Jackie, the owner, has been in Belize for over 30 years.  She knows the peninsula inside and out and she has built this lovely lovely guest house – both overnight and longer term apartments – over the years.
The personal touches are everywhere.  And the garden is just perfect.  Here are some pictures of the different rooms.  Jackie loves color…and in her little garden of Eden, it is so fitting.  Casa Placencia is homey and beautiful.  Though the place is quite small, you can find privacy in one of its many nooks and/or crannies.
There is even this small but perfect pool.  All you need to cool off…
Some of the smaller but very comfortable garden rooms.
And then some of the VERY comfortable apartments.
Enough looking around…time to rush out for a 345pm pick up time for a beautiful sunset cruise around the tip of the peninsula.
Eric picked us up in a GORGEOUS boat – Belizean Style.  Outfitted with 7 different types of Belizean hardwood.
Look at this rosewood steering wheel.  You must admit – that's pretty cool.
You get a totally different view of Placencia by cruising through the canals.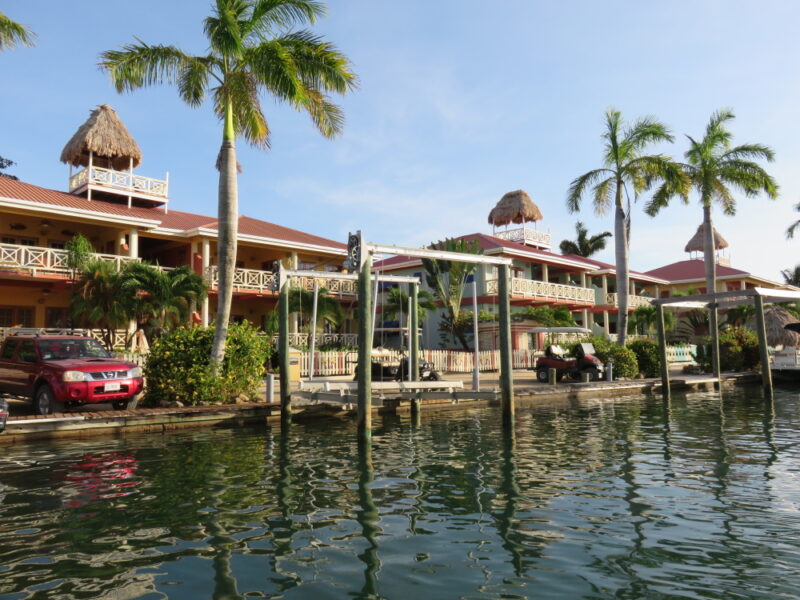 And then the sun went down over the mountains and it was beautiful.  After 7 years in San Pedro – and the relatively flat north of Belize – I am always surprised to see mountains.  The Maya Mountains that pretty much cover the left-hand lower quadrant of Belize.
They are spectacular by day or night.
For more information about Eric Foreman and his AMAZING boat, you can call him at 501-664-8121 or email him at:  [email protected].  He does Freelance Tour Guiding.  Moon Light cruises (the top opens for star gazing – it's like a boat convertible), Manatee watches, boozes cruises.
Basically whatever you like on a GORGEOUS boat.