"Secret Beach" on Ambergris Caye? I Think The Jig is Up
Grand Belizean Estates and a few other "developments" are large tracts of land on the basically undeveloped, unelectrified West Side of Ambergris Caye.  A side that very few tourists (and not all residents) visit.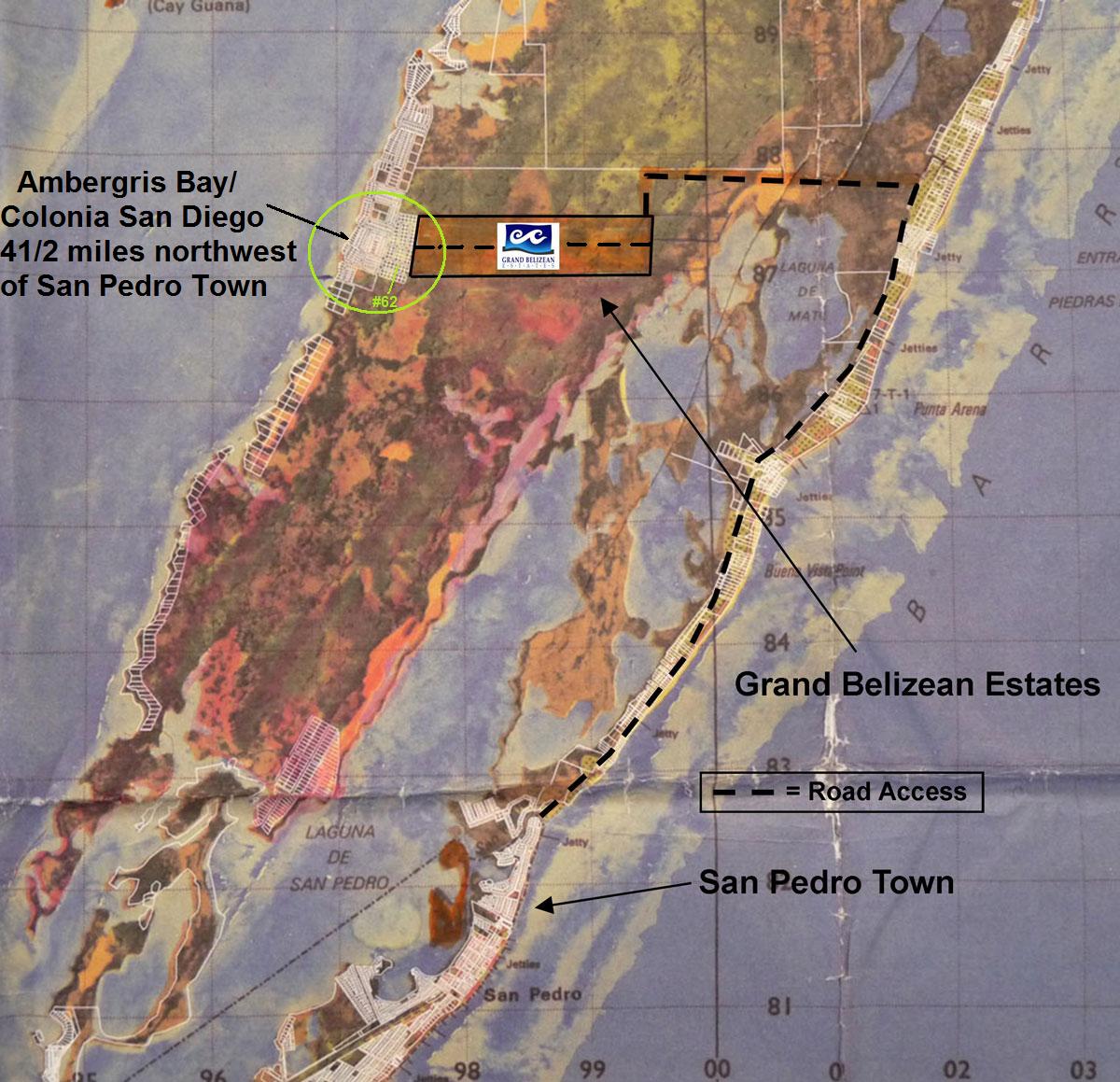 Head about 5 miles north of the mostly paved road up to Indigo Beach Homes and Resort (and a large BTL cell phone tower) and take a left.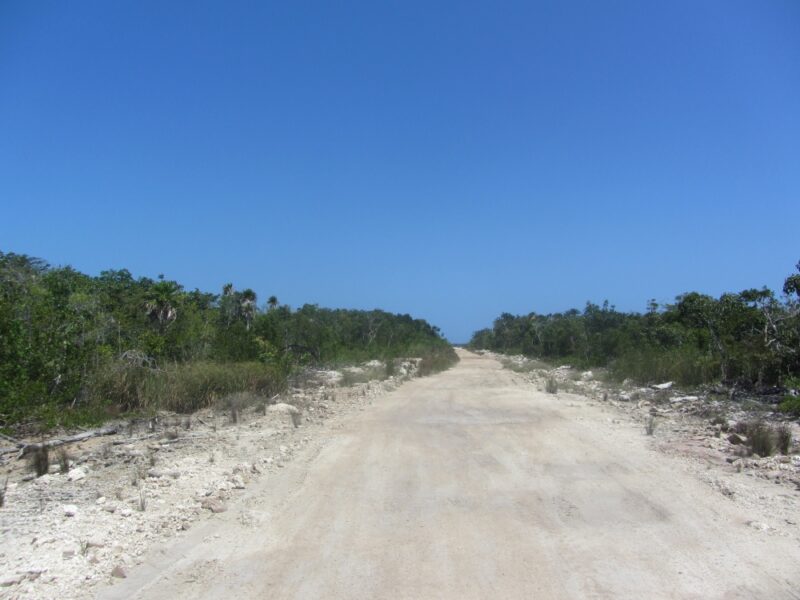 4.5 miles later, across a road – much of it elevated through beautiful shallow water, birds and mangroves – you are at the "Secret Beach".
We knew Sundays were pretty popular up there…but yesterday?  On a weekend sandwiched between holidays?  It was PACKED.
But let me back up just a bit.  Pre-trip, we stopped at Estel's by the Sea for breakfast.  Other than a few picnic tables and a few docks, there is nothing up at GBE.  No eats, no facilities…no nothing.
Charles was working the grill.
Check out a few of the BBQ competitions that have been held at Estels in the posts below.  Charles KNOWS what he is doing.
I went for my favorite:  sunny side up, baked beans, sausage LINK not patty and fry jacks.  Delicious and way filling.
My friend Debbie stopped by to say hello and I had a genius idea.  Debbie owns a Jeep.  Our vehicle was a golf cart.  Maybe…just maybe…we could take advantage of Debbie's Christmas spirit and swap for the afternoon.
And…thanks Deb!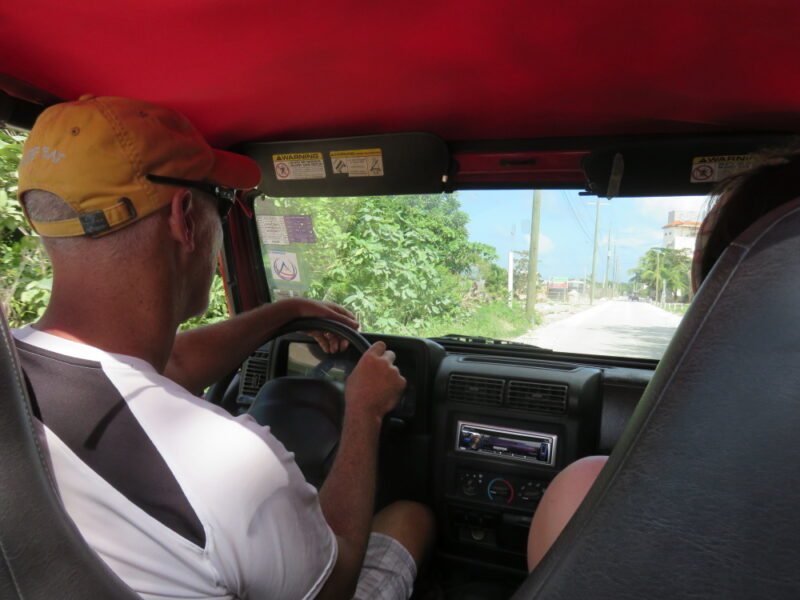 And after about half an hour, we were up at what was called "The Secret Beach".  There were a few people…
…but after about an hour, golf cart after golf cart and then taxis PACKED with folks arrived.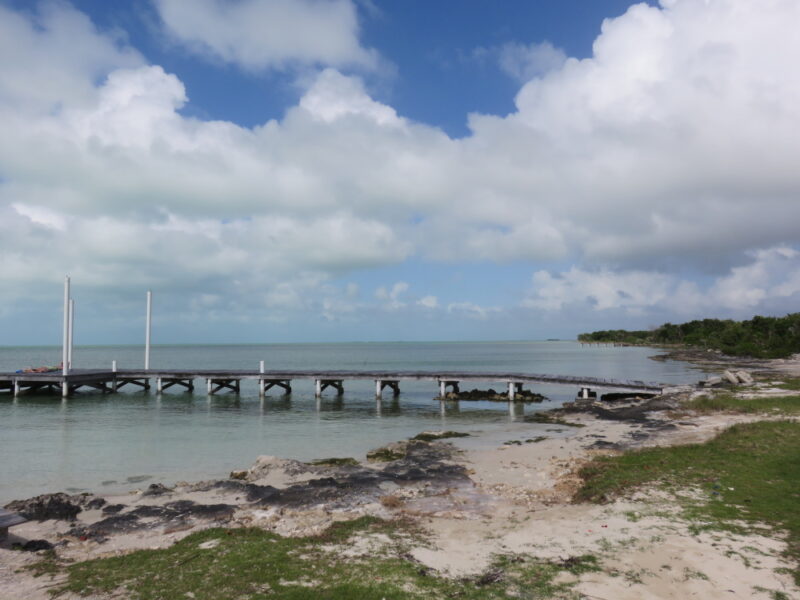 The water here is crystal clear and about waist deep as far as you can walk.
But then…some heavy passing showers.  Not much to do during this but all huddle together under the one palapa.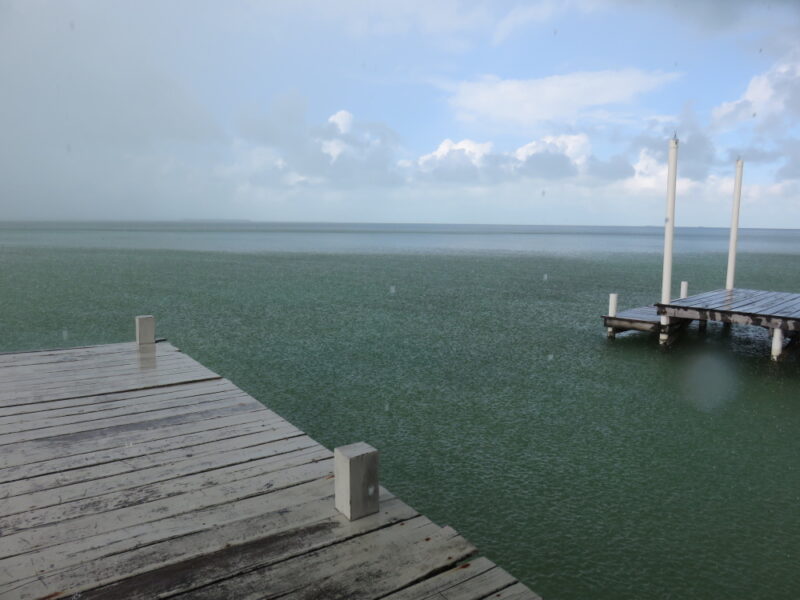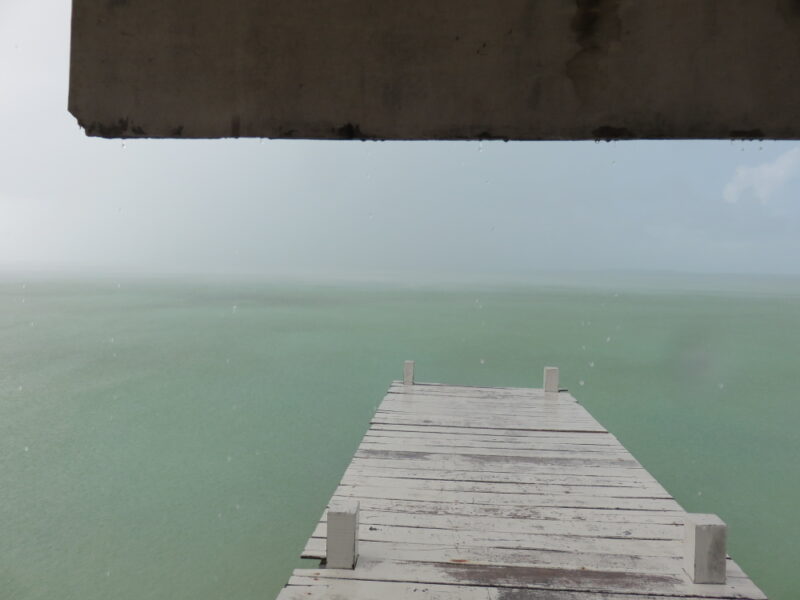 The covering…all the golf carts pulled in.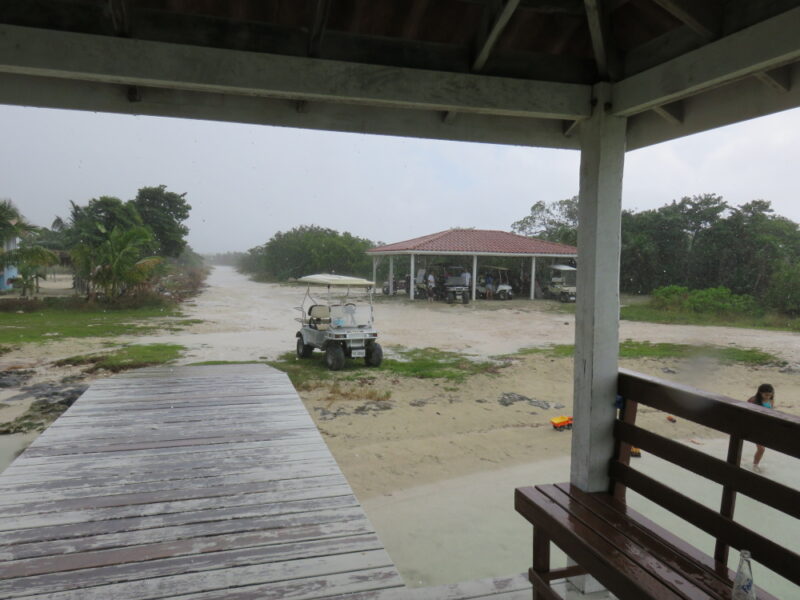 Friends pulled up with their boat.  And Winston the dog.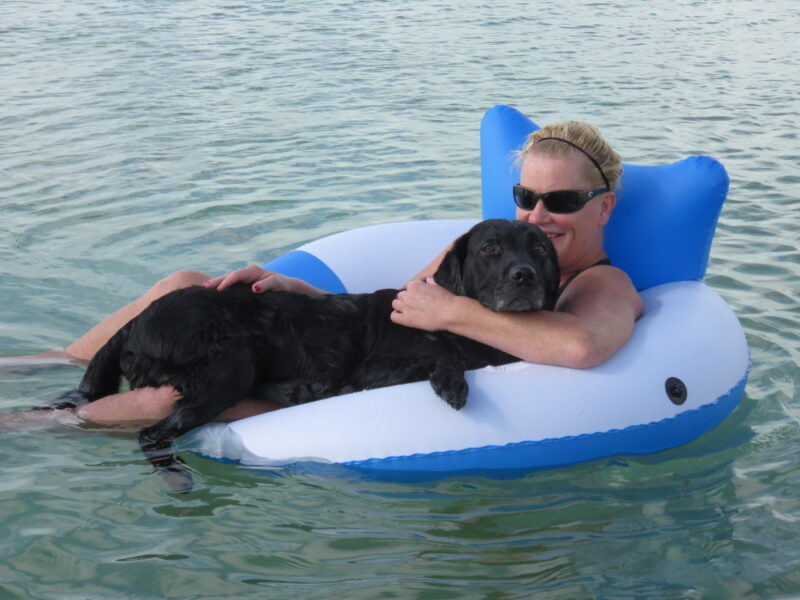 Plus, when the sun comes out so does a rainbow.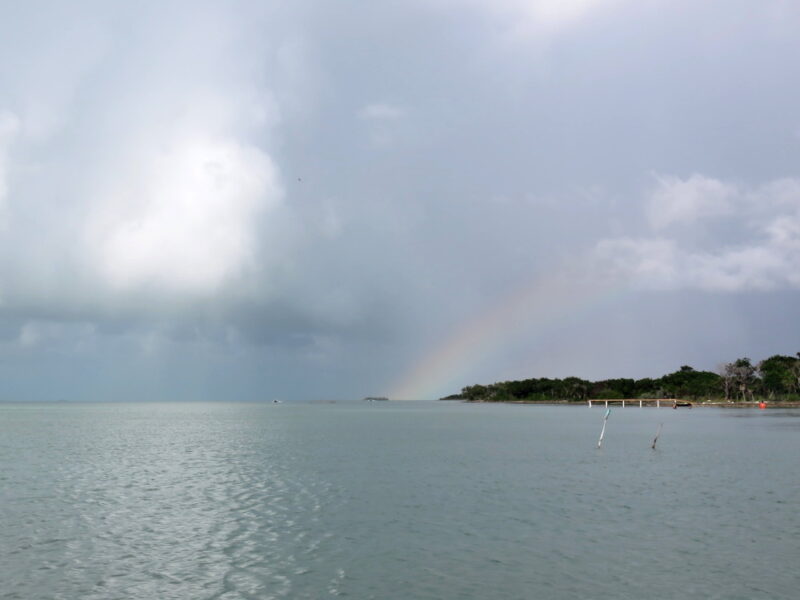 After an hour or two of floating…we headed back to the main road and just a little bit farther north to Rojo Beach Bar.
With the afternoon rains, the road was…messy.  And we ran into two damsels in distress.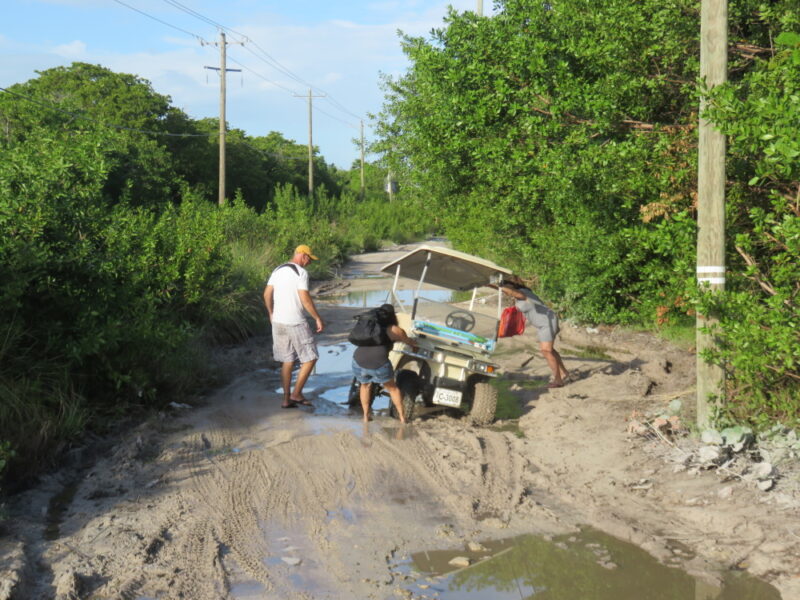 Adam got out to help.  We were more thankful than EVER to be in the jeep.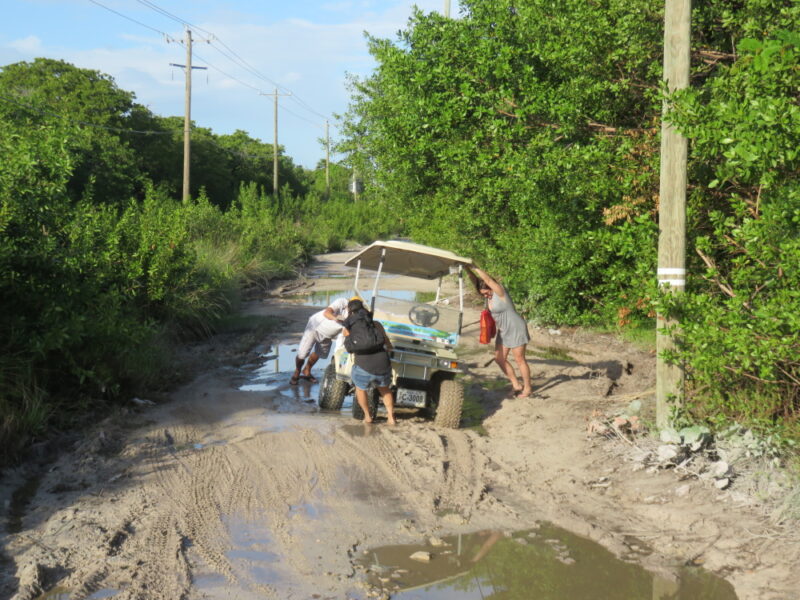 With Adam's help, the ladies were free and on their way.  SO THANKFUL!
Note:  Stick to the edge of puddles as much as you can.  There are some treacherous holes in some.
We made it to Rojo for the late afternoon end to Sunday Funday and for a GORGEOUS lobster white pizza.  (Best on the island.)  Goat cheese, whole roasted garlic cloves…SO GOOD.
Here's a half/half pizza that I had a few months back.  NOTE:  Half and half pizzas are not encouraged.  In fact, you will be told NO.  I'm not sure how I slipped this one by.  Someone was asleep at the wheel 🙂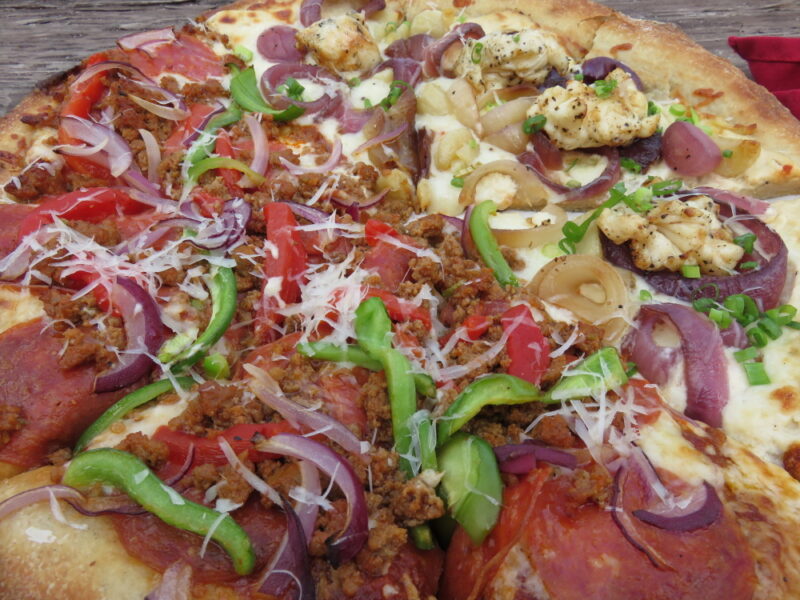 A super fun day and a gorgeous afternoon…