Kelly McGuire's Birthday Week(s) Kicks off On Ambergris Caye With a Full House
Texas singer and award winning songwriter, Kelly McGuire, has been to Ambergris Caye quite a bit.  So many times that he has written an album called "Boat in Belize" (2007) and then "King of the Island" (2011).   Every year, he comes down to celebrate his birthday with all of San Pedro.
And yesterday, ON THE MOST GORGEOUS DAY, I headed down to Island Time Bar & Restaurant for his second show of Belize 2016.
Passing gorgeous Victoria House…
We arrived just before the music started…
Merchandise on sale.
Kelly was set up…Dean on the steel guitar was running a tiny bit late.
The steel guitar…gives the island/Hawaiian feel…
And a view of the huge palapa.
I took a seat.  A cool breeze and this gorgeous view.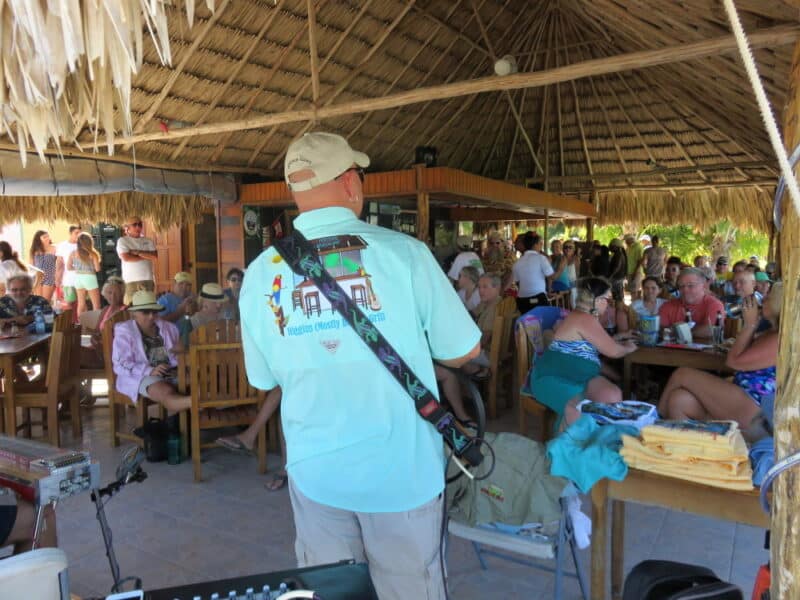 The pool right next door at Royal Caribbean.
And a bit of dancing.
And inside, Kelly was putting on a great show (as always.) Telling stories and singing about Belize and life if you were Buffett.
Most of the audience was wearing Kelly-Gear from previous shows both here and in the states.
We left during the break – someone would take our seats…people were arriving by boat and foot.
We passed a fish cleaning table on the way back…it looked like it had been arranged for a photo.  Even a pelican bobbing in front.