Pupusas on Middle Street: A Simple But Tasty Meal at Pupuseria Salvadoreno
Alternative Title:   Cheap Date Suggestions in San Pedro
I love pupusas.  I named the first cat I adopted in Belize, Pupusa.  And until I arrived in Belize, I had never seen or tasted one of these delicious little patties before.
Meat, cheese and beans is typico.  Stuffed in a masa pancake that looks easy enough to make but I know is not.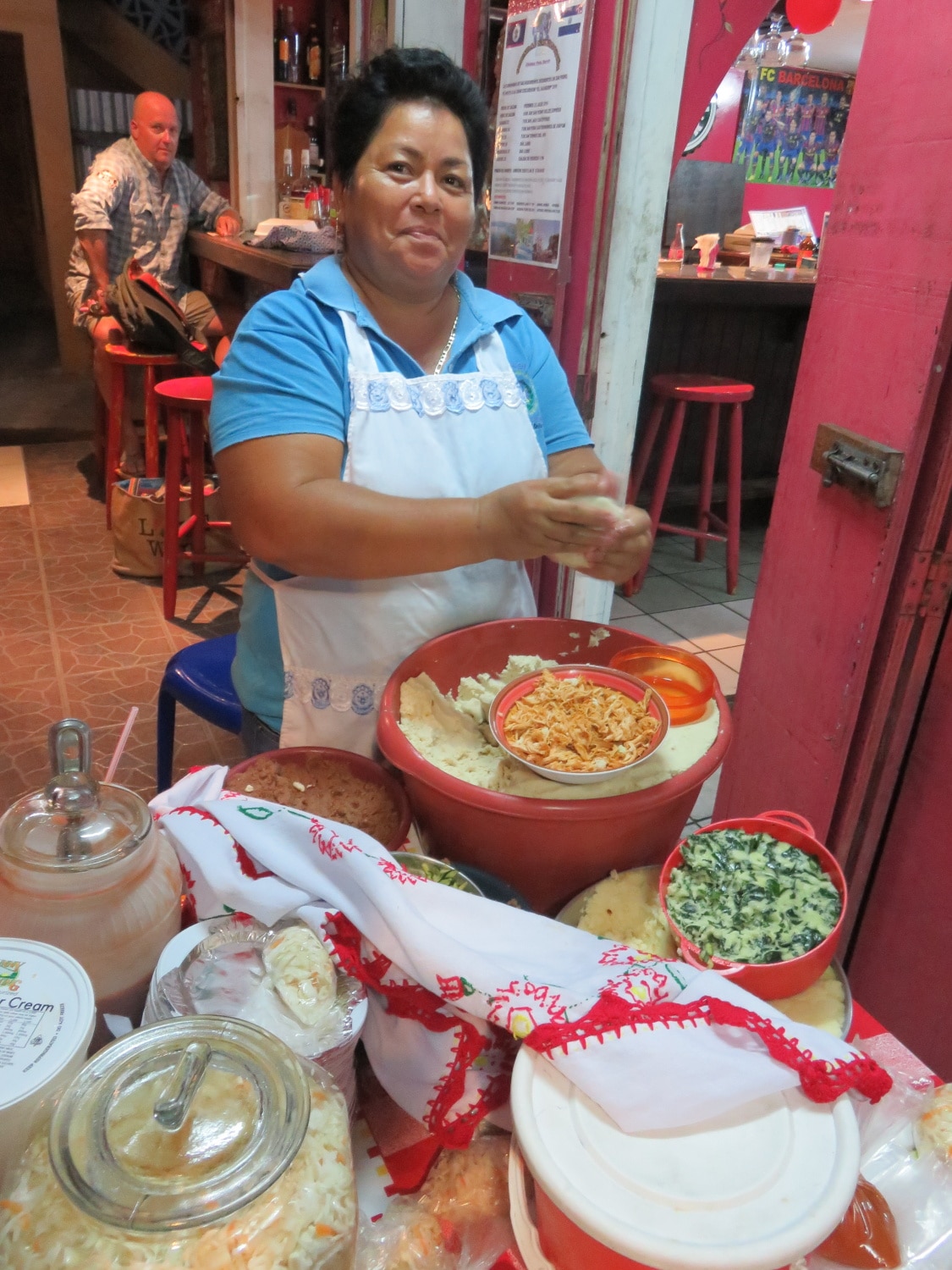 Pupusas are the national dish of El Salvador and have been eaten for hundreds of years there.  The popularity was spread throughout Central America and the US during the 80s and civil war when many El Salvdoreans fled the country.
According to Wikipedia, the world's largest pupusa was created in 2007 and fed 5000 people.  A little pupusa goes a long way.
But I think it sort of misses the point.  Bigger is not better when it comes to this delicious street food.  It's all about the crisp edges and, if you are lucky, a small burst of cheese leaking out and frying on the griddle.
It sure does look heavy.
Middle Street San Pedro used to be a bit of a pupusa battleground with two rival pupuserias sitting right across the street from each other – Salvadoreno and Waraguma.  Waraguma has somewhat recently moved to a bigger space on the Back Street and while a business or two has tried to fill Waraguma's spot…
Like Hati the Lobster…
It now stands empty BUT, I hear, RENTED.  Apparently an Italian spot/pizzeria is moving in – by the same owner that JUST opened an Italian restaurant south of town where George's Kitchen used to operate (across from Corona Del Mar Hotel.)  Here is the Facebook link – they previously operated on Caye Caulker and were much loved.  I need to try them out.
A few nights ago, after hearing recently from a few folks about how good and how cheap Pupuseria Salvadereno is, we stopped in for dinner.
Pupusas were being ordered on the street…and we saddled up to the bar with a view of it all.
We started with two pupusas – one pork and cheese and one for me, pumpkin.  Which is cheese and some grated local pumpkin – that tastes like zucchini.  Delish.
The bartender warned that the homemade hot sauce is hot.  That is something you should take very, very seriously.
They are served with slightly fermented cabbage (which I love to pile on top for crunch), a bland tomato sauce (which I like to ignore) and hot sauce.
When the bartender says "try one drop", he means it.
We then splurged and split the beef quesadillas.  A decidedly un-Salvadoreno dish…(and I do apologize for my night time pictures)…
Beef can be hit or miss here in Belize.  Chicken, great.  Fish, usually great, if fresh.  Pork, even greater.  Beef…has historically been a very tough meat here.
But this was flavorful and delicious.  And the homemade flour tortilla perfectly crispy.  It was even better two days later when I microwaved it for breakfast.
So, the pupusas are $2.50bzd each.  And 2 is a FULL meal for anyone.  The quesadilla was…$15 I believe.  All in all a VERY reasonable and filling dinner.
Before I left, I tried to talk the bartender into a great idea (in my mind).  With an Italian joint moving in across the street…PIZZA PUPUSAS.  Cheese and pepperoni.  Marinara on the side?
Good right?
And apparently already trade marked in Dallas, Texas.  Good thing this is Belize.