Heroes in The Jungle: Belize's Race To Save The WILD Scarlet Macaw
To see 10…16…20 scarlet macaws flying across the late afternoon sky is almost hard to believe.  Always even numbers, these surreally colorful, gorgeous birds mate for life.  Shrieking, gliding in tandem and so garishly colored, it's as if evolution forgot them.  There is no missing them in the jungle of one thousand greens.
These birds are native to Belize.  But there beauty is sadly also a problem.  They are highly coveted as pets – selling for hundreds of dollars in Guatemala.   And much of their habitat in this country, the Chiquibul (pronounced Chick-ee-bull) Rain Forest (over 400,000 acres of rivers and ancient trees and wildlife), lies closer to Guatemala than to any populated area in Belize.
Poachers routinely come across the unmarked border, through incredibly dense jungle, to gather xate (prounounced "sha-tay"), a green plant used in flower arrangements.  They are locally called xateros (sha-tear-os) and they come for more than plants.  They cross for hunting, for illegal logging of mahogany and cedar, for gold panning, to grow marijuana and sadly, to poach the baby scarlet macaws.
None of these are large scale operations…yet.  For example, with logging, it is often a few men and a chain saw…they fell the giant tree, cut it into rough boards on the spot and tie the boards to the side of a horse…or float them down the river.  Often in the middle of the night.
It has been said that Belize is at war and we don't even know it – a few weeks ago, I spent 3 nights in the jungle along the Raspaculo River in the midst of the macaws' breeding grounds, talking, eating and sleeping beside the FCD rangers and the team members of the Scarlet Six and…now I know it.
Let's start at my beginning.  Each year, the Scarlet Six team, a group fully funded by donations and fueled by devoted team members and volunteers, goes into the jungle in the late spring.  They identify scarlet macaw nests (they always nest in the quamwood trees and often return to the same nest year after year).  They spend the next 3-4 months camping near the base of the trees and monitoring the chicks (only one or two per nest) in the high trees.
Last year, I joined one of the teams for one night, this year, I set out for four nights.  Totally unplugged…only the local ranger has a radio (with a long antennae he holds to the sky by the river once a day) to communicate with the outside world.
I packed my food for four days (I won't show it to you…it will make you sad) and met Luis, my team leader from the S6, his 2 kids and his nephew and 2 volunteers from Orange Walk, in San Ignacio, Belize.  We drove for about 2 hours into the Pine Ridge area along bumpy logging roads, passing the turn off to Caracol Maya site and then to the Chiquibul where we boarded this tiny boat.  We were just upstream from the Chalillo Dam.
The landscape is stunning…again, almost surreal.  Pine forest to one side, broad leaf forest on the other.  And as you head up the river, giant dead trees that were submerged by the flooding of the area when the dam was built over 10 years ago.  The Raspaculo was originally named "Scrape ass" for a reason…now, with the dam, your butt is safe…it is much deeper.
We passed a beautiful buck and his girlfriend.
And later, where we would do some of our bathing and collect our drinking water.  Trickling down from the mountains.
The next day, we passed this guy while heading back to the same area.
To say that this area is beautiful is…not enough.  The crew had spotted three jaguars already this season…AND found a baby drowning in the river.  (She, Chicky, is now being cared for at the zoo.)  I need to tell you that story later…
We arrived at our first assigned camp site to find that the FCD research ranger had just climbed the tree…
…to see that our chick had flown the nest.  We continued up the river to the next camp…
I set up my borrowed hammock with some serious help (it's the one in the middle of the photo) – you don't want to mess around with the bug netting and the water proof "roof".  I learned those lessons last year in my one night.
The way to the "bathroom" – a hole that was home to about 1000 flies, 10,000 mosquitoes and a handful of huge frogs.  Not a spot you want to linger and…in the middle of the night when you need to pee?  I felt like I was on the show "Naked and Afraid" – thank god for my headlamp and my shoes.
The view just downhill…my reading spot, a canoe, and clothes hanging to let anyone who might be passing know that WE ARE HERE.
The next morning, my two friends from Orange Walk – a father/13 year old son team – were up for some early bird watching.  Toucans, cuckoos, hawks, hawk-eagles, kingfishers…the birds watching is stunning.  Even to this newbie.
But the star…and man, what a star…is the macaws.  They are shocking each and every time you see them.  These parents circled by often to scream at their kid…GET OUT OF THE NEST.
Above him in his tree screaming JUMP!  I do not blame his hesitance one bit.
We headed out to check on another nest and to do some more birding.  We stopped at the end to get fresh water and to bathe…
…at the amazing blue hole.  A pool with blue-ish algae? that glows in the dark jungle…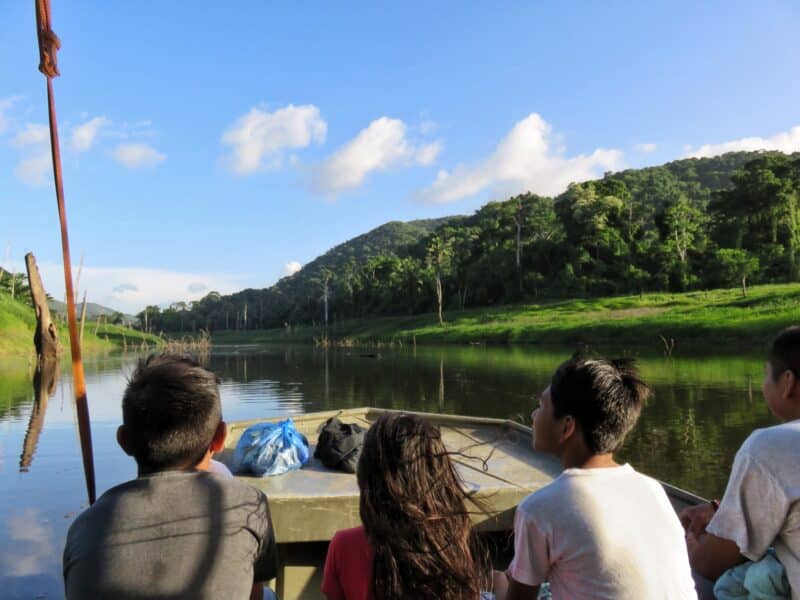 You have no idea how good this feels after 2 days of stewing in your own grime.  I spent lots of time reading, a bunch of time watching capable cooks make tortillas and fry jacks over small butane stoves and time talking to the FCD rangers.
The Friends for Conservation and Development (a NGO working only on donations) deploy a handful of full time rangers and researchers to cover this massive swath of jungle, the richest area in Belize when it comes to biodiversity, timber, wildlife, fresh water and cave systems – over 660 square miles – by boat and on foot.
About 15-18 young men covering all of this area.  Can anyone donate a helicopter?
The rangers are armed and when working along the border, they team up with the Belize Defense Force, for extra help & protection.  They are doing a very dangerous job – confronting Guatemalan hunters and poachers – with (what I think) are minimal supplies…these guys are heroes, they are incredible.  No doubt about it.
I was told that I can't post their photos…they need to maintain anonymity in this dangerous job.
The Scarlet Six team up with the FCD during the late spring/summer months to protect the scarlet macaws.
So everything was going well.  We were keeping our eyes on our bird, we were travelling the river for birding and exploring, we were trying to keep away from stinging insects like this massive caterpillar that was chawing on the grass at the entrance to our camp.  This piece of orange greasy hair was about the size of my hand.
I shudder to think what it will turn into.
We woke up after night #3 of 4 early (bed time in these parts is between 7 and 8pm – there is only so much you can do in the DARK)…the morning was grey and it had been drizzling all night (but, hey…it's the rainforest)…
Our research ranger radioed into HQ as he did each morning and he returned to camp.  Evacuate.
Ummm…what?  Not at all what we were expecting.   The news?  A storm was coming.  And that was it.  In half an hour, all our hammocks were down, everything packed…apparently this river rises FAST in heavy rains.  Like 10 feet in an hour…sometimes more.  And the wet heavy tree branches would come down easily under high winds.
The canoe was dragged 50 feet uphill and we loaded into the two boats.
The S6 team and the volunteers were headed home (or as I would later find out…that would not be possible) and the rangers to their base.
I boarded Dave.
The rest of the crew and LOTS of equipment weighed down the smaller boat.
In about an hour, still somewhat dazed and confused, we unloaded and said good-bye to the rangers.  Our boat was secured way up on the hillbank…again to protect it against the surging river…
And we loaded up to head to San Ignacio town.  Just over 2 hours away.  I had no phone signal until I reached there and how no idea that Hurricane Earl was arriving that night and that I would be stuck in Cayo, unable to reach home, for two more days.
Very very unexpected by both me and the rangers.  This is the first time they have been evacuated during the hurricane season.
My trip was cut a day short and sadly, as reported on the S6 Facebook page, some of the nests were damaged during Earl.  Hopefully my ward flew in time and the birds are safe.
One of the many gifts of my job is meeting amazing people around Belize that are, often quietly, doing AMAZING things.   Doing jobs that few other people know about with pride and courage.
Over 10 years ago, it was estimated that there were less than 250 of these birds left in Belize – in 2011, it was estimated that over 80% of nests in the Chiquibul Forest were poached.  That is all changing.  Luis from my group described seeing a group of about 200 flying over last September as they exited the jungle after the last chick had fledged.
GO FCD and SCARLET SIX.
For more information on how you can help, please check their website – Friends of Conservation and Development and the Scarlet Six team.  They are both fully funded by donations and both accept volunteers.
If you are looking for your chance to really experience the jungle and if you love birds and other wildlife, it would be the trip of a lifetime.  It's not always easy, it's sometimes boring, sometimes scary, always beautiful, but assisting in saving just one scarlet macaw is totally worth it.
For more information on this area of the country (and for some great reads), please check out photographer Tony Rath's articles:  Belize Is At War And Doesn't Even Know It and In Belize, All that Is Gold Does Not Glitter:  The Looting, Desecration and Annexation of the Chiquibul Rainforest in Belize.
For more people doing amazing things in Belize with animals, please check my blog posts below.
Oh and very quickly, the story of the baby jaguar.  One June morning, two rangers were doing patrols on the boat and they heard a strange kind of screaming…definitely not a bird.  One of the rangers thought that maybe a poacher had thrown a cat into the river (strange…but I guess possible?) so they went to check it out.
They found it, pulled it out and knew immediately it was a baby jaguar…one as small and cute as a stuffed animals.  Soaking wet and dehydrated.  They had no clue what to do.  Put it back on shore?  It seemed sick.  But was the mother going to emerge from the jungle, spot these two guys with the baby and set about to slowly and methodically maul them to death for stealing her offspring?
They decided to take the baby back to camp and to radio headquarters for directive.  HQ talked to the zoo and radioed back.  Keep the baby in camp for two nights and we will come pick her up.
They tied to baby to a tree and tried to give her water and food but as soon as she was dry, this cute little fluff ball turned into an enraged wild jaguar.  A jaguar that make tons of noise.
So for TWO NIGHTS, these guys live in the camp and sleep in hammocks thinking that every minute was their last.   Every sound made them jump.   The incensed mother jaguar was going to spring from the dense jungle and go for their jugulars…if they were lucky.
They live to tell the story but as I told them…you can NEVER get the smell of baby jaguar off you.  NEVER.
So many words…but I am still completely awestruck by what is going on in the Chiquibul…the beauty and the fight to keep what is in Belize for Belize.