Beachfront Bargain: A Look at Caribbean Villas Hotel on Ambergris Caye
I get quite a few questions.  Often I'm asked for an opinion on a specific hotel.  Is the pool good for kids?  Is it a convenient location?
But just as often I'm asked a more general query – for a beachfront hotel for the traveler who wants to spend a little less on accommodation and a little more on tours and food.  The visitor  won a budget.  I can definitely appreciate that – it's how I first visited Ambergris Caye and how I fell in love with it and, less than 6 months later, moved here.
So this week, I visited two different resorts.  First…Caribbean Villas Hotel.  A large property just south of town — an easy 15 minute walk to the center.  Lots of beachfront and LOTS to do.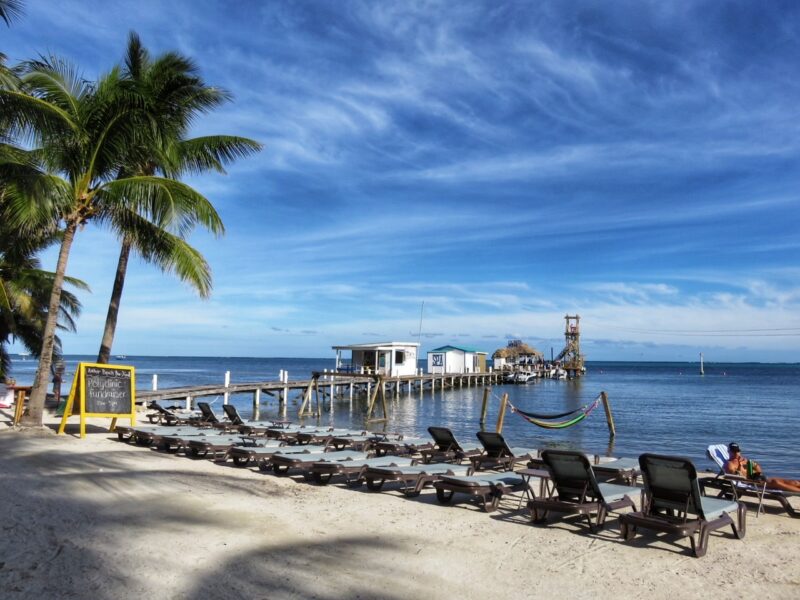 Best to just show you in pictures from my day and night at CV.  I hadn't been there in a while and quite a bit has changed.  Take a look…
And hang on to the end.  I've got an important tip for staying here…and everywhere on Ambergris Caye!
The front desk gave me my key.  I was on the 4th floor – yes!  there is an elevator – and room B.  There are two sections of the hotel – one part, the villas.  Larger suites.  And then the new building.  It's BIG…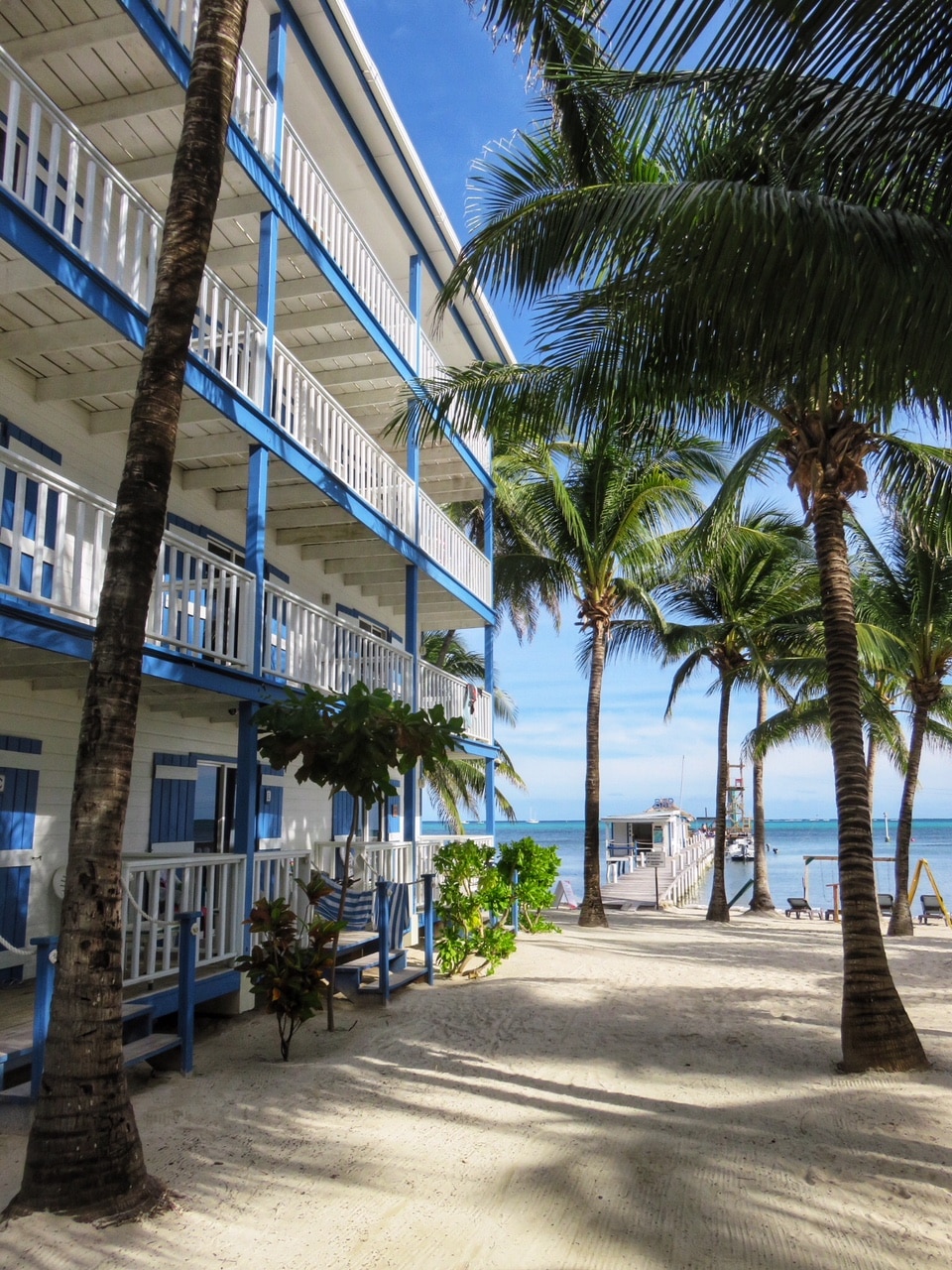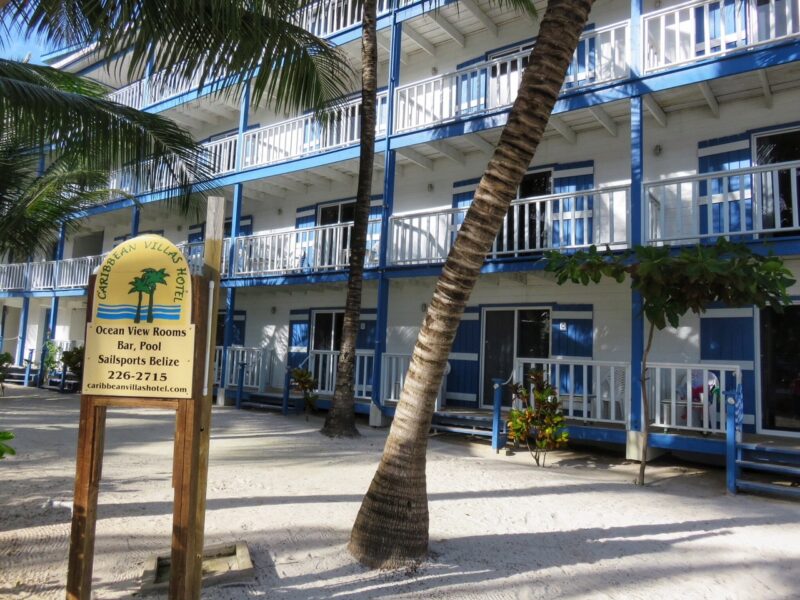 The closer you are to the beachfront, the better your view of the sea.  Mine was beautiful.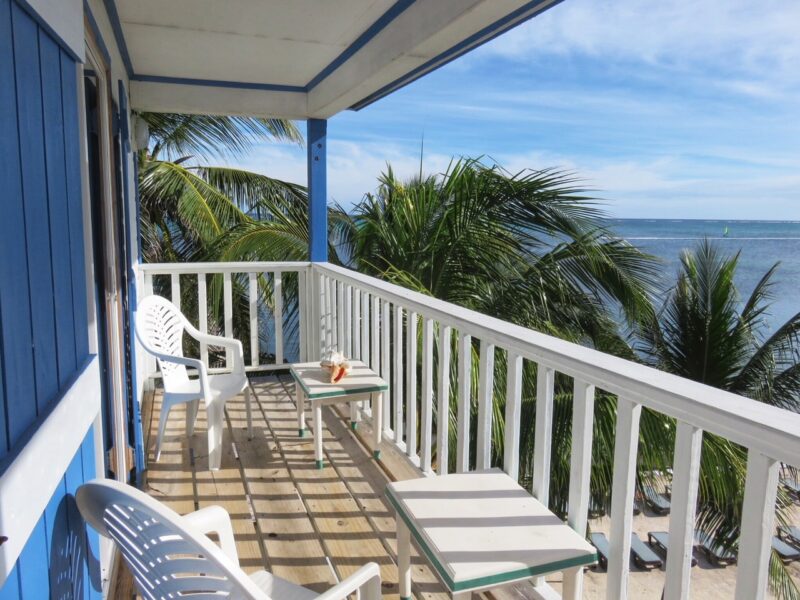 The room is BIG, simple and comfortable.  You have your own bathroom, lots of shelving, a small TV, a good sized refrigerator and really nice sheets.
I enjoy good sheets.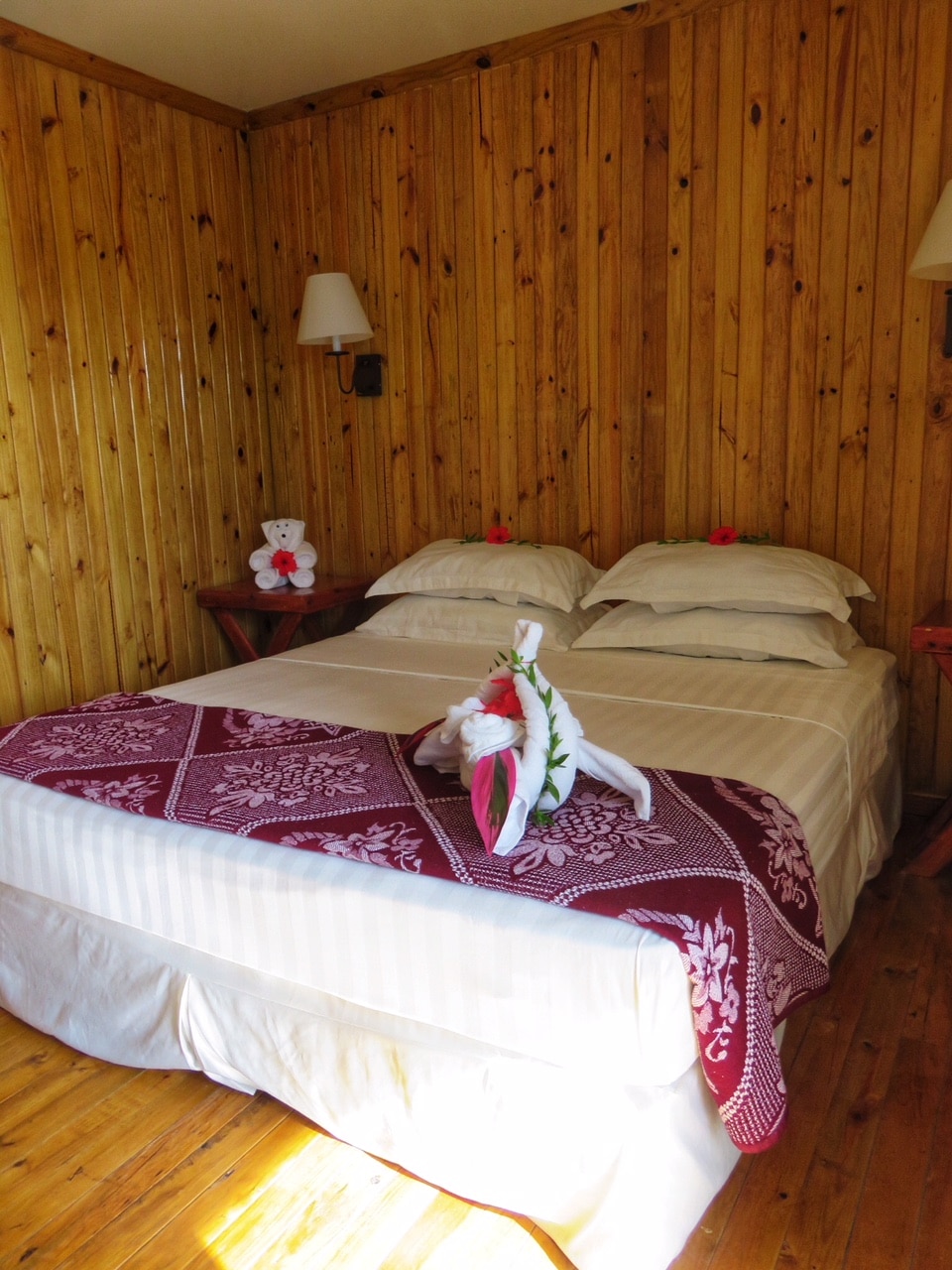 There is a sliding door out to your balcony and view.
You can see the reef stretching into the distance.
I took the stairs back down.  There are two pools…
You can see the villas here.
And then…THE WATER PARK.  You pass the dive shop and the spa…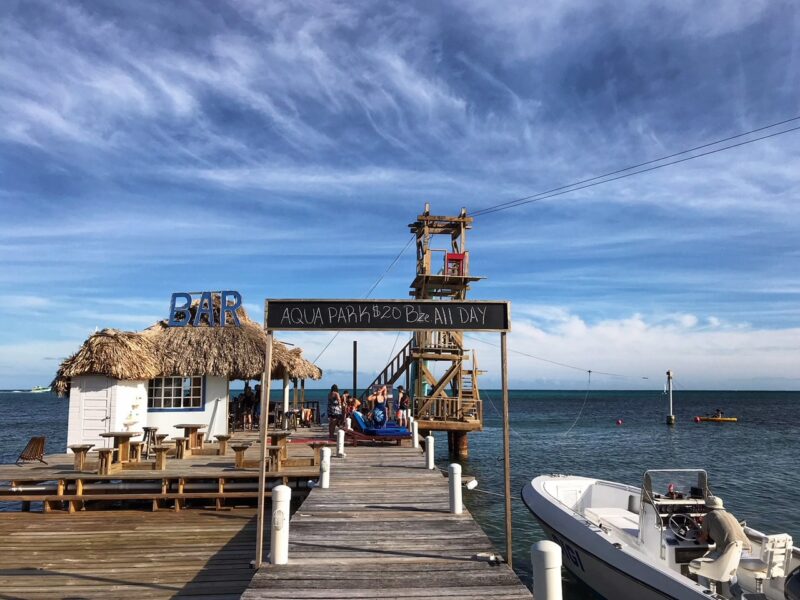 There is a bar and lounge chairs.  But even a chicken like me has to climb to the top of the slide called El Diablo.
Not going to happen…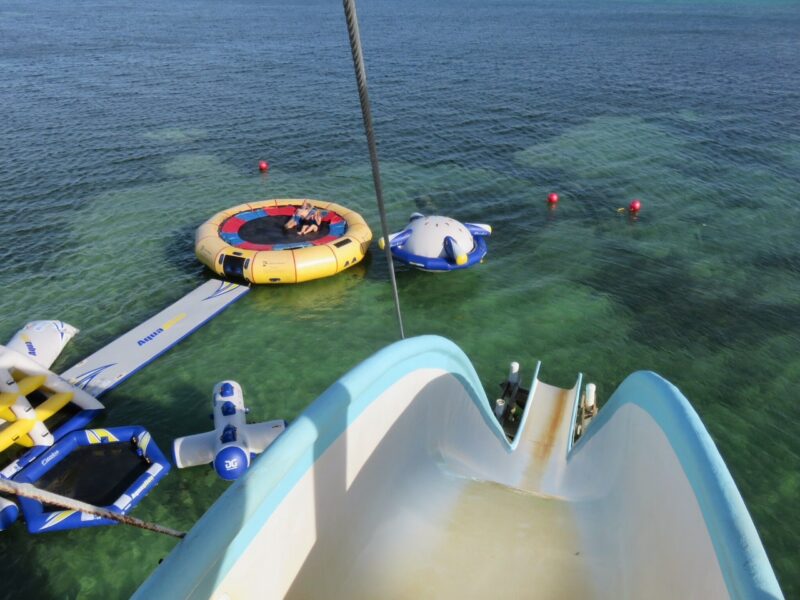 I headed back down.  Sipping a Coke light at the bar is more my speed.
A quick look back from the top of El Diablo.
The beach at Caribbean Villas has doubled in size since I last saw it – wide and white, it's definitely a nice spot to spend some time.
And for the even more adventurous, for an additional fee, you can ZIP from the beach to the dock.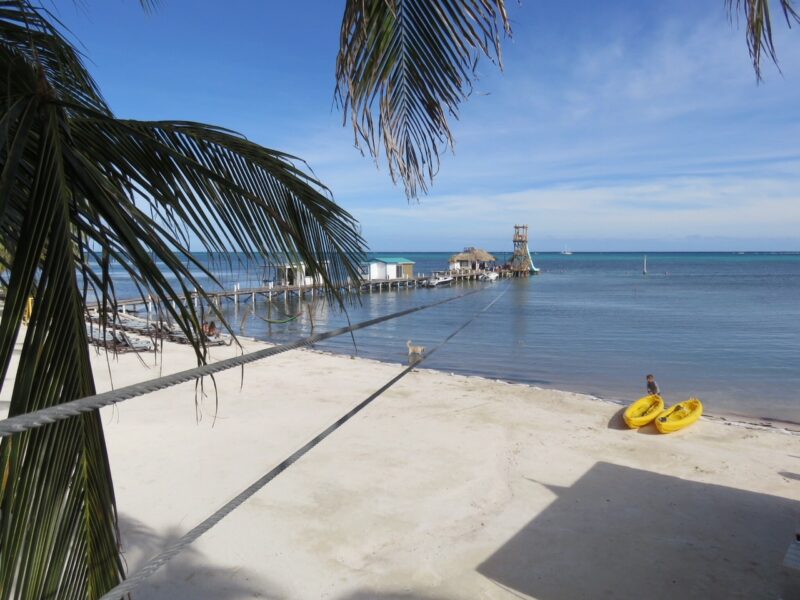 Another look at one of the pools…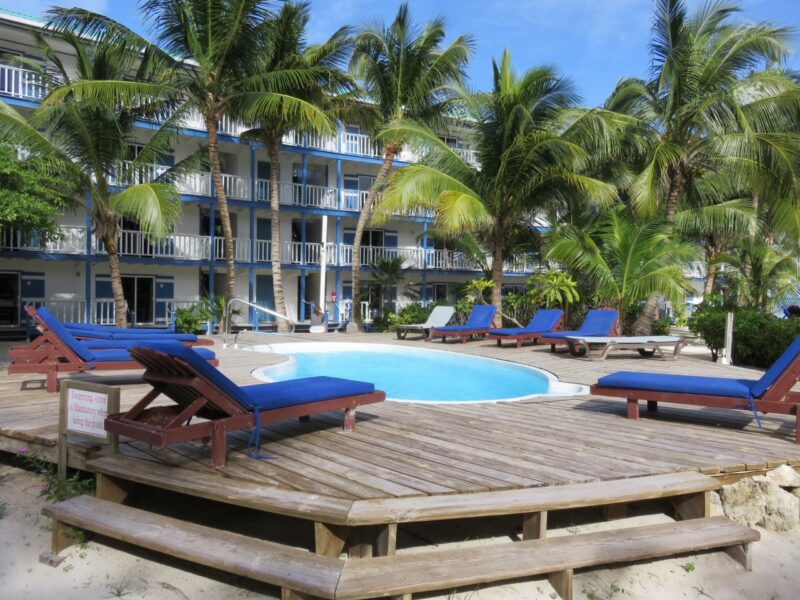 There are two restaurants on site – Amber Restaurant, serving breakfast, lunch and dinner each day with everything from burritos to prime rib.  My friend Monica, who has TONS of great restaurant experience on the island, is now managing the food.  She was the one who invited me to visit.
I LOVE the idea of all you can eat and drink Taco and Draft beer night.  $50bzd.  Tacos of all kinds including lobster and shrimp and an hour and a half.   Tuesday nights.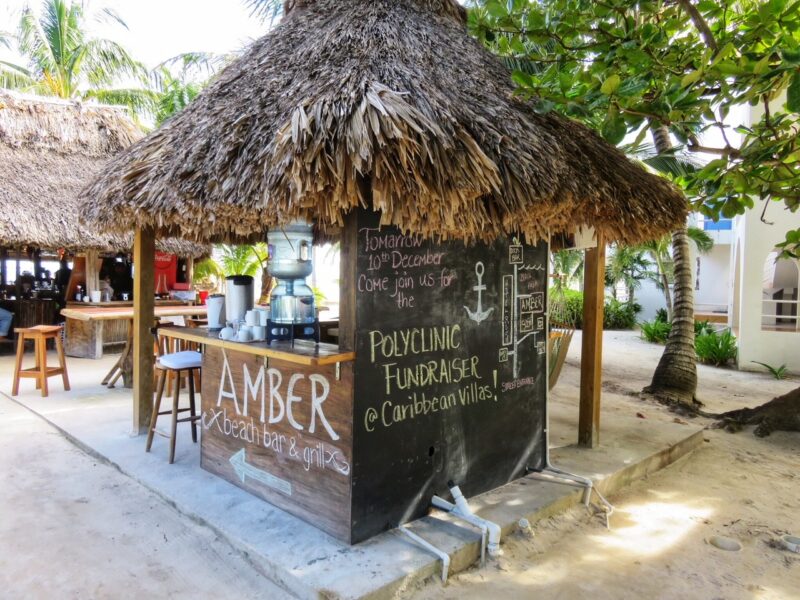 There is also a relatively new sushi bar & restaurant called Tsunami Sushi.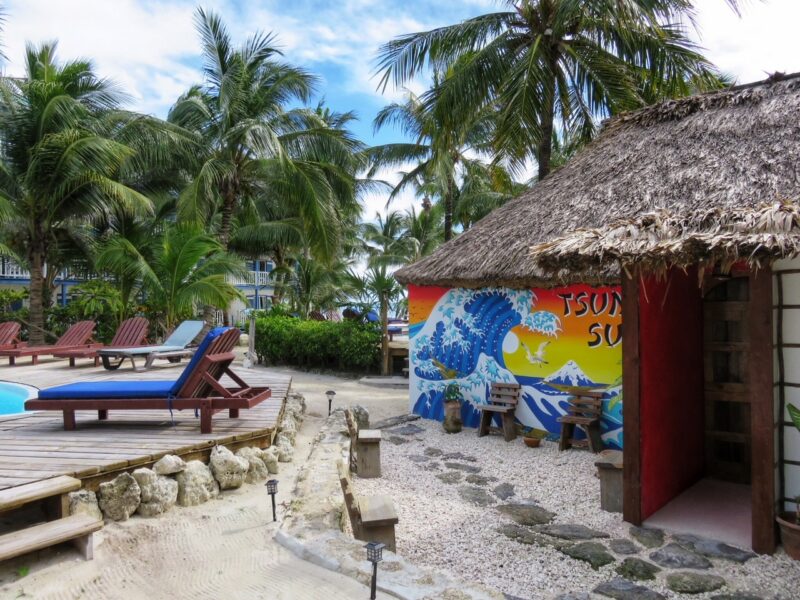 And inside later that evening…
There was a great breeze so I went to eat outside.  And my food was beautiful!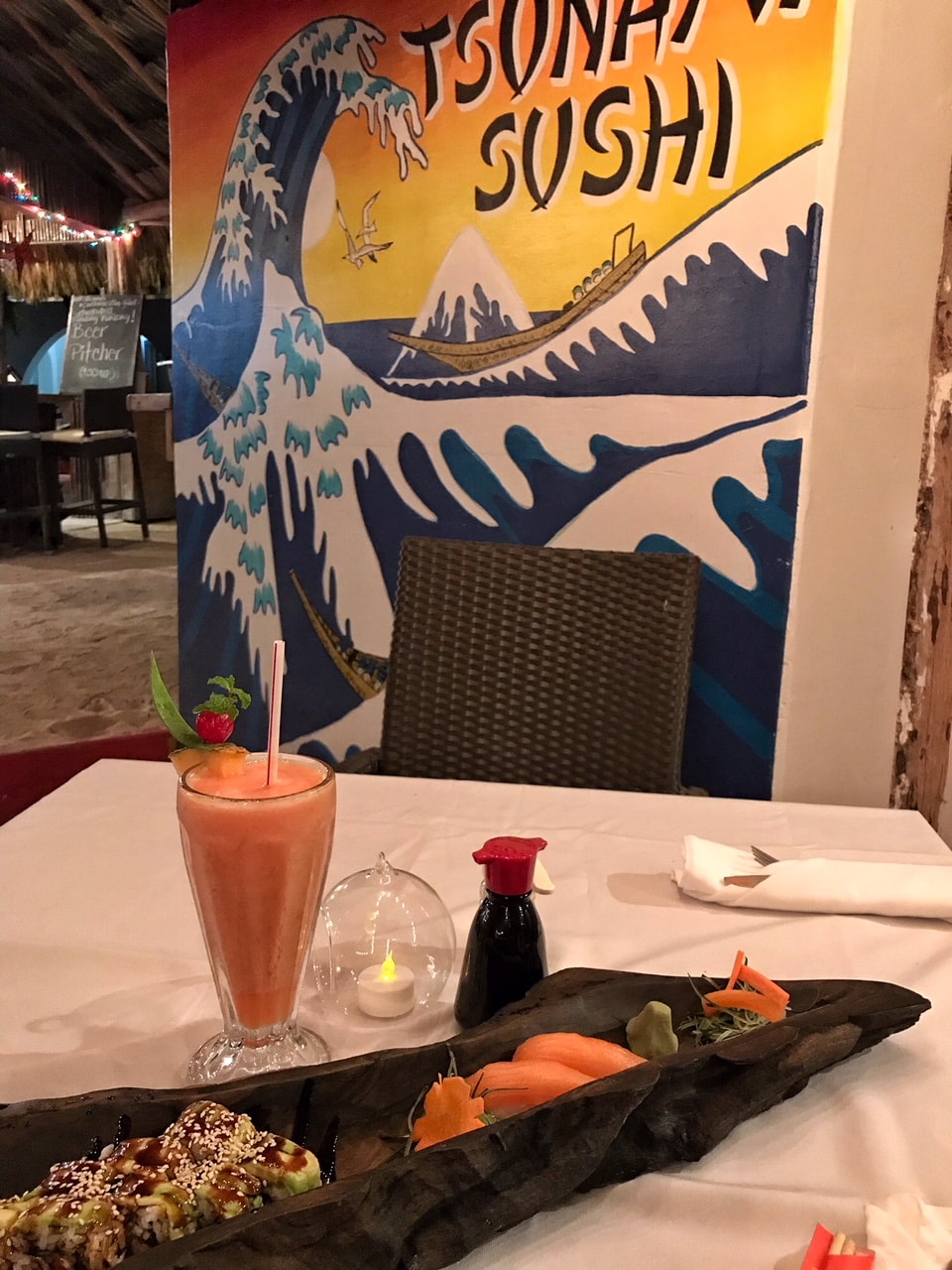 The eel rolls were delicious.  Stuffed, just as I was about to leave for my room, I overheard this at a neighboring table.  They make fresh baked cookies and brownies each day and serve it with Paradice Ice Cream.  (It's a new shop in San Pedro town that makes GORGEOUS ice cream.)
Dang it!  Brownies and hot fudge and ice cream?   I must be told about such things before I eat!
Next time.
My dawn view from the beach and from the dock and then from room #4 as I went back to sleep.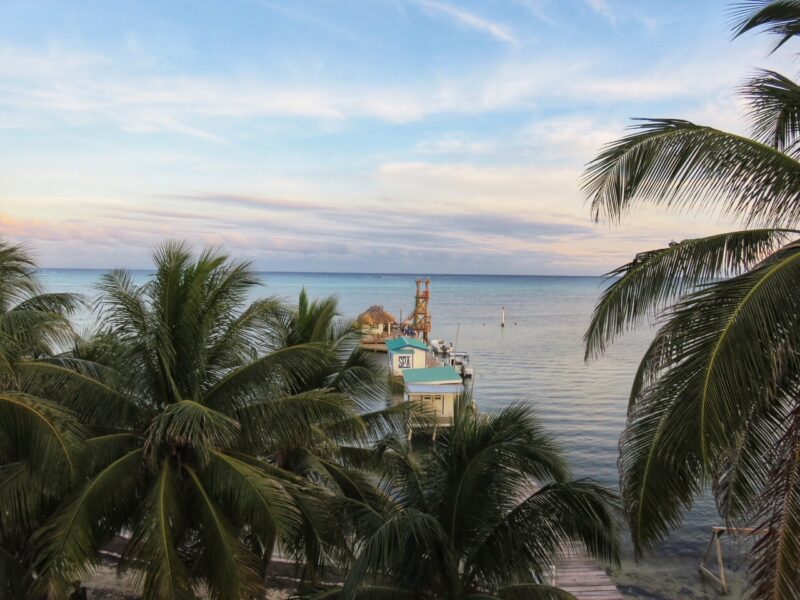 The staff is fabulous – my waiters in the evening just about perfect.  Great location, HUGE beach perfect for lounging, swimming, bouncing and sliding, I can totally see staying here again.
And now, my tip.  When you book online – on one of the sites like Expedia, Hotels and all the others – they not only take a good sized commission but they cut you off from communication with the hotel directly.
So…if you book a room and you REALLY want to request one as close to the beach as possible, book direct with the hotel.  Request beach front – let them work with you and for you.
I've written about it before (Booking A Hotel Room in Belize – Get Your Best Deal) – but in a spot like CVs, that has lots of rooms, why not bump yourself up to the top of the list?
Oh…and one more thing…just an idea from me.  Because I am THAT person that likes to start sentences with "You know what you should do?"*
Murals are ALL THE RAGE right now.  Everyone wants to take a picture in front of some gorgeous piece of art – simple or complicated – and post it on social media.  Here are some of the most famous street art examples and wall murals around the world.  Or 10 Chicago Murals for The Perfect Instagram backdrop.  It's real!
Look at this big empty canvas.  Sigh…
*** "You Know What You Should Do?"  Exasperating phrase used to start many sentences by someone on their first visit to your establishment – where you run a bar, restaurant or hotel for 200.  New to the area or the country, this person peppers you with ideas about how you should run things.
You know what you should do?
As if you have never thought of it before.  As if you have spent the last (fill in amount of time…2 years, 30 years) not thinking about own business but twiddling your thumbs waiting for newbies with GREAT ideas.
It's something annoying I do 🙂