My Weekend on Ambergris Caye: Color, Color, Colors!
The island is absolutely hopping – new businesses are opening daily.  Literally.
The streets are full of tourists and golf carts and starting today with…dancing and paint.   AND…
CARNAVAL IN SAN PEDRO – a one of a kind holiday to party into Lent.  Mardi Gras.
The weather is absolutely gorgeous – the sky and water are sparkling…bluer than blue.
Here's a picture I just took walking our dog.
Here are my photos of one of the island's newest businesses, the rainbow painted Poco Loco Food Court and the set-up for Carnaval.
Poco Loco Food Court opened on Thursday to lots of excitement.  Shielded behind a fence for AGES, this business is smack dab in the middle of Front Street and every color of the rainbow.
There are four…make that five stalls within the "food court" and lots of super cute seating.  There is a creperie (which is not open yet but very soon), a burger spot, a "Mission style" burrito place, a bar and a salad spot.  Here are my pictures.
I've only tried the ENORMOUS $16bzd burrito and it is ridiculously large and ridiculously good.
Ordering was a bit confusing for me…I'm not that good at quick decision making for simple things…but the ladies at the counter talked me through it.
DEFINITELY add the roasted corn and green chili salsa. 
If I had my way, every single food would be wrapped in warm fresh flour tortilla.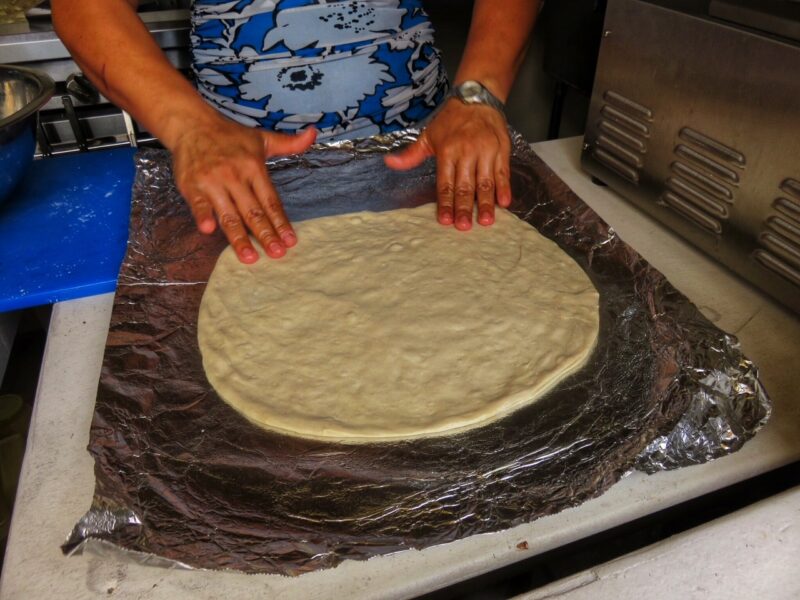 And then I stopped in one day later…
Today the SAN PEDRO sign is wrapped in plastic for Carnaval.
That is the official flyer.  Here is my understanding of how this will all work.
Sunday, the painting will start mid-afternoon and will be kids.  It will be mostly in Central Park with the dancing in the streets, the Comparsas, starting at 4:30pm.  There will be a Foam Party with DJ Debbie in Central Park and music into the evening and night.
Monday will be the same schedule but the painting/paint wars is done by teens.  Of all three days, this can be the most chaotic.  Teens are teens.
Tuesday is the BIG DAY and everyone paints from early evening until night followed by music.
Here are the preparations in town…
For posts about previous year's Carnavals, see below.
Here's a BEFORE picture of the beach in Central Park.  The manatee and his buddy the turtle will soon be covered in paint splatters and hand prints…the benches too.  It's just how Carnaval works.
I'm sitting Sunday out – though I love to see the pictures of the kids.  I'll head into town tomorrow and brave the teenager madness!
I have planting to do!  I stopped at a resort to chat with the gardener about Canna Lilies – they grow so beautiful down here and I was hoping to snag a cutting.
I speak no Spanish, he knows no English but happily, I ended up with a cart full of lilies (bright yellow, red and orange) and more.  An oleander bush and a white and a purple Mexican petunia.  Interesting to me that the oleander is INCREDIBLY toxic to humans and animals – but planted everywhere!   And the petunia is illegal in some US states since it grows so fast and is SO invasive.
More color 🙂