San Pedro Turns Out for Cayo Rosario Meeting: NO is Unanimous
Yesterday I arrived early at the empty Lions Den in downtown San Pedro for the Public Meeting About the APPROVED Development at Cayo Rosario on the west side of Ambergris Caye.
I watched new residents, long term business owners, kids, parents, fishing guides, resort operators, tour operation owners, real estate agents, repeat visitors, San Pedranos…hundreds file into the large room.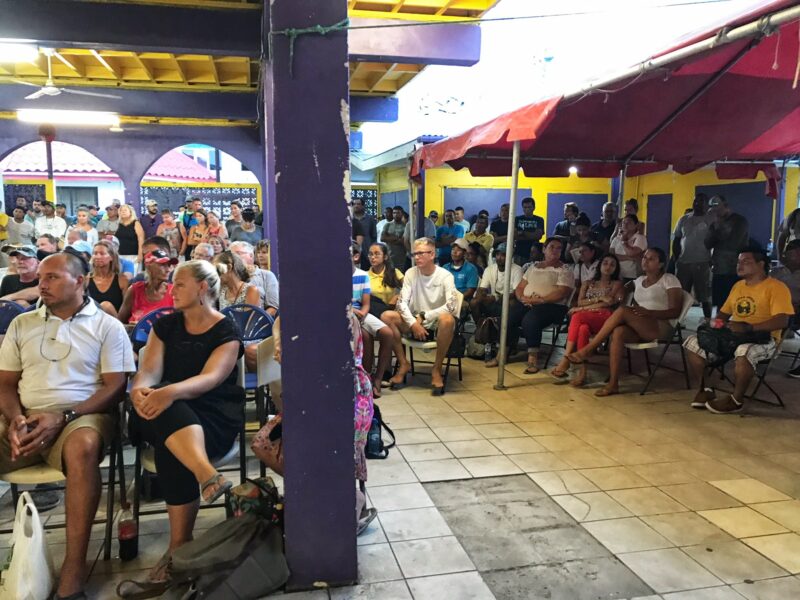 The topic:  A new development by Cayo Rosario Partners LLC (developers John Turley and Daniel Kalenov) on tiny Cayo Rosario.  A mangroved caye with a center lagoon – a bird sanctuary that has been noted by the Audobon and others as a rookery for the Roseate Spoonbill.
Here is information about how this important bird island became privatized and how the developers obtained it.
Most noteably, it is in the center of the newly expanded Hol Chan Marine Reserve and a key area to the HUGE flyfishing industry that brings 1000s to Ambergris Caye each year.
This plan (APPROVED by NEAC – the National Environmental Appraisal Committee – 13 members, none of whom are from Ambergris Caye) proposed over 50 over-the-water structures, 2 huge over the water "arms" and over 55,000 cubic meters in dredging from the flats/the bajos off Ambergris Caye.  To fill and expand an island, to make beach where beach does not exist.
This depicts the original proposed plan and the "compromise", the final approved plan on the right.
The universal response from the crowd, reiterated by Billy Leslie, President of the SP Tour Guides Association, again and again
NO OVER THE WATER STRUCTURES IN A MARINE RESERVE AND NO DREDGING OF ANY SEA BED IN OUR PROTECTED BAJOS.
I was there to listen.  And report back.
I love this island and this town so much it sometimes makes my heart hurt.  But I was not born here.  I like to imagine it, and probably romanticize it, but I don't know the joys or some of the hardships of being a born and raised San Pedrano and watching the island change so drastically.
SO, here is some of what I saw and heard at last night's meeting.  You can watch the entire meeting on either the San Pedro Sun or Ambergris Today's facebook pages.  And one of our national stations, Channel 5, was there.  That will be on the 6pm news.
Tim McCue, 13x visitor to Ambergris Caye from Montana and flyfishing enthusiast
He expressed his love of this community and the culture.  He understands that there are permit in South Belize or north of here, but he loves to visit San Pedro.  Those who are proposing this development don't understand what the culture here is all about.  He hopes to bring his sons to enjoy the town and the fishing.
He had an astonishing 5 permit day fishing Cayo Rosario.
He spoke of the conservation in his town in Montana and how important it was to the entire community (not just a single developer).
Photo of Omar Arceo as guide, a born and raised San Pedrano and STRONG advocate for the flats
https://www.instagram.com/p/Bi0I6exhaA8/?taken-by=cutthroat.camaraderie
Omar speaking with the press
Jay, Rep from Sage Flyrods, the #1 manufacturer of fly fishing rods in the world
He has been coming to Belize for 10 years – he chooses Ambergris Caye for the fishing – avid fishermen will follow the fish pretty much anywhere.  But he loves Belize and Ambergris Caye.  Belize was the FIRST country in the world to protect the "slam" – the bonefish, the tarpon and the permit.  To focus on sustainable fishing.  To realize that one fish means many many jobs and opportunities.
It is Belize's protection of her environment that makes Belize special.  He said that "there is a lot at stake here"
Gary Grief, Town Councilor San Pedro
Mr Grief stated that these developers are not here to "grow the entire pie, they are here to grow their slice".  He declared that he would be with the people of San Pedro against this project and will help "take it to Belmopan".
Jacinta Gomez from Oceana Belize pledged the  support of Oceana.
Everett Anderson, Head of San Pedro Tour Operators Association
Everett pledged the SPTOA support completely, 110%.  He brought up one of the most powerful points of the evening.
"What are we competing against?" and Alexander Gomez, 3rd Generation Fly fishing Guide with El Pescador Lodge (in her 42nd year on Ambergris Caye employing over 65) expanded on that question.
We have been called the #1 Island In the World.  What we have is so precious and so unique.  The coral reef, the flats surrounding the cayes, our beaches, the mainland with the forests and ruins and mountains and wildlife.  Our people, our food, our weather.  We are SO BLESSED.
Who are we trying to compete with?  Why are we trying to be Cancun and Jamaica and Fiji?
Alex has been presented with AMAZING opportunities – just last year, he worked with Columbia Sportswear and they filmed an incredible video tarpon fishing in Belize.
Notice that the opening shot is Cayo Rosario – Alex told me that it was their favorite fishing spot.
Growing up here on Ambergris Caye and her water have given him these AMAZING opportunities.
"What's wild about Belize is the amount of ground that's fishable. It's miles and miles of shallow water flats." – Marty Gallipeau, Badfish
Boteboard, one of the premier SUP companies worldwide, filmed on the West Side of Ambergris Caye.  Twice.  Not at new resorts.  Their focus is the pristine beauty of this island and the huge opportunities for those who love the beautiful outdoors and the culture of our town, restaurants, bars and people.
Virginia Wallace, born and raised San Pedrana, spoke of how sad it is to see the mangroves disappearing.  The guides and fishermen of this town used to shield their boats from oncoming storms just behind her home in Boca Del Rio.  Now that tiny mangrove area is also threatened.
A young man, in his early 20s, talked about how he loves to listen to his grandfather talk about the Ambergris Caye of his youth.  Walking on the beach to gather conch, lobsters so plentiful that they are almost like pests, gathering enough fish to sell in Belize City in just a day.  He said hearing it now, it almost seems like fantasy.
He hopes the day does not come when he tells his grandkids about the Ambergris Caye of his youth.  Of wide open fishing flats and crystal clear waters, of mangroved cayes where birds nest and fish grow.  He hopes that his grandkids don't see THAT as fantasy too.
A member of the Taxi Association stood up and said that he was against this project as well.
Tamara Sniffin, the President of the San Pedro BTIA stood up and gave 110% support from the local and national Belize Tourism Industry Association
This was SO not about a few fishermen.  It is about protecting what makes Belize unique – and focusing on why people visit Belize and valuing it over a quick dollar.
A Representative and Biologist from the BoneFish Tarpon Trust
He spoke about the interconnection between the flats and the mangroves and the reef.  How if one is compromised, how it affects them all.
Abbie Marin of Go Fish Belize!
Abbie talked about the need to buy this island back – that it might be the only way to protect it.
I hope I did this amazing meeting some justice.  Though there were no representatives from the NEAC board – those who approved this project – or representatives from the developer – we hope that the message was heard LOUD AND CLEAR.
The community and all those who stood up against this will take the next step.  And that will be a legal battle.
I know that many people want to know how to get involved, where to write, how to share their experiences in this critical zone…
How is the Government of Belize – without proper consultation of our community – approving this project?  What do they see different from our entire island, from global companies like Boteboard, Columbia Sportwear, Yellow Dog and more and from thousands of visitors who comes here a year?
The developers said that they found no fish around the island, just a few snappers.  IS OUR ENTIRE ISLAND WRONG?
Why is this project a reason to compromise our Hol Chan Marine Reserve?  And set a very dangerous precedent for Hol Chan Marine Reserve and all the preserved areas of Belize?
Please comment below, all INPUT SO MUCH APPRECIATED and I will be back with more.