I Want to Live In Belize: Applying For Your QRP (Qualified Retirement Program) in San Pedro
Applying for QRP While in San Pedro, Belize – a detailed procedure/saga
Morning guys…I don't do lots of "guest posts" because…well…it's my blog and I like to present all things from my perspective…show my pics (for better or worse) rather than stock photography.  But in this case…I've got good reasons.
There are a few ways to come to Belize and to stay, legally.  You can come on a tourist visa (just the regular 30-day stamp when you enter the country…waiting in line at the immigration office…probably 1-2 hours once a month) – and you can continue to get that stamp every 30 days.  The cost is $200BZD a month.
If you want to work legally in the country (I don't advise any other way), you can get a yearly work permit if you qualify or getting your legal residency.
But there is one way to stay that I never considered because when I moved here I was too young but also because I need to work.  It's the Qualified Retiree Program.
Here is an overview from International Living re: the options.
So I was very happy to receive this DEEETAILED (it is a sharp contrast to my looser -aka all-over-the-place – style) account of applying for the Qualified Retirement Program, the QRP in Belize.  Even if you are not applying for the QRP – lots of these tips are useful for other official applications – like getting your photos at BeliColor or the police report.  I JUST got my photos taken last week for my citizenship application.
The basic qualification for the QRP application:
Must be 45 years or older and retired (no longer working)
Must be able to remain in Belize for a min. of 30 consecutive days annually
Must be a beneficial recipient of a pension or annuity (or have savings) of USD $2,000 monthly or USD $24,000 annually from a source outside of Belize
The program has a huge benefit:  "Qualified Retired Persons have one year from the date that they officially enter the program to import their personal and household effects free of duties and taxes as determined by the Customs Department. Numerous entries are permitted within the one-year period; however, your detailed master list of household and personal effects must be submitted to the Belize Tourism Board upon approval into the Program. After the year has elapsed, you will be subject to all duties and taxes under the Customs Department."
Duty can be EXPENSIVE in Belize especially around vehicles or boats…
I'm going to mix in a smattering of photos that I took this week just to…break up the text…So…take it away Jeff!  And thank you!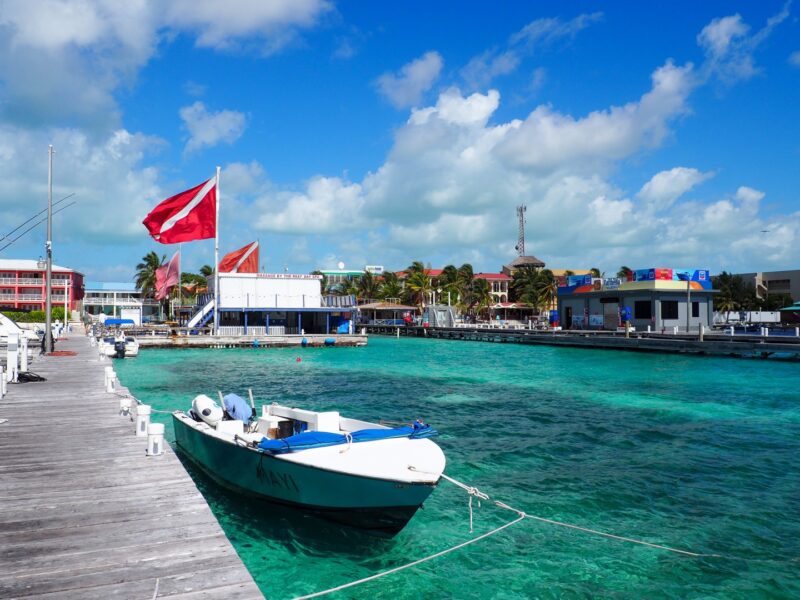 Remember this is one man's account, a guideline!  Your experience might be…will be…different.
Background
After living in San Pedro for several months, I made the decision to apply for QRP. The primary
factors that influenced my decision were:
I'm annoyed by having to pursue visa renewal every 30 days – the last time, I received an
extension for only 28 days, because "it's February". Go figure?
I may have to return home (to the US) for a visit, and I don't want to worry about the continuous stay requirement of the Permanent Residency program, especially with COVID self-isolation requirements.  (Permanent residency requires one continuous year's stay in Belize before applying)
There is the obvious benefit of bringing in items duty-free.
Some minor concerns are:
I can't work, but I don't really want to work, since I'm retired.
The BTB could change the rules at any time, including increasing the annual renewal fee.
As I went through figuring out the QRP process, I had to figure out a lot on my own and was given much misdirection. I've detailed that in endnotes.
Summary
It's best to get documents in electronic form. They can always be printed later. The basic order of things in getting QRP approved is this:
While probably in your home country, collect documents you have or can get there
Download & fill out the QRP Application form.
Collect documents that are required or easiest to get in Belize. These may have to be time-sensitive, so get them shortly before application.
Submit the application and pay the application fee.
Deal with the deficiencies identified.
Procedure
I'm writing this detailed procedure after discovering that there are many gaps in the information needed to apply for QRP. Much of what I learned in the process came from the experience of talking to people,
requesting information from various sources, and doing it myself.
So here goes (I'm writing this as a single person from the USA, but most of it also applies to other nationalities and dependents)
Where to start? – Go to the BTB website and download the form(s) – there's a second form
for dependents.  Fill it out as best you can. Print it out and take it with you as you visit
various service providers. (See paragraph 4 if you don't have a way to print.)  At least in
Belize, they all seem to want to look at it on paper.
Get the following documents from your home country, probably before you leave for Belize:
(a) National Agency Check (or background check) – If you will apply as new to Belize,
request it from your home country, local police/sheriff where you lived for at least 6
months, recently. It needs to show any police record you might have, or not. It will be
good only for 6 months from date of issue.
(b) A notarized birth certificate – I got mine apostille-approved from my state of birth but
certified by county recorder should be sufficientc (c) A document (or set of documents) that confirms you have at least US$2,000 monthly (or US$24,000 annual) retirement income – I downloaded a Social Security Benefit Verification Letter from the Social Security website (d) Bank statement certifying Pension/Annuity – I produced several months of my checking account statements showing an automatic deposit from Social Security (e) For bank account opening purposes (discussed later), you will also need:
i. Social Security card, certified
ii. Tax Resident/Tax Number – I provided the first two pages of my most recent form
1040 tax return.
iii. Bank Reference Letter – I had trouble getting any of my banks to provide this. I did
receive a message that a business could go to my bank's website for verification of
the account.  So I provided that.
iv. Personal reference letter – I had a couple of my good friends with titles (e.g. doctor of
something) write me a "he's a good guy" letter.
Once in San Pedro take your QRP Application and about BZ$400 and proceed to perform the following steps.
Passport Pages – get ALL printed – I went to Gecko Graphics which is ½ a block up Buccaneer
St. from Central Park. If you need your QRP application printed, you can email it there too.
Cost is BZ$.50/page for black-and-white which is all that is required.
2×2" Photos – I went to Belicolor, which is right next to Gecko Graphics, and got 4 frontal
and 4 profile passport-like photos. Cost was BZ$40. I learned later that only one of each is
required, but you may have to get 2 and 2, because of equipment constraints at BeliColor
Certification of Photos & Passport copy – I went to Town Hall which is on Front St, south
of Central Park and just about a block from Gecko Graphics. It is best to go after 9:30 a.m.
On the second floor, Yolanda helped me with certifications at no cost.  (The administration has changed since then, so you'll find new employees at all the desks.)
Medical Certificate – I went to San Carlos Medical Center which is on Middle St across
from Carumba Restaurant & Bar. There Dr. Solorzano was quite pleasant and helpful in
getting blood tests for HIV, VDRL, and TB, as well as a brief exam consisting of an interview,
listening to lungs and heart. You will have to return the following day to pick up the
Preliminary Medical Exam and Blood Work Lab Results forms. Cost BZ$250.
Regarding Written Undertaking of Deposit to Financial Institution in Belize – I got the
template in an email exchange with BTB and fill. Actually getting the bank account must wait until after QRP approval. For action later, I approached SFXCU, which is on the corner of Ambergris and Middle street, and spoke to Ms. Custer
Service. She provided a list of requirements. To actually get the Belize bank account, after QRP approval, provide the following documents, additional to those brought from your home country (from 2(e)):
(a) Proof of address – I provide a utility bill from my San Pedro residence.
(b) Tax Resident/Tax Number – I provide the first two pages of my most recent form 1040
tax return.
(c) Bank reference letter – I had difficulty getting any of my banks to provide this. They
did say the interested party could contact the bank via the bank website to request verification of account. I provide that message.
(d) Personal reference letter – for this I got two of my well-placed friends (with titles of
doctor of something) to write me a "he's a good guy" letter.
Seek a Police Record – If you brought one with you from your original home and it is less
than 6 months old, it will work. If you have been in Belize for a while, pursue getting this
locally. It's probably best to be in Belize at least 6 months before requesting this, or a "Special Police Record" will be issued. Not sure that helps for QRP.  (Print out the form here.) The items you will need with the Belize Police Record application are:
(a) Three (3) recent passport-sized photographs
(b) Passport's (bio-data) pages and all Immigration Stamps (extensions) while living in Belize
and must have a valid Immigration extension to reside in the country, at the time of
applying (c) Fee of BZ$12 for 4-week (currently estimated) service (1-day service is provided in Belmopan for an additional fee of BZ$25.)  NOTE:  I attempted to get a Police Report from the San Pedro Police. There were hung up on not having a form, and directed
me to Immigration to initiate the process. Immigration sent me to the San Pedro BTB, which turned out to have been closed many months before. If one starts with the filled-out form (above)  and all the other required items, it might go better, but will take several weeks to get a response and cost BZ$25. I ended up getting help from the San Pedro Port Authority to get the Police Record.
Get the application and all supporting documents to BTB. Ms. Shari Bowen ([email protected]) is my recommended contact at BTB. I learned in an email exchange with her that BTB is accepting ONLY email QRP applications. So when you get all the documents in electronic form, email them to her, with your application.  She will respond telling you to wire-transfer the application fee of:  US$150. (PLEASE NOTE: US Dollars are required)  Her message to me was:
"Thank you for submitting an application for the Qualified Retired Persons Program. We will communicate with you within 10 business days as to whether clarification is required in relation to documents submitted, or the request for security clearance is being sent to the Ministry of National Security given the approval of documents submitted."
DONE!  And then you wait.  Various websites indicate two to three months.
We will let you know how it goes!
This is obviously very detailed…but this is a very detailed process and it's the lack of information on the details that can be almost…maddening.
Hopefully this helps!