Quiet September Streets Of San Pedro Belize
A few days ago, I posted a snapshot of a side street in San Pedro and got a number of comments exclaiming:  WOW!  It's so quiet!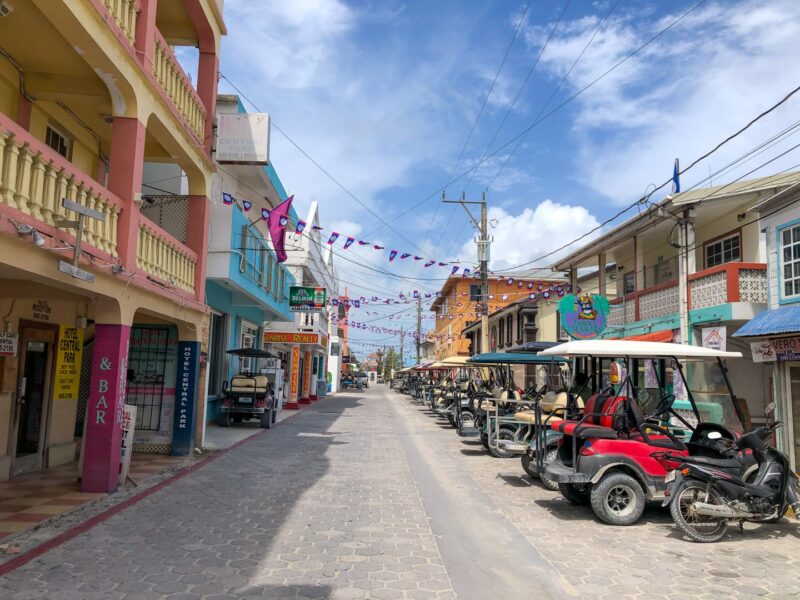 So yesterday, just after lunch, I headed to downtown San Pedro to run a few errands and to take some pics.  I had planned to walk all of Front Street – taking photos of the September independence decorations and all sorts of other things but…MAN, IT IS HOT.  The temperature may say high 80s or low 90s at most…but with the INTENSE sun and the high humidity.  Woof.  It's the time of year when even my eyelids sweat.  It's 3-shirt weather.
Luckily there is a sea breeze and THE SEA and fans and even AC.
The photos!
I stopped into Belize Parasail to pick up a new harness for Elsie!  One of the owners had just returned from a trip to the US and had one of these in her luggage.
Article about Elsie in the website The Dodo
And then the south end of Front Street, San Pedro.  I did not get far.  But my main errand was to stop by the French Bakery for a baguette.  Fresh baguettes are like heaven.
Across the street – the best chocolate in the world.
And next door…
I was heading to the alley – that cut behind the Roman Catholic School.
There are lots of paintings along the wall – all Biblical with good messages about service and love and peace.
Some I enjoy more than others…but who am I to judge?
Just as I was about to emerge at the BUSY corner – I saw that a new bar was getting ready to open.  Sigh…always a new bar.  When I first moved to Ambergris Caye, alcoholic drinks were not allowed to be served during school hours within a few hundred feet of the school.  Remember that?
Just next to it is my favorite TYPO of all time.
The BEAST prices in the island.  (in also a typo?)
I crossed over to the French Bakery.  Zoot alors DO I LOVE THIS VIEW!
I'll take one baguette and…oh…ok…a puffy brioche filled with vanilla cream.  (Which I can now HIGHLY recommend)
My neighbors were there also – and they SMARTLY brought a hard-sided container for their chocolate eclairs.  So they didn't have to hold them like baby birds on the ride up in the golf cart.  My brioche rode home on my lap.
Back thru the alleyway.
And the view just thru the alley.
And as I drove home – just ahead on Front Street – a line for the vaccinations!
Hurray!
No matter what your view is on vaccinations, our government has said that ONLY WHEN THE VACCINATION RATE IS HIGHER will restrictions start to lift.
This is a good thing for all of us.
For current COVID case numbers as well as vaccine information, see the Belize Ministry of Health and Wellness page.