Love: The Christmas Glow and Lights of San Pedro in The Evening
One of my favorite things of the year is a walk (or golf cart or both) around town and the surrounding areas to admire Christmas in San Pedro.  There is something so beautiful about seeing Christmas lights…in the evening…while wearing flip-flops and feeling the warm Caribbean breeze.
This will be my 15th Christmas in Belize – and every single year it gives me the "cold seed" – that Kriol for goosebumps.  It's such a magical feeling.
I don't often make it to town at night – only because we live 8 miles north and I am a bit of a homebody…but I'm staying at the most beautiful spot…an oasis at the very edge of town.
And though it was hard to leave THIS view, I did.  To take some quick snapshots.
I'll get back to telling you all about my stay.
Here are some pics from last night.
The cute golf cart tire snowman at Polo's Golf Carts and Gift Shop…which always looks SO cute around the holidays.
And then I headed a few streets back – to the lagoon to watch the sunset.
I watched 100s of birds return to this tiny dome-shaped mangrove island just offshore.  Straight ahead.  I think every single grackle on the island might spend the night here.  Those wily birds…plotting to steal the tortillas from our open camp kitchen, better ways to tease our dogs from juuust beyond their reach or more likely, world domination.
Back to Front Street.  I wanted to see the tree in all her silver shimmering glory.
I'm dreaming of a pink and silver Christmas…
I sat in the park and watched the kids climbing on the SAN PEDRO letters and pose around the tree.  I watched the food vendors and a load of tourists and locals unload from the water taxi…
And I went to take a few more pictures…
Across the street, Jaguar's Night Club has a new paint job and, from what I hear, a new owner – actually an American leasing the property to re-open when nightclubs are allowed to open again in Belize.

Coral Cable on Middle Street looks beautiful.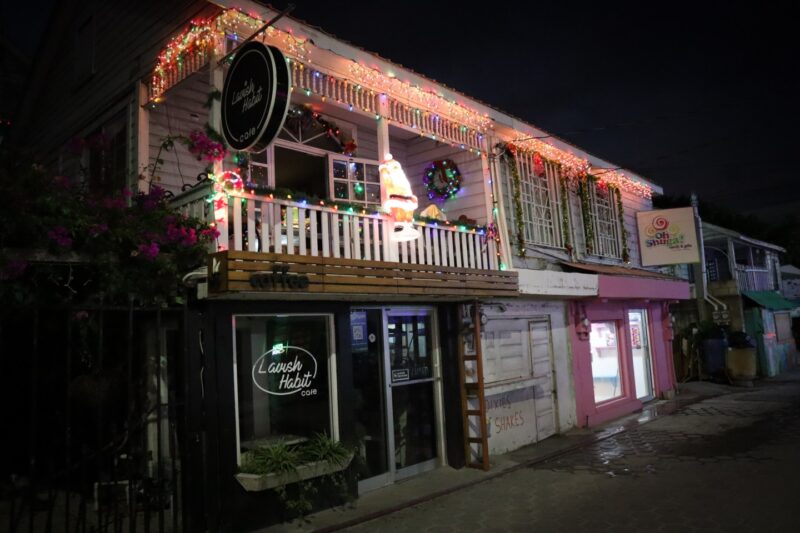 Love the decorations on this home set back and above Front Street.
I looked back to see if the Central Park tree was lit yet but….not yet.  I had a hot date with a dessert at Red Ginger that I'd been eyeing on Instagram for a while.  Peanut Butter Mousse with Peanut Brittle and Chocolate Ganache and…oh my.
One more home that looks soo pretty at the very north end of Front Street – I love the idea of having your tree on your front porch.  So everyone can enjoy…
And then…hello beautiful.  A bite to eat at the lovely Red Ginger – who…is introducing a new menu today!  Or an expanded menu.  I'll get back to you on that too!  Have a lovely day everyone – if you are in San Pedro?  It looks like it is going to be breezy and beautiful.  Low 80s and sunny.
Christmas perfection.