Two Fantastic Days, Two Nights in Caye Caulker: Part Two
Two days on Caye Caulker was just the perfect thing…a mini-vacation from our life on Ambergris Caye…a different vibe, different scenery…a beautiful hotel but just 30 minutes away.
I posted a bunch of pictures of the island in Part One – you can see them here.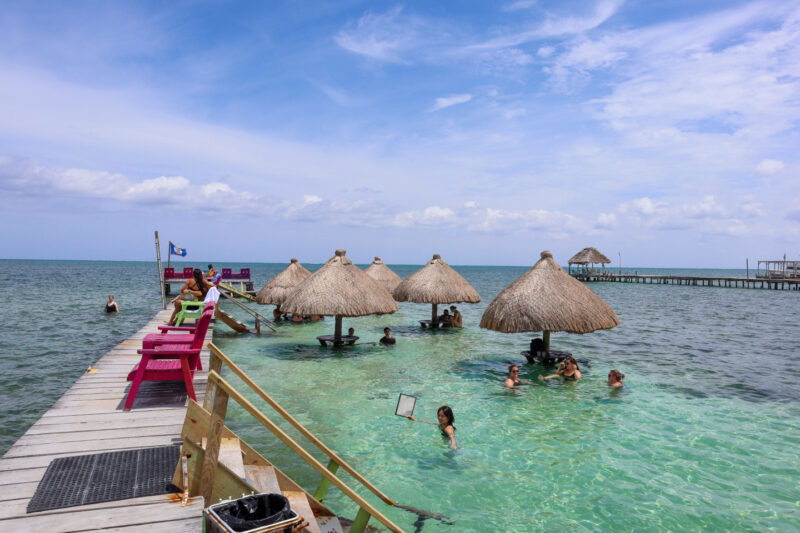 Deciding Between Ambergris Caye and Caye Caulker
Here's more of my trip:
Beautiful Sea Dreams Hotel –  the perfect location…one road away from the Split, a private dock over the leeward side, and the most beautiful 2nd-floor patio – all sun-dappled by bougainvillea – for cocktails and snacks in the evening and breakfast in the morning.  Jeff even got the chance to go out fishing with Haywood – his family owns the spot.  They headed down to Long Caye and St. George's Caye in the hunt for permit and tarpon.
If it's Omelet Day when you arrive – make sure to order one.  Man they are good.
Just around the bend, on the lagoon side of the island, was our favorite meal (other than that omelet) – at a very informal restaurant that you might not even look twice at…
Called Dee and D's Waterside Grill.
Just a guy and a BBQ, a tiny kitchen, and a bunch of picnic tables set up along the water.  One of Jeff's fishing buddies – a captain with BATSUB recommended it to us.
During the day…
They have CHEAP local drinks for happy hour and then…the sunset!
Not bad, right?  Brent, the chef, was working the grill and it smelled delicious…we had a seat.  I'm not sure you are going to find a friendlier place anywhere…
And the HUUUGE plates of food were so good.  I had the chili-garlic chicken and Jeff had the ribs.  So great and huge portions.
Before dinner, we had some cold drinks at THE sunset spot – Iguana Inn.  Everyone on the island seems to congregate there for drinks, interacting with the string rays and pelicans and the sunset.
I am not a HUGE fan of these prehistoric-looking beasts – I mean, I love to see them in the water but I don't want touch them…but it all attracts quite a crowd.
A very pretty night.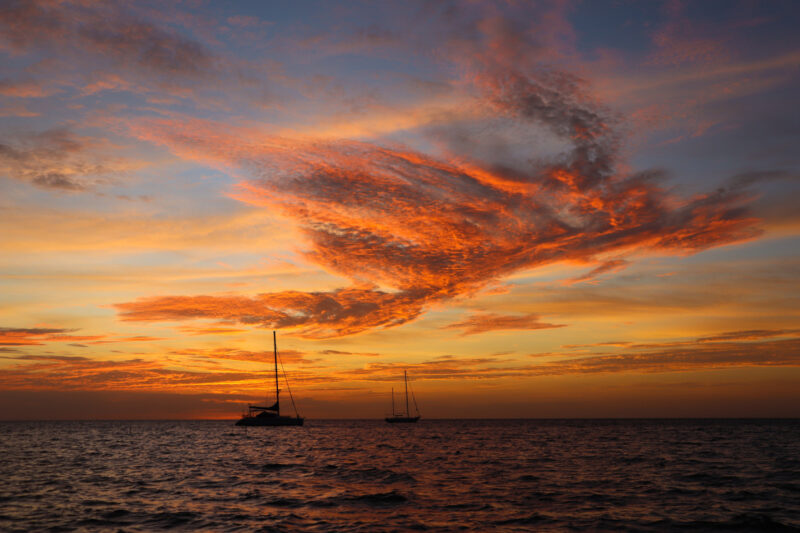 And then a few more pictures of Caye Caulker before I go…I highly recommend a quick getaway to the small island.  And Sea Dreams Cabanas.  What a great time.
A beach reclamation project taking place on the island – I hope they move to San Pedro next!
And one of the oldest hotels on the island – and a very cool property – the Vega Inn.