The Future of Calvin's Green Iguana Eco-Corner Sanctuary in Peril
Mr Calvin and Green Iguana Eco-Corner – one of the most visited spots in San Pedro – is being asked to move from the property they currently inhabit.
But let me back up a bit…
Yesterday, I stopped in to visit Mr. Calvin – the creator of San Pedro's incredibly unique and incredibly popular Eco-Iguana Corner – the green iguana sanctuary set in an old-growth mangrove patch right in the town center.
If you have not been – here is a post with directions about the sanctuary: Jungle in San Pedro: A Must-Visit
His work and his park are one of the prime examples of a "hidden jewel" on our island – and probably the most accessible one. Though it is unexpectedly tucked between the town gas station and the electric plant, everyone is surprised by how beautiful it is. I am surprised each time.
Here is the problem: There is an issue with the land/mangroves that the park is located on – land that is owned by Belize Electricity Limited. Mr. Calvin is being asked to vacate and "relocate the iguana park". Like now.
Here's why I'm writing: I am 1. a huge fan of Calvin's park, his relentless work to make it what it is today, and the huge focus on kindness to animals and kindness in general 2. I think it is SO important to keep Belize…well…Belize. Keep things in San Pedro special and authentic as more and more corporate entities (and could-be-anywhere) development comes to the island and 3. Ask for help. Because I am not a lawyer or an activist-organizer and Calvin needs help with this.
Note: No one is disputing BEL's ownership of the land – I am hoping that with all of your help, we as a community and as a country can figure out the proper solution.
Note #2: BEL responded to this article just after it was published. Here is their statement/clarification of the situation.
"Thank you for taking the time to listen to the complete story as it relates to the Eco Iguana Corner.
As per our conversation, BEL remains open to dialogue with Eco Iguana Corner, as we have been since October 2022. We continue to offer the organization financial assistance for the safe and responsible relocation of the iguanas inhabiting our property in San Pedro.
This space will be used for upgrades to the San Pedro substation required to improve reliability and meet the fast-growing energy needs of our customers in the island of San Pedro.  We hope that together we can relocate the iguanas to a safe location and reaffirm our commitment to providing safe, reliable and sustainable energy solutions.
As a responsible media entity, we encourage the San Pedro Scoop to publish the full scope of the story so that your audience has a complete understanding of the situation. If you have any questions or need any clarifications please feel free to reach out to us."
Green Igaunas on Ambergris Caye
We have two types of iguanas on the island – the wish willy or black iguana – that you see everywhere! Lounge on the beach, or around pools…these guys eat anything and everything from hibiscus flowers to bugs and their main predators seem to be dogs.
The green iguana is…unfortunately for him…a traditional dish and very tasty creature. They are often jokingly called bamboo chicken". He/she eats only veg and is hunted throughout the country. When Calvin started this project, he said that you hardly saw them on the island…
Some of the History: The Eco-Corner Iguana Park
Calvin Young owns the property that his gorgeous home is located on – he relocated to San Pedro as a teen from Belize City. So he's been in San Pedro for over 30 years.
For a bunch of those years, he worked as a fisherman and one day, he and a friend found a green iguana out at sea. The iguanas are ,surprisingly, amazing swimmers – if they get scared, they torpedo into the water.
Calvin and his buddy released the iguana in the patch of mangroves beside his home – any area that was originally packed with trash and refuse.
In 2017, his home was burned down – by arson. Thankfully he and his young sons were not there at the time but it was a devastating loss. They set about to re-build and did it in a very traditional Belizean style. The result is almost as amazing as the iguanas. Maybe more so. The house is absolutely gorgeous.
As two iguanas became 10…and then perhaps 100s…and people and tour guides began to visit – by boat and by land – the habitat that he was cleaning and maintaining for the iguanas expanded in a very big way.
Calvin says that he spoke to Mr. Chris Nunez – the former head of BEL – and had a verbal agreement about the use of the land. When management changed, he showed me copies two letters that he sent to BEL to discuss the continuation for use of the mangroves that were now cleaned, maintained and now teeming with iguanas.
The Current Iguana Sanctuary
To come into compliance with the rules for an official park and to gain official recognition from the Forestry Department, Calvin has done a number of things – during the COVID period and now. He installed restrooms, signs and has posted the rules for safety
He installed hundreds of feet of beautiful stick pathways…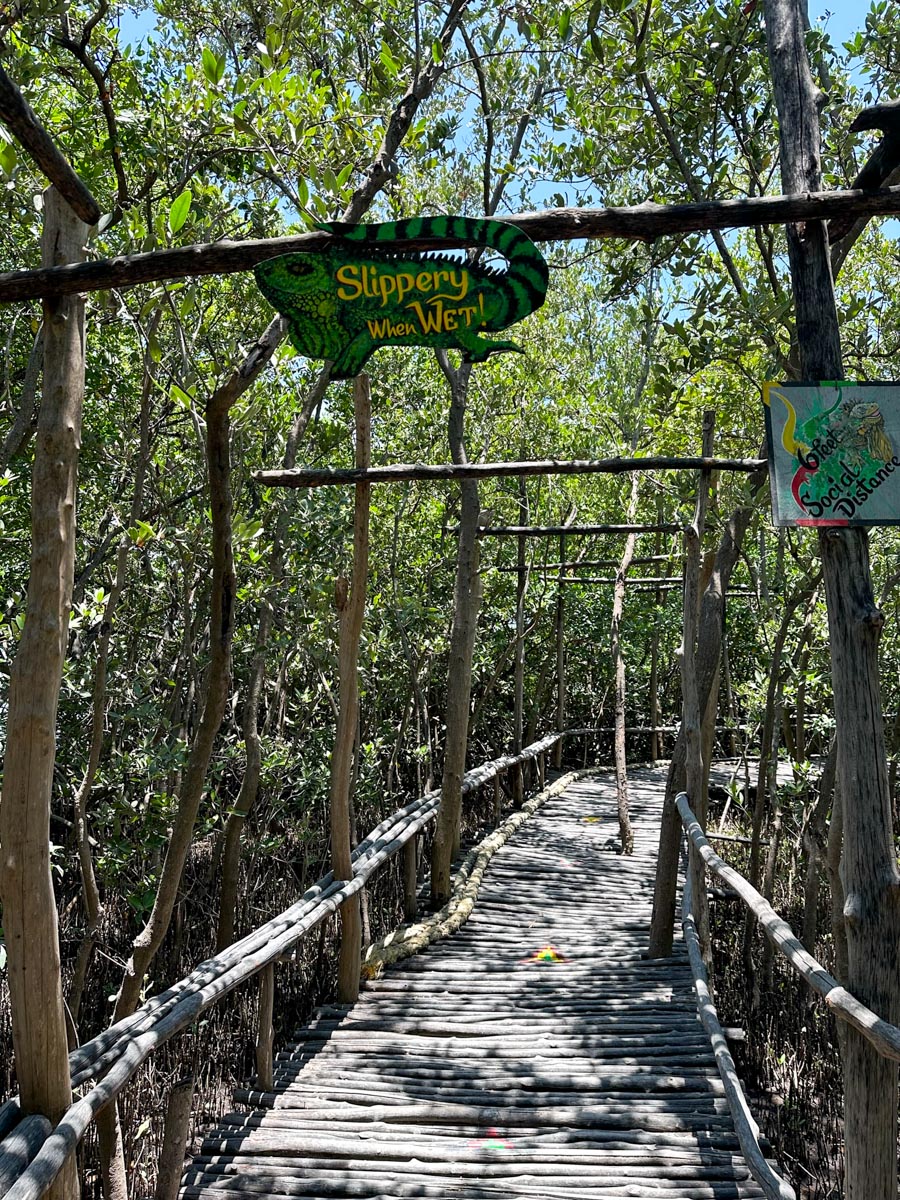 He has built a docking area for boats to land and visit the park ont he lagoon side and a beautiful entrance of the road.
And in March of 2023, he finally signed the agreement with the Forestry Department of Belize.
100s of visitors came to the park each week in the busist months of this year. He showed me this visitor sign in (for those who choose to leave a note and their names).
This book was started in mid February 2023…
And was full by April. Both sides of the book and the pages.
This place is incredibly special, so unique and an oasis in a town that starting to get SO congested. This week, a sign went up for a CASINO on Middle Street – the heart of town and the very busiest part.
As more and more smaller, wooden traditional homes get razed and multi-story concrete buildings go up in their place, I don't think we can afford to let this sanctuary go.
It is not only a top spot for visitors but it draws tourists into town during the day – maybe they also stop for ice cream or breakfast or lunch – and that benefits our entire community. As we ask visitors to pay more to visit Belize – more than many other Mexican and Caribbean vacations – it's so important to show them what makes Belize SOOOO awesome. And so worth the extra money.
The reef, the people, the food and the wildlife. You guys know what makes Belize so special. That's why you keep coming back.
What Can We Do To Help Calvin?
First – I want to get this out there! And that's what this post is about.
Calvin is being asked to move the iguanas and move the park immediately. And I wanted to get this OUT IN THE OPEN – to tell you, the community and lovers of Belize about this problem because together, we find a solution.
And Calvin is struggling to do this alone. I get it! It's overwhelming – I'm overwhelmed.
He is looking for support – is there anyone that can help him with speaking to BEL. And to our community leaders- our mayor and town council and area representative. And to the Belize Tourism Board – not to try to organize their very busy schedules, but I think this needs to be a top priority.
If we can all write messages of support and testimonials for your visit – please feel free to leave them on the comments on this post – but especially on my Facebook page where this is posted. This community is fired by Facebook. (Fortunately or unfortunately…it's the way info speads in San Pedro)
Let's do this to start…to let everyone know how important this park is to the community.
And I want to re-iterate that this mangrove patch is owned by BEL – and I certainly don't know their plans with this area. But…I am hoping and praying we can come up with a solution so we can keep this incredibly unique spot – this patch of kindess and beauty and nature – in our community.
Thank you all! You know where you can reach me – and if you can reach out to Calvin – either in person or via his WhatsApp for support and suggestions and encouragment. Please do. Calvin Young at 501-670-8288