Little Things I Never Knew I Needed Until I Moved to Belize
My New Necessities When Shopping on Ambergris Caye
Over 16 years ago, I moved to Ambergris Caye, Belize from Manhattan, NYC. I swapped convenience and speed for a very different way of life.
The way I shop, the way I bath, the way I clean, the way I launder, the way I work, cook, dress, travel…all have been totally transformed.
My former existence involved lots of takeaway sushi, eating out most nights, calling for Italian food at 11pm (this was pre-apps!), and popping down the block to Whole Foods Supermarket at least 5x a week. All so ridiculously, over-the-top convenient.
Don't want to peel your own garlic?  They sell peeled cloves in bulk.  Heck…you can buy every one of your meals pre-made.
Belize shopping, on the other hand, took a WHILE for me to get accustomed to.  Making a shopping list for more than one day's food is still out of my reach, but I am getting better.  It's not just everything, everywhere, all at once. The fruits and vegetables come in on Tuesdays and to a smaller degree, Fridays. Good luck finding an eatable banana on a Monday.
Shopping requires planning and practice! My Guide to Grocery Shopping on Ambergris Caye
All this added time for planning and running errands, prepping, adjusting for the items I can't find, and cooking has introduced me to things that I now find are necessities. Things I NEVER used in NYC and now use at least once a week.
Here they are: My Everyday (Or Every Week) Necessities in San Pedro, Belize…
Mahlers Chicken Consomme  
Never heard of this stuff? It's VERY popular in Belize – sold in every store in sizes from one serving packets to gargantuan tubs.
The top five ingredients are Salt, wheat flour, MSG, sugar, and margarine.  Ground dehydrated chicken meat appears lower on the list.  
While that doesn't sound appetizing at all, I love this stuff.  It makes great chicken soup (with lots of things added) and just tastes great cooked in white rice.   Any recipe that calls for chicken broth?  Mahlers. I must use it 3-4x a week.  (Sorry gourmet cooks…I can see you all cringing.)
Lisette's Secret Sauce  
A delicious mango-y, spicy sauce that tastes great on everything.  Chicken, fish, cream cheese, sandwiches and rice & beans.  I just dipped my perfect grilled cheese sandwich in it…something I was quite nervous about doing…and it made it even better.
Zote Soap:  
I get approximately 10x more stains on my clothing in Belize than I did in the USA. Almost always from the golf cart.
Enter Zote: The perfect soap for hand washing all of your garments.  
I find it gets out almost every stain.  Just soften it up, scrub some on and soak. Gone.  And your musty bathing suit smells good for a long time.  It comes in GIANT bars for super cheap.  Pink or white.  (Pick pink)
And only $1.50-3bzd max.  This stuff is the WD-40 of the cleaning world.  Other uses?  It contains citronella which can repel mosquitos (allegedly).  In a pinch, it washes dishes.  I use it to wash my hands.  You can grate it and use it in the washing machine.  It is even sold on Ebay at catfish bait.  CATFISH BAIT!  A truly magical soap.
My Instant Pot and/or Slow-Cooker  
Always something I associated with old ladies, pot roast, and potpourri.  It was something you might receive as a wedding gift from a distant relative and then return for cash.  But most households here have them and, who knew?  They are incredibly useful. Beans, lentils, soups, stewed chicken, rice, hard-boiled eggs…it's super handy.  
We eat lots and lots of beans. And Belizeans eat LOTS of chicken.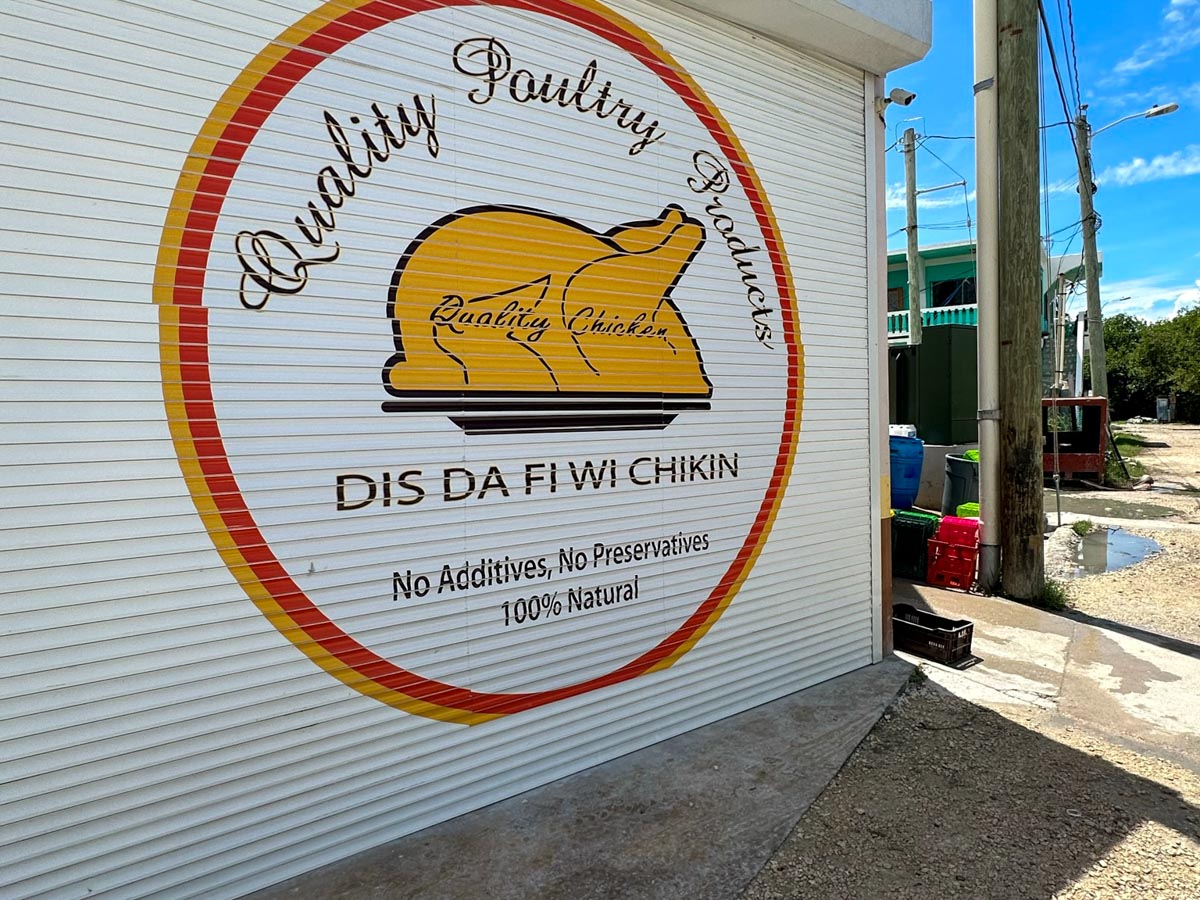 Downy Fabric Softener: 
I was always a dryer sheet gal. My apartment building had those HUGE industrial dryers (quarters-operated) in the laundry room in the basement. I knew the liquid existed but never tried it, I never even noticed it in the stores.  In San Pedro, the sheets are harder to find and are prohibitively expensive.
Plus…we don't have a dryer! I've become quite a connoisseur of the liquids…I enjoy those in green or yellow bottles. Be careful – some smell like a teen on his way to a High School Dance (Axe-body spray) or like baby powdery. Always smell first.
Coconut Oil:
 I am not a believer that coconut oil is the answer to all problems – from heart disease to cancer – but I DO LOVE IT.  I started buying it for my skin and my hair – it's a great moisturizer.   But then I realized how DELICIOUS it is when used for cooking.  Delicious for certain things that I NEVER would have thought.  Vegetables…SO GOOD.  Roasted and a spritz of my next item.  Meat.  Salad.  Eggs. POPCORN.
Seriously…eggs.  It's divine.  And even better?  A little goes a long way.
Look for it at local shops – like honey, it's almost always packaged in a used rum bottle.
Fun note:  It also makes for a good thermometer – it turns solid under 76 degrees.  It's ONLY solid a few times a year – generally in January or February.
Limes:  
Not just a wedge on the side of your diet coke, here, lime is in everything.  Squeezed on chicken, fish, beef, soup, rice, beer with salt, tacos…it is a condiment, not a fruit.  
Lemons, on the other hand, are quite rare – almost always imported from the USA when you can find them. It's an odd thing…
I asked the Citrus Growers why we don't have lemons a few years back.
Fanta:  
In the States, most people know Fanta only by the loud colorful commercials with Latin dancing girls.  I don't think I'd ever tried it.  
In Belize, along with Coke, it is the universal soda.  Not only do they do the candy-flavored orange, fruit punch, grape, and pineapple but Fanta/Bowen & Bowen bottles the soda water, tonic, gingerale, and root beer too.  Some find that an orange Fanta is the most effective hangover cure.
Left to right:  Root beer, Ginger Ale, Grape, Orange, Pineapple, Tonic, Fruit Punch
Fun Belize Fanta Fact:  To differentiate the clear tonic from the clear soda water (all are packaged in identical bottles), pink coloring is added to the tonic.   It makes for a lovely blush-colored rum & tonic…your old, clear gin and tonics seem a total bore.  
Cilantro 
My love affair with this flavor has already been well documented in a previous post:  I'm Confused…I Thought Everyone Loved Cilantro.  It continues on a daily basis.
Cilantro is sold in small bunches in most shops and at all fruit stands. Fresh, delicious, I can't get enough.
Coconut Milk
Have you always wondered what makes those Belizean rice and beans so moist and delicious…it's the coconut milk. We use it a bunch to make curries – a mainstay in our house. Belizean ingredients and Thai/SE Asian ingredients have lots of similarities. Ginger, coconut, hot peppers, cilantro, seafood, lime, tamarind, rice…
(We also get a good supply of Chinese cooking sauces and pastes due to the Chinese population in Belize – add that to your cooking repertoire)
Marie Sharp's Green Habanero Sauce:  
Marie Sharp's Hot Sauce is on almost every table in Belize. There are at least a dozen variations but I love the green.
Medium hot and green from cactus paddles, this is far and away my favorite of the hot sauces.  It's great on everything.  Particularly eggs.
Did you know Amazon has a pretty impressive store for Marie Sharps? Easy peasy!
Fish Insect Spray  
It's like Raid in the US but…Fish. I have no idea where that name came from!  But I find this stuff very useful.  Have a mosquito in your bathroom (or god forbid a scorpion – it happened to me once!)…give a spray of this and close the door.  Consider her dead.  Sugar ants will disappear.  Sure it's probably not good for the environment or good for me, but bugs?  I hate them.  Plus, it's made in Trinidad and Tobago…what could go wrong?
Mosquito Coils:
You'll see mosquito coils burning just about everywhere in the rainier season – and they work. A box of 10 coils cost around $1.25bzd. They are almost always made in China, the packaging is riddled with spelling and grammatical errors, and…you have no idea what you are getting. At first, I was nervous about burning these things so close to me while I was sleeping.
Can this smoking coil really be…safe?
But I quickly gave that up. They work. Especially for keeping sand flies at bay…and mosquitos steer clear too.
Habanero Pepper
This is no chili pepper for wimps.  It is one of the hottest on earth.  But add one un-punctured to anything that you will slow cook…stew, soup or meat.  It adds a tiny bit of heat and delicious flavor.  Just make sure you don't accidentally eat it.  It hardly mellows with cooking.  It will be a moment/hour you won't soon forget.
They are always available and you get a bunch for $1bzd.
A Good Golf Cart Repair Person:
This is going a bit off track (hardly a small grocery item) but all this talk about running around doing errands got me thinking. This is CRUCIAL on the island of Ambergris Caye.
Golf carts were designed to live a life of leisure on an even grassy-covered course, used for maybe a few hours a day at low speed…to…well…putt around a country club. THOSE golf carts – after maybe a decade of use – are shipped en masse to Belize – where they are stripped down…cleaned, tuned up and dolled up so that they look like a new cart. New tires, new shell, new seats…new golf cart!
And then they are put to the test: driving on ragged, wet, salty, muddy roads. You are going to want your golf cart repair person on speed-dial.
Trust me when I saw you are going to need a good golf cart mechanic.
I'll leave it there!
Feel free to comment or message me if you have anything I should be adding to my list. As with most of my posts, it's a work in progress.