A Walk Around San Pedro Town: Art, Signs, Lunch, A Hummer Golf Cart and My Weekend Plans
San Pedro has some beautiful hand painted signs.  They add so much to the charm of the town.   (If I was in charge, they would be mandated.  A beautification project.  But sadly, I am not…)
Yesterday I was in town for some errands, some lunch and…one of my least favorite things to do….going to the bank.  Here in Belize, bank systems are just starting to be automated and on-line options are limited.  Much of the population spends maybe an hour?  Or if you own a business, probably more standing in line at your local bank.
Hey…at least it's air conditioned.
Here are some pictures around town yesterday.
My very favorite grocery store – The Greenhouse.  Great for shopping for necessities and many things you didn't know you needed.  Yesterday I was eyeballing some delicious looking angel food cakes and frozen key lime pie (covered in dark chocolate) on a stick!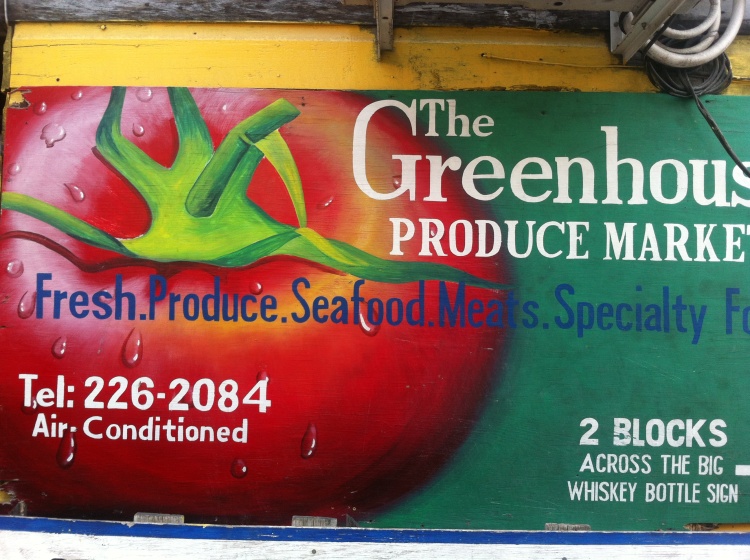 Across from the Big Whiskey bottle sign.  Ha.  Excellent.
One of my favorite restaurants and a very cute sign – Wild Mango's.
Pretty painting at Reef Restaurant.
Maybe the first supermarket on the island…Rock's on Middle Street.
I followed this one to lunch yesterday.
And inside…
I SO love Tuesday's special.  Mmmm…
But I had been craving a salad…and I went for a tasty one.  Cashew Chicken.
Delicious.  And Belizean Melody's art on the wall…well…I love it.
How can I waste more time before engaging with the bank.  Pictures of Ambergris Caye's night club entrances!
Jaguar's Temple Nightclub.  I'd call it the more upscale club.
And right across the street, Daddy Rock's.  Open all week and open LATE.
Ok…ok…to the bank.  I grabbed a brownie for energy and motivation.
And the lines weren't that bad.  In fact, at both banks (Belize Bank and Atlantic Bank) there were only a few people queuing.   Miraculous really.  I should have purchased a lottery ticket.
That's how that works, right?
I headed home but stopped for a quick picture of the new golf cart fleet at Ramon's Village.  Brand spanking new.
Quite impressive.
It's Wednesday already!  Tomorrow is a National Holiday in Belize.  May Day or Labour Day.
Friday, I am headed to the zoo…my beloved Belize Zoo…for a date with the national animal of Belize.  The tapir.  Gorgeous as a baby.  Beyond gorgeous.
Borrowed picture from the UK Telegraph.
A bit more oafish as an adult.
And then to the nation's capital, Belmopan.  For the HUGE NATIONAL AGRICULTURE AND TRADE SHOW.  I only shout because it is so fun.  It should be about 100+ degrees and breezeless but there is food, animals, music, cooking contests, rodeos, dirt bikes demonstrations, ferris wheels, games, plants, produce.  It's BEYOND fun.
Your chances of getting heat stroke are about 50/50 but I'll be careful.
For all the scoop, read about when I visited in 2012.  Part One and Part Two.  I am giddy and will certainly report back.
AHHHHHH!