September Celebrations! How To Celebrate in 2017
It's the most wonderful month of the year.  Sure it's hot and generally humid.  Mosquito spray is a must at dawn and dusk and the stream of tourists has slowed to a trickle.  BUT…it's Independence Month!
IT'S PARTY TIME!
Belize celebrates two major holidays in September and for many, it can feel like the time between Sept 10th and 21st makes for one big HOLIDAY!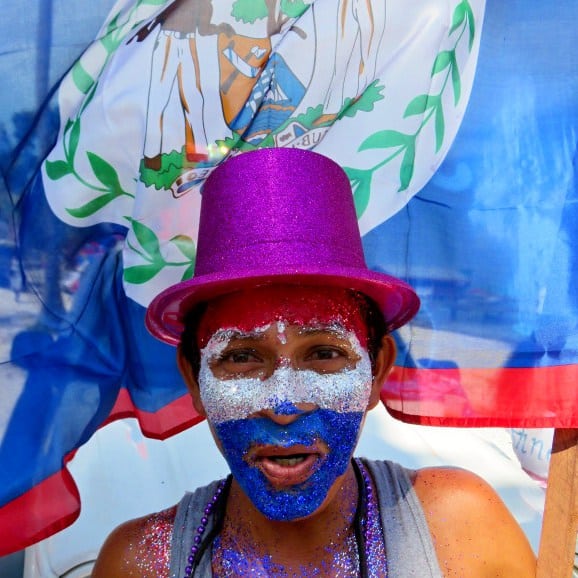 Time to decorate your home and your cart and your person and get out your calendar.  Though I've missed a few events – like the Miss San Pedro pageant – here are my favorite things to do in September.
Here is my 2016 decorated cart (and where to shop for red white and blue swag) – I need to get MOVING this year.
Only Elsie is ready in this household.  She was BAHN here!   (Play Lord Rahburn's classic Patriotic Song – Belize You Born Deh.  A CLASSIC)
Here is the theme this year for the 36th year of Independence.  "Belize: Confronting Challenges! Celebrating Triumphs! Renewing our Resolve!"
Let me start with the ULTIMATE BUCKET LIST item.  You can participate IN the big September 21st parade.  San Pedro's clothing store, Foreva Fancy, sponsors the Mystic Mas group.  They are the biggest, most beautifully dressed group in the parade – and YOU can be part of it.  $25bzd registration fee.  Perhaps $50bzd spent on make-up and beers to keep hydrated.
Foreva pictures?  PRICELESS.
Here is the group last year.
Here are some events to put on your schedule.  For the FULL list around the country, see here.
For the adventurous the BIG Belize City Carnival is at 1pm on September 9th.  It's CRAZY and crowded and loud and AWESOME.  (I last went in 2014 – I'm still recovering.)
Sept 9th Night time event – starts in the back football field at 8pm in San Pedro – A Tribute to the Baymen
There is usually a small parade, entertainment and ceremonies and FIREWORKS!  It's a late night event.
The next morning of September 10th is the Uniform Parade in town.  September 10th is the first official holiday celebrating the battle of St George's Caye when the Baymen (the British and their slaves) ejected the Spanish.
If you haven't seen our new Miss San Pedro yet, this is a great chance to meet her.  She is crowned at an official ceremony at the back football field and then there is a very cute uniform parade.  (Here is 2016.)
School children, officials, police, utility employees and teachers.
It's probably time to play some carnival music.

Things are getting crazy now 🙂
There is also a cool event in Belize City on September 16th and 17th.  I'm planning to go to this one this year.  My last visit was 2013!   Every vendor/store/artist of every kind on the mainland seems to be there plus music, food, games, free stuff and CROWDS!  GET THERE EARLY!
Here's a post from 2013 – we played plinko!  I won a fly swatter!   I'm definitely going again.
The MUST ATTEND EVENT – no matter how hot!  no matter how much it looks like it might rain – is the JUMP UP PARADE IN SAN PEDRO.  Yes there are bigger parades – the grand daddy of them all happens in Orange Walk on September 21st — but I LOVE THIS SAN PEDRO PARADE SO MUCH.
So fun to see your friends and neighbors dancing, drinking and having the time of their lives.
Here is the official schedule for San Pedro.  There is lots going on all over the country.
I'll see you there!  I'm the one in red white and blue dripping in sweat 🙂
Happy Independence Day BELIZE!