Perfect Day Trip: Caye Caulker with KIDS and Creative Tours
I'll admit.  The arrival of four adults and 6 kids, 10 years old and under, had me a bit nervous.  But things have been great.  Everyone is loving Ambergris Caye.
Yesterday we went on a day trip to Caye Caulker with Creative Tours and I am ready to declare it THE BEST DAY EVER.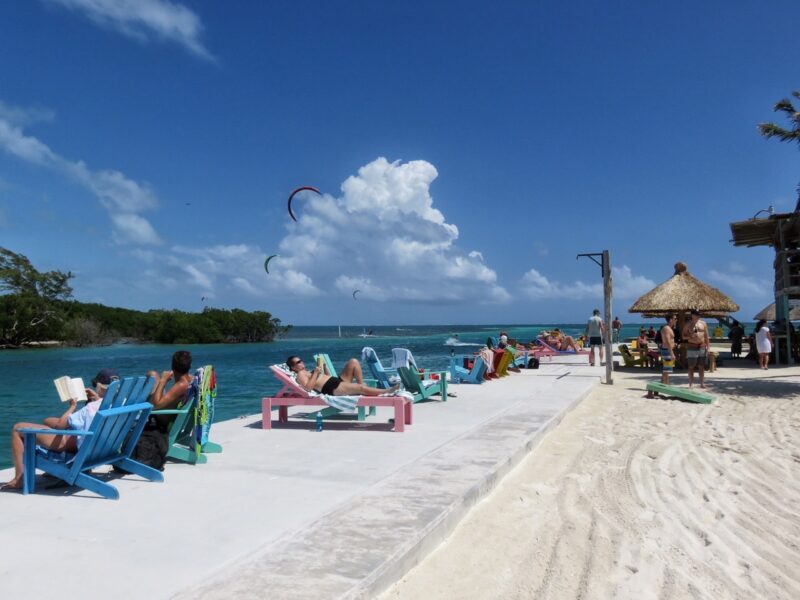 A unstructured day with our own big comfortable chartered boat was PERFECT for this group of 11.  Cold drinks, pick ups and drop offs, an incredibly friendly, helpful crew that thought of everything we didn't – like bait for the jumping tarpon and fresh baked cookies that they whipped out WARM at the end of the day.
Seriously perfect.  EVERYONE is going to be talking about our trip to Caye Caulker with the C-Monkey (christened the Chunky Monkey by the kids) for a long long time.
Here are my pictures.
Pick up at 9:30 at Indigo for the 30 minute trip to Caye Caulker.  We got a drop off at Rainbow Restaurant so we could walk down to the Split and check out a bit of the island…
I'm not sure if it is the orientation of the caye but the influx of sargasso is less than we are seeing on Ambergris Caye.  Things looked just beautiful.
We stopped at an interesting "weight room" – where my brother did some bench pressing of the cement filled paint cans.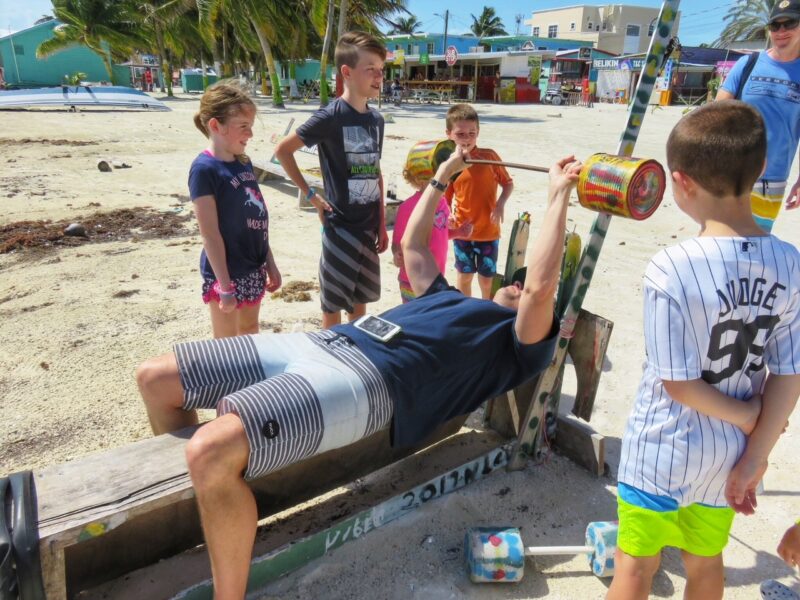 Pictures at the new CAYE CAULKER sign.  Family 1.  My brother, sister-in-law and my three nephews.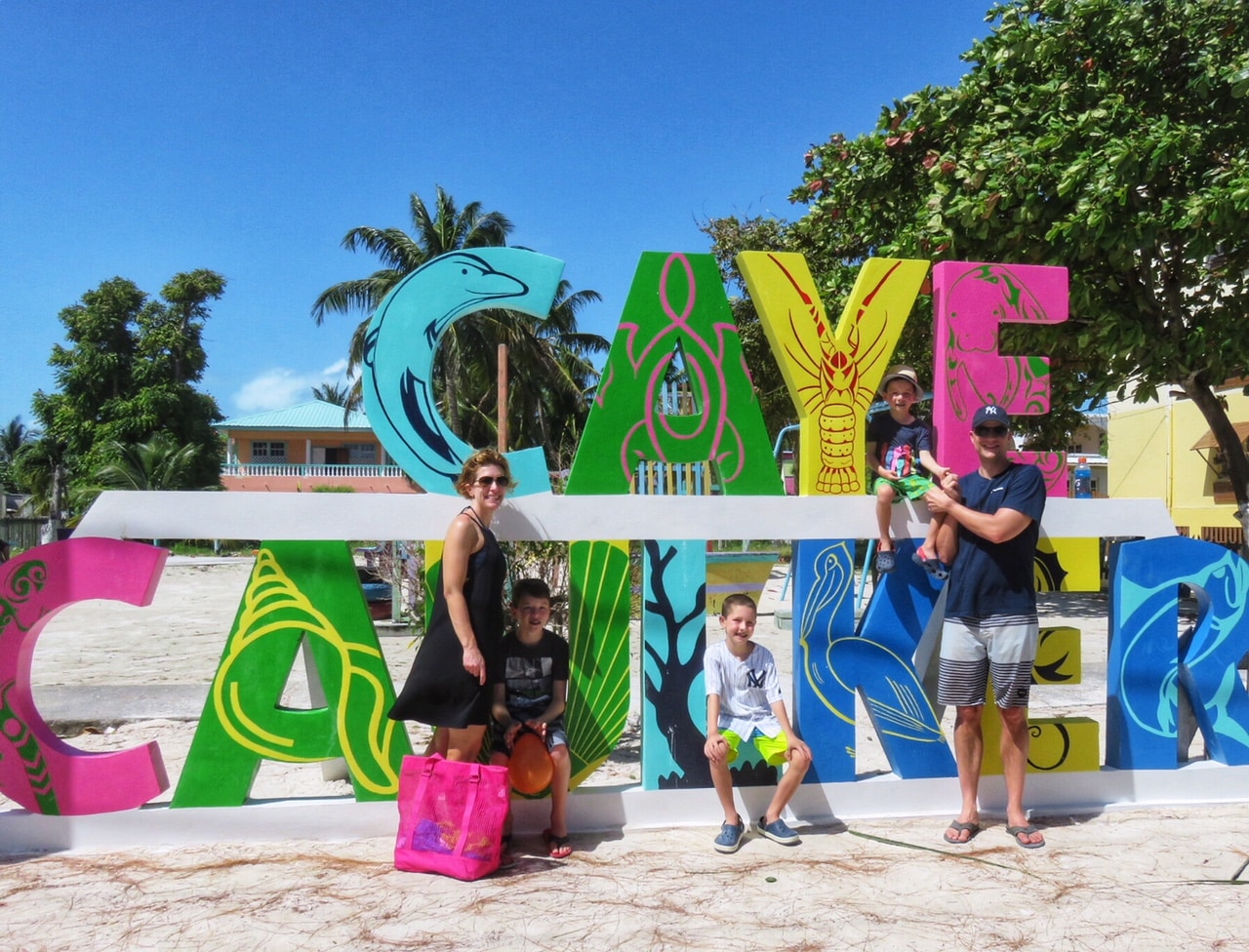 Family 2.  Kate, Kris and crew.
And down to the Lazy Lizard at the Split in the island.  This area has undergone some DRAMATIC changes over the last 10 years – and now is pristine with a HUGE seawall surrounding the area.
We were told that cruise ship passengers (the port is in Belize City) would arrive soon.   (Carnival lists the excursion to Caye Caulker here.)
Here's my post with past pics of the area and probably the most well-known bar in Belize.

The kids only had eyes for the high dive.
The four year olds decided this one was best saved for their NEXT trip to Belize.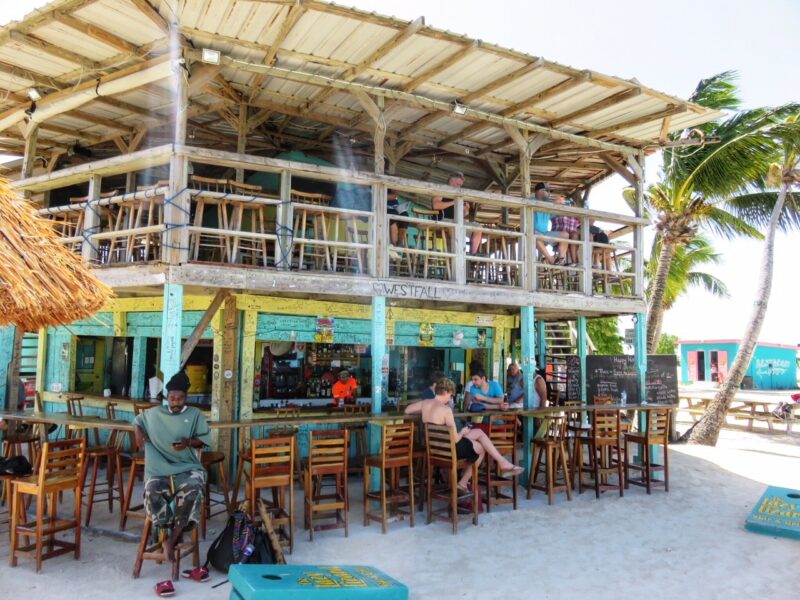 No way I'm going off…best to enjoy the view from the Lazy Lizard.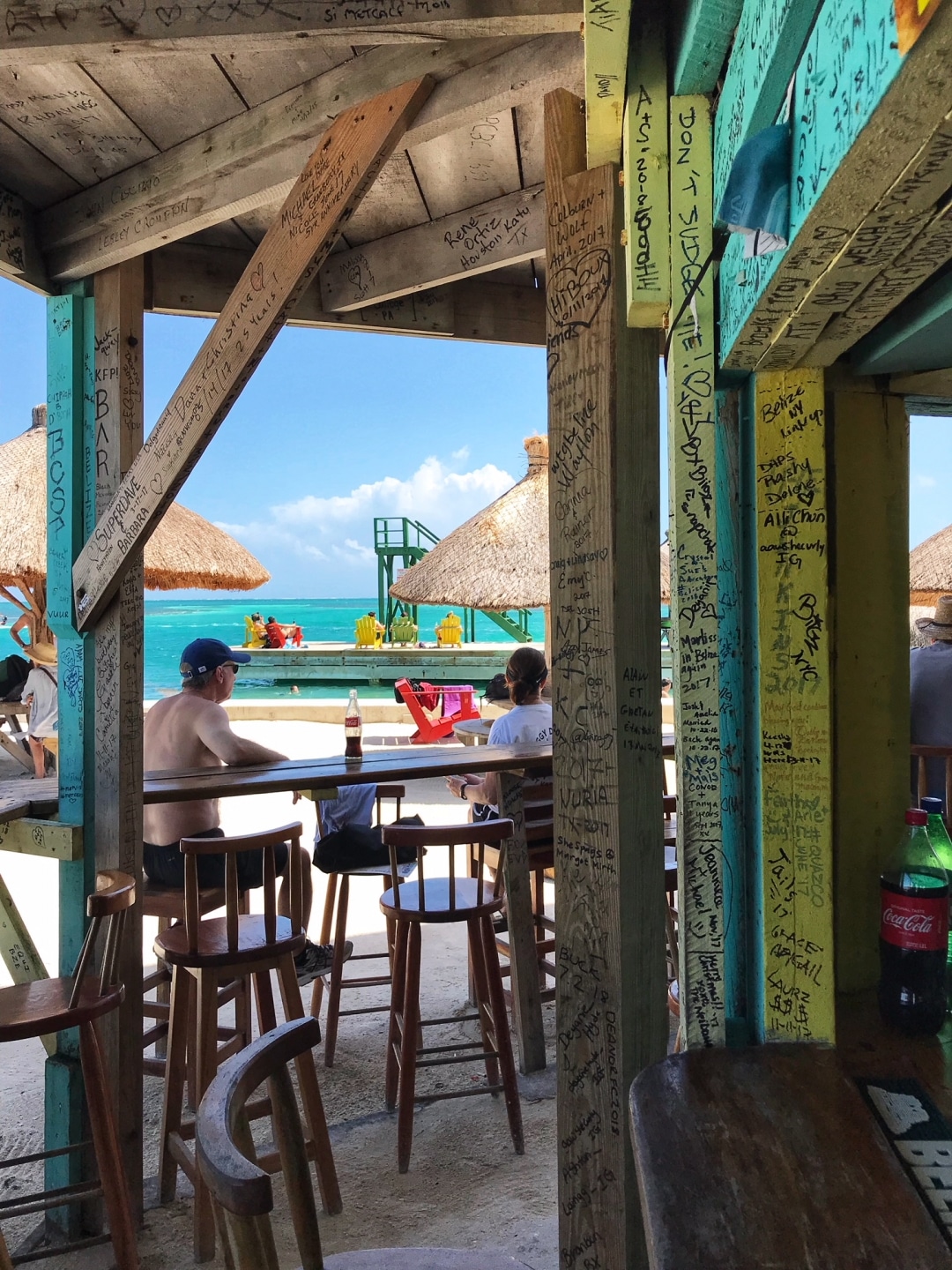 Our boat was waiting just around the bend.  There were horseshoes to play…
And a sign that says Butt-Hole?  Endlessly funny.
We boarded our boat – had some cold beers and Fantas – and moved just a few hundred feet to see the huge tarpon.
Why do all these 50lb fish hang out in this shallow cove?
Because we feed them!
I ALMOST got a picture of one taking the bait.  DANG these guys are quick.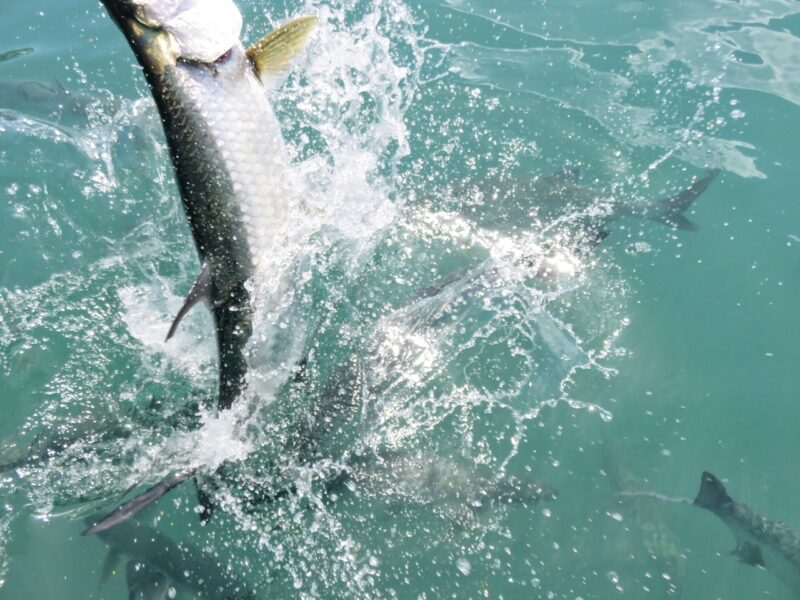 And the pelicans became more and more persistent.  This guy came along with us to our next stop.
Our boat captain told us he knows him.  His name is Jeffrey.
We were off to the North Side of Caye Caulker – just a minute or two away – and a place called Koko-King.  A HUGE beach club and restaurant and small hotel and…it was PERFECT.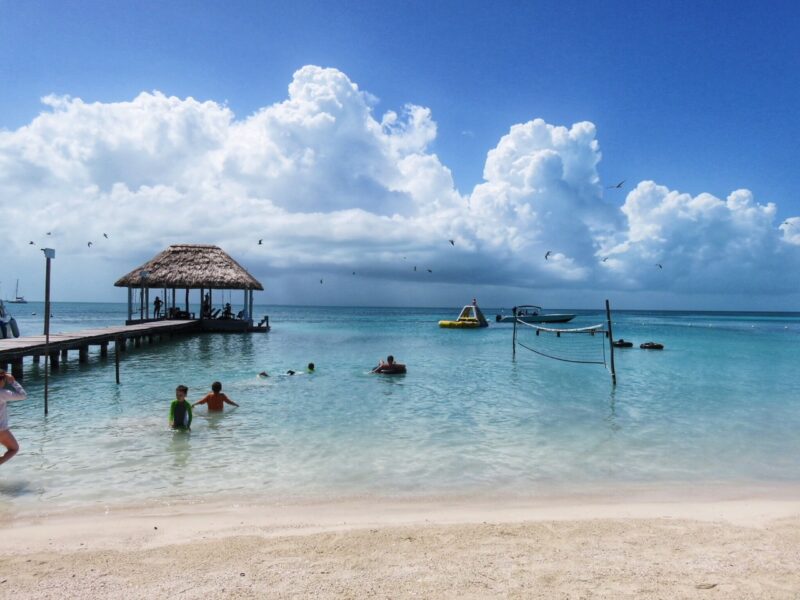 We ordered lunch at a huge table in the shade.  The staff was fantastic and so was the food.  Things started with a bucket of Belikins and a bucket of Sprites.
We had food from baby back ribs to burgers to chicken nuggets and salads and whole fried fish.  It was really really tasty.  I especially enjoyed these crispy tempura veggie nests…yum.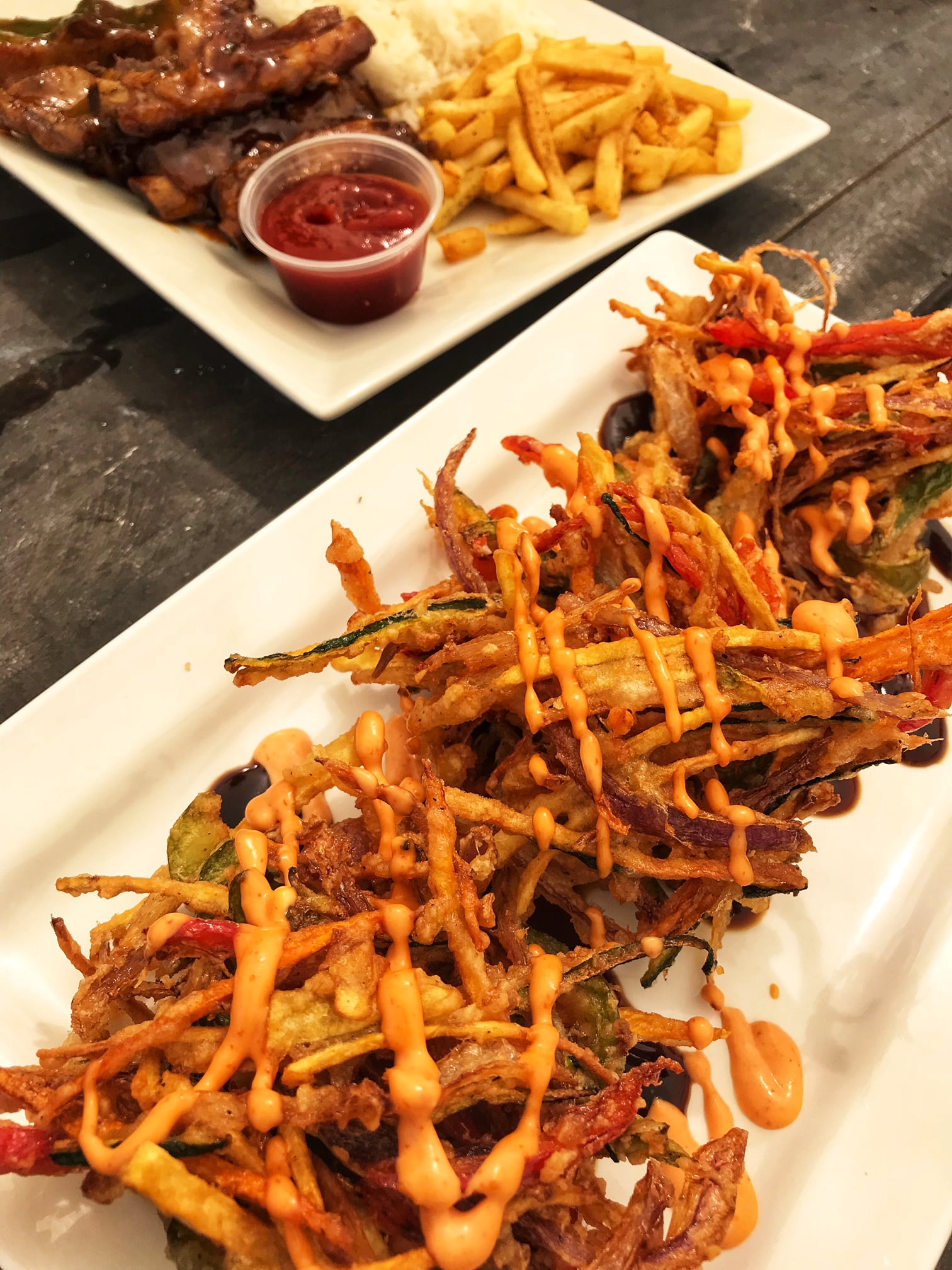 In for a last minute dip.  The sky was darkening a bit but man…it still looks GORGEOUS.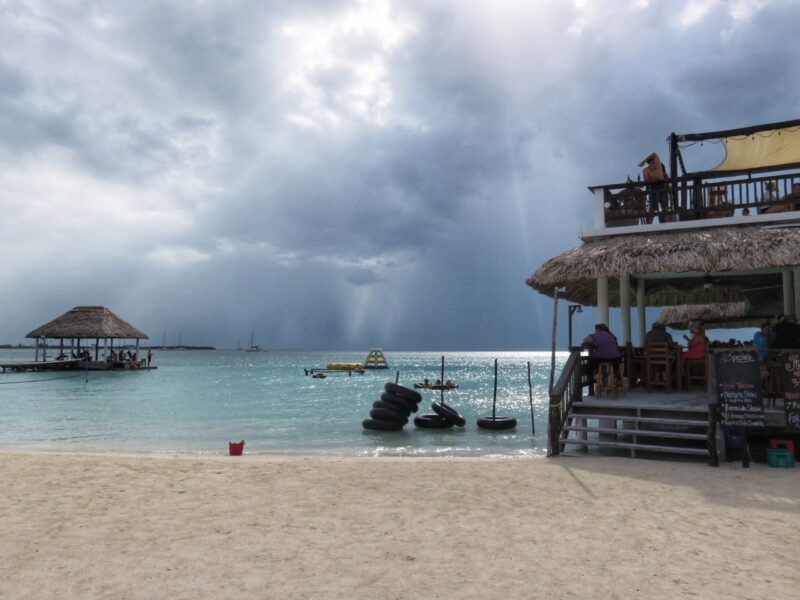 The C-Monkey came over to the dock to get us…
Fruit and red and yellow Fantas and warm chocolate chip cookies.   We moved towards the north end of the island, where'd they seen dolphins earlier in the week, so the kids could jump in.
Tasting each color of Fanta AND drinking out of glass bottles?  The kids are in heaven.
We headed back to Ambergris Caye under some very dark clouds and made it back to Indigo mostly dry.
Mostly dry, seriously sunned and very tired.  Well…that was really just me.  The kids were ready to shower and get to their FAVORITE spot on Ambergris Caye.  The Truck Stop.
What a super super super fun day.  And I really can't think of a better way to do it.  A chartered boat with Creative Tours.  The boat is large and comfortable…the staff is FANTASTIC and you can do as much or as little as you want.
I could not recommend it more.
And if you are a PINNER and would like to save, please do.