A Guide to Packing for Belize in the Rainy Season
Rainy Season in Belize and What to Pack
Belize is known for her great weather – with average year-round temperatures that don't stray too far from the low to mid-80s.  But over the last week or so, we've gotten some rain – a rainy day earlier in the week – one of the first of the year, so I thought it a very good time to answer a few questions that I get often:
When is Rainy Season in Belize
What extra should I Pack for Rainy Season
And most common this:  "My local weather app says that it is going to rain every single day on my vacation to Ambergris Caye – should I cancel?"
Let's talk about Rainy Season because, despite the name, this time of year usually features milder temperatures and less rainfall than you might expect.
When is the Belize Rainy Season?
Rainy season in Belize is considered to be June to early/mid-December – the same as Hurricane Season in the Northern Hemisphere.  Officially, June 1st to November 30th.
It does bring rain but generally, the weather is sunny, very warm tropical weather.  "Rainy season" is a bit of an exaggeration…a misnomer, in my opinion.  It is not a season of heavy rains, it's just that in comparison to some of our drier months – usually February to early May when we don't get even a drop of rain – the summer months bring rain.  Generally at night, sometimes early morning, maybe a day of grey clouds and rainy weather a few times a month but it does not mean your vacation is ruined!
It's the tropics…even the most gorgeous sunny morning can lead to dark storm clouds rolling by at mid-day, heavy rain that blows sideways for 20 mins and then back to bright sun.
Its my favorite time to take photos – the water glows.
Let's call the weather…spontaneous. So being prepared will ensure that your trip is much more comfortable.
Keep in mind that there are GREAT reasons aside from the weather to visit Belize during this time
Airline & hotel prices are often discounted
Holidays like Independence Day (Sept 21st) and Halloween are HUGE super fun celebrations; Caye Caulker, Ambergris Caye, and Placencia hold big Lobster Festivals in July (the lobster season opens July 1st)
There are fewer visitors – especially as we get towards the late summer/fall – and there will be no fight for that beach lounger in your favorite spot
Hang out with the locals, the people that live here
Odds are the weather will be good…if not great
Where Can I Check the Weather For My Trip?
As I mentioned above – the weather in the summer and fall is "spontaneous" and changeable so the weather report is the same way.   You'll want to keep an eye on the hurricane forecast sites just to see if there are any disturbances in the region.  National Hurricane Center is an easy one.
For the weather forecast in the next few days (more than that just isn't reliable in the tropics!) – check out Windfinder.com (here's the link for Ambergris Caye)
And then for weather RIGHT NOW – take a look at this cool live-feed and live-cam set up.
Don't look at Weather.com or whatever local app you generally use – it's just not accurate.  And is most likely depressing.
Here's what it shows today.  (I'll bet you a pina colada that it doesn't rain Wed-Sun this week.)
What Should I Pack for Rainy Season in Belize?
You're visiting Belize in the rainy season…is there anything "extra" you need to bring.  (Here's my 7-day packing list for any time of the year)
From someone who likes to pack the morning of a trip (even if I am leaving at 6am), this is quite a feat for me. A packing list. But I think it's important.  Not because you will need all of these things – you might never take out your light rain jacket – but it's good to have it.
And because shopping when you arrive for items is possible but can be tricky.  Items can be hard to find or way more expensive than at home.  Who wants to spend their vacation combing gift shops for a pair of shoes?
Ziplock bags
No matter when you are traveling (or where), these are always a good idea. Great to take on a snorkeling trip for your camera or, just in case…when it starts to rain, zip up your phone and your wallet.
Can you buy it in Belize? Sure. Probably about 2-3x the price compared to your home store.  And who wants to spend their vacation in a supermarket?
Water Proof Non-Slip Sandals
I wear sandals/flip-flops (called "slippers" in Belize) every single day…and for years I wore that kind you pick up at Old Navy for a few bucks.  But when it rains or if you plan to walk for more than 15 minutes? These things are pretty useless.  And on wet tiles? They offer no grip – to your feet or the wet tile.  You'll end up tip-toeing so as not to slip rather than running to get shelter.
I can not say enough good things about these sandals.  I've tried many…and these are comfortable (with a bit of arch for comfort and lift), they grip to your foot and to the ground and they are nice and simple.  Slide 'em on and off…
They are around $30US as I type this but they last forever.  Fully scoop tested and approved.
If you are planning on doing any mainland activities, like visiting the Maya sites, zip-lining or cave tubing, you are going to want a shoe with more structure than a flip-flop.  Something that stays on as you while hiking to a cave.
Croc's work. Sneakers also work – but bring an old pair (and a plastic bag and a pair of sandals to change into after your activity).  They will most likely be waterlogged and muddy by the end of the day.
Any type of Teva, Chacos, or Keenes that you already have work great – but don't spend a ton of money on them if you are only going to use them once or twice in Belize.  I'd get something cheap on Amazon or at Walmart.
Mosquito Repellent and Your Favorite Anti-Itch Cream
This is something I'd be sure to bring for your trip to Belize.  You might not use it, you might put it on in the early morning and evening and if you use this kind, I don't even think you notice it.
I've tested so many kinds – high DEET, no chemicals, natural, sprays, lotions and this is BY FAR the best.  Smooth on the lotion (it doesn't smell, it's not sticky or tacky) and it'll last all night.
I've never seen it for sale in Belize.
Sunscreen
For body and lips.
Everyone has heard it…you can get a sunburn on cloudy days but down here, it is 100% absolutely positively true. I can attest. It happens all the time to my lips.  My poor lips.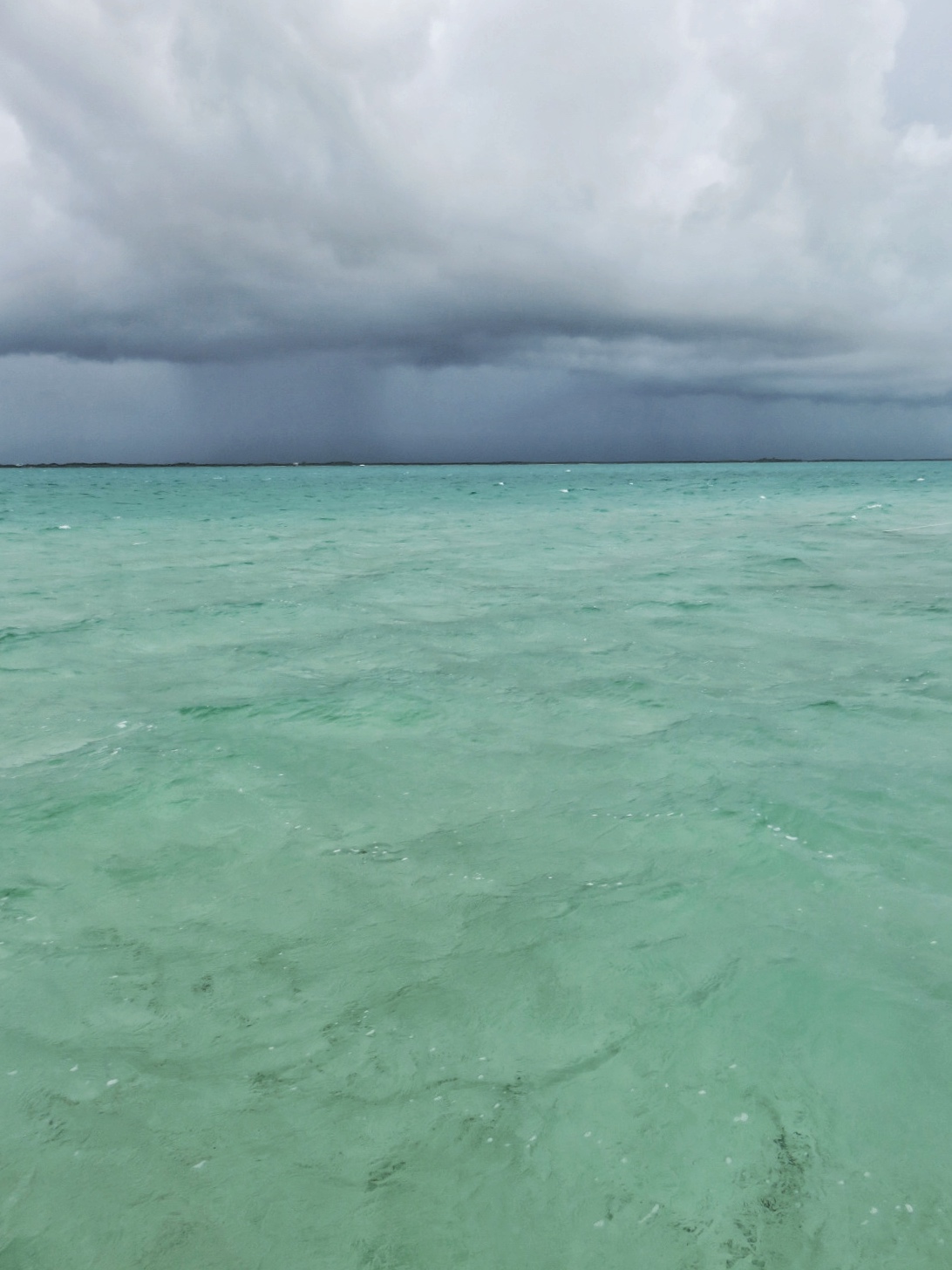 And I totally get that you want a tan. I love to have some color too. But 30+ SPF for face and lips when getting sun, diving, and snorkeling is a must.  A swim shirt is even better for snorkeling.  And you'll still get plenty of sun.
A light rain jacket 
Since "the weather" can come and go quickly, it's always nice to have a light jacket with a hood balled up in your bag.
Can you buy it in Belize? Yes. Expect to pay 3-4x what you pay at home.  It's nice to have when driving a golf cart…which can be quite something in heavy rain!
What you don't need to bring…
Your Hair Dryer. Even if you don't get one drop of rain on your trip, you will be in and out of the water. And with the humidity in the air at 85% humidity or higher, styling your hair, curly or straight, is pretty much useless.
Make sure to bring extra hair bands.
That's it from me…were you expecting me to help you fold your undies?  These are the essentials for your trip to Belize in the rainy season. Add in a few pairs of shorts, some tanks, and t-shirts, your toiletries, and a bathing suit or two, and you are ready.
Belize is as casual as it gets…I can't think of a spot that would reject you for being barefoot. Pack your medication, your contact lenses, and solution and I'll see you at the Independence parade on September 21st.
Bring your red white and blue!
Please send me any suggestions you have from your trips to Belize and ff you are a pinner, please PIN!