Wow San Pedro, You Look Gorgeous
Yesterday was just gorgeous in San Pedro, Belize.  The sun was bright, the sky was just a little bit bluer and yellow-green butterflies are flitting by – north to south – as the Cloudless Sulphurs pass through Belize on their mysterious migration.
Check out this short video of the migration on our island.
For the life of me, I can't even take a picture of one butterfly.  I'll keep trying…
Jeff and I were in town – running our errands – and I was yelling STOP THE CART to take photos.  Dozens of them.  Thankfully, 7 years in, he still thinks it's fun to be a "blogging assistant".
Here are some of my pics.
PULL OVER!  I know that the dock at Ramon's Village is particularly photogenic on a pretty day.
Beginner scuba divers practicing off the end of the dock.
Into town and one of my favorite trees – a gorgeous old yellow flamboyant tree that gets hacked and trimmed but always shines this time of year.
And then down to the Phoenix Resort and the Palapa Bar – again…very photogenic.
My stay:  An Incredible Oasis in San Pedro, Belize:  The Phoenix Resort
The tide/the water is incredibly low – and driftwood and sea grass that haven't seen the light of day in a while were peaking out.
And then a quick walk over to the Palapa Bar.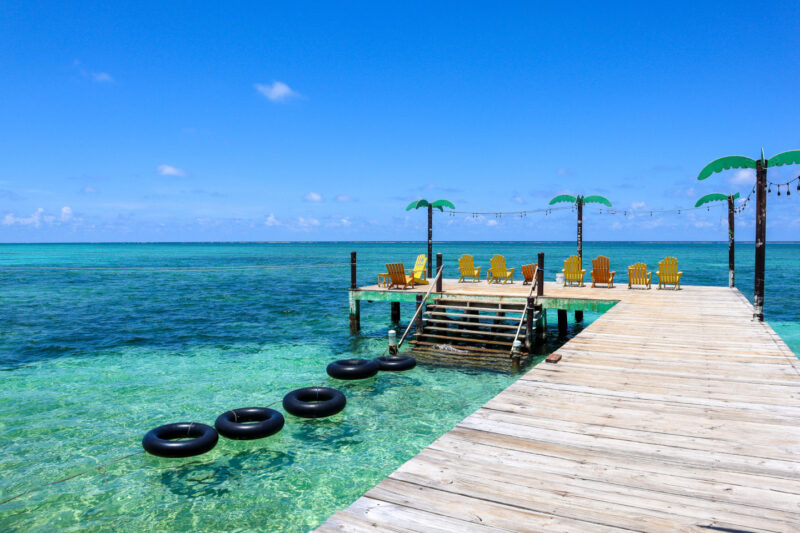 And at Chuck and Robbie's Dive Shop – the tide is so low that a boy was walking his dog on the sea bed.  Just over to the right in the photo…
What a gem of a day.  And Lobsterfest is starting in a few days!
Sigh…I love this town.