Halloween on Ambergris Caye: What to Expect 2023
Though not a traditional Belizean holiday, Halloween and the week leading up to it is packed with costume parties on Ambergris Caye. And since temperatures in the low to mid-80s are pretty much guaranteed for this time of year, it's a great spot to showcase your costume—no need to wear a winter parka over your beach Barbie and Ken costumes in Belize.
11 Reasons You Will Love Belize in October
Here's a pic of the beach this week – a perfect spot to take some photos in your Ariel the Little Mermaid sparkly tail-skirt.
Or pose in front of a local fruit stand in your sexy pineapple costume. No need for an under t-shirt and pants!
I'll get to the list of parties around town but first, I want to talk pumpkins.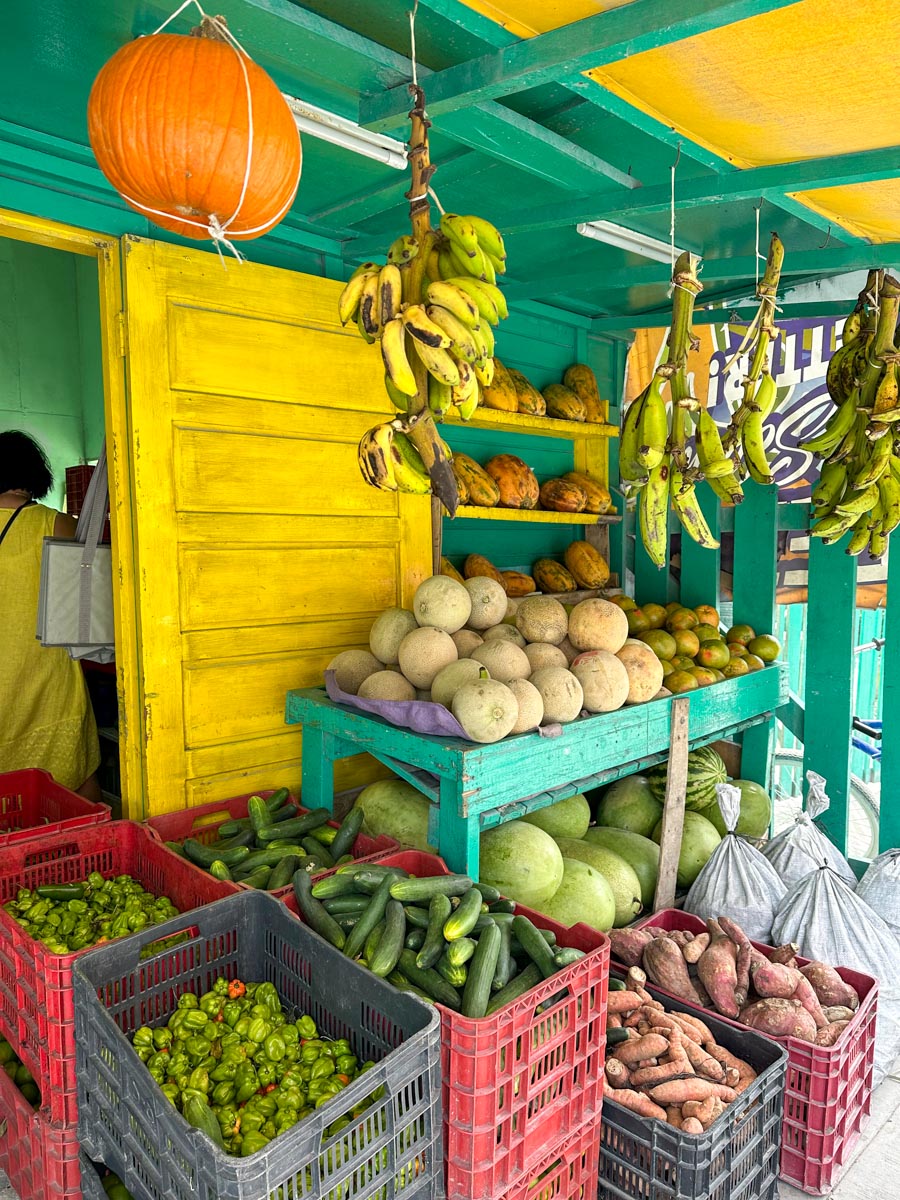 The pretty orange pumpkins that are associated with Halloween (a very American holiday) are from colder climates. Each year a few shops get American pumpkins shipped down in refrigerated containers for sale.
I saw them yesterday at the small fruit stand just north of Caye Mart – and they start at a very reasonable $20bzd for the smallest size. The larger perfect pumpkins are going to cost a bunch more – more like $40 to 80bzd. You can find a bunch at Superbuy in town. (And American gourds! I've NEVER seen them in Belize – ever.)
For some reason, pumpkins are one of the very few things that fill me with nostalgia. Christmas trees? We've got them in Belize. Snow? I hope to never see it again. But pumpkins…they just make me feel all warm and fuzzy.
So I went in search of a local pumpkin. These ROCK HARD gourds are grown and sold in Belize – and used locally to make "sweets". Stewed for ages with lots of sugar and all-spice. Dulce de Calabaza. You can see this recipe here- one recipe suggests starting the cooking time at 8 hours!
Also, may I suggest an axe or a diamond-tipped drilling device to cut it? Carving for Halloween? A laser.
I call them rock pumpkins. I tried baking one once and I had to drop it from a second-story balcony TWICE to even crack it.
5lbs. $1.75bzd a pound. Squat, scarred, and a bit homely. I love her on our dining table/my work desk. And it'll probably last months rather than the weeks (or day or two if you carve it) that the imports last in this heat.
Now, let's get to the parties.
Parties in San Pedro are mostly for adults. The schools will do their own parties and some neighborhoods host trick-or-treating for the kids. There is also a huge SAGA Humane Society party for all – their biggest fundraiser of the year.
Here is what I know…
The San Pedro Town Council is hosting the first party and marketplace in the Back Football field in town
Here is the information – this looks like fun for all ages and starts at 7pm on Saturday, Oct 28th
And then LATE night is the big party at the Holiday Hotel. And…I have never been to it! It starts late – there is a red carpet leading the party that gets going at about 11pm. And the party goes to the early morning.
And though I have never been – friends have shared photos from years past and it is epic (look at this woman who arrived in an ice chest). One of the parties of the year!
The SAGA Humane Halloween Party 2023
Now THIS party I try not to miss. I think I've been going since 2011? Always fun…and everyone loves dogs stuffed into costumes. Take a look at last year's party. 2022 was so great at Toast.
Here's the information about this year's party. I'll see you there.
And then other parties around the island. Please send me your information if I missed your party.
Wayo's Beach Bar is having a Shocktober Fest party on Oct 31st starting at 2pm with a raffle, a Pine-O-Lantern carving contest and more. I'll share the flyer when I get it!
Toast San Pedro is hosting a Bingo, BBQ, and Boos Halloween party on October 31st. You can see the details here.
Happy Halloween everyone. If you are going to any late night parties and would share pics with me, I'd be forever grateful. Let me know. 🙂
I am a participant in the Amazon Services LLC Associates Program, an affiliate advertising program designed to provide a means for sites to earn advertising fees by advertising and linking to amazon.com. If you click on a link and purchase an item, I get a (very) small commission. But every little bit counts. All opinions are most certainly my own. 🙂