Belize in October: 11 Reasons That You Will Love It
Should you visit Belize in October?  What will the weather be like in October?
The main answer to that first question is:  If you can take the time off and you need a little boost of warm weather, sunshine, delicious food (including the tastiest seafood I know), adventure, and/or relaxation and perhaps a solar eclipse before the winter sets in…
YES!  You should visit Belize in October.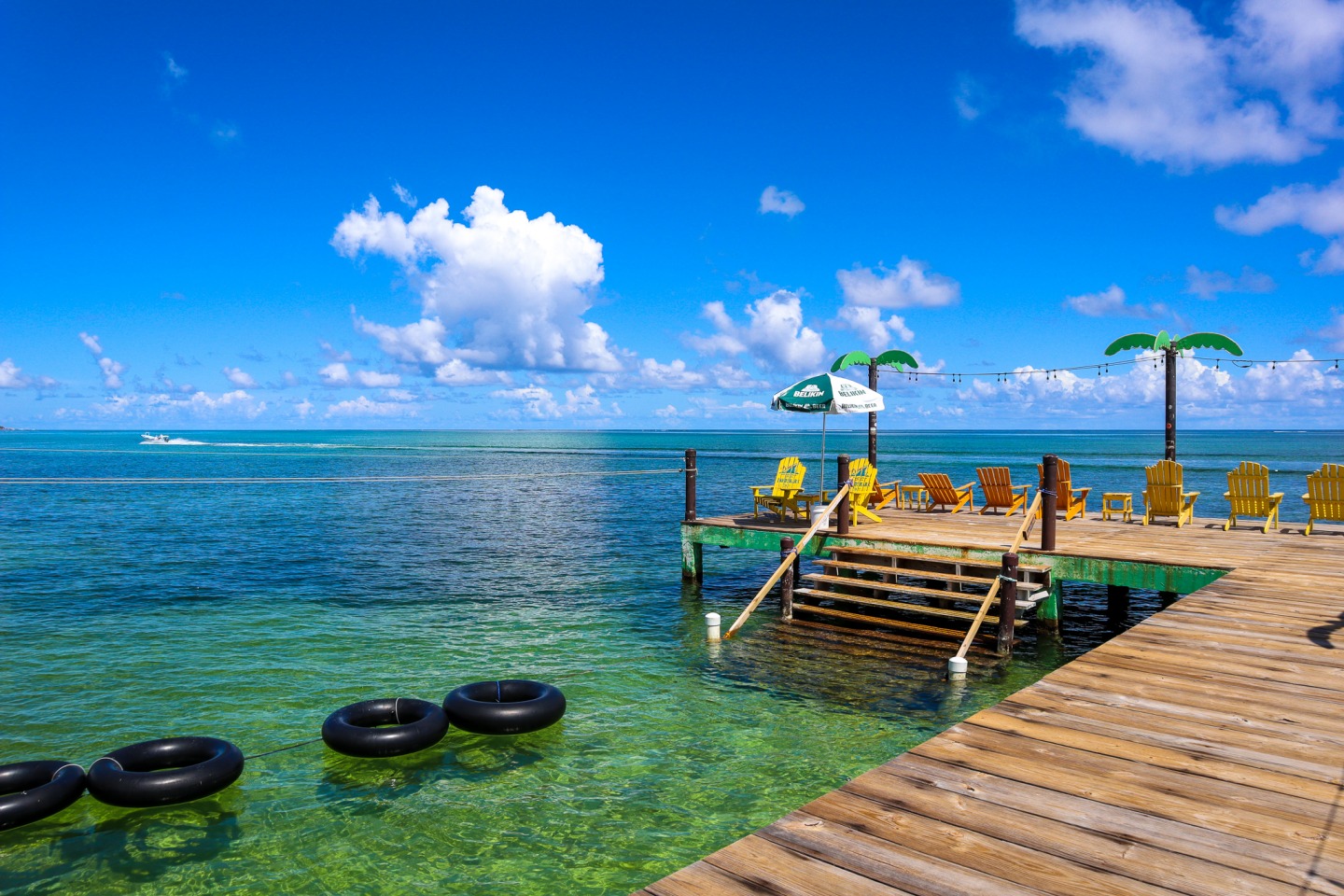 But there are things you should know before booking your trip.  Let me start with the first question that everyone asks…
What is the weather like in Belize during October?
September, October, and November are typically the "low/slow season" in Belize.  Around the world, people are getting back to school, summer vacation is over and it's time to buckle down…
In the Atlantic, September, October, and November are the second half of the hurricane season (Hurricane Season is officially June 1st to November 31st) – and generally the more active part in the Western Caribbean.  Remember "Western Caribbean" is a HUGE area – and Belize doesn't get storms every year.
These months are still the rainiest months of the year.  The north part of the country is drier than the south but all parts of Belize will get rain in October.  Mostly at night and the early morning.
And while many days promise to be warm and sunny, you do have a good chance for rain.  Warm rain but still…rain.
But I think there are LOTS of reasons to visit Belize – and particularly Ambergris Caye in October. If you bring a few extra things and know that the weather could be rainy during your trip, here are the 11 POSITIVES that might make it all worth it. 
1. Halloween In San Pedro
You may be surprised to hear that the last weekend in October is a huge party time in San Pedro.  Bars go ALL OUT with parties, prizes, red carpets…it's huge!  There are costume parties for adults…
…and for pets.
If you love Halloween, warm weather, and good times, make a point of coming to San Pedro at the end of October.
It's a whole lot easier to rock your sexy Mermaid costume when the temperature is 85 degrees.
The BIG party at the Holiday Hotel (for humans) and then the SAGA Humane Society throws a big fundraiser for the pets.  This year, you  can actually be back home by the 31st (it's a Monday!)
2. The Weather
Yes…it may rain – often at night or in the early morning.  But it's reliably warm!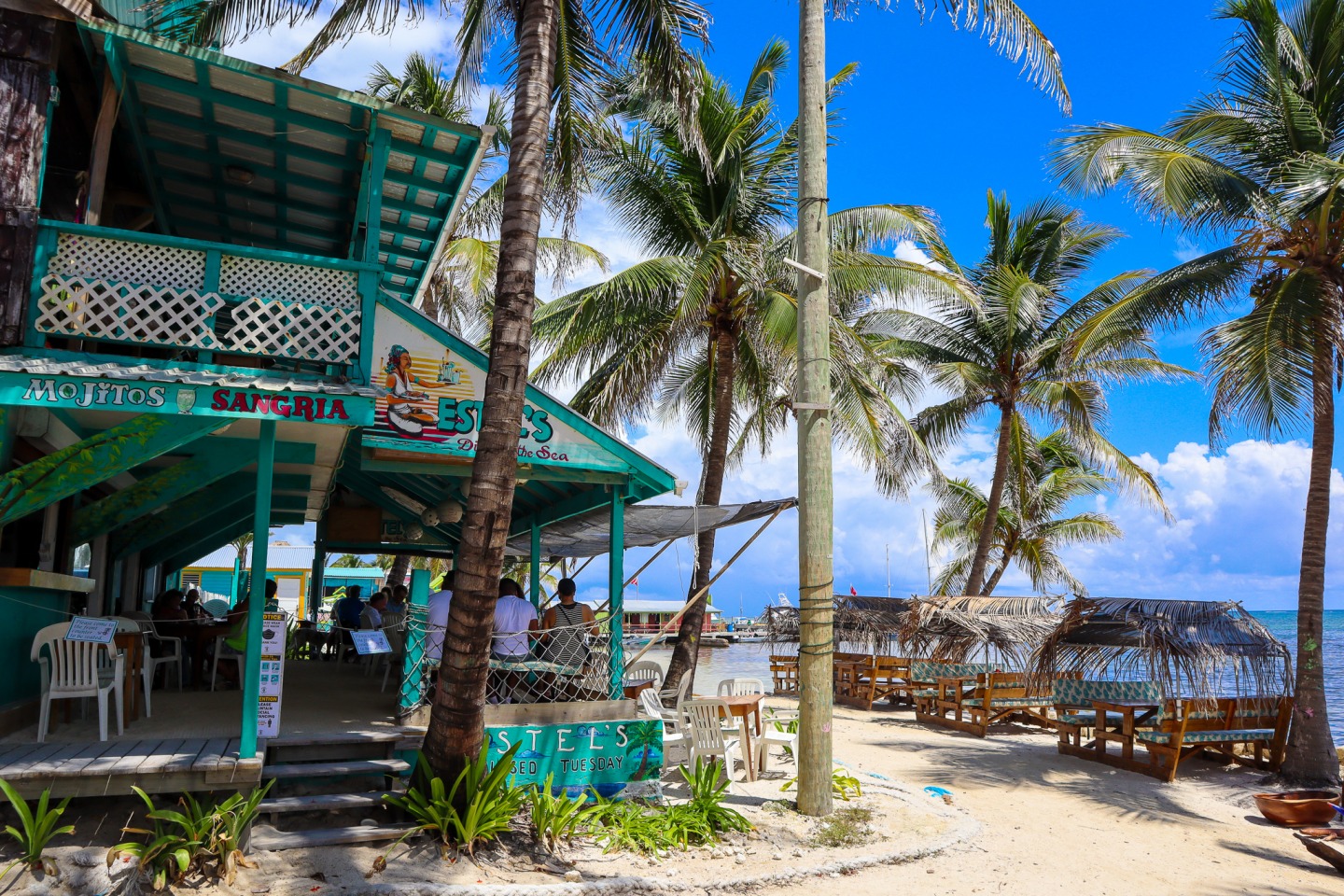 The clouds also produce some AMAZING sunrises and sunsets.  Here's an October sunset pic from a few years back.
And I'll get into how clear and still the water can be in October in #8.
3. Conch Season
This might be my favorite reason of all.  Conch season re-opens on October 1st.  And if you love seafood, I'm pretty sure you will love conch.  It is so flavorful and when prepared properly is delicious, tender and sweet.  I pick conch over lobster every day of the week.
Here's the list of My Favorite Ways to Eat Conch on Ambergris Caye.
SOOO good.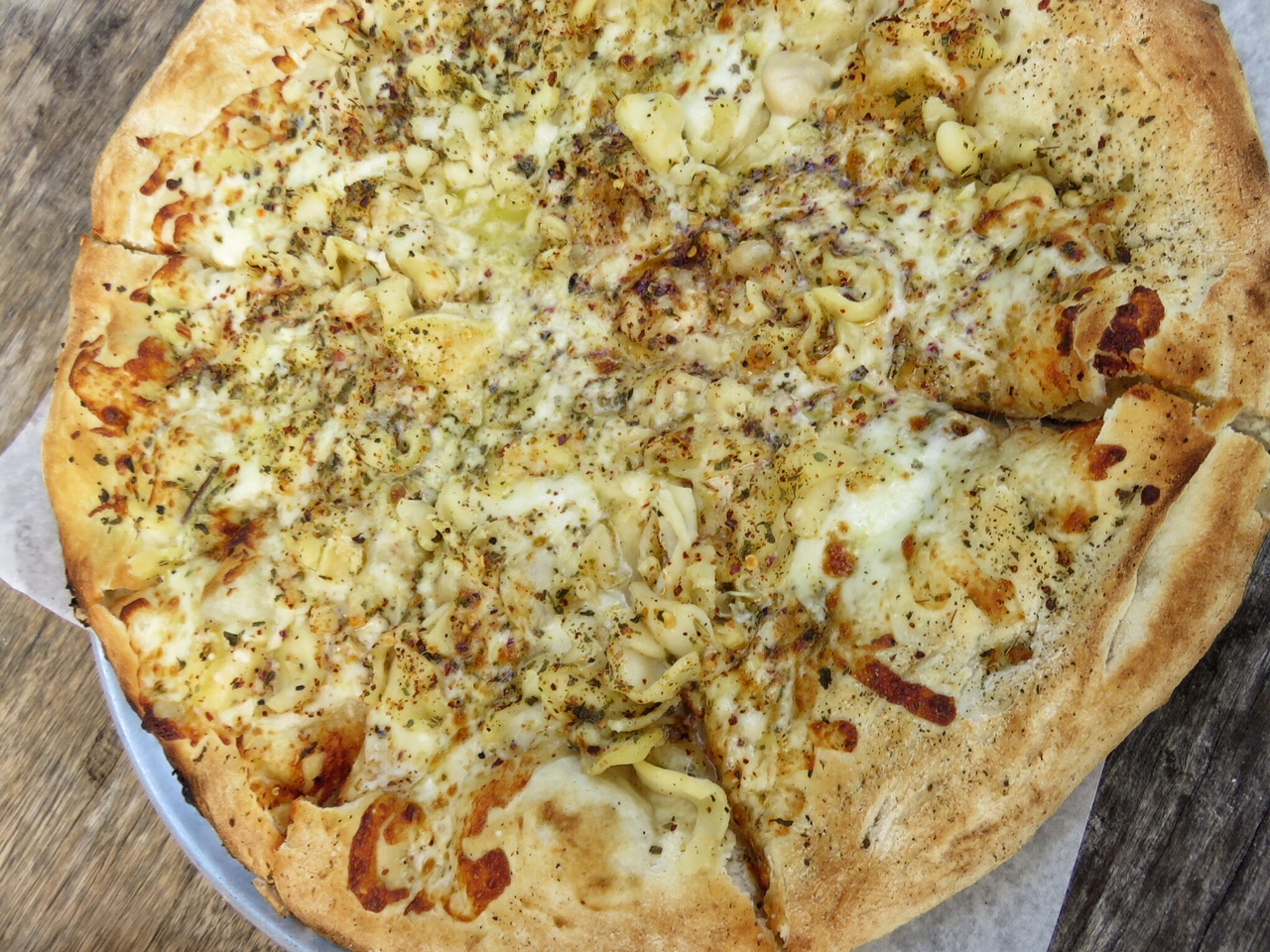 Ceviche, pizza, fried conch, conch fritters…I can't wait.
4. Pumpkin Spice isn't a big thing in Belize…
I used to adore Pumpkin Spice season in the US.  Isn't that what autumn is now called?
Love the flavor but all the ads and products…it's getting way old.
Yes, Halloween is big in San Pedro but the HUGE commercialization of Halloween and Thanksgiving just doesn't exist here.  Belize is much more low-key – and we don't even have a Walmart or a Target much less a pop-up Halloween costume store in the local strip mall.  (We don't have strip malls either!)
But then again, if you have a craving, you can find just a bit at the world's best chocolate shop (I'm not exaggerating).  Mmmmm….
And if you are looking for great coffee – we have a bunch of places.  Try Lavish Habit – I love this spot and the lovely young couple that owns it.  They do a beautiful Pumpkin Spice Latte – but you need to ask for it special!
5. Here come the Cool birds
You aren't the only one looking to get away from the cold weather – here come the birds!  The herons, egrets, and other water birds are particularly stunning as they arrive in Belize (or just pass through) for their winter holiday.
I'm a giant fan of the roseate spoonbill. (The "Belizean Flamingo")  Each and every time I see one fly over…or one just rooting around in a puddle…I have to stop and take a picture.
There is also a Belize Birding Festival in October too. See this link for more information.
6. Airfares are at their Cheapest, Hotels offer their best rates and Golf Carts are Plentiful
Airfare is at its cheapest during this time of year…usually!   I can not tell you what is going on this year – prices for flights seem crazy high but I am looking at some prices for October 2022 – and they seem good -lower than I've seen in a while.  It's going to be different from every hub but it is very worth taking a look…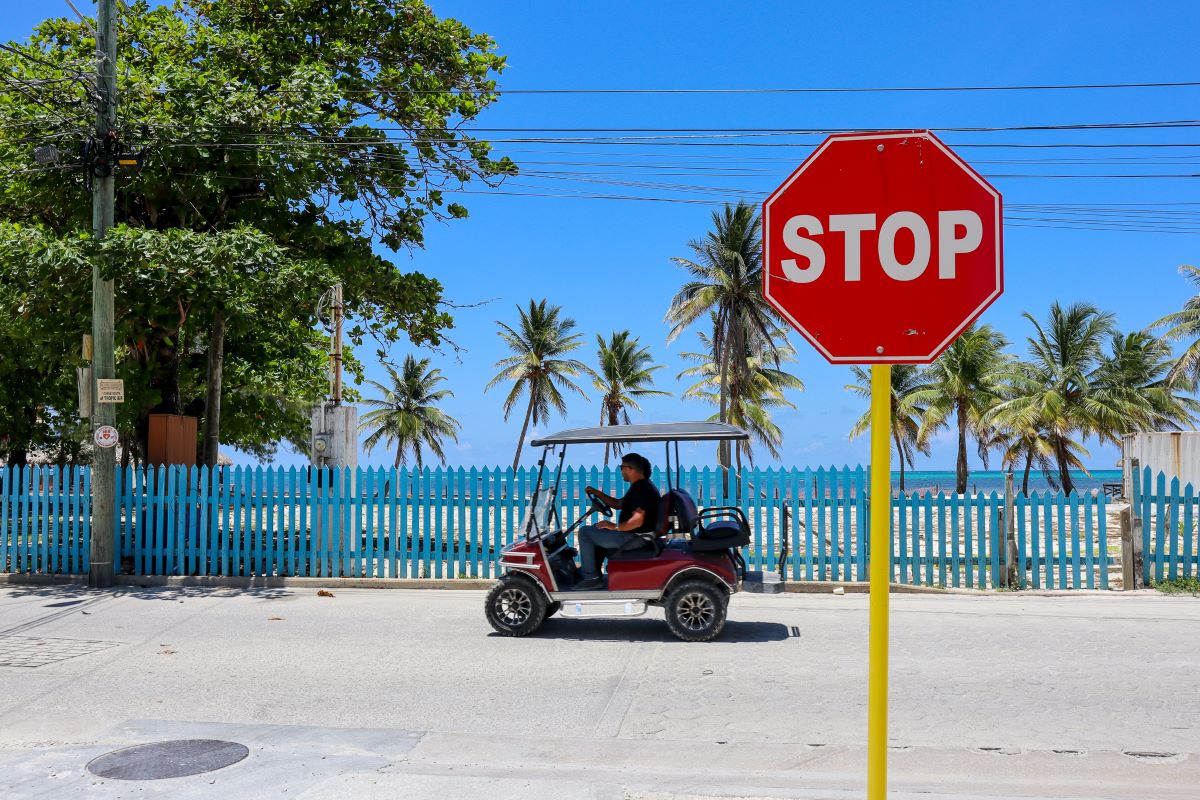 For hotels, the prices are the cheapest at this time of year.  Forget the big websites.  Email your fave hotel directly and ask for the "low season" prices.
For information on golf carts – and how you can find the best deal – see my post: Do I Need to Rent a Golf Cart on Ambergris Caye?
7. Plenty of Hotels and Restaurants are Open
A few restaurants and hotels may be closed for renovations and staff vacations during this time of year but don't let that put you off.  Ambergris Caye has SOOO many options now – so many restaurants and bars and hangouts – you will absolutely find plenty of places to enjoy.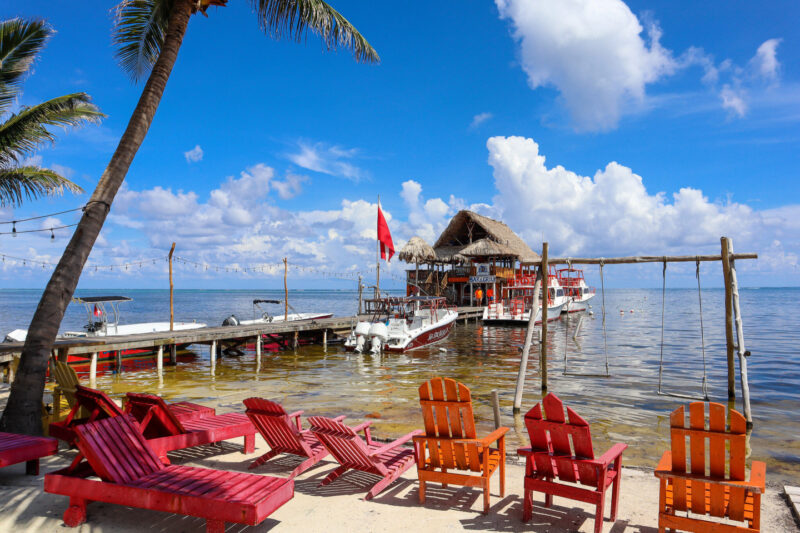 8. A GREAT Time For Diving and Your Excursions Won't Be Pack
Have you ever been snorkeling or diving or cave tubing and you are surrounded by people? Or on a catamaran tour where you find yourself fighting for a little space at the front of the boat?
October is the perfect month to get a great deal and feel like each excursion was sent out JUST for you.
PLUS, if you are an avid scuba diver or snorkeler, October is known for very still and very clear seas. I've heard it locally called "The October doldrums". Here are some pictures of October doldrums in San Pedro.
9. Hang out with the People That Live Here
Belizeans are known for being very friendly and proud of our country.   But in October, when business is at its slowest point of the year, everyone will be even happier to see you.  Restaurants, bars, tour guides, everyone.  With fewer tourists, you will be welcomed with open arms.
It's a particularly good time to visit if you are thinking of buying property or a home in San Pedro – you need to learn to love her at all times of the year!
And in case you were wondering, you sports fanatics…
10. You Can Watch Your Football
Fear not.  You will be able to find your football game at the local sports bar and fans there rooting for your team.  The World Series will be on TV – though the "Team of Belize" is the Chicago Cubs and they don't seem like they will be in the postseason.
You can read the cool story of why there are so many Cubs fans in Belize.
All your games will be on at sports bars like Croc's Sunset Bar or the Truck Stop's beer garden or many others.
11.   THE SOLAR ECLIPSE!
On October 14th, Northern and Central Belize are in the 100% path – the path of totality for an annular solar eclipse.  This is not a total solar eclipse but an annular one – and will create a "ring of fire" effect as the moon almost covers the sun completely.
How crazy cool would it be to view the eclipse from a Maya site like Lamanai or Caracol?  And if that's not your thing…perhaps while flyfishing on a wide open flat, just you and your guide, or while scuba diving?
Or maybe just wearing flip-flops and shorts flat on your back on a dock over the warm Caribbean?
All sound pretty great to me.  I've got time to make my decision!
For more on the timing and what it can look like, see my post:  Solar Eclipse Passing over Belize in October
I'll leave you with a Packing List for the Rainy Season – there are a few extra things you'll want to throw in your bag and…
I'll see you in October.  It's coming SHOCKINGLY quickly.