October 1st: The Opening of Conch Season & The Best Ways to Eat It
TODAY!  Conch season is here in Belize.  October 1st until April 30th or sooner if the Queen Conch quota set by the department of fisheries is filled.  The giant sea creature (he's technically a snail but…let's not ruminate too long on that) is a favorite across Belize.
Shells on display on the main road in Caye Caulker.
No matter where you go along the coast of Belize, you see huge queen conch shells everywhere – polished and on display, heaps on the beach and in the water, and used, sometimes, in older construction.
A fishing boat just in from the outer atolls – unloading in Central Park, San Pedro.
Important note:  Conch is pronounced with a hard K – CONK – not as it appears or how it's pronounced on Sponge Bob's show.
Here at the pretty Conch Shell Inn on Ambergris Caye.
On Tobacco Caye there are so many shells, they are used to construct sea walls.
In Caye Caulker at Celi's Gift Shop, the shells are fashioned into jewelry by this conch carver (who, last I saw him, is now working in Placencia).
I am kicking myself now…but for years, I have been wondering WHO would wear the conch shell breasts?  Last year, a taxi driver in Belize City was sporting them on a short leather cord around his neck.  THE CONCH BREASTS!  And I didn't have the guts to ask for a picture.
What a TIME to be shy.
Artist Dimus Guerrero on Ambergris Caye also makes some gorgeous pieces.  A must visit on a trip here.
He made this beautiful wedding ring out of a conch pearl…the super rare pearls formed (just like oysters) by the Queen Conch.
Every first-time visitor wants to take one of these giant shells home.  Some learn the hard way, that you can not bring one in your carry-on bag.   Airport security sees this as a security hazard.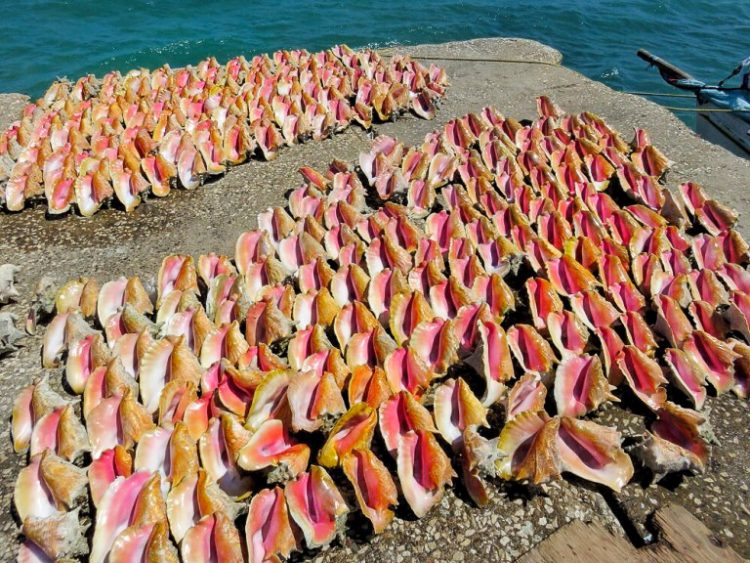 The harvesting of conch in Belize is a $10 million+ industry but one that needs to be watched very carefully.  Those fishing conch off-season or those harvested too small conch are fined severely.
Countries around the Caribbean are worrying about the diminishing conch supplies both for the local fishermen and for the species.  The US has even been talking about banning conch imports for a few years now.
Here in Belize, there is a season and an annual quota- usually one million pounds of shell-less cleaned conch.
Here's a picture of a large portion of the Belize fishing fleet in the Belize River, Belize City.  Today's fishing industry in Belize revolves around conch & lobster.  I know we sell lobster to Red Lobster, I wonder who buys the exported conch…
The boats sail out and anchor…and then the fishermen use the smaller dories to go dive for conch.
Okay…enough chatter…here are some of my favorite conch dishes and where to get them in San Pedro.
I LOVE conch soup.  Like a chowder but a bit thinner and made with coconut milk instead of cream or any dairy, it's just delicious.   I've had a number of good ones but my favorites?
The special at Estel's Dine By The Sea (also opening on October 1st…wonder if they will have the soup.)  It's got heat…watch for it on their blackboard.
And Elvi's Kitchen has one on the menu that is delicious.
Conch fritters are very popular in all of Belize but I almost never order them.  They tend to be doughy or oily or…I'm just not the biggest fan.  But when they are done right?  Like at El Fogon?  They are delicious.
Last year I kicked off conch season at El Fogon and the fritters are ABSOLUTELY AMAZING.  Light and flavorful and PACKED with conch.  Best I've ever tasted.
Conch ceviche is my favorite type of this classic Belize dish.  I've heard complaints about it being rubbery – I think that is from people who haven't tasted it.  But if done right…and fresh?  It's delicious.  Sweet and tender.
I love Alba Heredia's fresh ceviche – not sure if she has a shop right now.   May have been the best plate I've ever had.
Lily's Treasure Chest also does an AMAZING classic ceviche with carrots…so GOOD…and they have one of the best views in town.  (Make sure you order the fried fish too…sooo good.)
Another favorite of mine is Conch pizza at The Truck Stop.  A pizza modeled after Pepe of New Haven's famous White Clam pizza.  New Haven, Connecticut – a very small city and the home of Yale University…was put on the MAP by its world-famous pizza – praised by many as the best in the world.
This pizza is SOOOOOOOO good.  Garlicky and spicy and cheesy…all things that all food should be.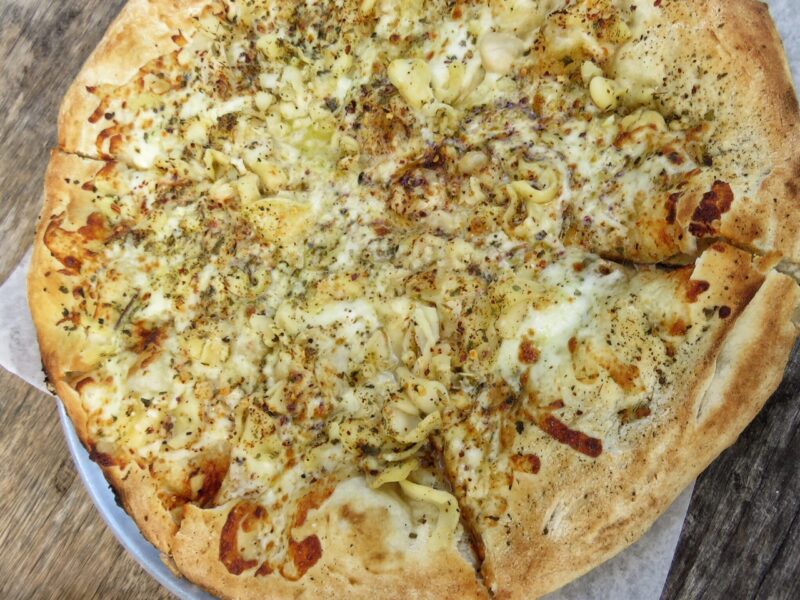 Conch with garlic, red pepper flakes and olive oil is DIVINE…in fact, I think this is my year to perfect Linguine with White Clam White Wine and Garlic.  Minus the clams and IN with lots of conch.  Yum.  This looks like a good recipe.
While I work on that…I can ask Jeff to make me sushi with conch.  It's SHOCKINGLY delicious eaten this way.
Here is a platter that he made back in his days as Chef Jeff at Rojo Lounge.
And the restaurant's old "rule" system.
So…HAPPY CONCH SEASON!   Let me know what your favorite dishes are.