A Great New Business on Front Street, San Pedro: The Fry Jack House
If you've been to Belize and you've tasted a fry jack – I am almost certain that you have become obsessed.
I am…FOR SURE I am.
It's a simple item – ingredients flour, some sort of shortening, baking soda and salt.  Make a dough.  Flatten it out and cook on a flat top – you've got a flour tortilla.  But fry it and you've got something even more delicious.
The Fry Jack.
A breakfast food for the most part.  Usually dipped in or slathered with beans and maybe some chicken – or served with eggs.  Many people who live in Belize have a favorite spot for fry jacks…Pop's in San Ignacio Belize serves a heaping plate of small, puffed ones.  Estel's by the Sea in San Pedro – her fry jacks have a bit more heft and are just golden and gorgeous.  Caye Caulker has it's own House of Fry Jacks and while they ONLY makes fry jacks, they stick to the classic flavors – savory breakfast fry jacks.  Happy Lobster on Caye Caulker makes some DELICIOUS ones.
I've always dreamed of more.  Sometimes I like my fry jack dipped in beans or use to sop up egg yolk (I'm making myself hungry just typing this) but sometimes I like jam or honey with my jack.
Let me tell you that DREAMS DO COME TRUE.
New to Front Street San Pedro is:  The Fry Jack House, The House that Jacks Bulit.  (I made up that last bit – sorry!  I've been thinking about this business for a long time!  I'm so happy to see it!)
Yesterday Jeff and I pulled up a stool and ordered some not-so-run-of-the-mill fry jacks.  And I took a bunch of photos because it was a GORGEOUS day.
Here you go.
The view from the bridge heading into town.  A strong breeze coming off the ocean, a hot sun, temperature around 82 degrees F.
And Front Street San Pedro.  It's election season – for the municipal elections and flags and banners are everywhere.
My 2017 Complete Look at Front Street San Pedro Belize
And right in the middle of it all…
There are a few stools inside – so you can eat by the window but Fry Jack House is mostly a take-away spot.  May I suggest taking your order out to one of the docks and eating it there.  Grab many many napkins!
We ordered…
They also do the standard jacks – with beans or ham or cheese or a mix AND a Belizean breakfast with eggs and bacon…yum.
We wanted to try the unconventional flavors…we ordered a Chicken Nacho jack and one of the Sweet Jackys.
Please pause for a photographic interlude.
Just down the alley to the beach.
I walked straight out to the Tacklebox dock – the bar I used to manage ages ago…2007-2011.  They are now closed…but it's still a gorgeous view.
The back dock…
And back to get my jacks!
Oh look!  Another rubber bale that washed up on the shore of Ambergris Caye from perhaps a shipwreck?  (Here's my research into these strange rubber bundles that washed up in Belize – and Florida!)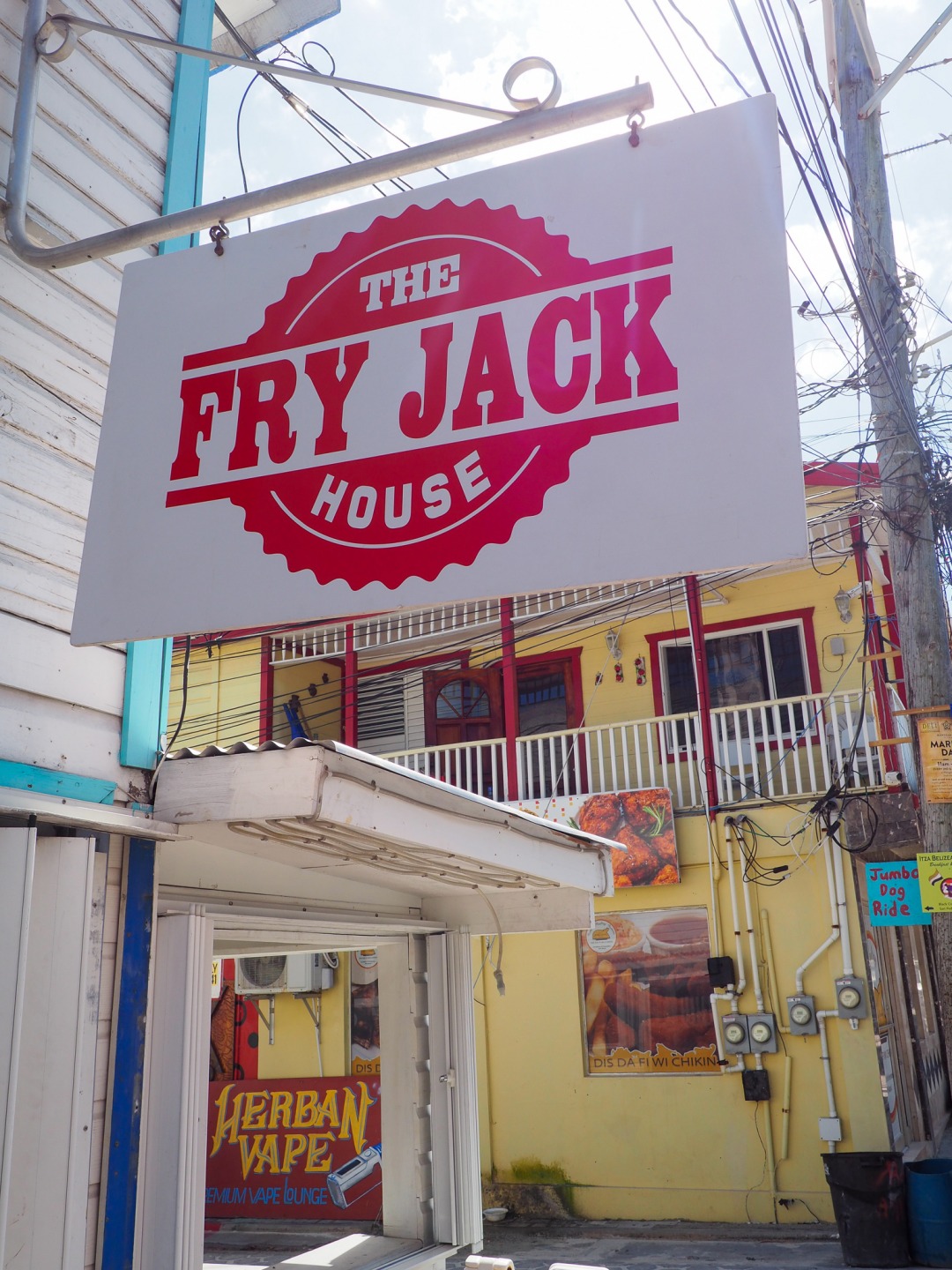 A fry jack mid-puff.  They make the dough fresh each morning and…it was already looking amazing.
Ready for the final dishes?
Tah-dah!
Holy delicious.  Large thick delicious fry jacks….mmmm.
Both were delicious and messy in a great way and impossible to finish.  REALLY REALLY great fry jacks.  I would order both again – come VERY hungry – but I think next time I'm going to try the fried fish and coleslaw.  YUM.
Or maybe just powdered sugar – like a good old fashioned state-fair funnel cake.  Or egg and ham sounds delicious.
I'm making myself hungry again.
And after you have your jack – or maybe before – loaded fry jacks make you very sleepy!  Stop in Melody's super cute art shop.
You can even pick up a copy of my book there.  Yup…a shameless plug.
The Fry Jack House posts specials and information on their Facebook page.  And they are open from 8am – 2pm M thru F and Saturday 10-2pm.  And before you even ask-  They do NOT have Keto options!
Have a great weekend!