An Overview of The Cayo District
Cayo (pronounced "kai-yo") is the largest of Belize's six districts.  Located in the western part of the country (Guatemala is its western border) - this district has SO much beauty and adventure.  People visit Cayo to get up early, hike, bird, kayak, spelunk, swim, climb, explore, eat a delicious meal, and do it again.
The entire Cayo district sits atop an almost swiss cheese-like limestone base - the remnants of ancient coral reefs that are now riddled with sinkholes, underground rivers and pools, and spectacular caves.   These limestone caves (there are dozens accessible to people at any experience level), the countless waterfalls, the varied treks, the birding, the soaring Maya ruins, and the gorgeous jungly views... Cayo has it all.
Cayo is also home to the distinctive Mountain Pine Ridge region, the largest protected area in Belize. The Pine Ridge is home to a pine forest ecosystem which is rare in Central America, AND 1000 Foot Falls,  the tallest and perhaps the most poorly named waterfall in Central America at 1600+ feet high.
In Cayo, you'll find lodging across the spectrum...beautiful boutique jungle eco-lodges, hotels, , hostels, and guest houses across all the price ranges.
So let's get into some details about the Cayo district, starting with the main town.
San Ignacio Town Overview
San Ignacio, Belize is the cultural and business hub of the Cayo district.  The town and her sister town - Santa Elena - span the wide Macal River.   San Ignacio has some great restaurants and a very walkable downtown area. that slopes down to the marketplace and then to the river.
It's a great town to walk the main boulevard - pedestrian-only Burns Ave.  Grab some homemade ice cream just one block over and admire some of beautiful murals just up the block.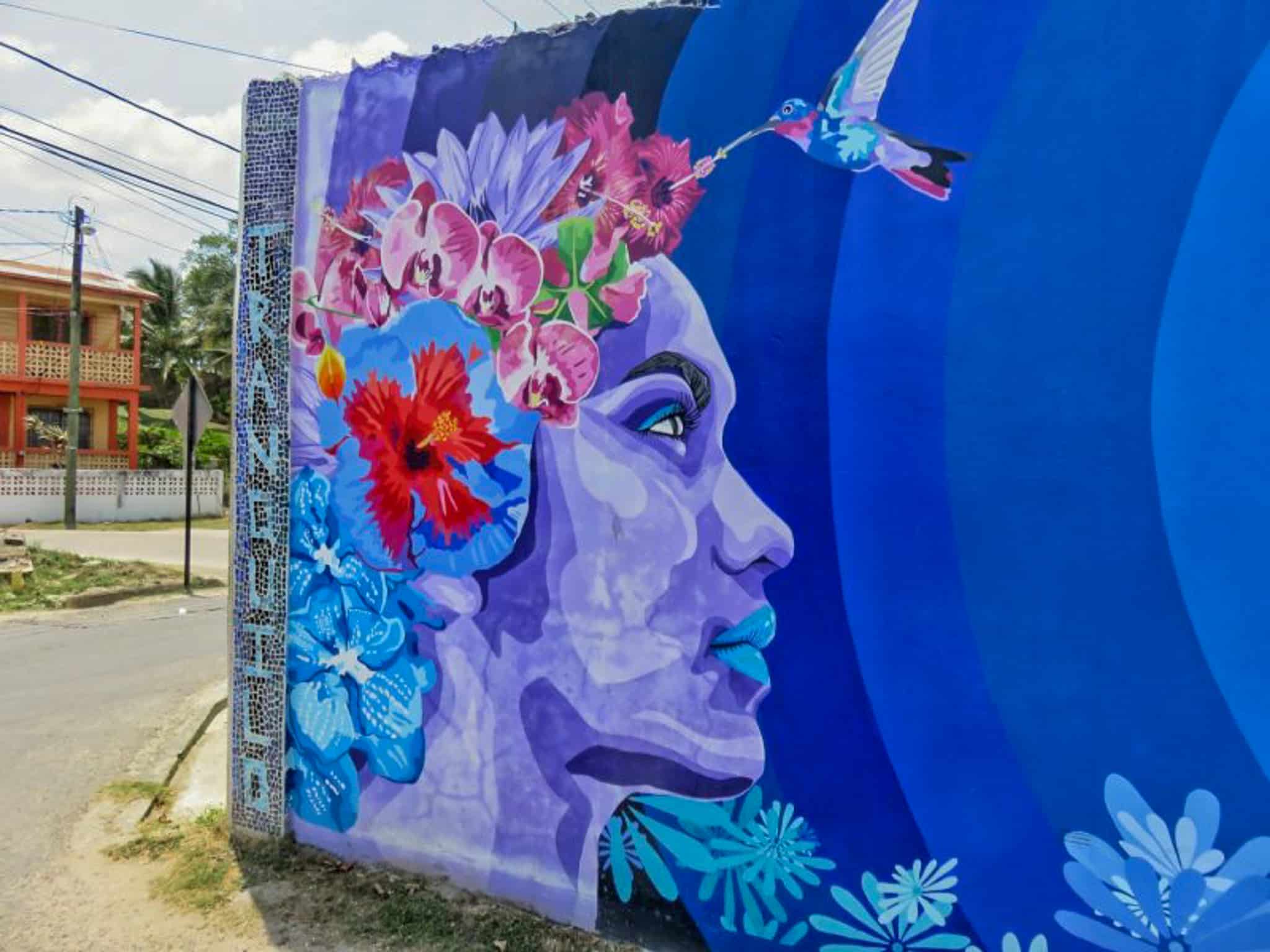 Make sure to have lunch (or dinner) at one of my favorite restaurants in the country - the beautiful Guava Limb Cafe situated in a beautiful wooden raised house set high over a huge green park.  It's just a lovely spot to cool off, enjoy some delicious food and when school's in session, enjoy some very cute little kid recess.
Belmopan - the Capital City of Belize
Wait...you forgot Belmopan!  Belize's second city (of 2) and the capital of the country!  Surely a CITY would come before the town of San Ignacio...
It is true that Belmopan IS technically a city - you can't have a Capital Town of a country.  It's also a very central location. Continue west to the jungle and the Cayo nature lodges and San Ignacio hotels or turn south towards the Hummingbird Highway winding over the Mayan Mountains.
But Belmopan has always had more of a small-town feel...though that is changing as it's the fastest growing spot in the country.  It remains mainly a town of government buildings, a handful of embassies (the relatively HUGE US Embassy is located there), and then sprawling suburban neighborhoods.
You can check out my most recent visit in August 2023 - some great restaurants are opening up in Belmopan.
There is a great fruit and vegetable market in the midst of all the bureaucratic buildings - which is a great spot to shop for produce, local snacks and to eat breakfast or lunch at one of the stalls.
The city is also relatively new!  After the horrible Hurricane Hattie of 1961 destroyed over 75% of the buildings in Belize City (then the capital) - Belize's government and capital city were moved inland to higher ground.
Founded in 1970, as a planned community, Belmopan is one of the newest capital cities in the world.
Things to Do in Cayo
Adventure tours abound in Cayo.  Here you can enjoy what I consider to be the most fantastic experience in the entire country - the ATM Cave Tour.  The day trip involves hiking into the jungle, crossing streams, and then wading into water to reach the cave entrance.
Once in the cave system, you (well...your highly trained guide) will navigate narrow passageways and climb over boulders, trekking until you reach a secret Maya burial site, all inside the cave...it's AMAZING.  I am a bit of a chicken, and I had put this tour off for YEARS. When I finally was coerced into going?  I LOVED IT. I emerged from the cave feeling like Indiana Jones but more adventurous.  It's incredible and like no other tour in the world.
Closer to town, stop at the San Ignacio Resort and their Green Iguana project to meet the iguanas at all stages of life. From the neon green and aqua juveniles to the impressive grand-daddies with their neck flaps and back spikes. Learn how the project is working to repopulate the broader area with this reptile that is considered "good eats" - earning them the unfortunate nickname "Bamboo Chicken".
After visiting these guys, lunch at the Running W Restaurant at the San Ignacio Resort - they make a damn fine burger and the view over the pool and the river is gorgeous.
Visit the Maya Sites:
Not far outside of San Ignacio, in Succotz village, take a hand-cranked car & people ferry over the river to the majestic Xunantunich Maya site.  If you arrive in the early morning, you might have the entire site to yourself as I did on my last trip)...and you'll beat the heat.
And visit Cahal Pech, the Maya site at the top of the steep hill in San Ignacio town.  It's really incredibly impressive for a site so accessible from a more urban area.
Perhaps Belize's most remarkable Maya site is a bit more of a trek.  Caracol.  The tallest building at Caracol - named Ca'ana or "sky-palace" - is 140 feet tall.  This means that the tallest man-made structure in the country of Belize was built over 1000 years ago.  At Caracol's height, the city covered an area much more extensive than Belize City (our country's largest modern city) and had double the population.  AND when you visit, there is a good chance there will be less than a dozen people there with you...and maybe just your group.
Cool, right?
...Or go cave tubing and exploring in St Herman's Cave; you can go horseback riding in the jungle or zip-lining over the jungle canopy.  There are canoe adventures (inside and outside caves), night hikes, and waterfalls...
I stayed at one resort that had such an almost-overwhelming number of beautiful hiking trails on the property, beautiful orchids and plants, and waterfalls galore - if you love hiking you could spend all week just on this property!
Maybe even better than a sandy ocean beach is the swimming area at this beautiful resort - a beach right at the base of a waterfall.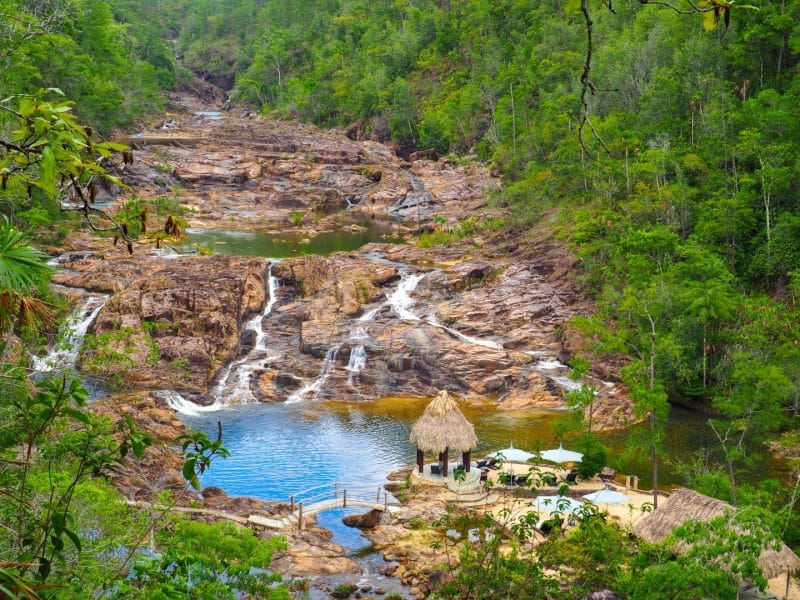 That should get you started!  If you are headed to Cayo, you want to do as many activities as possible...and then perhaps a few days on the beach or on one of Belize's cayes relaxing?
For a more extensive (and ever-growing) list of things to do, see my Belize Bucket list.  There's SO MUCH!
Where to Stay in the Cayo District
The Cayo district has a wide range of places to stay - from Colonial-style wooden guest houses in San Ignacio town to gorgeous jungle lodges on acres and acres of jungle beauty.
I have stayed at both - and have shared all of my experiences here.  It's a great way to get a sense of the different areas - and perhaps point you in the direction you are looking for.
Getting to the Cayo District
From Belize City and the International Airport, the Western Highway (aka the George Price Highway) will take you west to Cayo. You'll pass the wonderful Belize Zoo (mile 29) and then through Belize's capital - Belmopan (at about mile 45) and then San Ignacio (mile 68), and ultimately to the western border with Guatemala (about mile 78).  This is the widest part of the country of Belize.
There are a few different ways you can travel this route.
Many take a charter or transfer van with a service or one they pre-arrange with their hotel or lodge.  It's easy...a pick-up at the airport, a few hour ride with possible stops for snacks, restrooms, maybe a beer.  I love arranging a stop at the Belize Zoo - even if just for an hour - on the way west or on your way back.
There is also a small airstrip located just outside of San Ignacio called Maya Flats for the fastest, easiest connection to the Cayo district.
You can fly to Maya Flats Airstrip with Tropic Air.  This is no longer a regularly scheduled flight so you will need to book a charter.
You may also choose to rent a car.  Renting a car in Belize tends to be expensive (and gas prices also are high!) but it does give you freedom.  And if you are headed a bit off the beaten path or if you just like to stop and explore when you see an intriguing sign or business, it's the only way to go.  Just make sure you understand all the fees involved...often that price advertised as $49US a day can add up to $100US or more when you are handing over your credit card.
And then the bus.  The bus ride from downtown Belize City to Belmopan (the capital of Belize) should take you a little over an hour - and then it will be another hour or up to an hour and a half (depending on stops) to San Ignacio.  Just keep in mind that you can make lots and lots of stops if you are on the LOCAL bus (it can feel like you are visiting every house along the way).  Here are my:  8 Tips for Traveling by Bus in Belize
I live in a friendly country so this might seem like exaggeration…but it's not.  This bed and breakfast is amazing.…
Keep Reading
I'll be upfront with you from the beginning.  I do not have the best pictures around.  REAL media was at…
Keep Reading