Driving Up North On Ambergris Caye: El Secreto Resort (RIP), the New Margaritaville and Tranquility Bay Resort
Saturday morning with the golf cart all gassed up – Jeff and I headed north on Ambergris Caye.  I say this all the time but it is so true – and it hits me on trips like this.  Or the boat trip to Bacalar Chico that some tour companies do – usually going most of the way around this very large island.
This island is so surprisingly huge and diverse.
Here's the trip around the island we took a few years ago with Panny.  If you can book Panny – he's just…the best.  He knows the island sooo well….every single nook and cranny.  And can tell wild stories for days.
You can see how large the island is below – or get a sense of it.  25-ish miles long – about 3 miles wide in spaces.  And San Pedro town is jammed down there at the bottom.
You can take your golf cart and drive over the bridge on paved road.  The paved road ends at about 3.5 miles north.  And then there is a hard-packed road up to about 9 miles north – and then it gets a bit rockier after that.  Totally driveable but you'll want to go slow.
We left from our home at about 8 miles north – just a bit north of the star on the map above for the Mexico Rocks Marine Reserve.
In total, it took up about 40 minutes to drive up to Tranquility Bay Resort at mile 14 for lunch.  (40 minutes to go from Mile 8 to Mile 14)
A few miles on a hard-packed road.  And then bumpier and then you turn out to the beach.  And make your way along a narrow road just off the beach.  Don't drive on the beach – there could be turtle nests!
Here's what we saw.  I'll try to put it in order for you – from south to north.
At about 9-10 miles north (the area labeled "Palmero Point" above) – this beautiful entrance to North Beach Retreat.  I've never been thru these gates but it is for sale so you can take a look.
Here's a lot for sale in that area also – just in case you have an eye on real estate on Ambergris Caye.
You keep bumping along…until about mile 10-ish and you'll see a junction.  And…finally…there are some signs so you don't turn the wrong way.
The road goes on for a bit then turns toward the beach – you'll pass some condo buildings that were never quite finished.  And then you'll be driving along the beach – not on the edge.  There are now several signs posted so you remember that.
I'm not sure what level of hell you descend to if you run over a baby sea turtle nest.  I don't even want to consider it.  (Reminds me of the time I was offered fresh sea turtle egg ceviche in Omoa, Honduras)
At about mile 11 is the once luxurious resort called El Secreto.  It closed in…about 2017…2018?  Here are some pictures that I took not long after the closing.  You can see what a beautiful spot it was…
Now missing boards…tattered palapa…filthy pools.
The area is roped off – you can see the buoys hanging.  I wouldn't go in…last time we were here, there were some very angry dogs.
I think the message we can all tell our children is:  Don't build a luxurious resort on an island in Belize on borrowed money.  If mean…if you haven't already told them.
Onward!
To Margaritaville Belize.  A spot slated to open in late 2022.  But it's coming along nicely.  The beachfront looks fantastic.
Yes, it says "It's 5 O'Clock Somewhere" over the pool.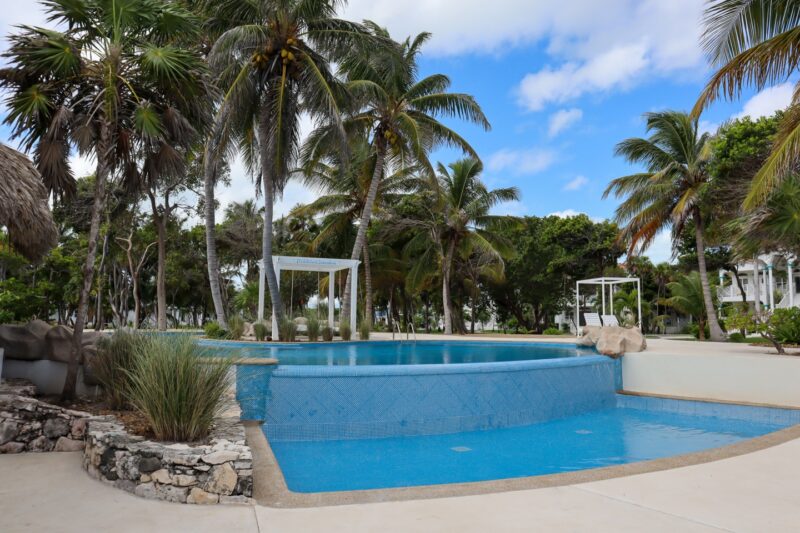 And then it's a few miles to the northernmost resort on the island – Tranquility Bay Resort at mile 14ish.
We stopped at this AMMMAZING property where there used to be a really old, busted-down house.  It's high land…looking back over the island and the prettiest water….
Here's what the house looked like in July 2020 (you can see my whole drive up this way from that time here)
2020.  Old house.  I wonder who owns it – it really is one of the most beautiful pieces of property on the island that I know.
The old camp Basil Jones.  Jeff and I camped here with a bunch of kids in 2015.
And then Tranquility Bay – we stopped there later for lunch…
The over the water bar and restaurant with the most incredible view.
The last time I stayed there was 2015.  It now has different owners but it's a magical place.
Really great nachos and conch fritters.  Jeff used to work with the chef, Mario, at Rojo Beach Bar.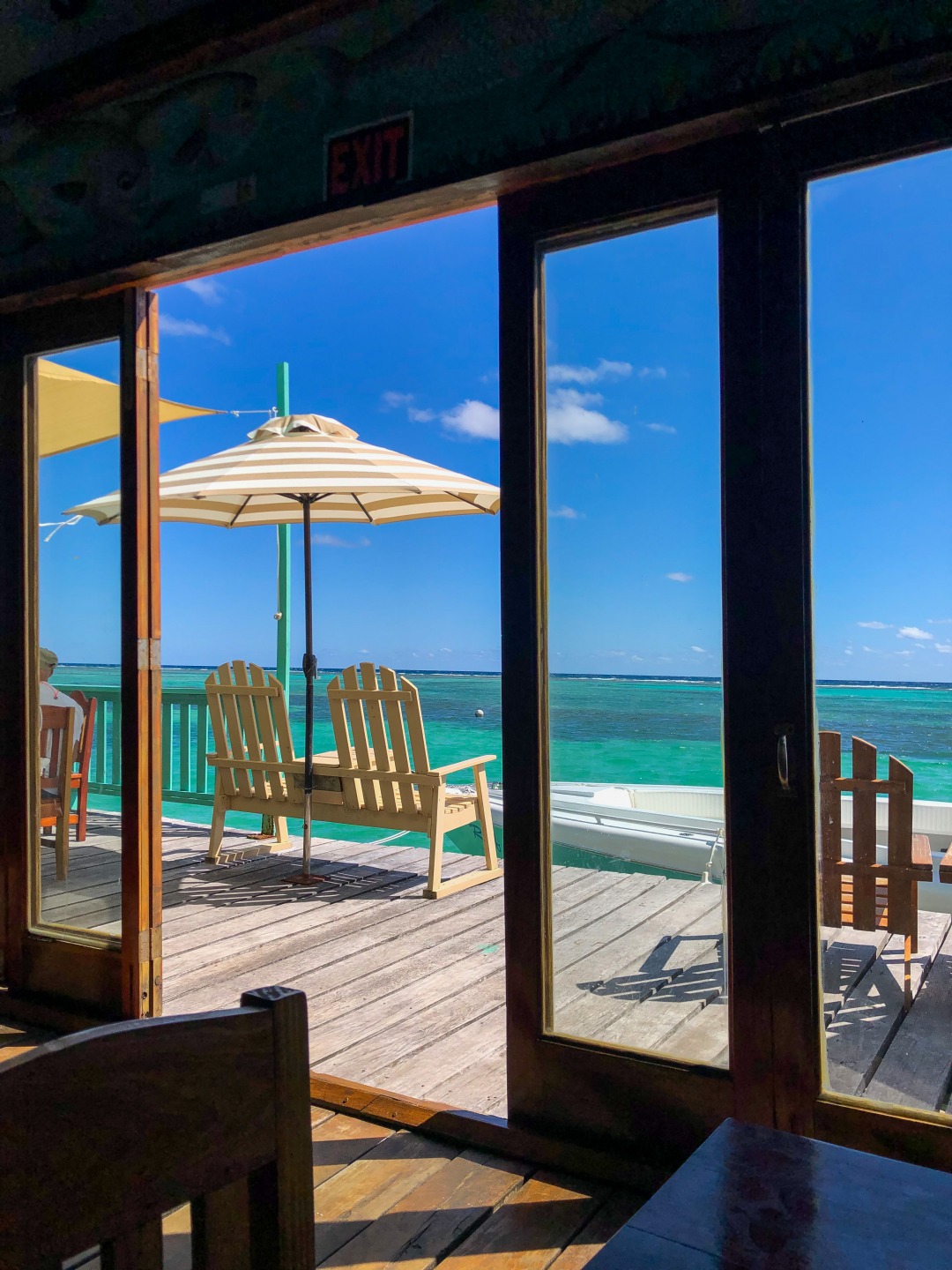 This is a great spot to stop…swim off the dock, lounge in the sun, have lunch, have snacks but we wanted to head a bit farther north.  Jeff had a fishing spot in mind.  We head north into the Bacalar Chico Marine Park area…all the way up to where the reef hits the land – at Robles Point.
There are homes up here…not a huge amount but a smattering.  Some that look like they are "summer homes" – boarded up for most of the year if still used at all.
Some are fixer-uppers 🙂
Here's an older post where I attended a bocce ball tournament at this house in 2013.  It is a stark look at how…just 9 years ago…these beaches were flawless.  Now…though still very beautiful…there is so much seaweed and garbage from the area.  Not just Belize but you find lots of junk from Guatemala and Honduras, Haiti and the Dominican Republic.
We stopped for some fly fishing.
Well…Jeff for some flyfishing and me for some beach lounging and mini-shell collecting.
Two of my favorite plants are flowering – the one above that I know as Fisherman's Tobacco but it's also known as sea lavender – the and the beach peas (below in purple) climbing all over it.
We made our way up to Robles Point – there are now stakes there so you can't drive further on the beach…
You can see how close the reef is…
And a small grave tucked back…for Tola.
That's that.  A drive from about 8 miles north to about 16-17 miles north and Robles Point.
Not a fast ride…not the most comfortable ride and not one that your golf cart rental company might recommend – no one wants to come get you if you have a cart issue that far north.  But a fun one that comes with some additional notes.
Notes:
Make sure you do this with a full tank and a sturdy golf cart.  We passed one or two carts on the way back but you don't want to get stuck out here.  (The total time from town – if you are chugging along and not stopping would be about 1 1/4 hours to 1 1/2.
And safety:  I get asked about the safety of this all the time.  The far north of Ambergris Caye is known as an area run by "playadores" (guys who walks/ride the shoreline looking for drugs).  Remember that there are another 10 miles PAST this last stop that we made…
We have never had or directly heard of any problems from friends or guests.  Jeff outlines great DIY flyfishing areas up there for lots of his camp visitors.  I would only make this drive during the daytime hours.  I would not wear lots of jewelry or carry expensive stuff.  And I wouldn't drive farther than this.  There is a more inland road that takes you past Robles Point – I've been on it and it is a MOSQUITO FESTIVAL.
WIth lots of people up at Margaritaville for construction and sales and with Tranquility Bay fully open again, I think the drive up to that point is a relatively safe one.  Enjoy and bring water.
For more on DIY Flyfishing on Ambergris Caye or for more on this drive north.  Check out my book.