The Best Beaches on Ambergris Caye From Someone Who Lives There
Finding the Best Beaches On Ambergris Caye: 2022 Update
Let's talk about the beaches of Belize and more specifically, the best beaches on Ambergris Caye – the most visited destination in the country.  Belize is becoming more and more popular even as I type this – for our crystal clear, blue waters, for the hemisphere's 2nd largest barrier reef – second only in the world to the Great Barrier Reef of Australia – for the spectacular diving, snorkeling, the flyfishing, for the food and the friendly people…
If it's your first time, check out my Guide To Ambergris Caye
Out of all the places that I visited in the Caribbean and around the world known for their fantastic beaches – from Tulum to Thailand to the Croatian islands (they all have amazing beaches) – no place grabbed me as Belize did.  No place inspired me to quit my whole life in NYC and move…  Not even close.
What Are The Beach of Ambergris Caye Like?
But…I'm just going to say it.  Not many places on Ambergris Caye or Caye Caulker have broad white sand beaches with waves crashing on the shore.  In fact, because we are so close to the amazing reef (see the pic below taken of the shoreline of Ambergris Caye), the water inside the reef is quite shallow and relatively still.   A haven for young sea creatures.  There are large patches of turtle grass where juvenile fish live, feed, and hide from the bigger fish!  The ocean floor can be silty in spots – because it is not being constantly pushed and pulled by the open ocean.  Our beach is quite narrow in spots – some of the undeveloped coastlines are mangrove forests instead of beaches at all.
That does not mean that Belize isn't a FANTASTIC place to swim, lounge in the sun, and prance.  (Fear not, you can still prance!)
Swimming off docks is one of life's greatest activities.  Trust me on this.
The dock of Ak'Bol  Eco-Resort in the Tres Cocos neighborhood.  It's one of the best swimming spots on the island.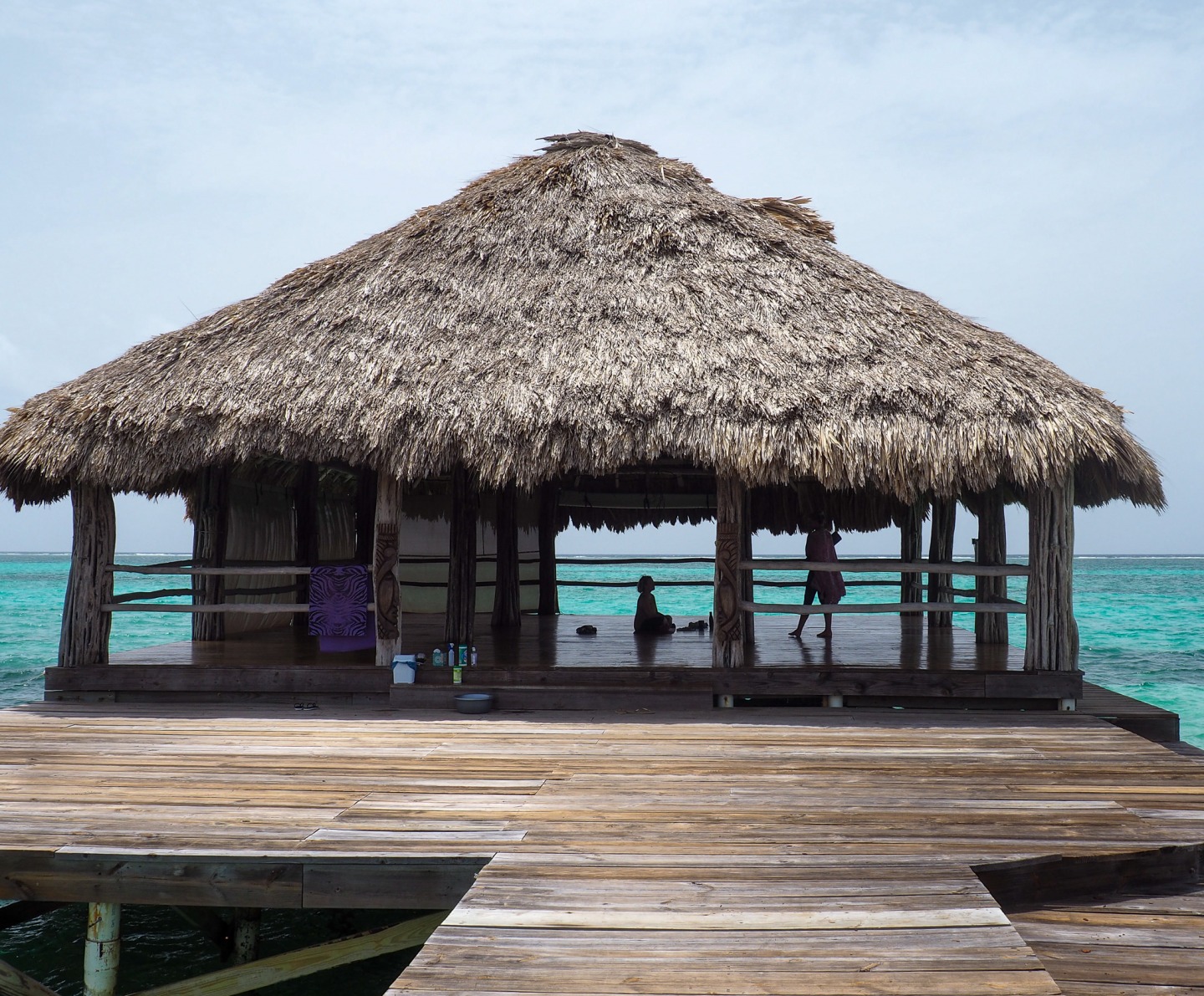 Swimming off the docks (and boats) is awesome, please trust me!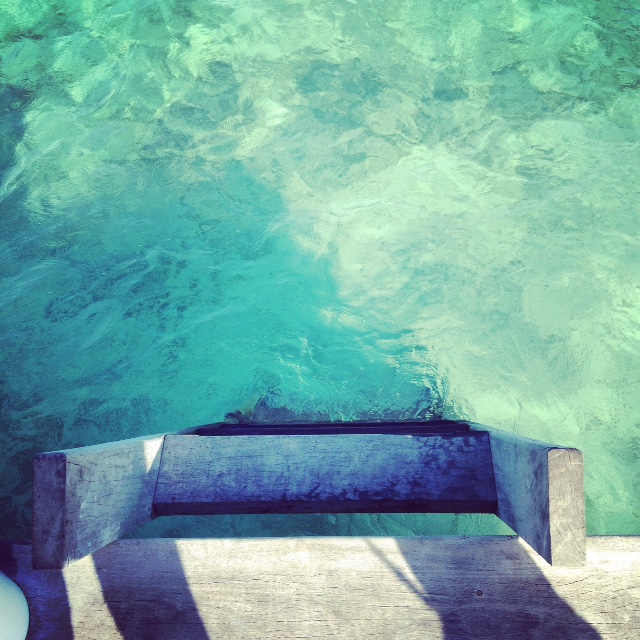 BUT if you want to also find a beach where you can wade in to cool off, there are definitely places to do it.  All over the place.  Here is a list of some of the best.  Some of my favorites.
And remember, all beach in Belize is public.  So while you may not be allowed to use a resort's chairs and pool, you are definitely able to roll out a towel ANYWHERE.
Beaches are public always.
Here are the best beaches on Ambergris Caye and all of Belize.
Ramon's Village
Just south of town is one of the original and most famous resorts on the island, Ramon's Village.  They have a beautiful strip of beach (and a popular swimming dock for the kids in town) that is great for wading in.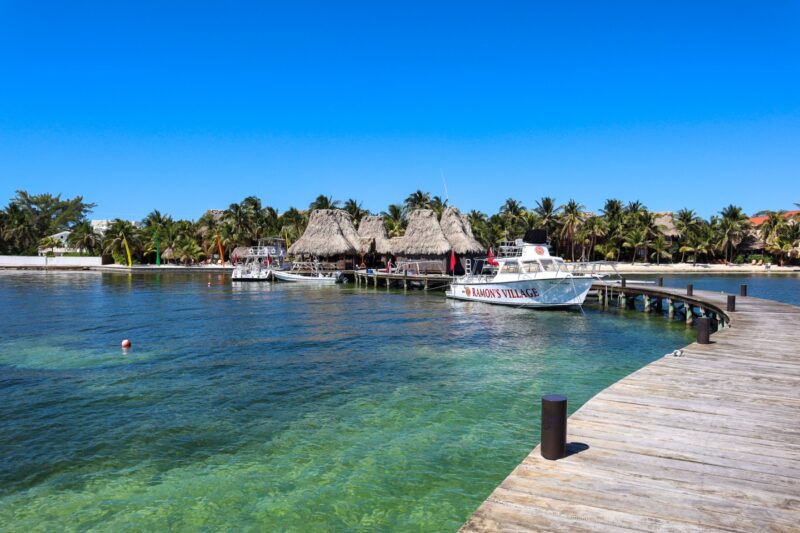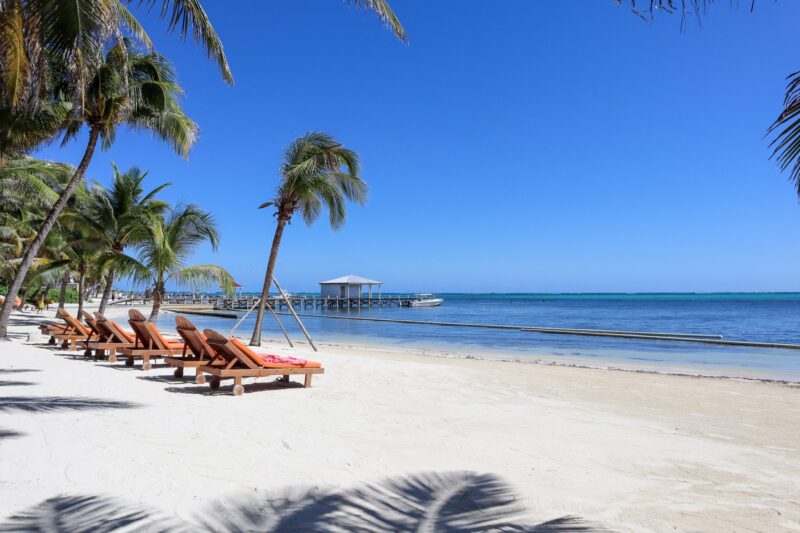 Boca Del Rio
Boca del Rio is the neighborhood just north of town that lines the beach.  You can actually drive along the beach – and may be the prettiest street in the world. It's a stretch lined with bars and restaurants, homes and very small hotels and even the island's only high school.  Find your favorite spot and just hang out.  On weekends especially, you'll see families and kids…people just park their golf carts along the water and wade in.
A windy day.
Many of the beach bars (like Sandy Toes, below)…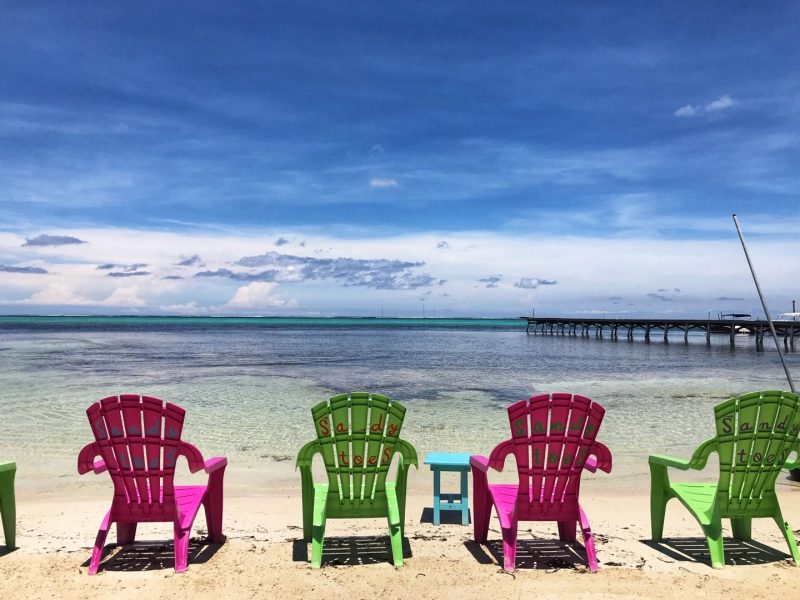 …and Palapa Bar have spots specifically set up for swimming and lounging.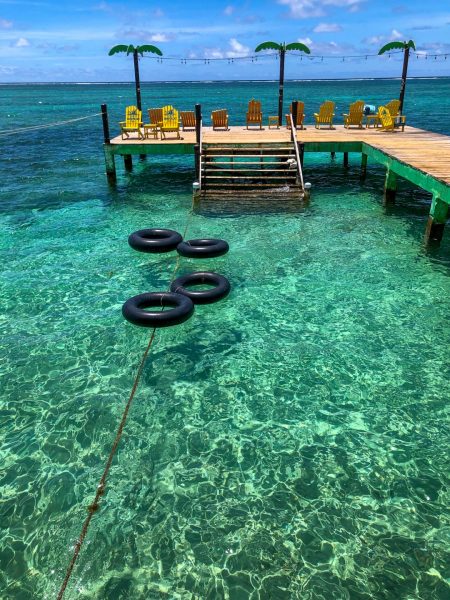 Matachica Resort
At about 5 miles north Ambergris Caye.  Do you like to combine your beautiful beaches with a bit of luxury, a spectacular dock for lounging and perhaps some romance?  Matachica Resort is your spot.  You can view my overnight (Honeymoon for one please) that I spent there last year.  Or just take a look at the pictures below.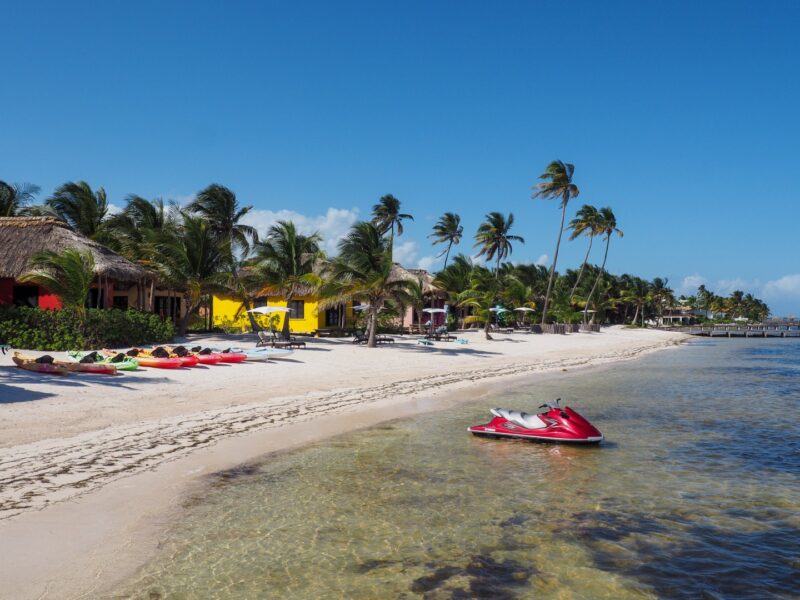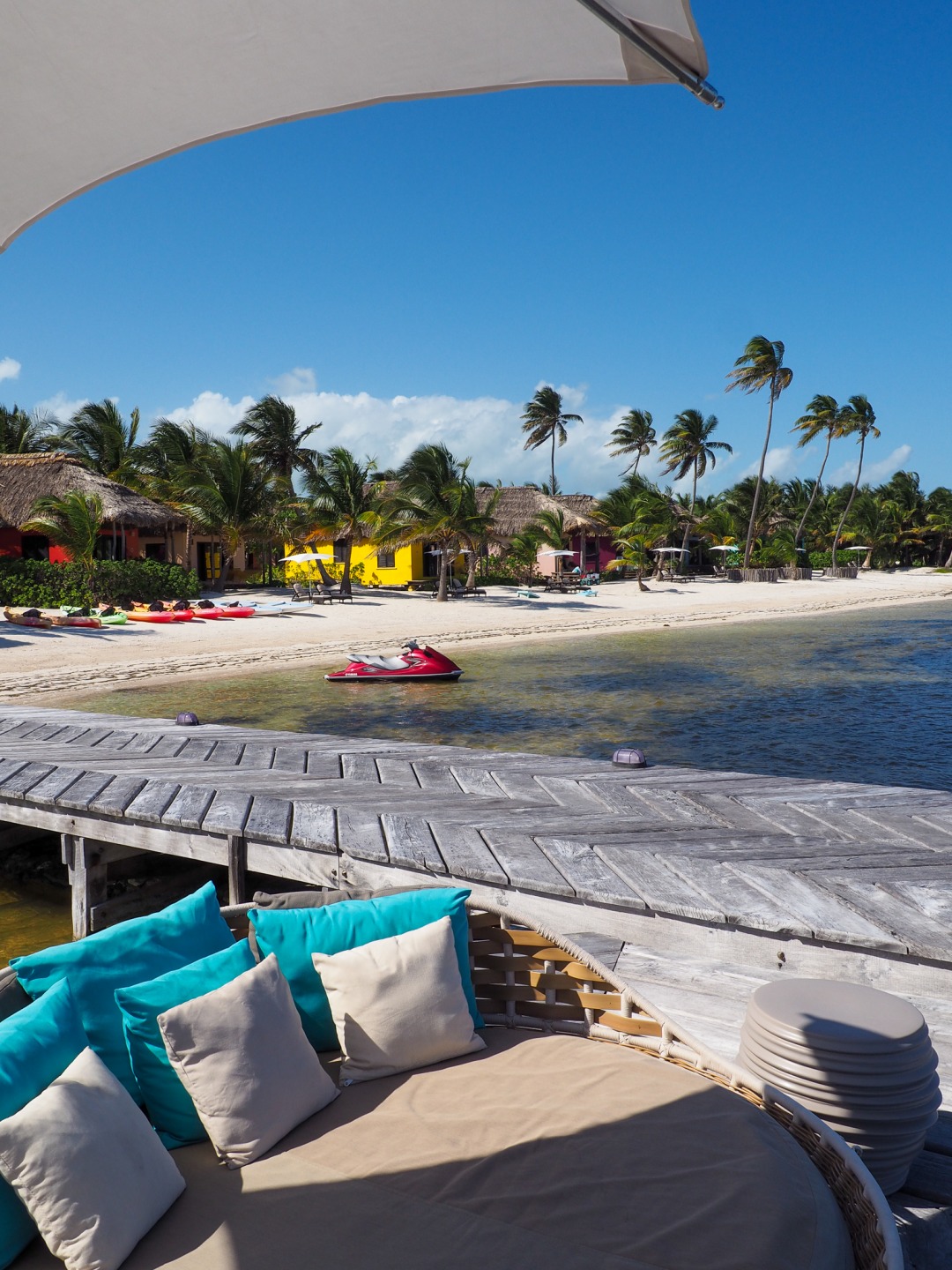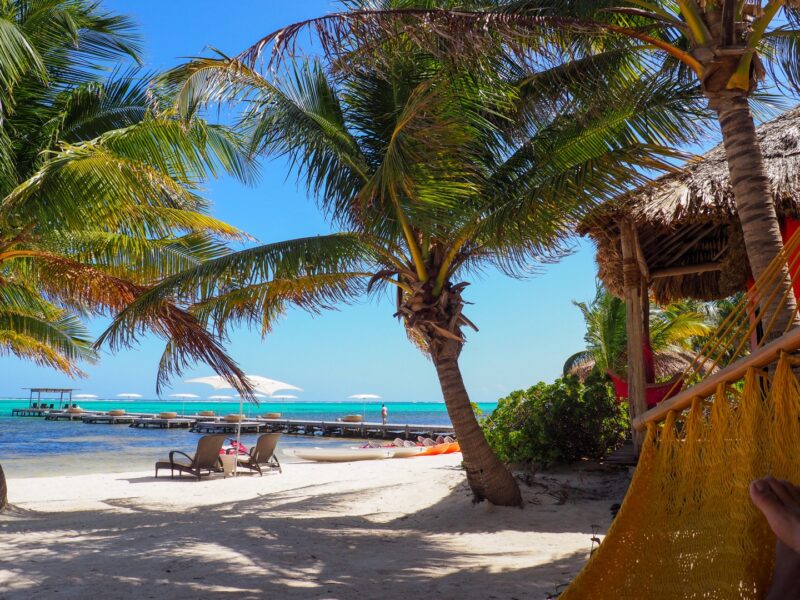 The next two just happen to be my neighbors.  One to the south, one just to the north.  So I've done the research!
X'tan Ha Resort
About 8 miles north Ambergris Caye.   Just offshore is the Mexico Rocks Marine Reserve – known for some of the bluest water on the island.  X'tan Ha is a relatively small resort but they have a beautiful patch of beach.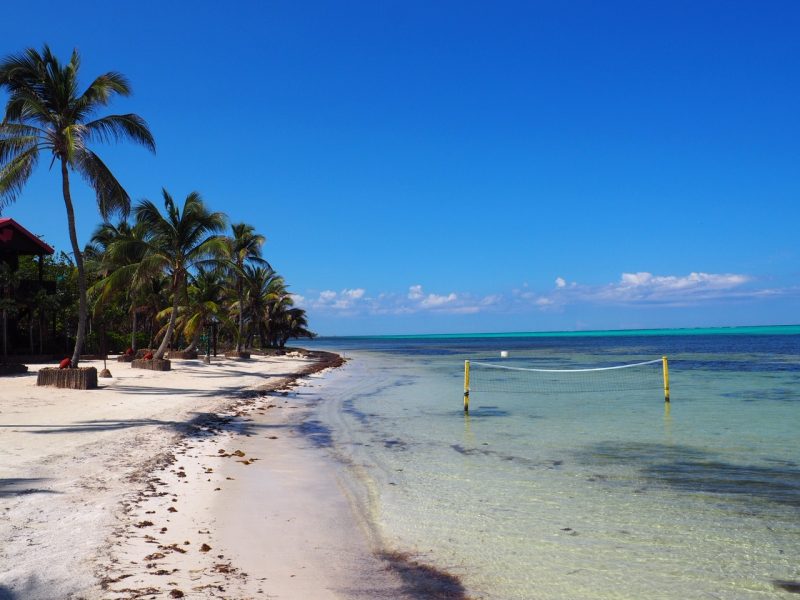 Tuto Belize
Tuto Belize is incredible because it is 1000 feet of beachfront with just a smattering of development.   The property has been in family hands since the island was first populated.  I don't know any beach longer than this…
You can enjoy this beach…and a small but gorgeous cabana (there are only 4)…almost by yourself.  Just you…and 2000 coconut trees.
Oh…and me and Jeff walking our dogs most every day.  (If you follow me on Instgram, you are going to see pictures at Tuto almost constantly!)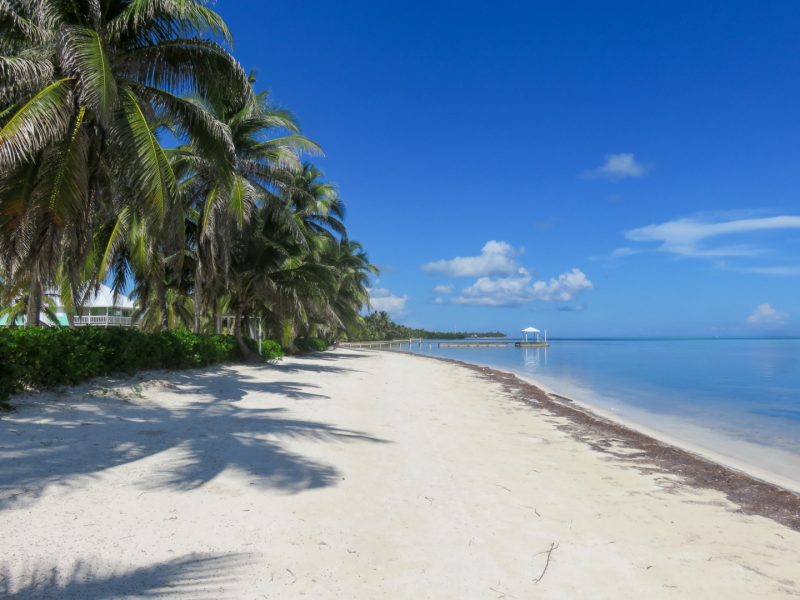 Moon Bar at Mangata Villas
This is a new one to my list – I just visited recently!  But it's also a special one – because you don't need to book a resort room that might be outside your budget, you can enjoy this spot anytime.  Head on up there, order a few drinks and maybe a pizza and…lounge.  (Here's my most recent visit to Moon Bar)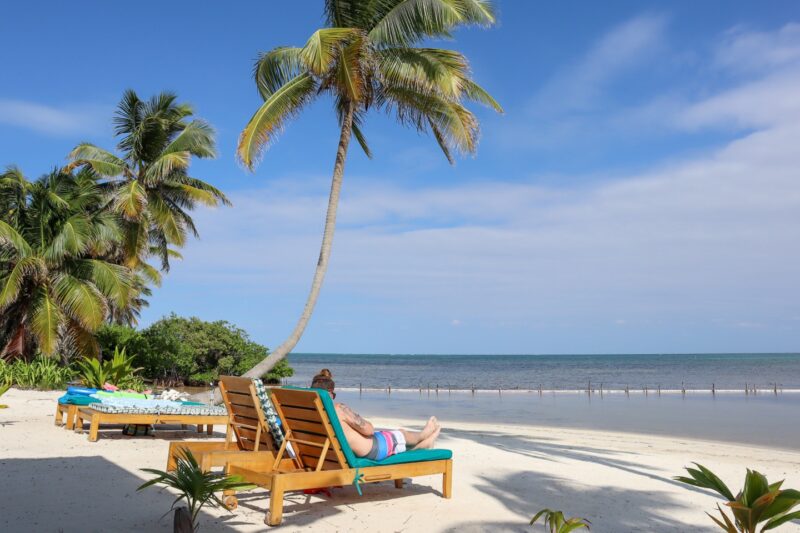 Tranquility Bay
14 miles north, Ambergris Caye. This more remote gem of a resort is even farther north…in fact, it's the northernmost resort on Ambergris Caye.  So when you are staying up there, you often have the beach and the gorgeous snorkeling areas basically to yourself…or you are sharing with a handful of guests.  The reef is so close that you can easily kayak out but if lounging on the beach is your thing?  It's just gorgeous.
If you are not staying up there – it's a fun adventure to pick a day and drive up there.  We just did it and the view…and the food…were fantastic.  (Here's my blog post with some information and suggestions)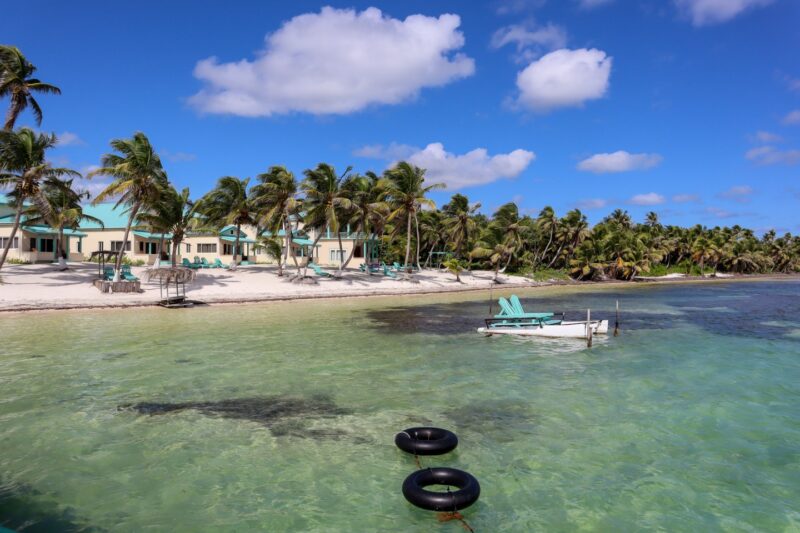 You can also charter a boat to take you and your friends and family to take you to the restaurant up there if you want to enjoy the beautiful northern caye.  Here's the view from the over-the-water restaurant.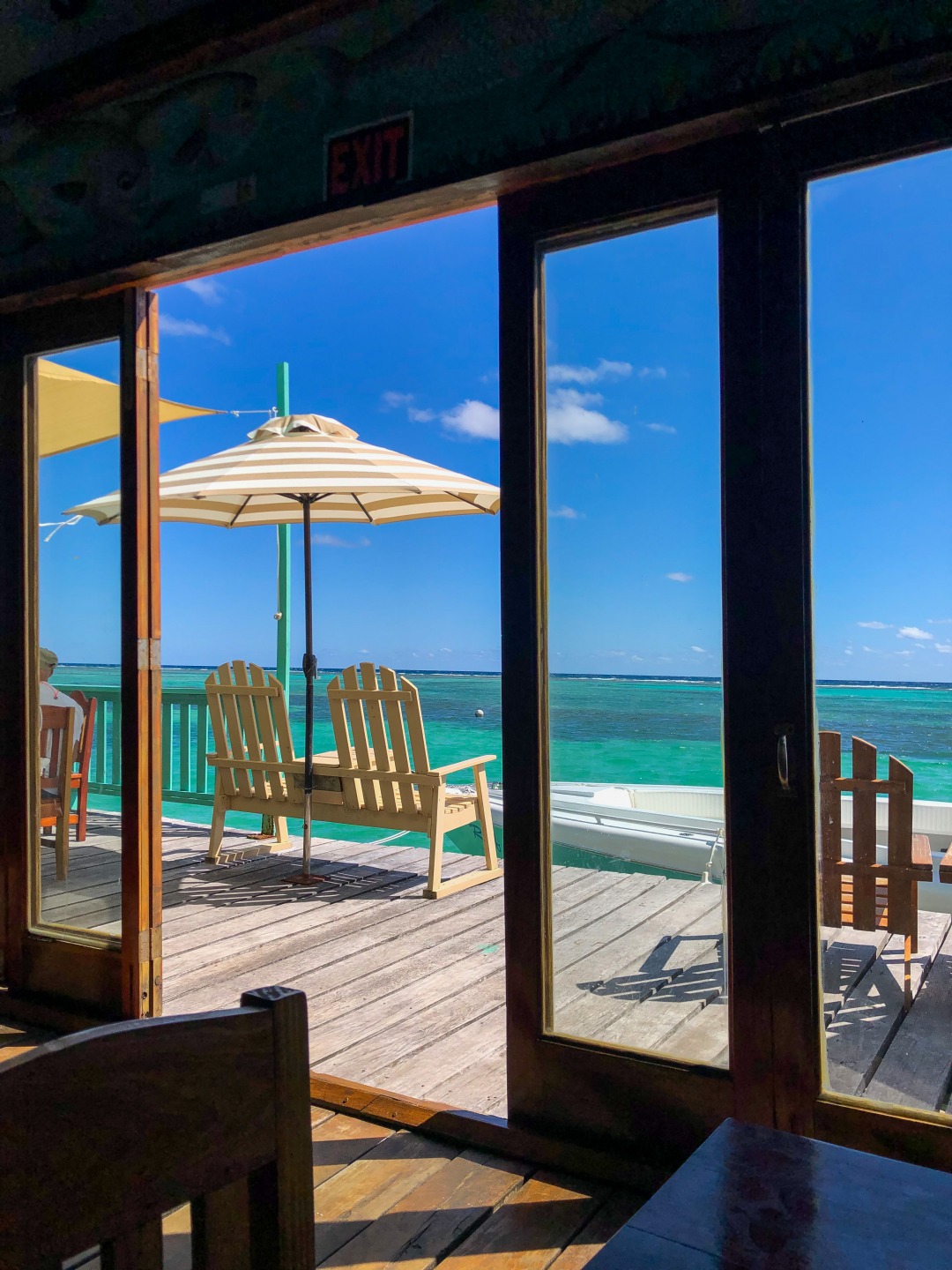 Secret Beach
I saved the most popular for last.The name is 100% tongue in cheek these days – the secret is TOTALLY out.  About 4 miles up the road north of town, you will see this sign.  Take a left.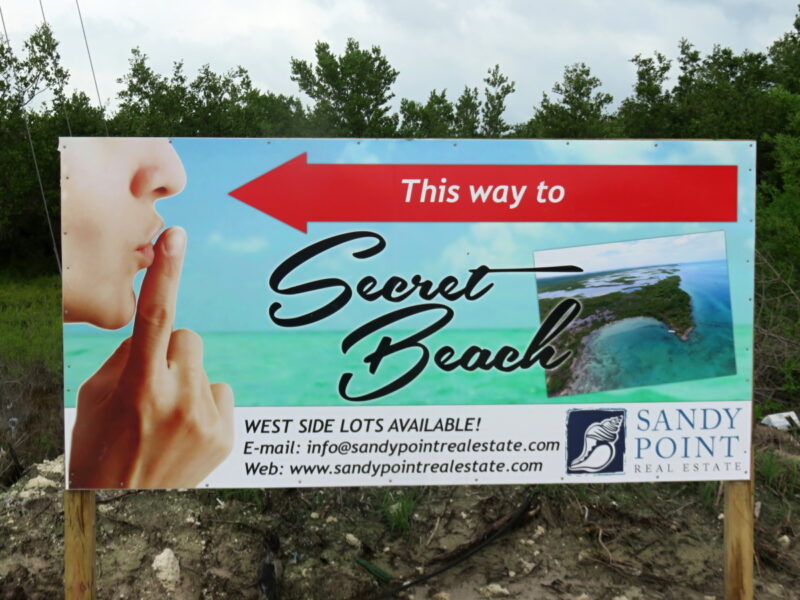 It is popular for a very good reason!  This shoreline on the leeward side of Ambergris Caye (the side NOT facing the reef) leads into crystal clear waters, rocky coves, sand bars and soft sandy beaches.  All sand, no turtle grass.
There are now enough beach clubs and restaurants that you can find a busy party scene or you can get away from it all.
You can see my Complete Guide to Secret Beach – soon to be updated for 2022!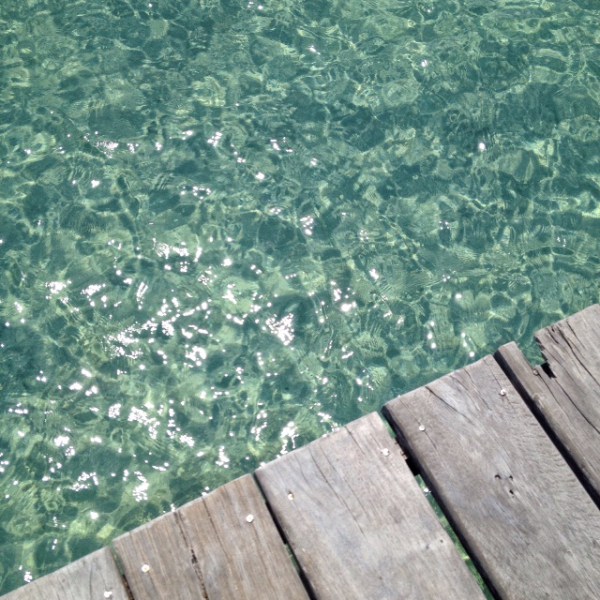 If you would like to overnight on the West Side of Ambergris Caye – you only have a handful of choices.  There is a beautiful B&B called Casa Nova Cabanas (picture below from my overnight there)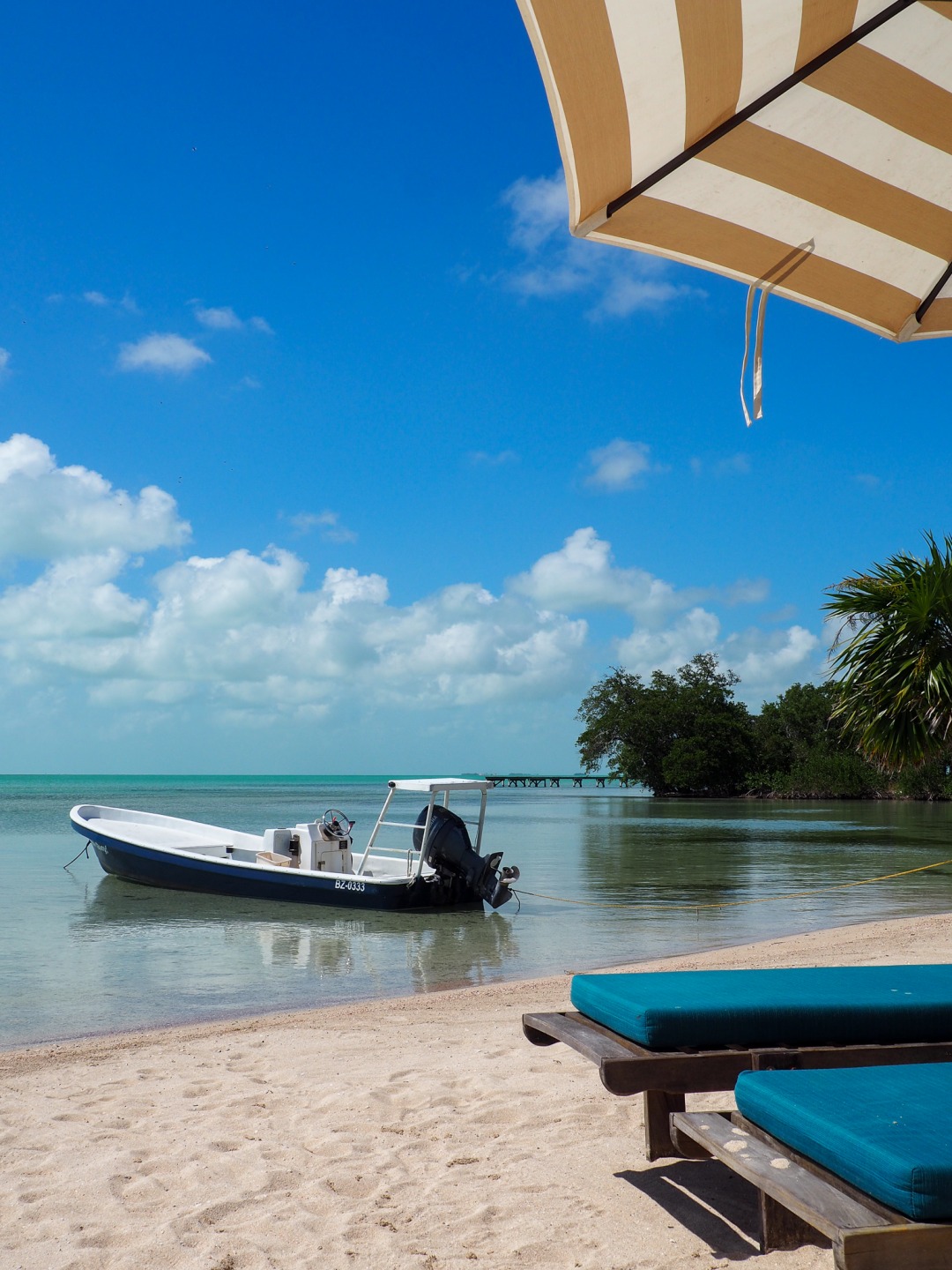 You can also check out Mahogany Bay Village.  While the rooms are NOT on the west side of Ambergris Caye – they do have a beautiful beach club there.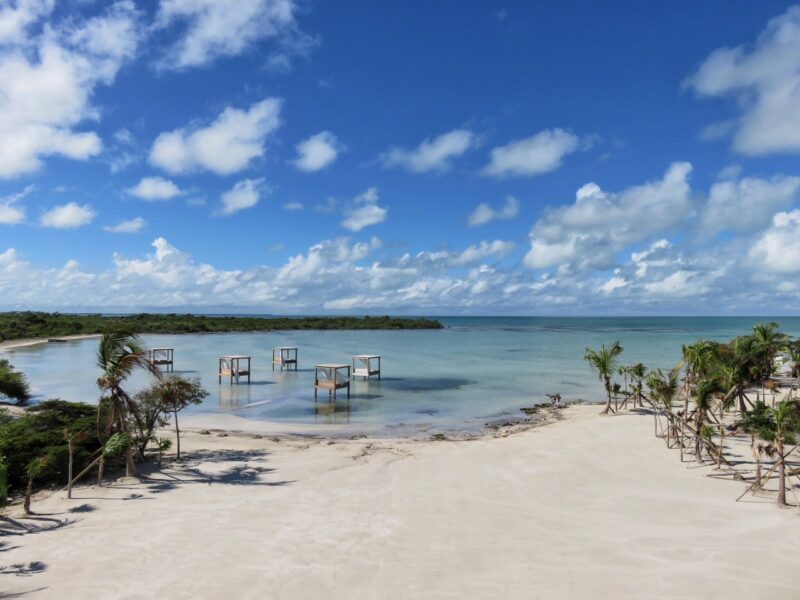 For this next one, you need to charter a boat but…man…it is worth it.
The Sand Bar
The leeward side of the island is scattered with small cayes and around some of them, sandbars form.  Beautiful pinkish sand sandbars just barely peeking out of the water.  Bring along some beach chairs and some well iced drinks AND LOTS OF SUNBLOCK and you are in business.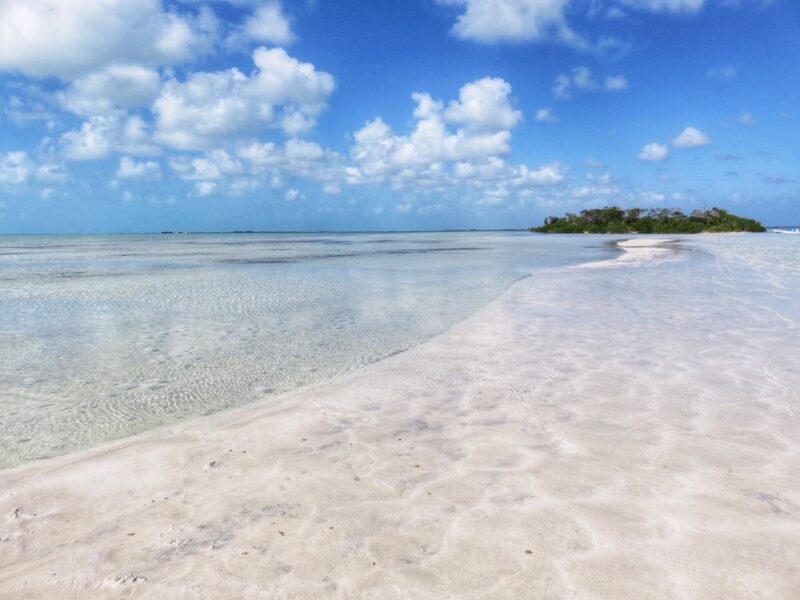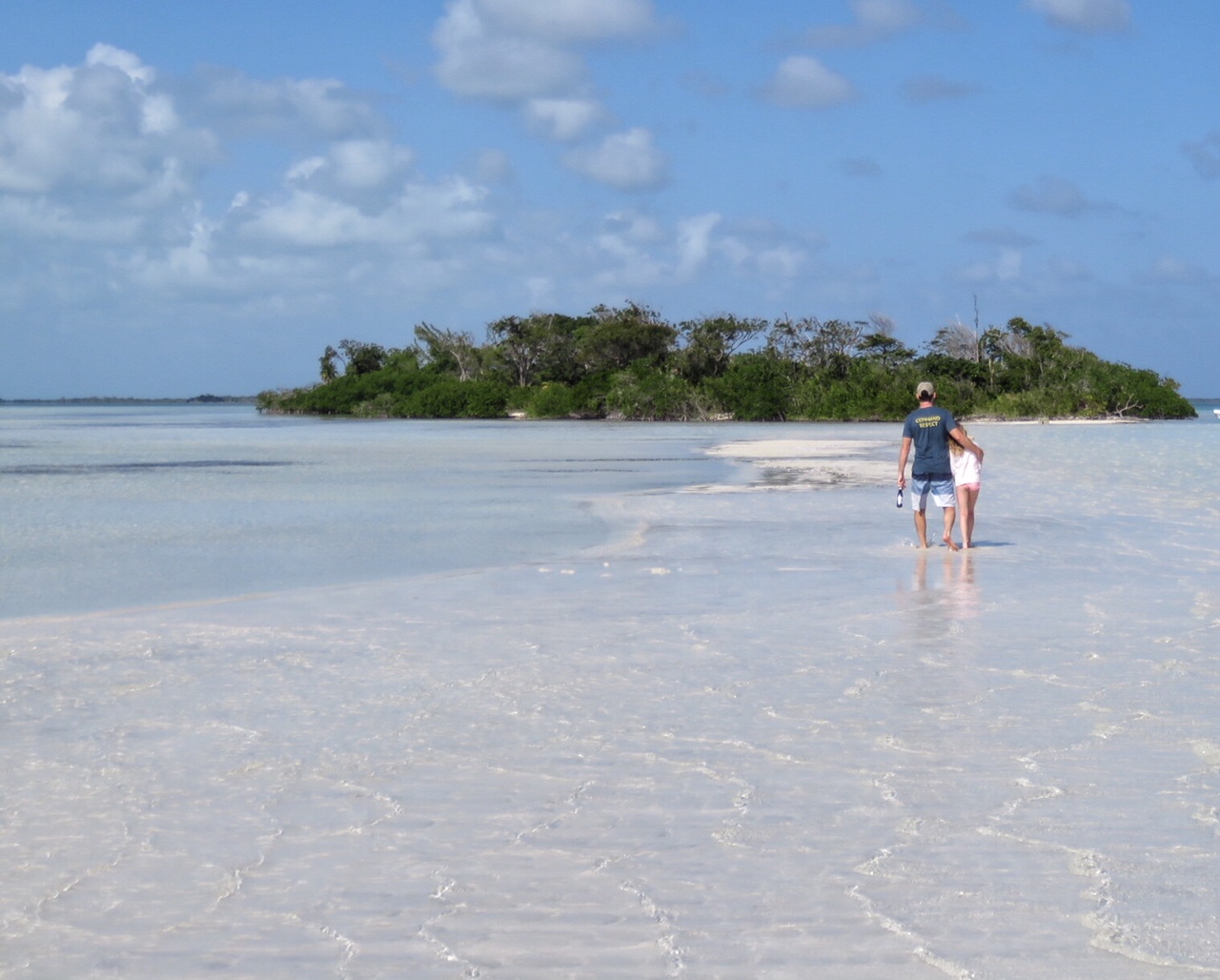 So there you have it…some of my favorite beaches.  But I'm still TOTALLY a dock fan.  Something about coming out of the water and laying on a warm dock…free of sand…that makes me very happy.
If you have any suggestions, one you think I may have missed – please message me!
And, if you liked this post, I would LOVE you to PIN it below.