September Celebrations & Events Calendar in San Pedro, Belize: 2023
All the Fun and Events in San Pedro This September
Take a walk around San Pedro town on Ambergris Caye right now and you'll see that September is THE MONTH to celebrate Independence in Belize.
Why You Will LOVE Visiting Belize in September
Belize is celebrating 2 big national holidays: September 10th (and the Battle of St George's Caye) and September 21 (Independence Day) but basically, the entire month is one of celebration.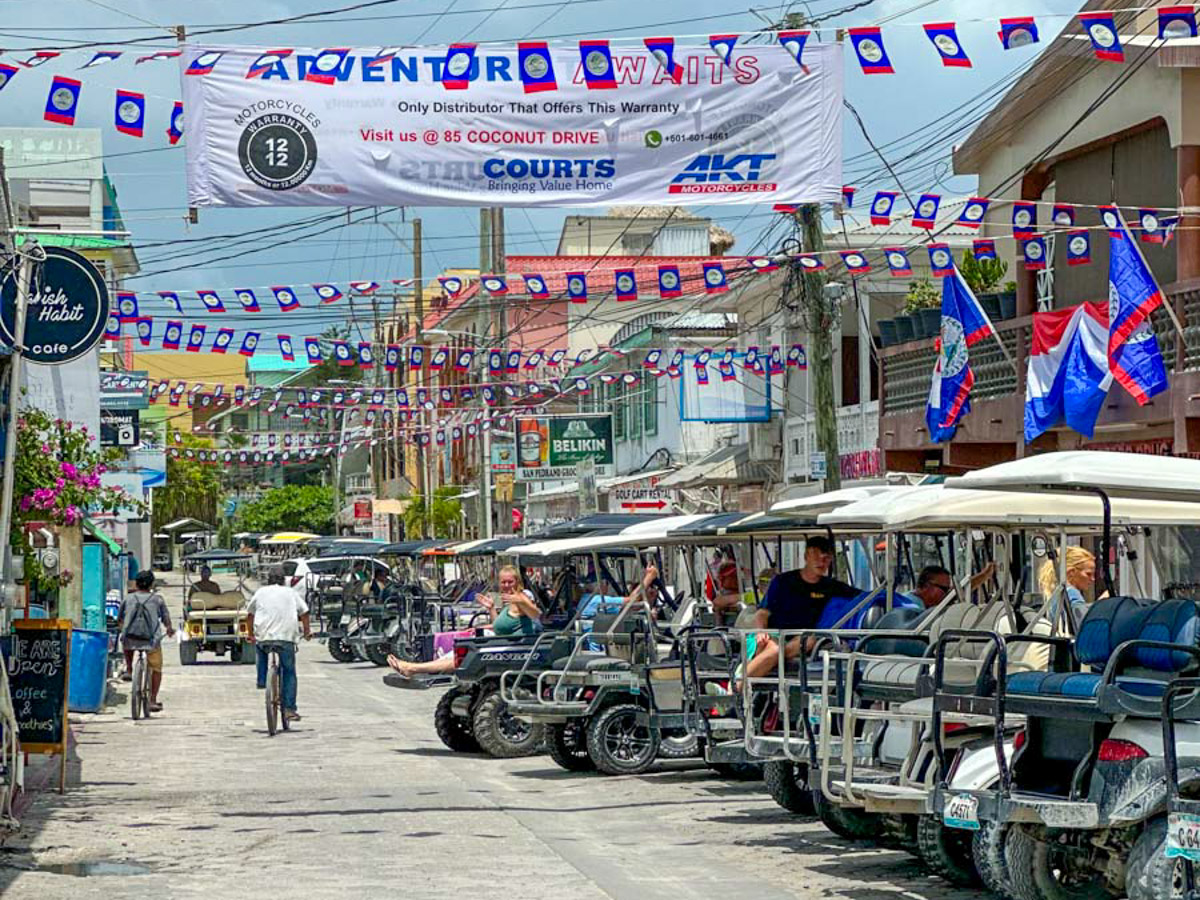 Slow-season you say?  Some businesses close for renovations and vacations (see the 2023 list of Restaurant Closings) but there is a TON going on in Ambergris Caye and around the country. 
Make sure to take a walk around town right now…this year there is even a decoration contest so everything should be…extra!
The Official Calendar of San Pedro Events for September 2023
Important note for those visiting: Bring your red, white and blue!  They are the color of September and everyone is wearing it.
Sept 9th, Saturday
Fire Engine Parade – A parade through the main streets of San Pedro scheduled for 7pm but almost always runs late.  It's a great time to have dinner or drinks in town – especially at a spot that is open to the street.
Followed by a LATE NIGHT!
9th Night Explosion! This will be starting and ending late late late! (My best guess is people will start arriving at 930 or 10pm).
Buy tickets at the door. There will be San Pedro artists and DJs, lots of Belizean talent…Supa G the king of Punta and Belize (so much fun) and then Shal Marshal from Trinidad.
This should be crazy good times if you are a late night live music fan.
Sept 10th, Sunday,  Battle of St. George's Caye Day
A National Holiday celebrating the end of the battle of a small group of English Baymen and their slaves to finally eject the Spanish from British Honduras/Belize in 1798.
There is a morning uniform parade – always the school kids in their school uniforms (I believe every school on the island – and the country requires uniforms), the police, and town workers.  Sometimes it's bigger than the parade on the 21st (though a bit more subdued) – and it's always a HOT HOT RED HOT day.
After the parade is a beach party in Central Park.
Sept 16th, Saturday
Noche Centro Americana/Centro- American Night
Belize is the smallest country in Central America by population (by a long shot) – but not by area.  El Salvador is about 8,100 sq miles vs. Belize's 8,867 square miles.  But the population difference – oh my.  Belize has about 410,000 people vs. El Salvador's 6.5 million!
Due to the instability in some of our surrounding countries – especially in the 80s and 90s – Belize became a natural place for migrants – and you'll meet many people who moved here (or families moved here) from El Salvador, Honduras, and Guatemala.
In previous years, the town has held a festival – and it looks fantastic.  Dancing, costumes, music and lots and lots of food.  Take a look at the San Pedro Sun's article and photos from 2022 – it looks fantastic!
El Salvador gave us pupusas.  The melty cheesy grilled tortilla cakes that are some of the most delicious foods on earth.
Sept 20th, Wednesday
Independence Eve: Politicians and speeches, a ceremony with a 21-gun salute and a flag raising, then the party and midnight fireworks at Saca Chispas (the "old football field" on Back Street)
From a few years ago…
This will be a late night!
September 21st, Thursday, Independence Day!
The morning – EARLY morning – starts with J'ouvert.   It is the official start to Carnival celebrated around the Caribbean – usually before the post-Lent carnival season.  It's an early morning dance and paint and sometimes chocolate syrup street party…that usually ends up in the sea.  It's been celebrated in Belize City for a while…
And just came to San Pedro, I believe, less than 10 years ago.  A Road March at dawn.
This is in preparation…to get the party started…for the town parade.
Here is what I can count on – it will start late, I will be SOOO hot I won't think I can make it to the end (and I'm not in it!), and my heart will almost burst with Belizean pride.
Listed time: 1pm. Real time? 2..230pm start.
Here's how the parade is shaping up.  In the last few years, the parade has started north of town – lining up along the water at Boca Del Rio. All of these photos are from the 2022 parade!
This year they are lining up south – so if you live south of town…dang.  You might want to take the back roads!
Take a look at 2022's parade in San Pedro for all of the pics – SO fun.
Other Big Events Around Belize
Here is the official calendar for the entire country – it's crazy how much is going on!
September 9th:  Belize City Carnival Parade  Here's my 2013 trip to the city, Part One and Part Two  Belize City is SERIOUS about her Carnival.
September 16th and 17th:  2023 Belize Market Expo  This event is fun, frenetic, crowded…it's vendors from all over the country, big and small and more….  Take a look at the time I attended.
September 21st:  The HUGE Independence Day Parade in Orange Walk town – I mean HUGE.
PHEW!  There is a ton going on! 
And while a handful of restaurants might be taking their yearly breaks…and there will be less tourists on the island, how can we call this the slow season!
It definitely wasn't me who told you September wasn't a great time to visit Belize.