November in Belize: The Weather & What Makes it Special
November can be a great time to visit Belize. If you know what to expect and if you throw a few extra things in your duffle bag, you can have a fantastic vacation. And, odds are, one that can save you a bit of money from those high season rates.
If you have never visited Belize before – let me tell you how special I think this country is and what makes it REALLY stand above the pack.
The month of November means that Belize's slower season is coming to an end (September to early December); businesses are rested and rejuvenated and especially ready to welcome visitors.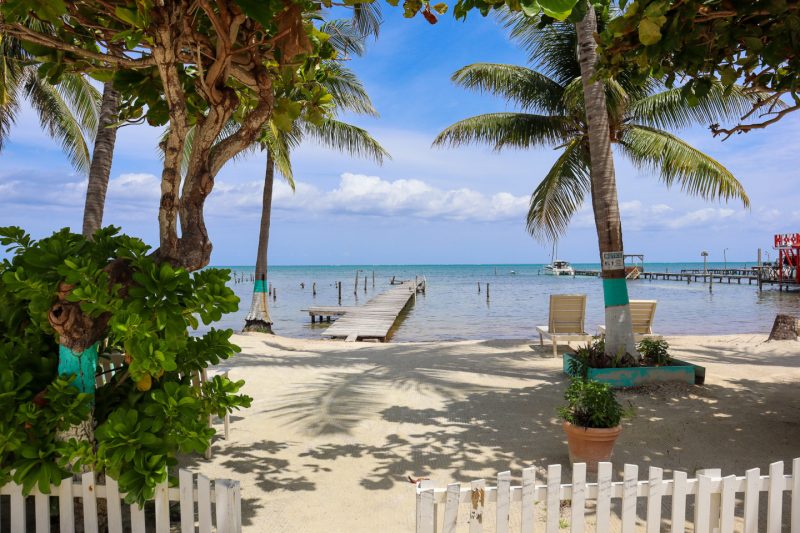 While restaurants and tours start to get a bit busier for US Thanksgiving week, it is nowhere are busy as it can be for the Christmas holidays.
November is still a great time to snag a lower-priced airline ticket (prices surge as you get closer to the holidays) and to take advantage of some of the low season rates for lodging.
A great time to get a little sun, a few cocktails, meet some new friends and enjoy fantastic food – all before you dive into what can be the holiday madness of December and a long cold winter.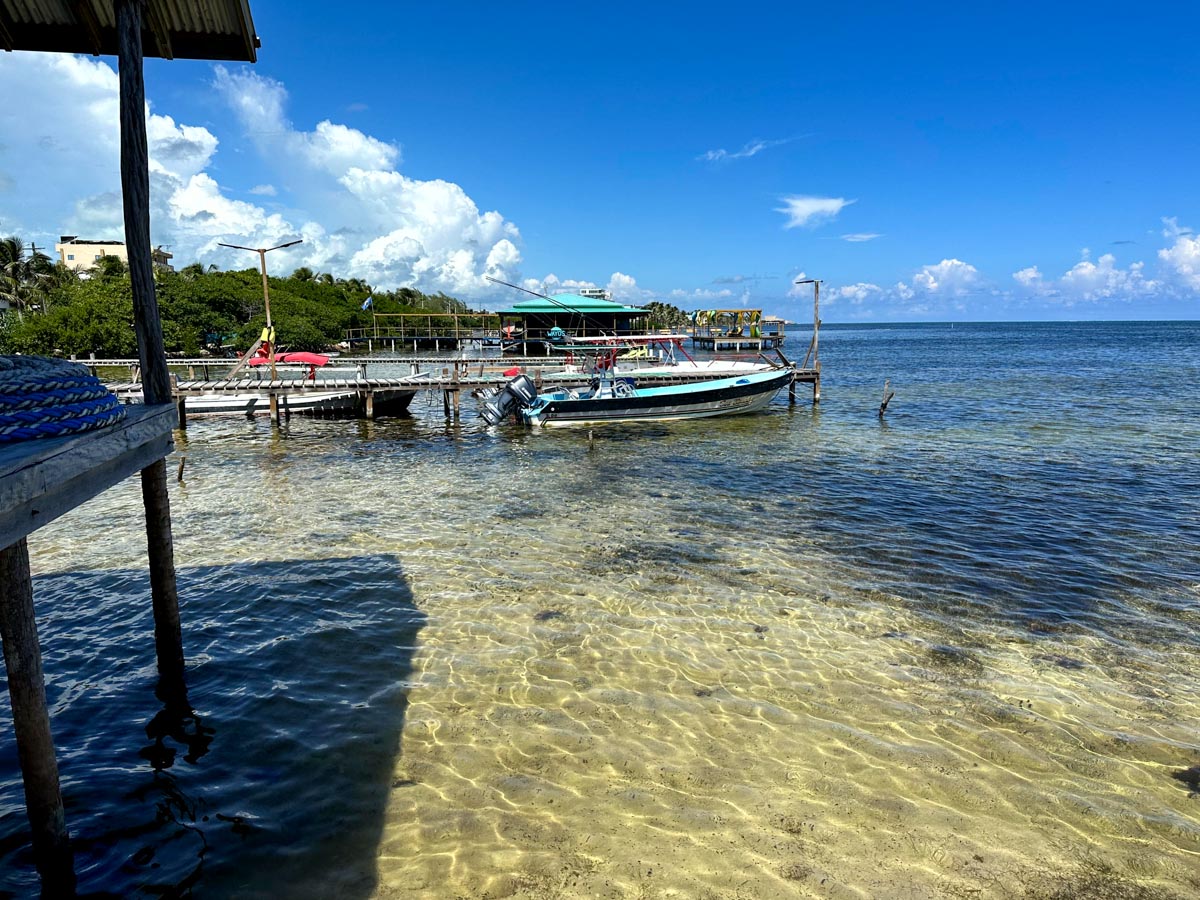 Let's get to specifics – what I think you should know about visiting Belize in November.
The Weather In November
I can tell you with 100% confidence that it will be warm in November. Temperatures are reliably in the low to mid-80s but can feel quite a bit warmer (especially in direct sun) with the humidity. (We are in the Tropics!)
It is not as warm as it is in the late summer-early fall (August-October can be scorchers!) and the temperature will get a bit cooler into the winter and very early spring. (But still, it's relative! Temperatures in Belize RARELY go below 70 – unless you are in the more mountainous areas – and never much higher than 90F.)
November is the end of the "rainy season" and odds are you will hear and/or see some rain. This does not mean a solid month of constant rain.
On Ambergris Caye, November usually brings heavy nighttime rain, sometimes early morning/midmorning drizzle and clouds, and then the weather clears up as the day goes on.
(Trust me when I tell you that 6 hours of tropical sun is MORE than enough for anyone!)
We may get a few days of rain/clouds in a row but not every week. November weather is best described as…changeable.
And even changeable weather is beautiful in Belize.
Things to Pack For November in Belize Just in Case…
You can see my complete packing list for Belize here. Summer clothing, lots of sunblock, all your plugs and chargers!
But here are a few extras that make your November visit more comfortable:
Insect repellant – since we are in the wetter season, you'll want to bring repellant that works. You may only need it in the evening and very early morning but you'll be mad if you forget it. I LOVE this brand. It is not sticky, greasy or stinky. It doesn't melt your gear with DEET. The spray lasts for a few hours, and the lotion, I find, lasts for most of the day. LOVE IT. I feel like I was put on earth to steer people towards picaridin. 😉
If you are sensitive to bites, throw some Benadryl and your fave anti-itch cream into your bad. I hate being itchy.
A Light Rain Jacket – I'm not talking about technical gear that is going to cost you hundreds of dollars. Just a reliable mostly waterproof jacket with a hood to roll up in your bag and take just in case. (It's a downer to get caught in heavy rain while riding in a golf cart but…it's warm rain and the sun will most likely be out soon) Don't spend a ton of money if you don't already have one of these!
Non-Slippery Sandals – When things get slicks, most flip-flops are pretty worthless. You are better just walking barefoot.
But that is not always possible.
My new favorite shoe isn't slippery, perfect for walking on mildly uneven terrain without twisting your ankle and it can be tightened as they inevitably stretch. They are incredibly light weight.
Mine are lavender. You can get much more muted colors! I especially love that you can tighten them as they looser. Game changer!
What Makes November in Belize Special
There is Generally Less Sargassum
Sargassum, the seaweed-algae that can plague the shores of the Caribbean, Gulf of Mexico, Florida and Central America, seems to take a break in the late summer-winter. I'm not sure if it is the stormy season and/or the seasonal change in currents or what…but to see our beaches seagrass-free is a delight.
Belize has such a beautiful coastline.
Enjoy both CONCH and LOBSTER
You are visiting during the "sweet spot" for seafood lovers. Lobster gets all the headlines. Lobster gets the big festivals to celebrate the season's opening each year (see last year's fantastic San Pedro Lobsterfest Block Party that takes place in July) but for me? I'll take conch every single time.
It's meaty and sweet, it's delicious in a conch soup, a chowder made with lots of conch and coconut milk, in fritters, in fried fingers, in ceviche – oh so good in fresh ceviche. It's just delicious.
My amateur graphic will help seafood lovers find their perfect time of year.
Businesses are Open
You might find that your favorite restaurant or hotel is closed for a few weeks in September or October for vacation and renovation. See Belize in September (HIGHLY recommended) and 11 Reasons You'll Love Belize in October for more information.
But everyone is open in November, some with refreshed menus and facilities, all ready to welcome you. It's a great time to see if the hotel that you love (or the one you've been dreaming about – take a look at these luxe Belize spots) are offering discounts in November.
Birds Migration
Birds are also trying to escape the coming of winter to our north. October and November are great times for spotting migratory birds either settling in Belize for the winter or passing through to more southern climes.
I dare even the most casual of bird watchers to shrug when they see our winter guest, the pretty roseate spoonbill on Ambergris Caye. And this newly published Birds of Belize book is a nice size and has gorgeous pictures of all the birds.
Garifuna Settlement Day is Uniquely Belize
Belize celebrates the Garifuna people of Belize each year on November 19th. It is a national holiday.
The Garifuna people, a mix of indigenous Caribbean people and African slaves brought to the islands, landed on Belizean shores on November 19, 1802. They brought their native crops, music, distinct language, and culture that is still very much alive and celebrated in Belize today.
The Garifuna people make up just under 5% of the population today but their culture is recognized throughout the country.
In Southern Belize – Dangriga and Punta Gorda re-enact the boat landings on the 19th. My morning in Dangriga on that day – and my day in Punta Gorda years ago, are still two of the most memorable and beautiful events I've ever attended in Belize
Garifuna Landing, Parade and Church Service in the Garifuna Language in Punta Gorda
The incredible morning landing in Dangriga
No matter where you are in Belize, you will hear the Garifuna drums and hopefully be able to have a bowl of sere or
Miss Julia in San Pedro does AMAZING Garifuna food all year round.
Black & White Garifuna Restaurant is a must try when you visit Ambergris Caye.
Thanksgiving Made Easy (and Delicious)
Belize loves a good "turkey dinner" and while Thanksgiving isn't a Belizean holiday, you'll find plenty of places to celebrate.
Here are a handful of 2022 menus for Thanksgiving on Ambergris Caye – so you can get a sense of what is served.
Most restaurants post delicious-sounding menus in advance and if you are not a turkey person? How about some lobster? Or lime pie? Or turkey AND lobster?
You can snorkel in the am…or take a catamaran ride along the reef…return home to a nap and then head out to dinner. A feast that you didn't slave over all day!
I hope that gets you thinking…maybe checking airline prices…and maybe we'll see you in November. Some sun and fun before the heavy-duty winter really sets in!
Brrrr….