Southern Belize - the districts of Stann Creek and the Toledo district - encompasses so many fantastic and varied locations - such diverse landscapes, scores of tiny cayes (most unpopulated), wildlife, and really different cultures.  But here I am...rolling it up into one group.  I'll try to do my best - to convey all there is to see and do in Southern Belize.
Stann Creek is the more populated (though still, it is predominantly very rural) and more visited by tourists of the two districts, so let's start there.
Stann Creek district contains the town of Dangriga - which is considered the Culture Capital of Belize - and the popular villages of Hopkins and Placencia.  All are on the coast.  Let's talk about these hubs...
Dangriga Town
Dangriga is more an economic and population center than one frequented by tourists.  For many years, it was a busy port for the fruit industries that prospers in the area.
At the turn of the 20th century, there were actually coal-fired locomotives and a small railroad system in this area used for passengers and hauling bananas to the port.  You can still see some of the old track alongside the Hummingbird Highway - the two-lane road that connects the Cayo district to Stann Creek.
The scenic Hummingbird Highway winds over and through the Maya Mountains from Belmopan, the center of the country and the capital, to Dangriga. There are some great stops along the way!
Leaving the mountains, you head into the deep green valley where you'll find citrus groves (mainly oranges) and banana plantations.
The farmlands outside of Dangriga are home to Belize's most popular export - Marie Sharp's Hot Sauce.  You can visit her factory, often meeting Marie herself and taste all the hot sauces, jams, and other goodies.
You'll see it on pretty much every table in Belize - and I still find it fascinating that the USA and Japan are Marie's two biggest markets.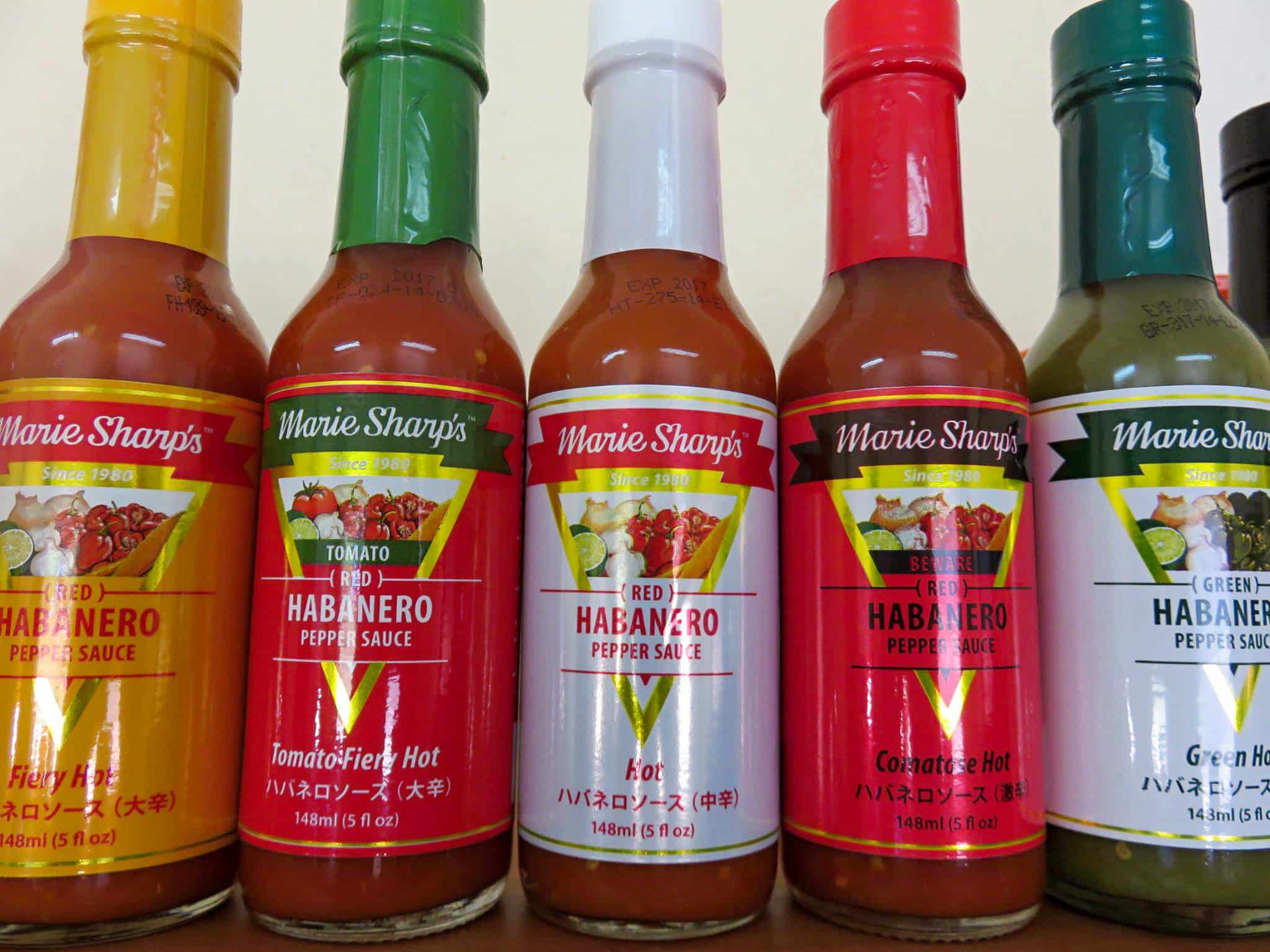 Head into Dangriga town situated right on the coast...or if you are flying in, touch down on the small runway surrounded by greenery and often wild-growing tropical flowers.   Dangriga is the center of the Garifuna culture and the area where the Garifuna people first landed in Belize in 1802.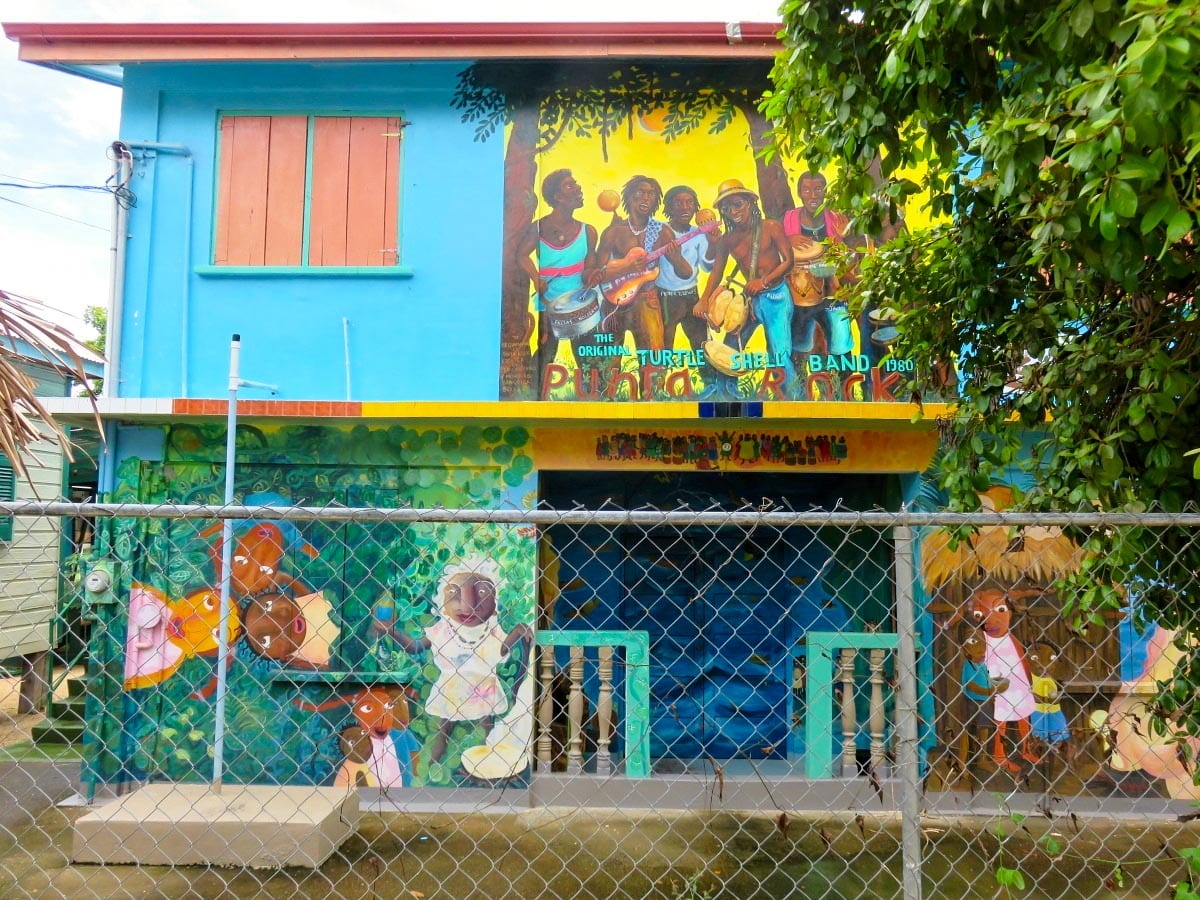 The Garifuna culture is recognized by UNESCO for its "intangible heritage contributions" - the music and the language and the dance.   The south of Belize has several Garifuna communities - like Seine Bight outside Placencia, Hopkins Village and Barranco in the far south - but none bigger than Dangriga.  And their Garifuna Settlement Day celebration on the national holiday of November 19th is so joyous and beautiful.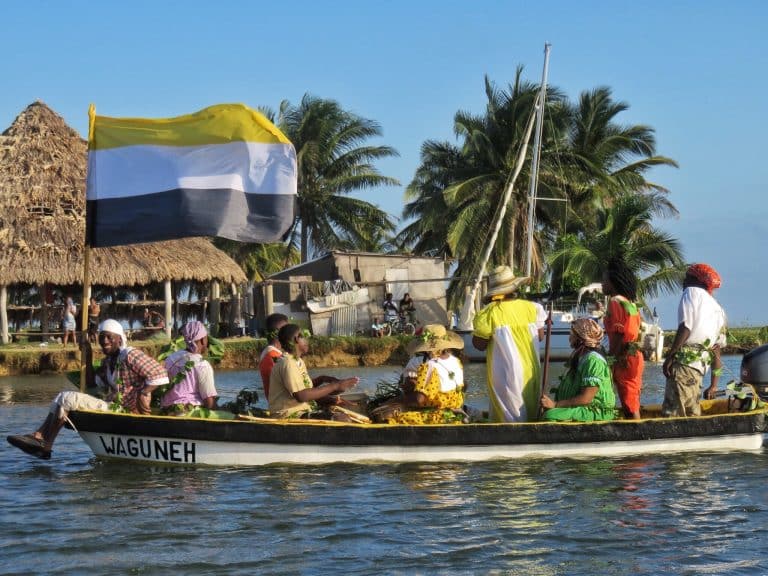 Hopkins Village
Hopkins is a small Garifuna beach village located less than 10 miles south of Dangriga along the coast.  Many visitors who fly from Belize International Airport to Dangriga's airstrip then make the short trip (about 20-30 mins by taxi or car) to spend some or all of their vacation in pretty Hopkins village.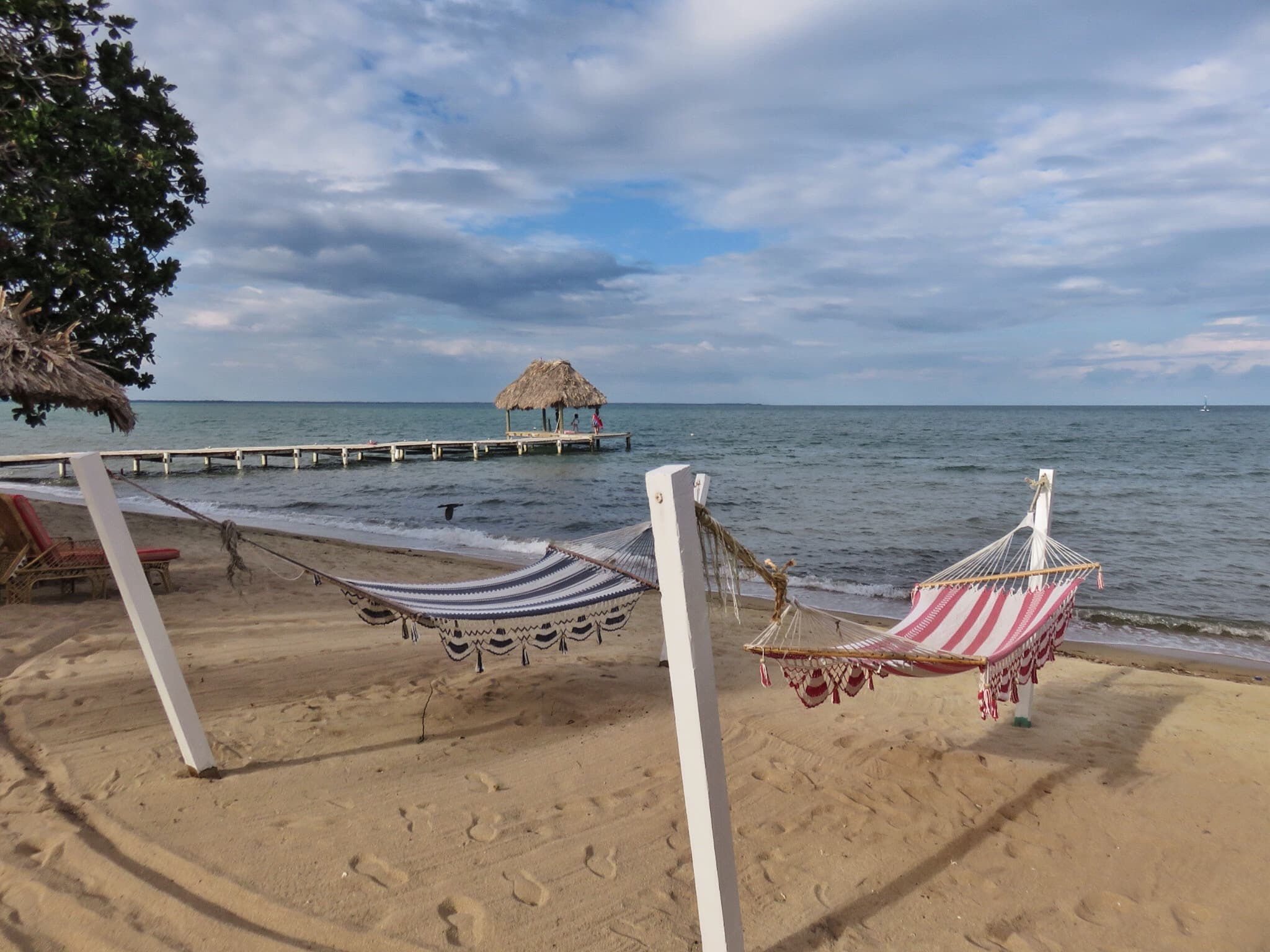 Hopkins is a fantastic spot for those interested in learning more about the Garifuna culture (including drumming lessons and the delicious food), enjoying the beach and the southern cayes (about 30-40 mins away by boat), and a wide array of nearby jungle adventures.
What To Do in Hopkins
When in Hopkins, you absolutely want to take advantage of the access to Garifuna culture - by taking a drumming class, eating hudut and other Garifuna dishes at a local restaurant, dancing to the local music and just enjoying village life.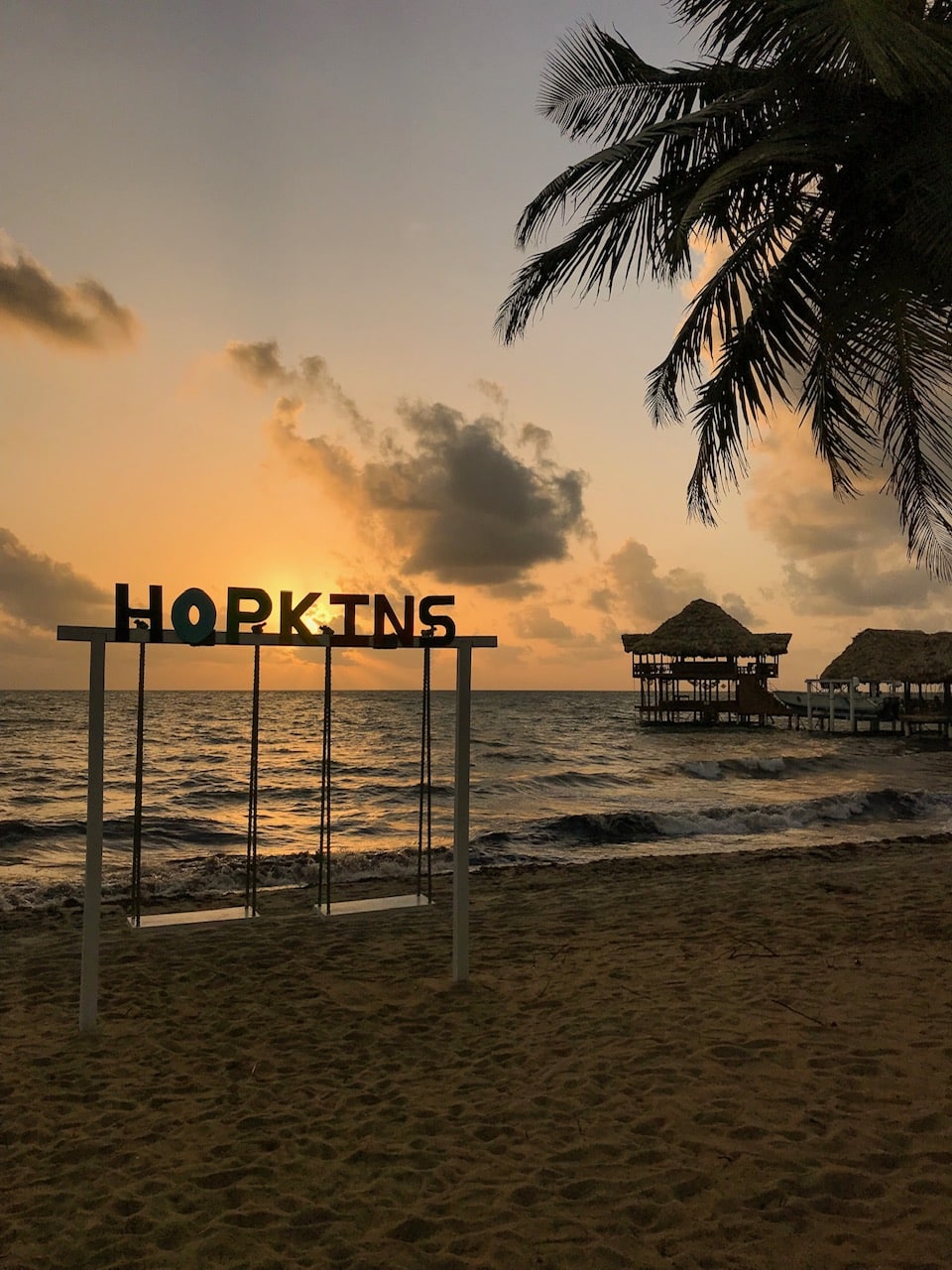 During the dry season, you can take a really unique tour to visit the "Burnin' Wata".  A nighttime boat ride takes you winding into the mangroves and lagoons where the water lights up with bioluminescence.  You can watch the fish and jellyfish glow as they disrupt the still waters.  And if you are very brave, you can jump in yourself.
During the day, you can go hiking or birding or zip-lining or waterfall repelling!  You can read here about how I chickened out on that last tour...at the very last minute.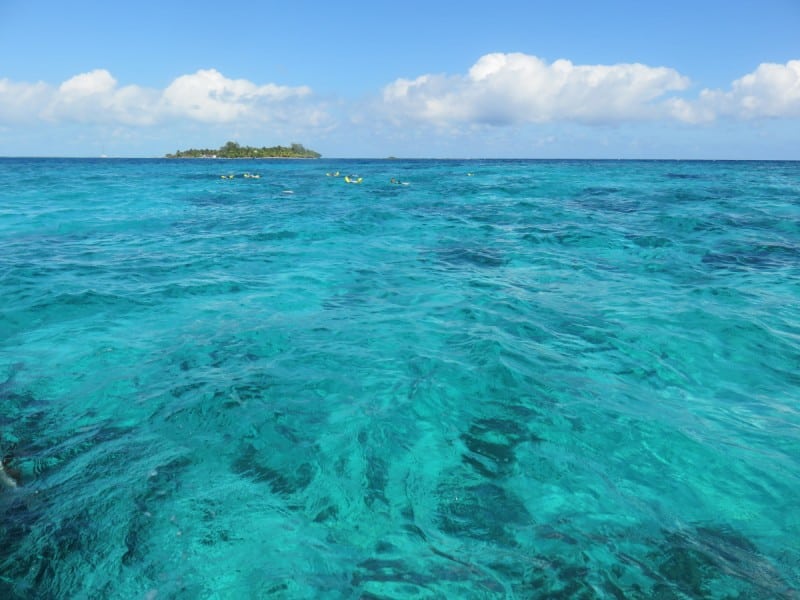 You can go snorkeling and SCUBA diving - the southern reef and a number of gorgeous cayes are about 30-40 minutes off-shore.  Southwater Caye Marine Reserve is a favorite .
A taxi driver took me over to a Confederate sugar mill in the beautiful village of Sittee River just south of the village.  Unexpected and really interesting.
You can take Drumming Lessons in the village.  I mean...if it's good enough for Kate and William!  They stopped in Hopkins during their royal visit in 2022.
How to Get to Hopkins Village
Many visitors to Hopkins Village fly from the country's international airport to the airstrip in Dangriga.  And then travel onwards by van, taxi, or even bus to Hopkins.  It's about a 30-minute ride.
If you plan to take the bus, plan ahead.  There are only a handful of buses that go directly into Hopkins Village.
A Guide:  8 Things for Traveling by Bus in Belize
Additionally, you can drive from the International Airport about 10 miles outside of Belize City to Hopkins.  It is about 4 hours in total - heading first west to the capital of Belmopan, Belize and then south on the scenic Hummingbird Highway.
And then...just about 30 miles south - passing small villages and miles and miles of banana fields is Placencia.  A small village with Kriol roots rather than Garifuna and a very different feel.
Placencia Village and The Peninsula
Placencia village sits at the end of a long narrow spit of river sand called the Placencia Peninsula. The peninsula is about 20 miles long in total - often the whole thing is just called "Placencia" but there are a few different communities and villages.  You'll pass through the pretty village of Maya Beach, by the only mini-golf course in Belize, a bowling alley, and then a string of resorts including Naia Resort and Spa (my stay there) .  You'll pass the Garifuna village of Seine Bight...
...and then more resorts like Itzana Resort and Francis Ford Coppola's Turtle Inn as you then you head into Placencia Village.
"The village" juts out onto the narrow tip of the peninsula.  Deep sand lined with pretty houses, restaurants, and hotels.  Narrow sidewalks are a grid through it all.  Wander down the main sidewalk, past art shops and lively bars...
Despite the growing popularity and the nearby cruise ship island, the village remains small and charming.  Very very walkable.  Take a little stroll and stop for a gelato at the country's best ice cream spot - Tutti Frutti.  Or head to Barefoot Bar right on the beach.  I've always said that I'd love to have my regular home in Ambergris Caye and a summer home in Placencia.  Just a tiny spot.
What to Do In Placencia Village
Like Hopkins Village, Placencia has access to the ocean and the reef (about 30 mins offshore) and easy access to some incredible mainland activities.
You can head to Bocawina for fantastic ziplining, hiking and waterfall repelling .  Or take a tour to the Cockscomb Wildlife and Jaguar Reserve.  
You can take a boat ride to a unique and tiny Kriol village called Monkey River.  Head down the river to spot birds, iguanas, two types of crocodiles in this really cool area .
Or head to sea - for fishing or a trip out to the cayes for some snorkeling and diving.  Laughing Bird Caye and the Silk Cayes are popular and beautiful destinations.
And explore the village...wander the sidewalk.  Great restaurants, beach bars, shops, and scenery.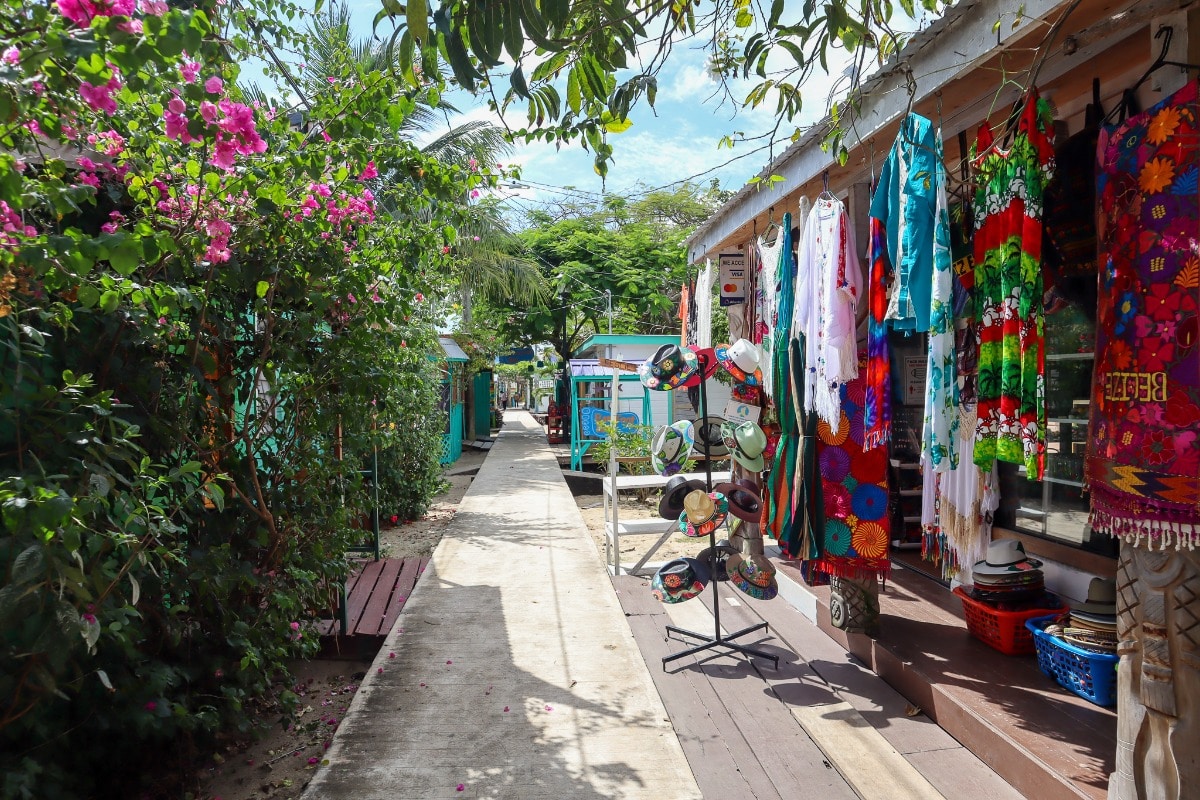 Or head to an off-shore caye.  I visited the GORGEOUS Ray Caye off Placencia and...man...I'd love to return.
Transportation can be just a bicycle for getting around the village, or a golf cart or rental car to explore the wider peninsula.  Here's some information about renting a golf cart in Placencia and what you can see.
Now let's head south to Punta Gorda, Belize
How to Get To Placencia
Placencia has her own airstrip located just a few miles outside the village.  From PGIA (the Belize International Airport outside of Belize City), you can hop aboard a flight with one of the two local companies - Tropic Air Belize and Maya Island Air - and be in Placencia in about 25 minutes.  Often the flight will stop and drop people off in Dangriga first, and then it's just a few more minutes to Placencia.
The view is amazing - the slim peninsula, the green valley and the darker mountains in the background.
Punta Gorda and the Toledo District
Toledo is the most rural, greenest, most distinctive district in Belize. Unique in the range of cultures and just the place's untouched "un-Americanized" feel.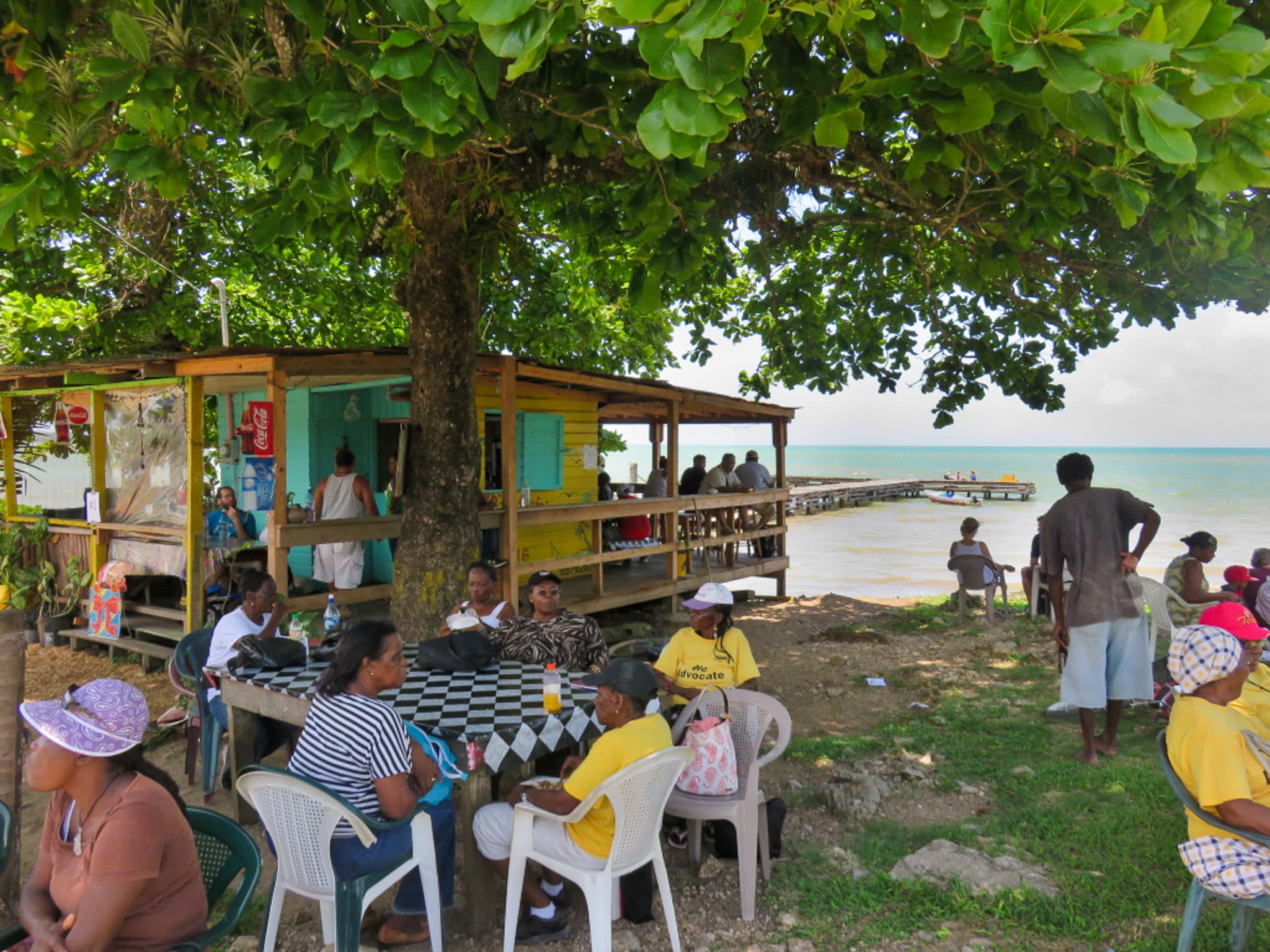 Punta Gorda town, or just "PG", is the first place I overheard people speaking in Maya dialects and the unique Garifuna language at the village market.
I found it full of surprises.  For example, stumbling upon the "Confederate's House" in the middle of town.  A home built at the end of the Civil War when a bunch of Confederates moved to mainly Southern Belize to escape the war (that they had just lost) and to perhaps "rise again".
Or laying in bed at my B&B and hearing the howler monkey troops bark and bellow as the sun rose...thinking for just a moment that they might come knocking down my door.
Or meeting Gomier, a rasta gentleman from St. Lucia who owns a restaurant in Punta Gorda, is a vegetarian, and makes his own tofu.  (And can teach you how)
Seemingly random, wonderful unique only-in-Belize experiences.
Things to Do in Punta Gorda and the Surrounding Area
In this part of the country, you can have very active days and then quiet nights.  There are plenty of activities that can help you take full advantage of all the culture and ecologic diversity of this beautiful area.  And a smattering of bars and restaurants in PG town at night.
I loved the Living Maya Experience - a chance to spend time with local Maya families learning about traditional cooking, medicine, and crafts.  Weaving baskets, making cloth...it's hard!  (It's properly humbling when a 6-year-old is far better than you at pretty much everything.)  And really cool meeting with folks who are experts and have so many stories to tell about what life is like (and was like 30 or 40 years ago) in a small Maya village.
Lubaantun, a beautiful and impressive Maya site, is located nearby.  It's different from the sites in the northern part of the country - the building's edges are slightly rounded.  While you are there, look for a sign that says "Earth Ship".  A British couple who have been in Belize for quite a while have built a very cool cement structure...almost a palace...using recyclable goods.  I haven't visited since 2014...I need to return to see the finished project!
You can snorkel the crystal clear waters near the Snake Cayes or the Silk Cayes - both about 1 hour away by boat.  Punta Gorda is home to the Garbutt brothers and their small lodge - well-known for their flyfishing trips for permit, bonefish and tarpon.
You can learn to play the hypnotic Garifuna drums at the Warasa Drumming School.  The music is beautiful and trying (even badly) to play the drums is strangely addicting.
There is hiking, you can explore the Blue Creek Cave outside of town, you can learn how to make chocolate from local cacao beans, and you can take a trip to the Belize Spice Farm & Botanical Garden. 
One day that is extra-special amazing in Punta Gorda is the national holiday of Garifuna Settlement Day.  It celebrates the landing of the Garifuna people on Belizean shores almost 200 years ago.  Punta Gorda goes all out - after a long night of partying and music, there is a dawn recreation of the boat landing, followed by a parade in town to the church where a mass is held in the Garifuna language.  I attended a few years back and it was incredible - one of my most cherished memories in Belize.  I want to do it again soon!
How to Get to Punta Gorda, Belize
I visited Punta Gorda only two times - it's a full day's travel by bus from San Pedro (but flying to their local air strip makes it easy and quick!)  You can also rent a car to make the trip from Belize City or anywhere in the country.
The fastest way to PG is to fly.  Punta Gorda is the last stop on the plane that leaves Belize City (or Belize International Airport) stops first in Dangriga, then in Placencia, and then in Punta Gorda town.
The Southern Cayes
Belize's barrier reef runs along the entire length of the country.  In some places, it is a few hundred feet offshore (like North Ambergris Caye) and in some spots, it is up to 25 miles offshore (in the far south of Belize).   There are hundreds of cayes - some inside the reef and some that are part of the reef system.
Southern Belize - Dangriga, Hopkins, and Placencia are starting points to reach many of the private island resorts and private homes that lay offshore.
If you do not have a large budget - a great way to see a good stretch of the reef and stop at a few tiny islands is a sailing trip from Caye Caulker to Dangriga.  I've done the trips twice with Raggamuffin Tour company and it has been AMAZING.
You are roughing it a bit...camping sometimes, sometimes you don't have much personal space on the boat but MAN is it worth it.  Here the last trip I took in 2019.
Or stay at a private island!  I can only tell you about one...but it was a FANTASTIC ONE!  Check out Ray Caye Island off of Placencia.  If you think you might be bored on a private island...you are incorrect.  I could have stayed much much longer.
How To Successfully Travel Belize by Bus – The BUDGET Way to Travel But There are Some Compromises… Belize is…
Keep Reading