My 12 Different & Fantastic Resort and Rental Home Stays All Over Belize In 2021
Belize Navidad everyone!  Happy Holidays, Happy New Year, and Happy…well…Forever.  While I'm not a huge fan of the many Belize-inspired puns out there…Belize Navidad is a solid one.   You'd better Belize it?  Un-Belize-able?  Don't Stop Belize-ing?  They have their place but…
It's been a long beautiful holiday weekend in Belize – Saturday was Christmas, Sunday, Boxing Day, and today, Boxing Day celebrated.
And this upcoming week – that one sandwiched between Christmas and New Year – there's not much work getting done during that time by most people on the planet.  That's a very big part of what makes this the most wonderful time of the year.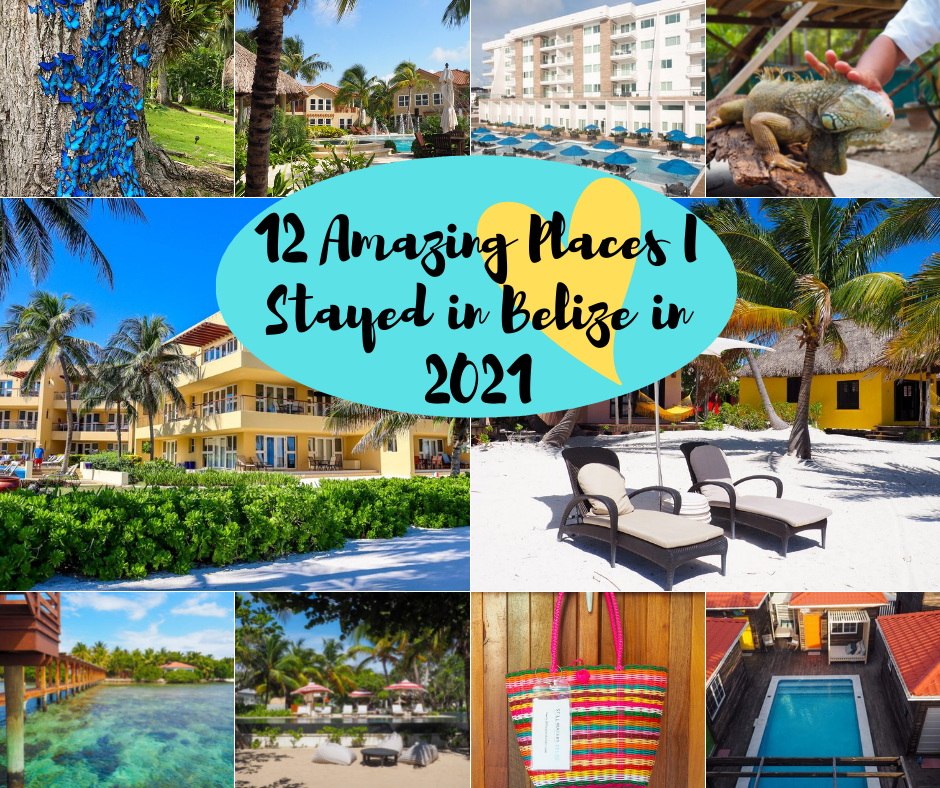 Though I felt like I stayed close to home for much of  2021…looking through all my posts (this is #157 for the year), it doesn't seem that way!  I had a chance to visit a bunch of amazing spots around Ambergris Caye and around the country (and my first trip to the states in over a year and a half).  11 different places in all!  And for that, I am very thankful.  I'll never stop being wow-ed by what Belize has to offer:  the different landscapes and incredible people doing amazing things around this tiny country.
If you've never been here:  8 Great Reasons to Vacation in Belize
Here's where I stay…from the beginning of the year until the end.  And, if you've never been, it will give you a nice overview of what Belize has to offer.
I started the year in a gorgeous modern HUGE 4-bedroom, 3-bathroom house (it was only me!) on what I call "The Jade Coast" of Ambergris Caye – a stretch of white sand beach lined with beautiful, large private homes and a smattering of businesses…
Stillwater is a relatively new one and it's beautifully laid out and decorated.  Modern and spacious…I had a private chef and a massage.  Traveling with other couples or your family?  I can't imagine much better.  You can see all the pics from my stay – I especially loved the decor and the open great room.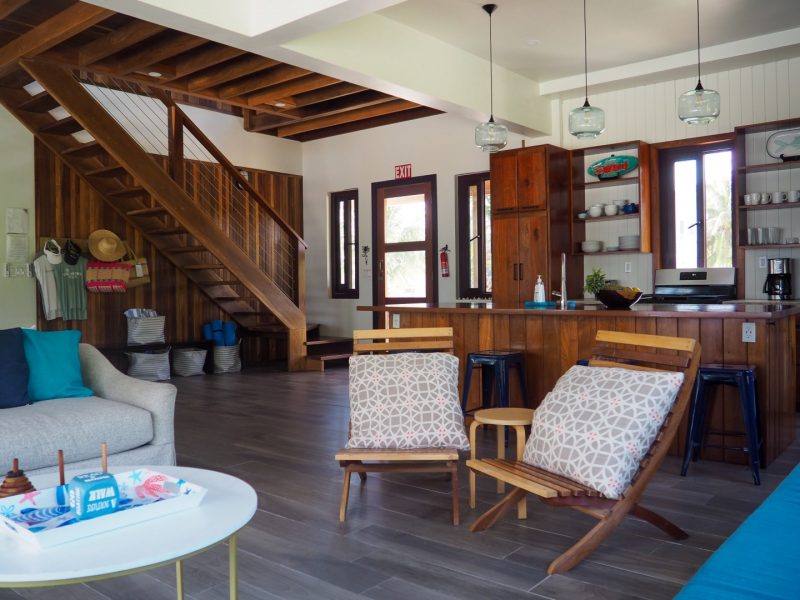 If you haven't visited the north side of Caye Caulker – you must go.  Quiet sand paths…maybe a bicycle goes by…but not often.  And one of the best beaches in Belize.  They say Caye Caulker village is what Ambergris Caye was 30 years ago…North Caye Caulker goes back another 10 or 20 years.  (Take a look how PRETTY it is up there)
Happy Destiny Inn is a great home base for exploring…and then relaxing and then maybe exploring some more.  5 gorgeous cabanas with all you need…a pool and an AMAZING sunset viewing deck above it all…this reasonably priced spot would be SOOOO fun to rent out for a group.  The whole thing!  Or just to stay a few nights to relax…spend some time and …and explore North Caye Caulker before it gets developed in a more serious way.
(Since I was there, the owner of this spot have opened a fantastic looking store/cafe/hang-out spot called Mercado Caye Caulker nearby.  I REALLY need to get back there!)
—>  Additional post if you are trying to decide:  Vacation on Ambergris Caye or Vacation on Caye Caulker?
MATACHICA RESORT, 5.5 miles north, Ambergris Caye
Ahhh…my solo-moon.  (There are honeymoons…there are baby-moons…but what about when a single just wants to get away…to a gorgeous romantic resort beach by herself and just…sigh….enjoy?)
Fruit-colored thatch cabanas right on the sand…hammocks slung across each porch…and the most magical dock for lounging.  Or maybe the pool…it is stunning also.   Matachica is one of those spots where you could easily spend your whole vacation at the resort and be very very very happy.  A fantastic beach…great food…friendly staff…take a look at my lovely stay.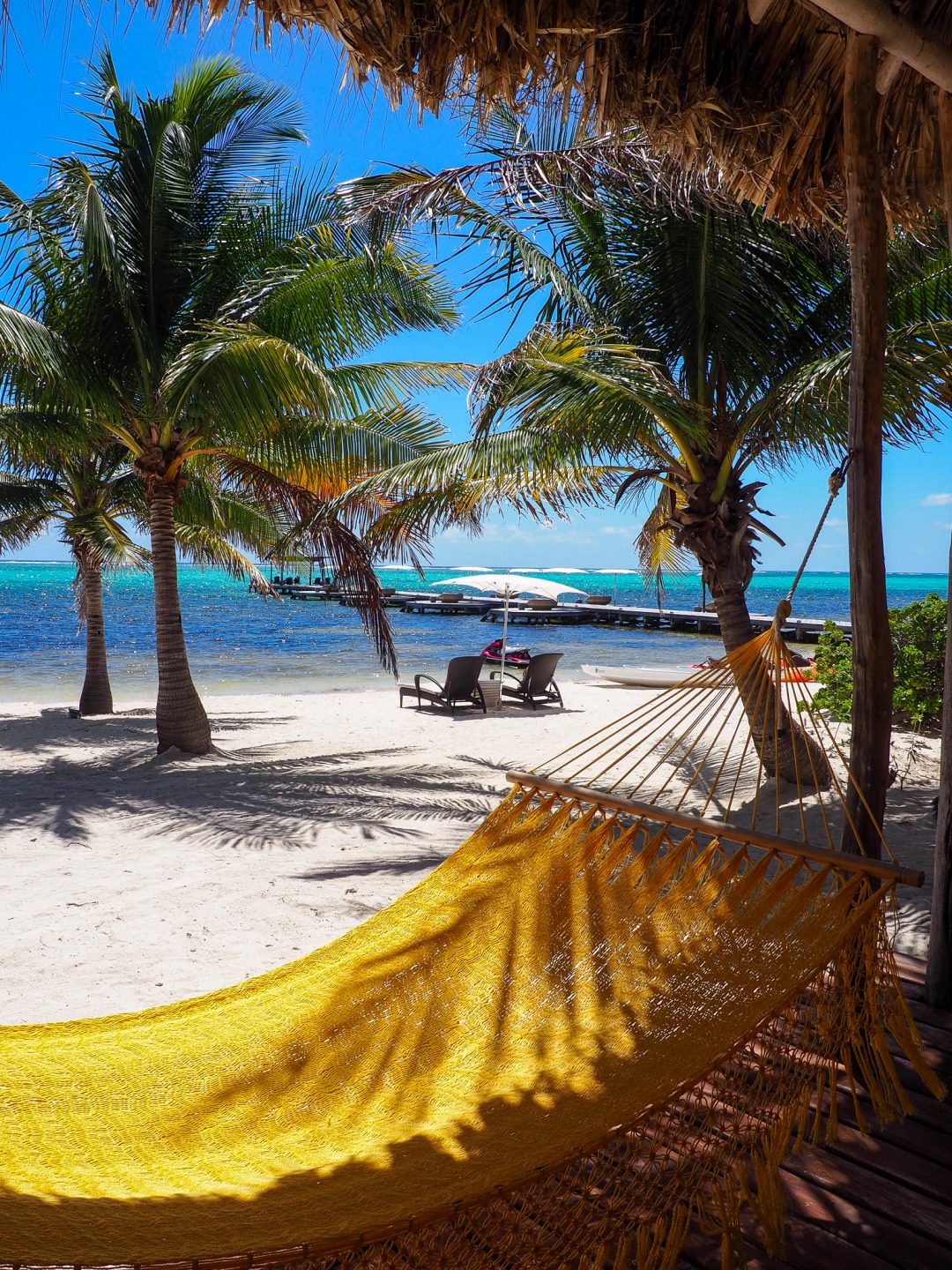 Yes…you saw that right…a private island!  Totally on my bucket list…and even better than I imagined.  If you think there is any way you would be bored on a private island, you've got to get to Ray Caye…my two nights FLEW by.  The food was so great…there were so many places to sun and lounge…my suite was right on the reef – incredible.  I didn't even get to do the amazing snorkeling in the area.  Clearly I must go back.
Check out my stay at Ray Caye Island Resort.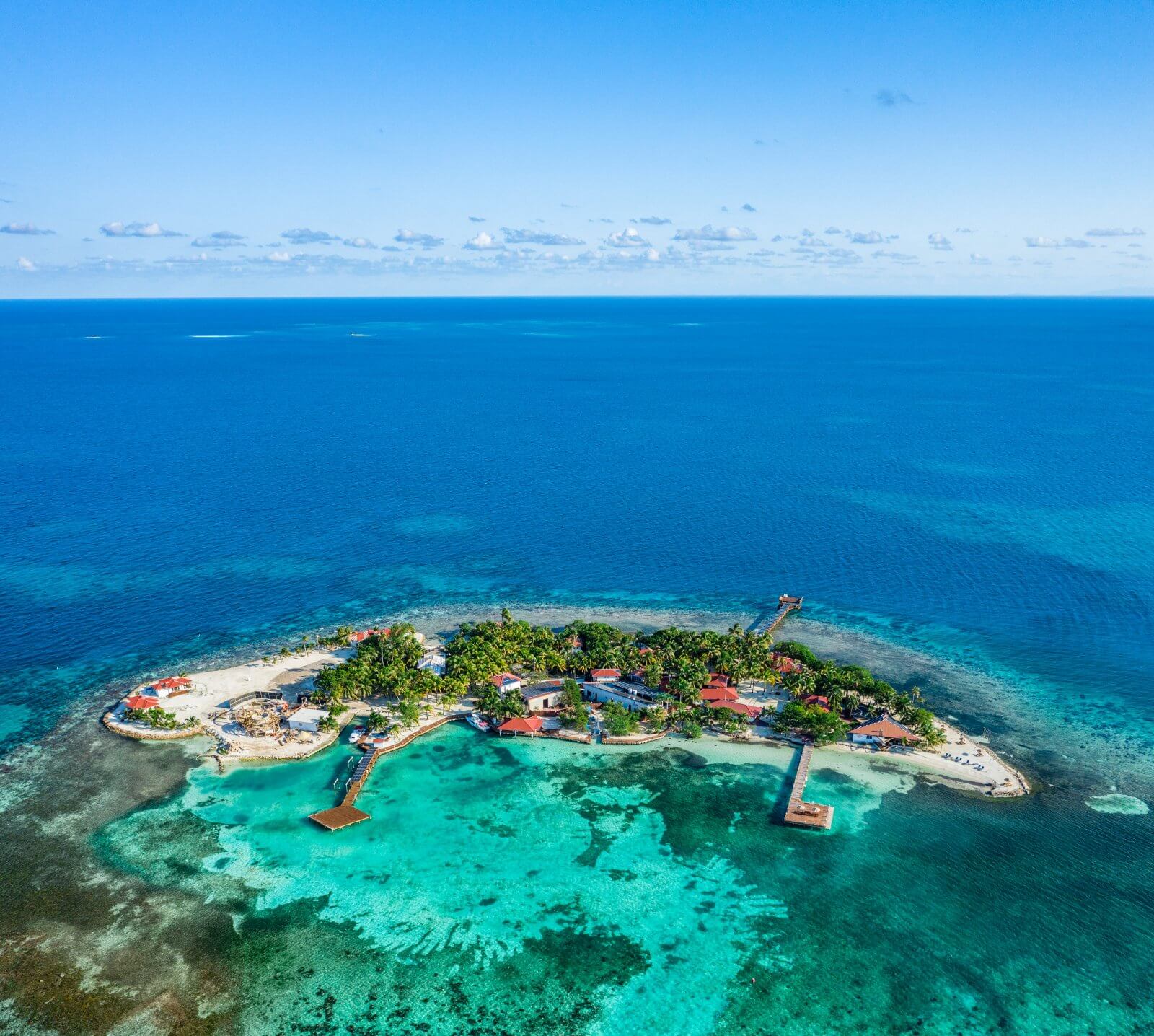 CASA NOVA CABANAS, Secret Beach Area, West side of Ambergris Caye
The west side of Ambergris Caye is famous for the shallow, sandy bottomed, impossibly clear water and for the bars and parties of Secret Beach.  At Casa Nova Cabanas – one of the few places t0 stay on this side of the island – you can enjoy the beautiful beach and ocean and be just far enough away from the bars and restaurants to just relax.  (You can walk down or kayak down to the action anytime you like – or you can walk in the other direction to do a little DIY flyfishing if that's your thing)
This beautifully designed, very comfortable spot is run by a friendly, super-helpful couple (and their unforgettable dogs) and the breakfast that comes with is delicious.  (Some of the best fry jacks I've ever had in Belize.)  Take a look at my overnight trip to Casa Nova.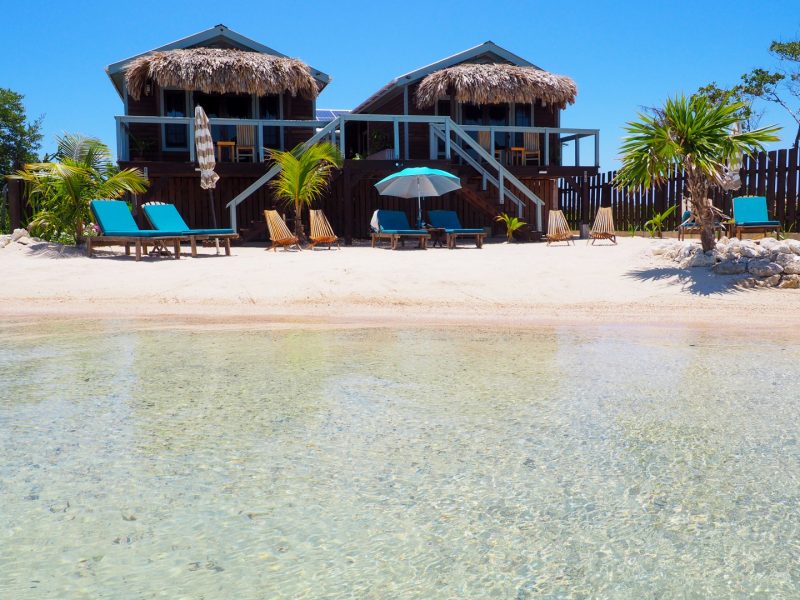 The San Ignacio Resort is such a cool location.  You step out of San Ignacio town in the front door – and then in the back of the resort?  The jungle.  The river and lots of green iguanas at their must-see Green Iguana Conservation Project.  I LOVED watching the toucans feed each morning while I was eating breakfast.
Lots of Maya sites within easy driving distance (including one just up the road) – I explored Xunantunich (and its beautiful blooming orchids) with one of the hotel's guides and learned so much.  We also visited the Belize Zoo.  And I ate one of the best burgers I've had in Belize.
Such a great visit – check out all of my pics!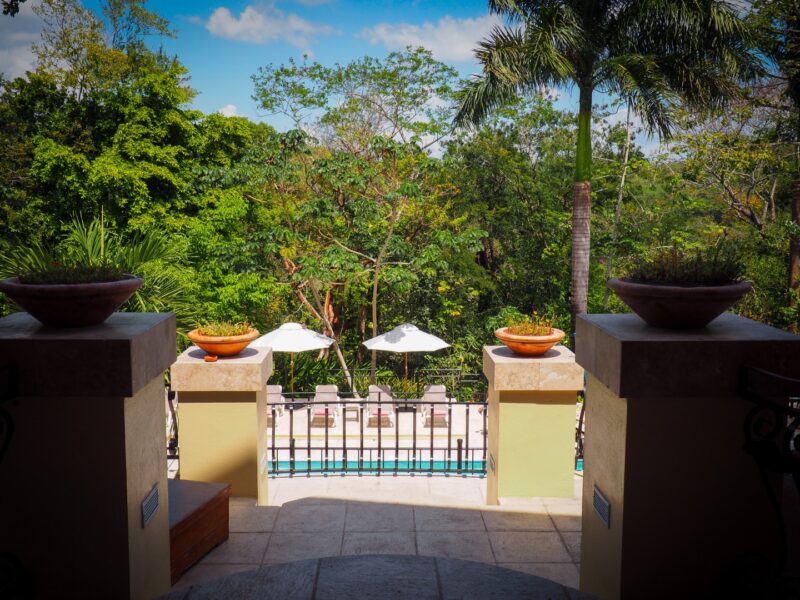 I overnighted at Sunset Caribe just a few weeks after it opened – I think I was the very first to stay in "my" condo.  A first first for me.  This lovely new resort is sooo conveniently located – not far from town, not far from lots of bars and restaurants, and not far from Secret Beach. There is even a market/pizzeria, medical center, and restaurant just across the street!
The large, clean and modern unit looks over an inner lagoon of Ambergris Caye – and watching the sunset from your room, or the pool bar, or even the hot tub?  It's one of the best views in town.
Check out my stay at Sunset Caribe Belize (this is the first of three buildings – the second one is well on its way to completion already.  It would be a great place to own)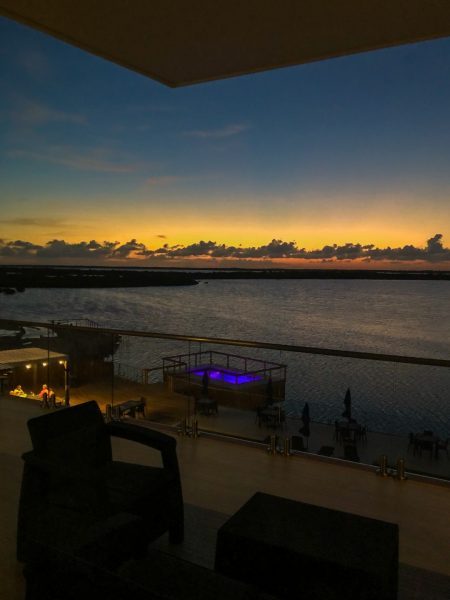 Next, I was headed down to the Placencia Peninsula and my first stay was at the very beautiful and stylish It'zana Resort. There are so many beautiful spots all around this resort – from the sophisticated front sitting room to the secret speakeasy – with a GORGEOUS mural of roseate spoonbills…it constantly surprised me with just how beautiful and well thought out this place is. Collections and art and stained-glass and…it's just stunning.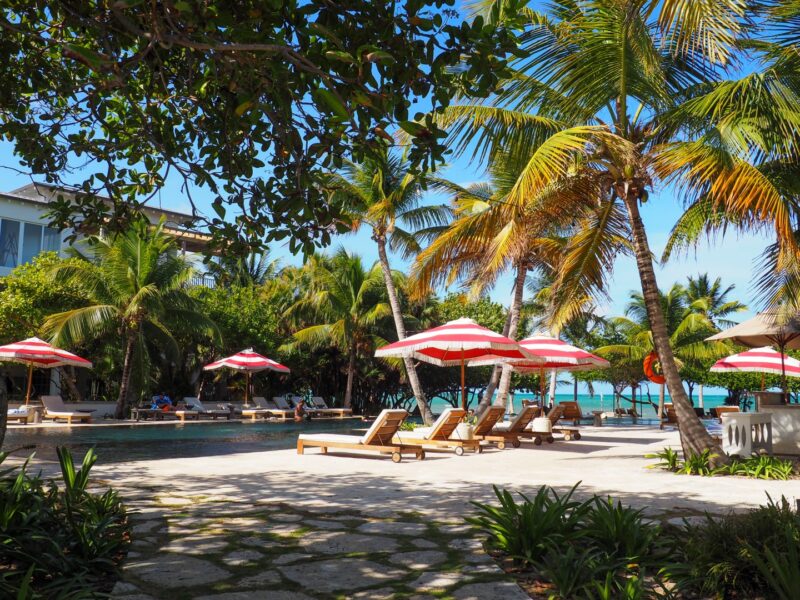 Another new spot just a bit further north on the Placencia Peninsula is Sirenian Bay Resort – a beautiful stretch of beach with massive villas and rooms spread out on the property.  They got so much going on – amenities galore.  A true all-inclusive experience…but the good kind!  A wine room, miniature golf, pickleball courts in the work, a spa (I had an amazing massage), a huge modern gym, pool, beach, a sunset martini bar in the works, and one of the largest units I've ever stayed in.
They even have a fleet of golf carts available so you can drive down to the village to explore. (A must-do!)
Families will love Inky's Miniature Golf and I did too!  They will love this whole resort.  Check out my stay at Sirenian Bay.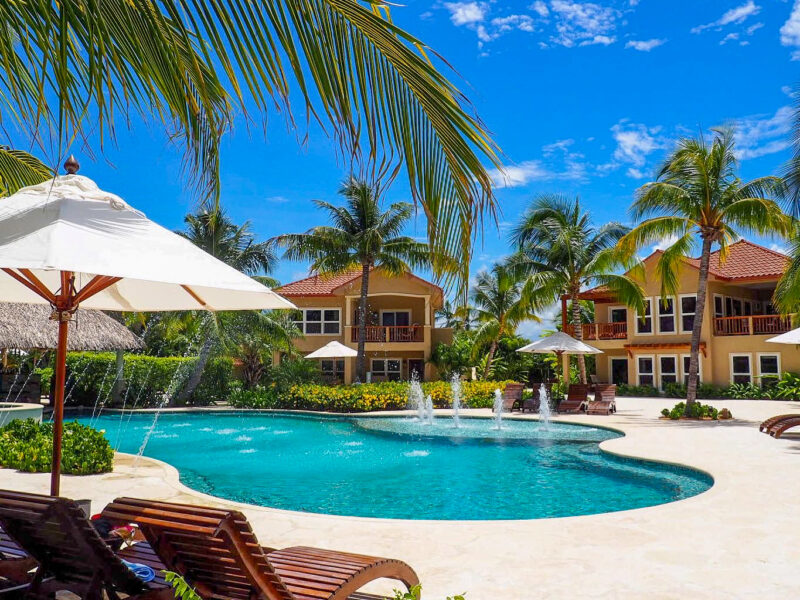 ,
ROAD TRIP AND STAYING IN THREE DIFFERENT SPOTS WITH VACASA BELIZE, San Ignacio, Hopkins and Placencia
Off again…this time on a road trip…to visit 3 different rental homes with Vacasa Belize.  First to San Ignacio – the area famous for jungle and cave tours, horseback riding, and Maya sites.  I visited the Belize Botanical Gardens for the first time with my Vacasa host.  (Check out My Road Trip to Cayo and The Beautiful Botanic Gardens)
I overnighted in a great little bungalow in Hopkins (the setup was just perfect for exploring) and a huge private home in San Ignacio and then I checked out one of the most unique locations in Belize…Swan Villas in Placencia (there is not ONE straight line or corner on the entire property).  A seriously cool vacation spot.  Here's my trip!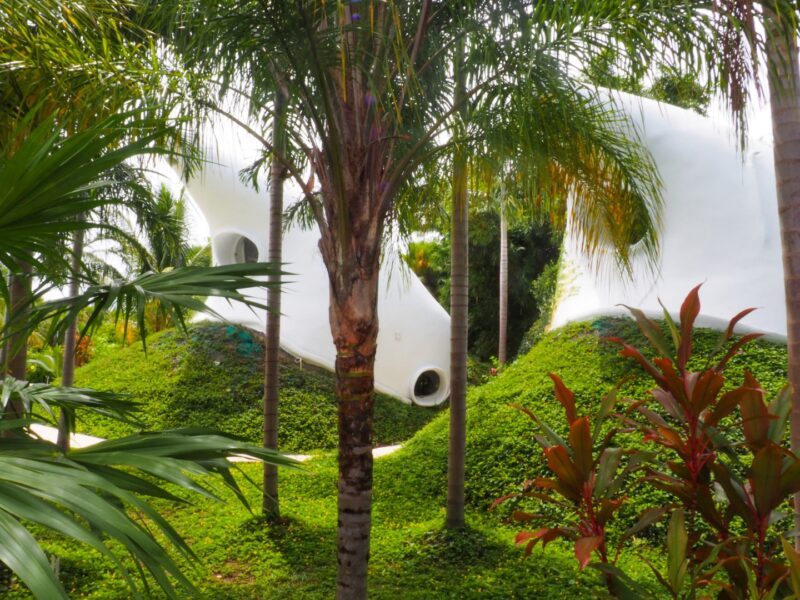 And then I finally talked Jeff into traveling with me!  It wasn't that hard – Chaa Creek is one of the most beautiful resorts in all of Belize – and one of the oldest.  This huge property is just…impeccable.  And we were treated to the same cabanas that Prince Harry stayed in during his visit to Belize in 2012 (though it has been upgraded since!)
Prince Harry Comes To Belize And I Got the Scoop
We ate great food and toured the huge property – we took a cooking class and…we relaxed in our gorgeous suite and our own private pool and it was magic.  Here are many of the highlights of our stay.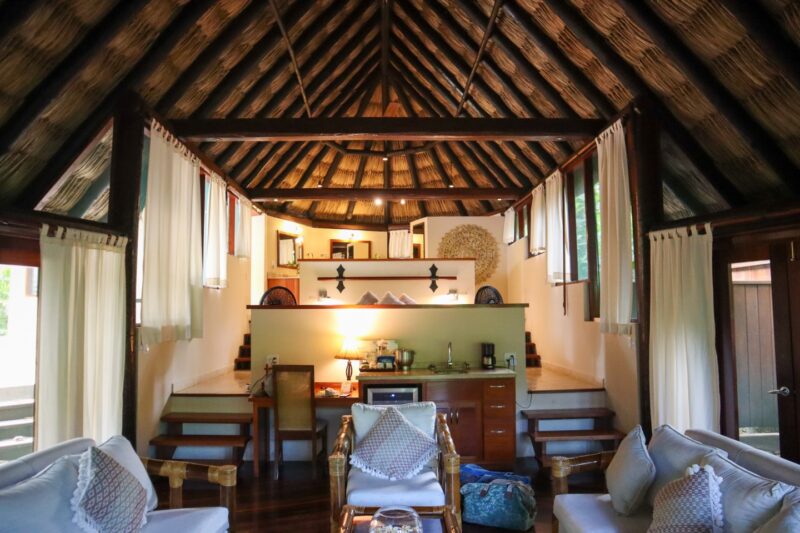 The Phoenix Resort is an oasis right in the middle of San Pedro town – I've always wanted to stay there.  A seriously beautiful spot to explore town…hit the restaurants and bars and shops…or just stay in and relax.  The pools are gorgeous.  The restaurant, fantastic.  They have such a cool list of daily amenities – from wine tastings to chocolate-making class AND a daily happy hour for guests AND a kids' club!  In case mom and dad want to head out for diving or just a bit of alone time.  (Check out the Sol Spa at the Phoenix too)
All that is amazing but the suites…the wrap-around balconies and the view?  I can't say enough good things about the Phoenix.  It's just gorgeous.
Read about my stay at the Phoenix just a few weeks ago.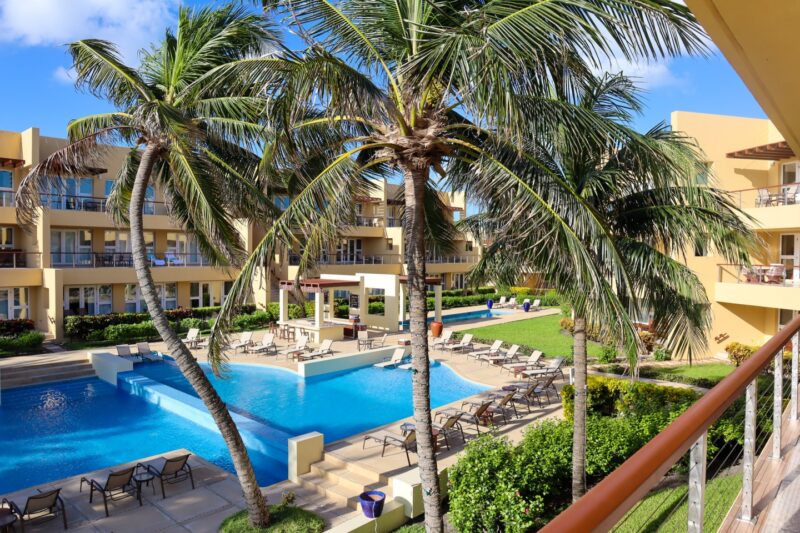 So apparently, it wasn't a slow year for travel!  It was an amazing one.  I love exploring Belize – I feel like I could do it for the rest of my life, easily, and never grow bored.
I am very very thankful.  To a fantastic 2022!
You can pin it on Pinterest if you want to save this post.