Ambergris Caye Check-list: 12 Must-Do's On Your First Visit to San Pedro, Belize
Ambergris Caye has SO much to offer and can keep you busy from morning until night.  The food, the festivals, the people, the golf carts, the shopping, the aqua blue waters, the gorgeous barrier reef, and wildlife – most people are quickly hooked.  So I thought I would update this list – the top things to San Pedro, Ambergris Caye on your first trip…or your tenth.
For a handy way to keep up with what's happening, check out my Days of the Week calendar.  So you don't miss a thing.
Because I often write posts assuming you've been here…and that is not always the case!  But if you have been to Ambergris Caye before think about the magic of your first trip to the island.  What sucked you in?  Got you obsessed like I was.  Let me know.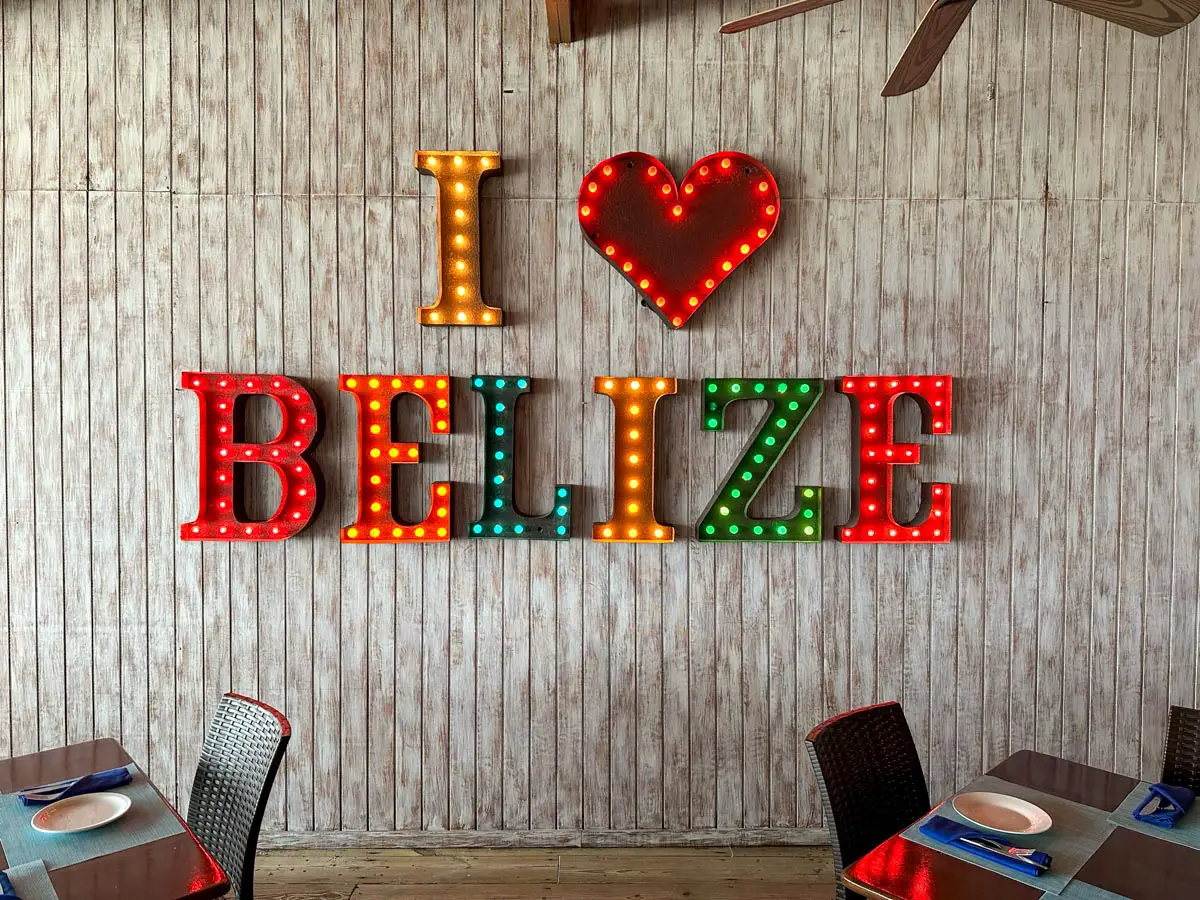 Here are my 12 Must-Do San Pedro activities – things that I recommend to everyone – for their first visit.
But before I start…my best tip – not a place to go but a thing to do is…talk to everyone! To the locals, with tourists…it's a great way to find out what's going on in town and the newest, most fun spot spots. To add or adjust your list of San Pedro, Belize activities. 
Because Ambergris Caye is not an all-inclusive, stay at your resort all day kinda place…you want to "go off script" and explore.
Trust me.
Here's a great way to start.
1.  Belize Food Tours
I always recommend that people take this tour on one of their first few days on the island.
A walking tour around San Pedro town – gives you a great overview of the local history and culture while stopping at different restaurants and shops and tasting all kinds of food and drinks. From chocolate to rum to ceviche.  Belize's food is AMAZING (if you are unfamiliar with Belizean food – I get it!  Here's a brief overview) – and this fun tour fills you with food and information.  Highly recommend.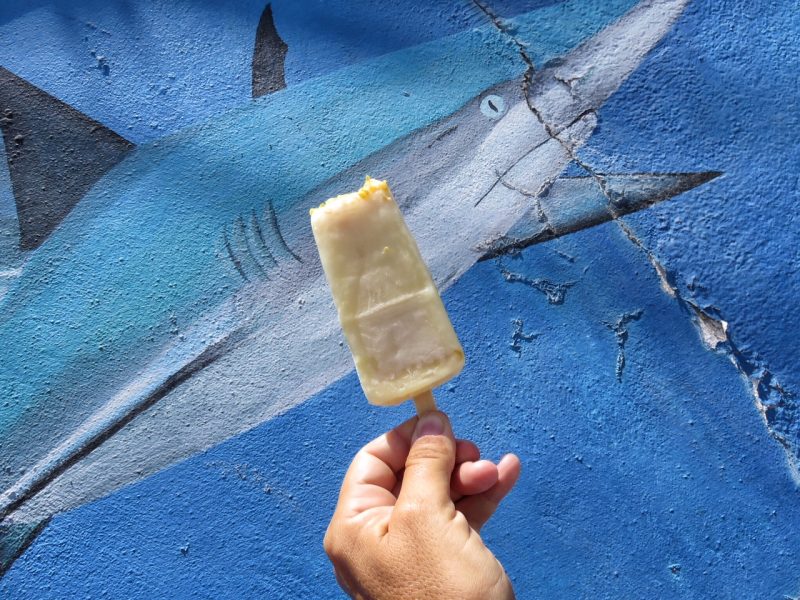 Take a look at my lunch time tour.
2.  Calvin's Green Iguana Eco-Park
Set in a green oasis at a back corner of busy San Pedro town, Calvin has built something extraordinary.  A plot of mangroves set over the lagoon filled with the beautiful, often huge, and surprisingly interesting green iguana.  (Did you know they have three eyes?)  He's set up something unexpected and magical.  And charming Calvin can tell you all about it.
(For map and more description, see this post)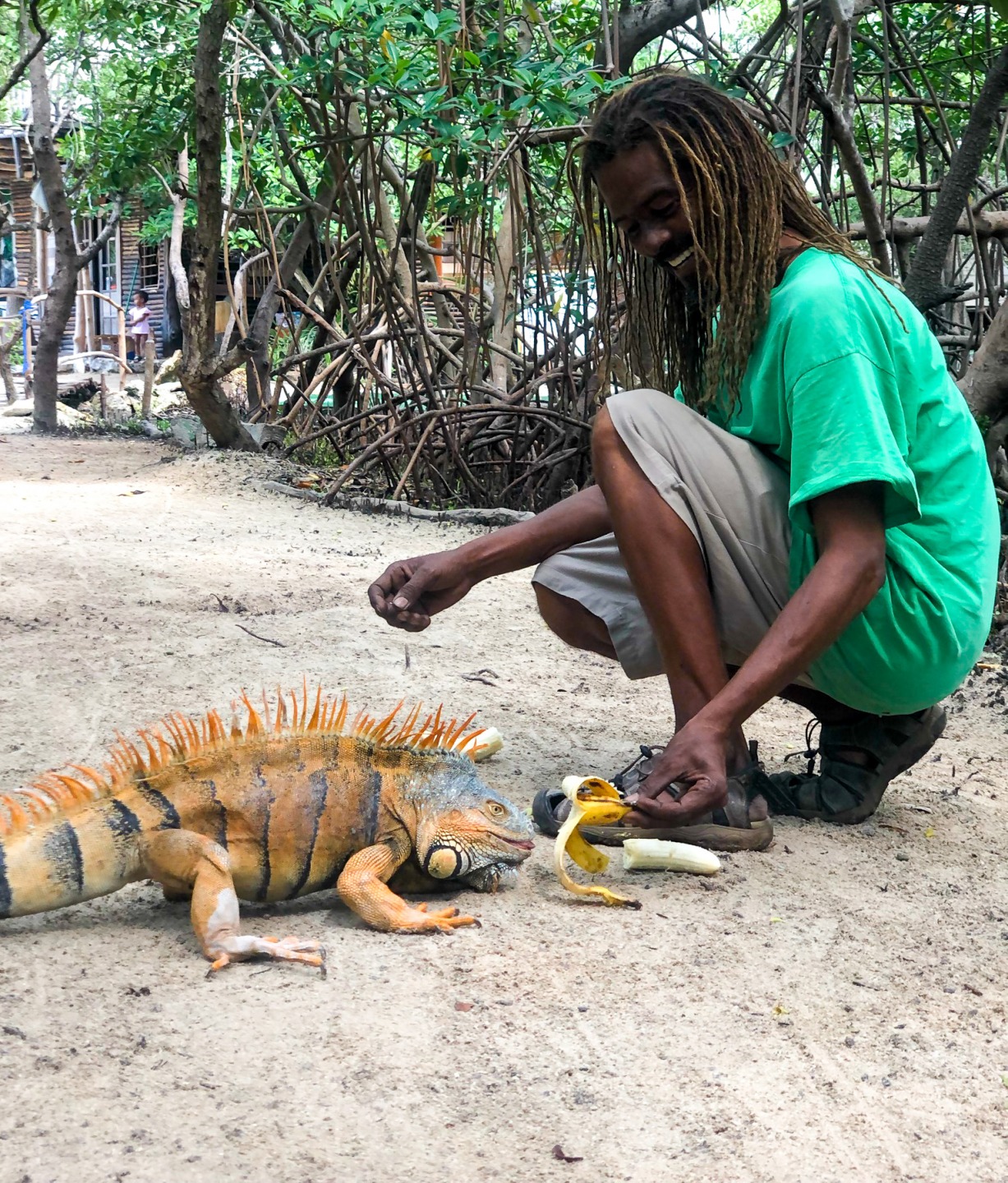 3.  Eat Breakfast At Favorite Breakfast-all-day Spot, Estel's Dine by the Sea
Open at 6 am for fishermen and divers and people who actually get up early, they serve the best breakfast in town.  Mayan eggs or banana pancakes (or both), your feet in the sand, and the amazing view.
No matter what you have…you MUST eat the fry jacks.  Critical.  Order a plate for the table…you will not be sorry.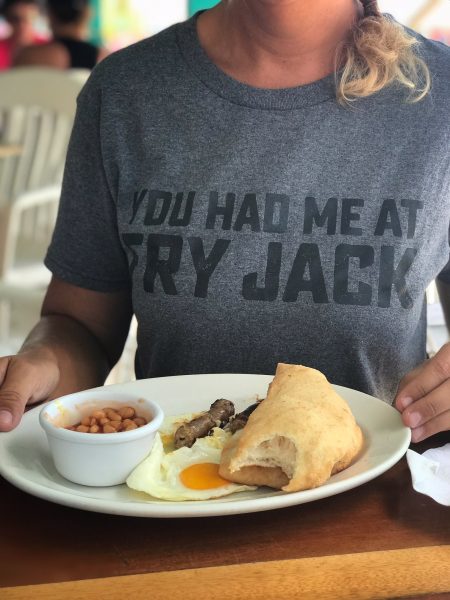 Also, check out their BBQ on the weekends.  Order breakfast AND BBQ.  It's always a very lively scene.
4.  Snorkel Hol Chan Marine Reserve & Shark Ray Alley
The first stop is a beautiful cut in the barrier reef teeming with coral, turtles, and countless colorful fish.  Stop 2 is…well…even more exciting.  Must do on your first trip.  My first time here?  We actually did it twice in 5 days.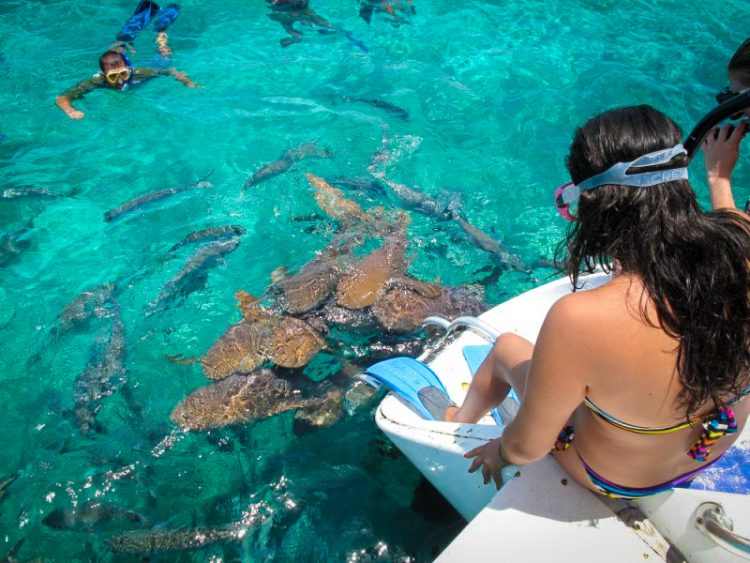 5.  Find A Fun Beach Bar and Just Hang Out…
At the north end of town is the iconic Palapa Bar – it's an excellent choice.  Paddle in one of the inner tubes in one of the clearest swimming holes in town as the bartenders lower icy Belikin beers to you in a bucket…
Other fun options – Moon Bar at Mangata Villas – a great beach club/pizza joint spot up north or Hurricane's Ceviche Bar or Sandy Toes Beach Bar…you could make a whole week of this!  Please report back if you find a favorite spot I need to check out.
6.  Eat Belizean Chocolate Made Right Here in San Pedro
The Belize Chocolate Company makes gorgeous world-class chocolate right here on the island – all from Belizean cacao.  It is the best dark chocolate I've ever tasted.
Pop into their shop & cafe, inhale the most delicious chocolate scent,  cool off with a milkshake, taste their chocolates (may I suggest the salted chocolate-covered caramels?), or sit and enjoy a dessert and some chocolate tea.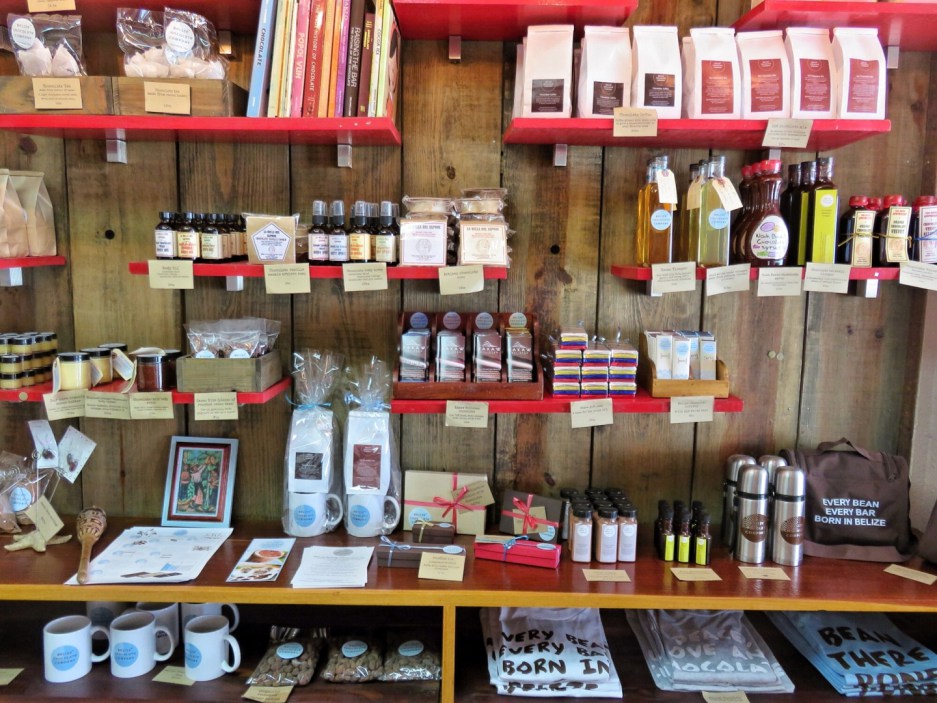 While you are there, sign up for a chocolate class!  I was stunned by how much work goes into good chocolate.
7.  Rent a Golf Cart and explore the island
San Pedro town is just a small part of 26 miles long Ambergris Caye.  Rent a cart for the day or two and explore.  Stop at places – for a beautiful bar and lounging/swimming dock try Ak'bol…
And you are going to definitely want to get a golf cart for a trip out to Secret Beach…
You can drive up north – to the new Margaritaville at 13 miles north or gorgeous Tranquility Bay Resort at 14 miles north…
Here's a more detailed article about whether you need to rent a golf cart on Ambergris Caye and how to do it
8.  Explore The West Side of Ambergris Caye/Not-So-Secret Beach
Belize is known for having the 2nd largest barrier reef in the world – and it's absolutely gorgeous.  But the west side/the leeward side of Ambergris Caye is equally beautiful.  With clear shallow water, craggy rock and white sand beaches, and tiny cayes, an afternoon spent on one of the sandbars or beaches here is…just spectacular.
But… you can also use your newly rented golf cart to pop across the island to Secret Beach.   Ok…"pop" is not the right word…it can be a 45-1 hour bumpy ride on the golf cart but it's an adventure!  There are lots of busy beach bars and…there are also some quiet spots if you don't mind exploring a bit.
Here's my Complete Guide to Secret Beach – I really do think there is a spot for everyone
9.  A Day Trip from San Pedro to Caye Caulker
Whether on an old-school Belizean style fishing boat or a larger catamaran or even a speed boat, you can jam so much fun into a day trip to our little sister island of Caye Caulker.  To get LOTS of sun (you REALLY want to SPF on this trip), snorkel at Hol Chan Marine Reserve and Shark Ray Alley, lunch on Caye Caulker and do it all in one day.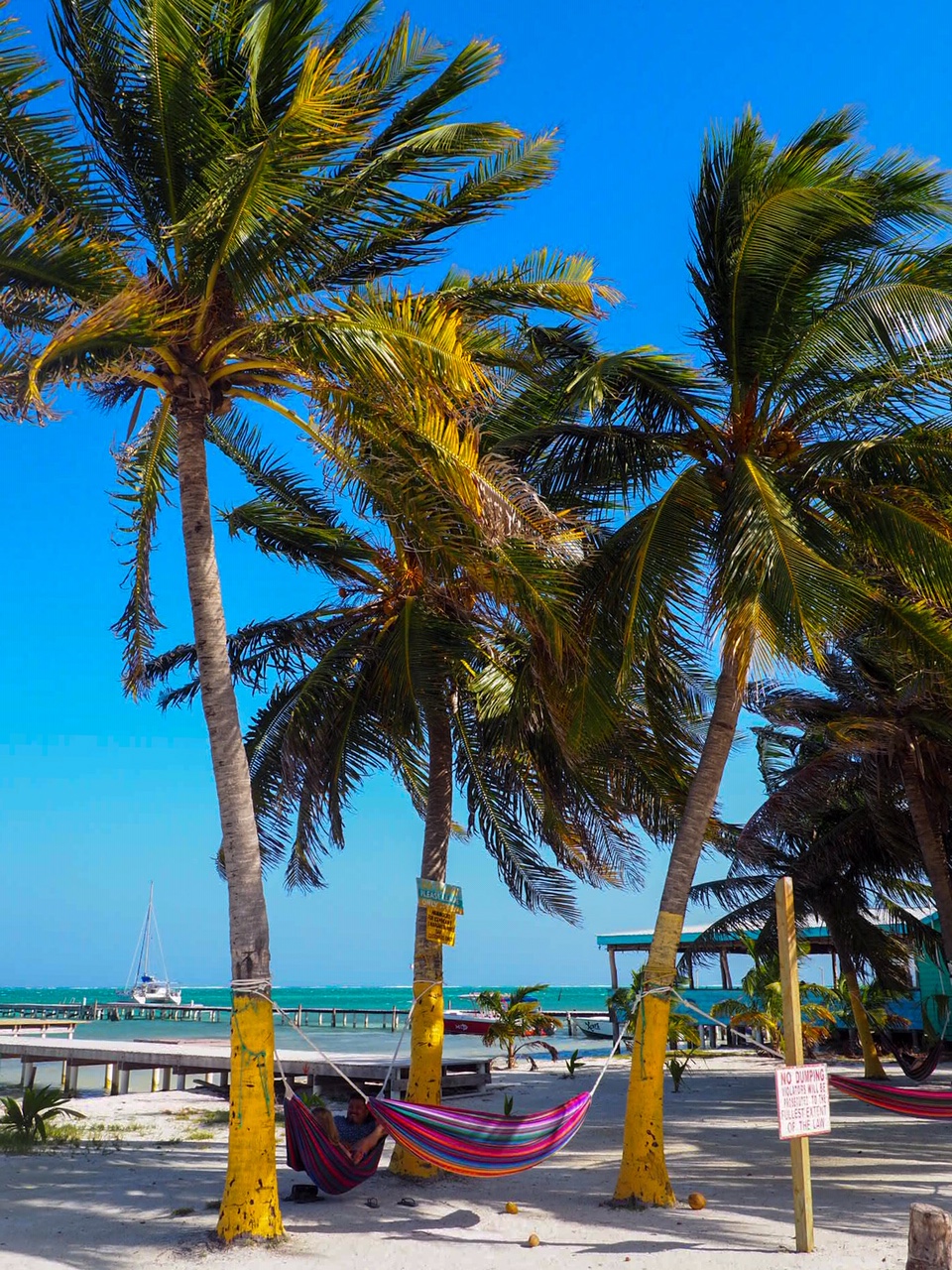 YOLO, a power catamaran, is another GREAT option.  They do a killer trip to just chill in the crystal clear water at the southern end of the island.
Check out my Guide to Caye Caulker for the things I think you MUST do while there (I'm bossy, huh?)
10.  Attend one of the country's nuttiest events – The Hermit Crab Races at NautiCrab Bar
Numbered racing hermit crabs, betting, a goofy and very entertaining MC – this is an "only in Belize" kinda event.  Every Tuesday night at NautiCrab (and Thursdays between December and March – the busiest season)…
They moved location a few years back but the event remains the same.
For a list of fun ways things to do with kids on a budget – check out this list.  It most certainly includes this event – kids love racing hermit crabs!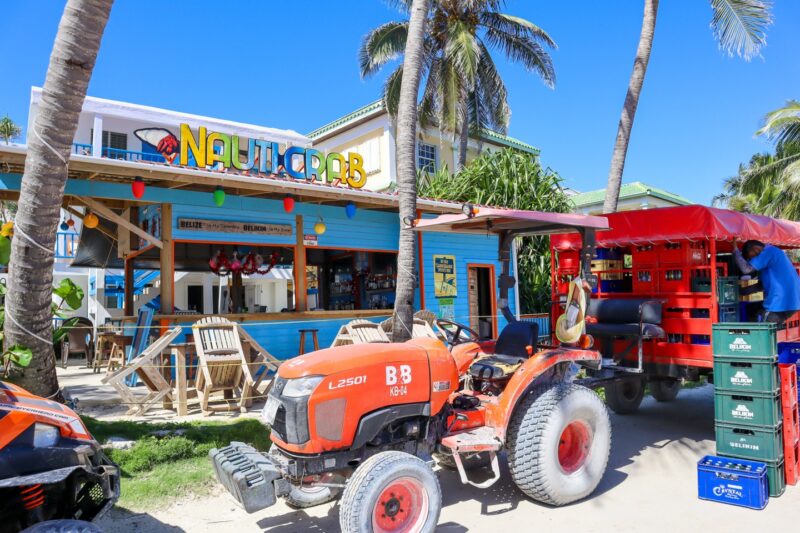 If you are into fun and funky events, you can also check out the Chicken Drop at Wahoo's Lounge.  Instead of betting on the speed of hermit crabs, you will be betting on where a chicken poops.
Seriously.
11.  Movie Nights, Trivia, Ice Cream, Farmers & Artisans' Markets, Sunset and Games at the Truck Stop
One of the coolest places on the island, the beer garden, ice cream shop, restaurants, funky bar, and SPOT to take your photo by the beautiful Papo BELIZE mural is just fantastic.  Make sure to grab something to eat and wander back to the lagoon for the sunset.  And try one of their fruit-infused drinks.
Follow all of their events on their Facebook page, have cocktails on their lagoon dock at sunset, and when it's in season DEFINITELY try the conch pizza.  SOOO good.
They do monthly artisan markets which can be a great spot to grab everything from veggies and fresh bagels to earrings and artwork.
TOTALLY on the list of 11 Most Instagrammable Spots in Belize.
12.  Enjoy the great Belizean Artwork and Artistry
I'm a giant fan of artwork – especially as a souvenir from your vacation. A shot glass or a tee shirt usually ends up in the back of the closet, the bottom of the junk drawer or…in the trash can. But a basket or a bowl or a beautiful painting? These are things you can enjoy every day.
Here are a few suggestions – spots to stop and check out the artwork.
501 Gallery and Belizean Arts: Both are located on Front Street – one tucked in Fido's Courtyard and one just across the street. They have beautiful things from all over Belize. Jewelry, carving and lots and lots of paintings.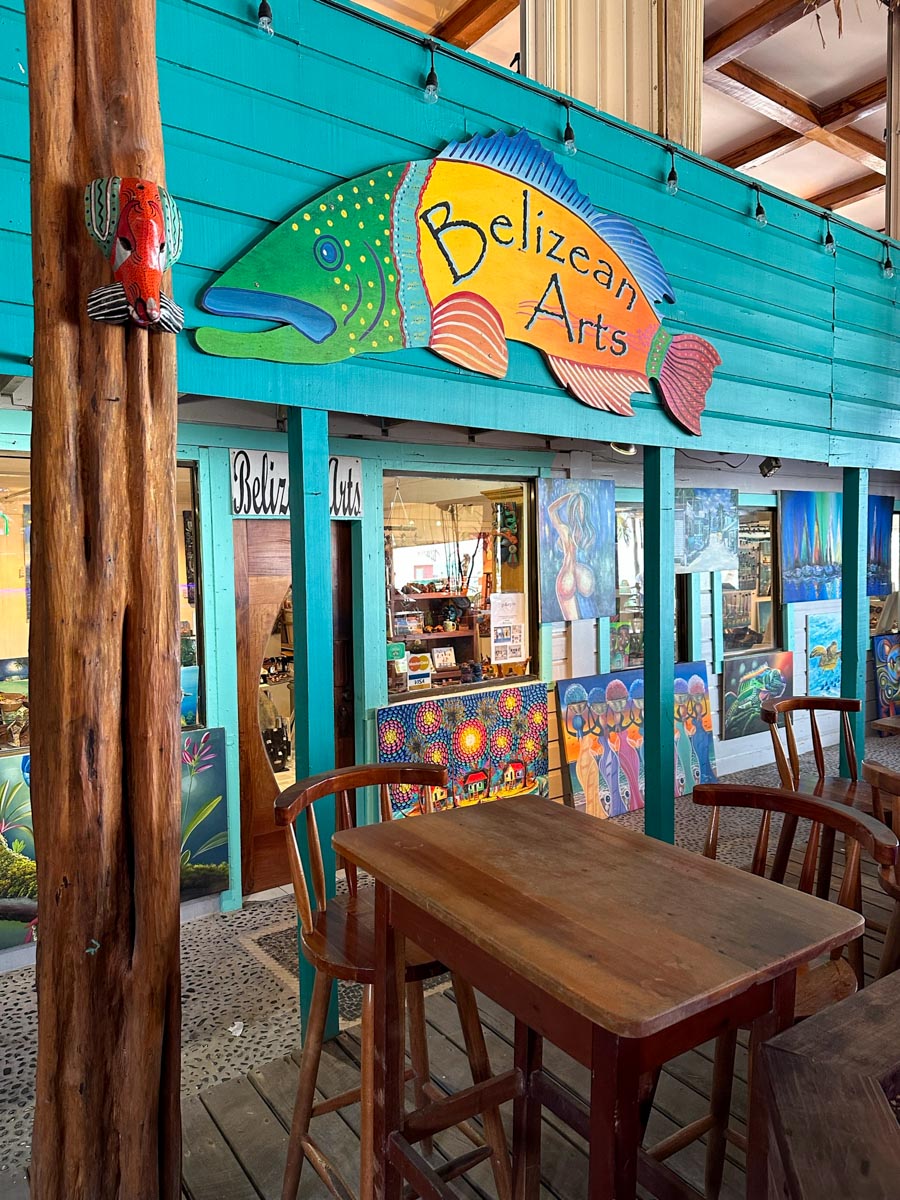 Belizean Melody: Also located on Front Street in town – beautiful handcrafted items by our favorite local San Pedrana artist.
This cute shop just south of The Truck Stop (see #11) – they are open when they are open. It's a one man and his hammock operation.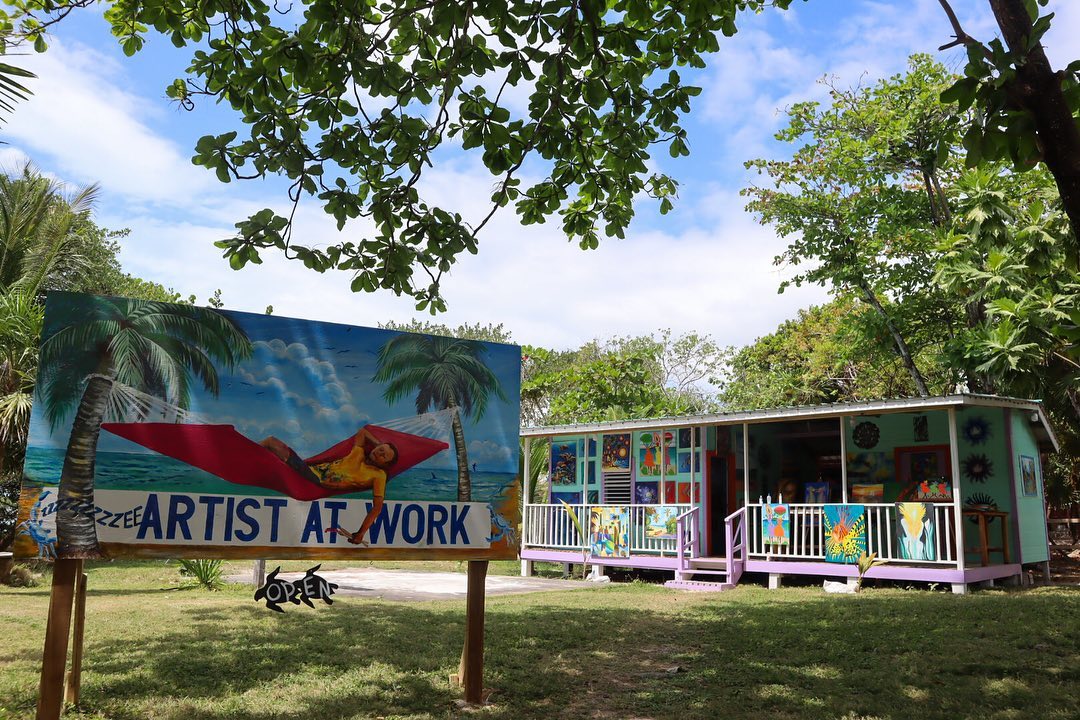 Here are more suggestions for cute cute souvenirs in San Pedro town and Ambergris Caye.
I hope this list helps – it will most certainly get you started with what to do in San Pedro, Belize. Once you arrive, you are going to find your favorites quickly!  And realize that you will need to come back to the island for more.
Whatever you do, where ever you go, be sure to talk to the locals and the ex-pats who call this island their home.   What's your favorite bar?  Your favorite spot to eat?  Where do you go on the weekends?
Everyone's got an opinion – and most are pretty good. 😉
And for more suggestions, 50 for Ambergris Caye and another 9 for your day trip to Caye Caulker make sure to grab a copy of my book on Amazon before you come down.
See you soon!